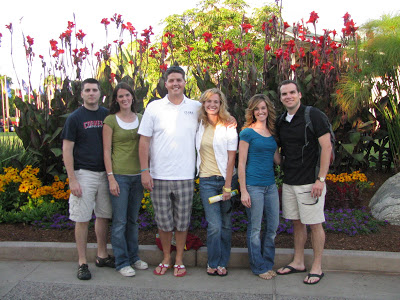 My friend Angie is the master planner. She came up with a fabulous date night – SeaWorld Summer Nights…without the kids! For a couple of months in the summer SeaWorld is open really late and we took full advantage! It felt so good to be there without strollers and
sippy
cups. Our first stop was the Atlantis Roller Coaster…not an option with little ones!
We took this picture above while we were waiting in line for the roller coaster. Most of the rides at SeaWorld involve water and we came prepared! Eliot was the only guy who put on his poncho. Kenny and Curtis were giving him a hard time about being a wimp until we got close enough to the ride that they could see what was in store for us! Finally Kenny, ignoring Curtis's sneers about losing his manhood, also threw on his poncho. Of course it's a Charger poncho.
He was glad he did! This was us after the ride…totally dry! We couldn't say the same for Curtis!
This is us getting ready to watch the "Shamu Rocks" show. It was incredible! Of course dinner took longer than we thought and by the time we got to the stadium for the show the only section with open seats was the "soak zone." Again…grateful for the ponchos! After the show we decided to go on one more ride – Shipwreck Rapids. This ride was so much fun and it SOAKED US! Our ponchos couldn't save us this time…you're riding down rapids in a spinning raft and go right under a water fall. We were all laughing so hard by the time it ended that we decided to ride it again…and again and again. There was no line because what idiots are going on soaking wet rides at 11:00 pm!!?? Uh – that would be us. Each time we got better at steering the raft so that Curtis got the brunt of every rapid. Poor guy. We were laughing with you Curtis…not at you!!!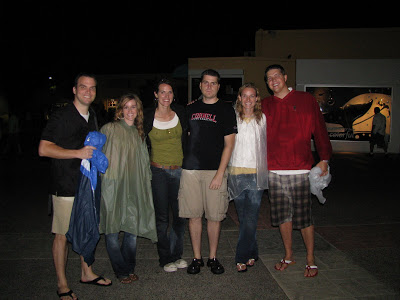 Finally leaving the park…cold and wet and happy. Well…most of us were happy! We bought some cotton candy on the way out for the drive home and called it a night. This was so much fun – thanks again Ang! Definitely one to add to our summer traditions!
xoxo, Erin