I absolutely LOVE to organize! I like things neat and tidy, I like order, I like to have a place for everything and I like everything to be in its place. I love little containers and dividers and any type of gadget that has to do with organization. My favorite store is The Container Store and I get giddy just pulling into the parking lot of this hallowed place. It's great therapy for me to pull apart a closet or drawer and organize everything inside. On days when I feel low or am feeling too much chaos from life with my little ones, all I have to do is start organizing something and suddenly I'm whole again! It's my therapy and it always takes me to a happy place.
My latest project…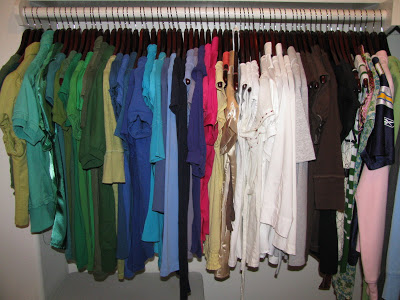 I got this tip off of a website: color coordinate your clothes to make your closet look more organized. Maybe so…but all its done for me is point out that I have way too many green and blue shirts and NOTHING fun and patterned…
(something my sister has been pointing out for years!)


Kenny is usually pretty good about my obsession with organizing and he smiles and nods and pretends to be interested when he gets home from work and I proudly show him the cleaned out pantry or the organized filing cabinet. But…when he came home and as part of my newly organized garage I had organized all of the nails, screws and anchor hooks – labeled – in alphabetical order – he decided that I'd gone off the deep end! Maybe so, but in my garage there's no rummaging when it's time to hang a picture!
So last night when I went to tuck Ellie in I found this…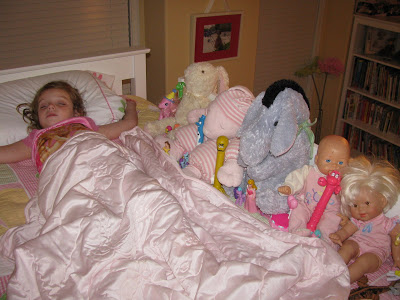 Her little "friends" all lined up in a neat and tidy row. Made me so proud!
(p.s. I found the coolest blog! If you're an organizer like me you'll love this! She's been doing "31 Days To Clean" and each day does a post on something to clean out and get in order in your house/life. She has some great tips!)
http://www.likeawarmcupofcoffee.blogspot.com
xoxo, Erin