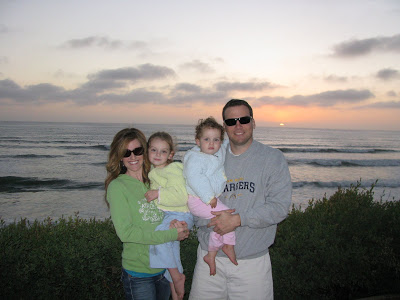 So this last weekend was pretty fun! Friday night we met a group of friends at the beach – had a picnic and let the kids run around and play. It's always so pretty watching the sun set over the ocean. I love this Friday night summer tradition! (Oh – and how is Addison's cone head hair looking? I had a cute little pony tail with a bow and she tore it out before we even made it to the beach. Seriously…why do I keep trying???) Then on Saturday after Addison woke up from her nap, Kenny and I decided last minute to head to Sea World for a couple of hours…beauty of season passes! We had a fun afternoon with the kids. In this first picture we had just arrived at the park – Addison had been in the stroller for two minutes and was straining to get out. Ellie has been to Sea World so many times that she grabbed a map and was planning our itinerary. Goes without saying that Kenny was the only one I could get to smile for a picture. So typical!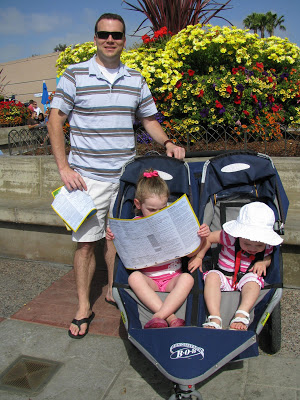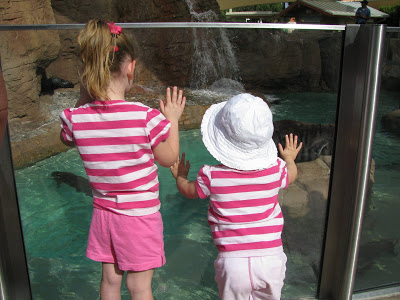 Ellie's favorite Sea World stop is the flamingo's. I don't really understand why, with all the sharks, whales and other cool sea life, flamingos are her animal of choice these days!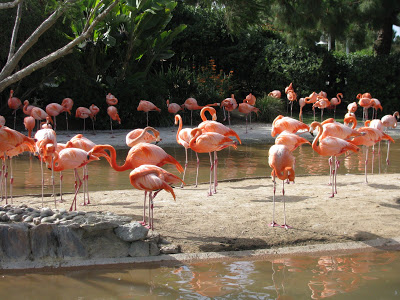 Come on Addie…work with me here!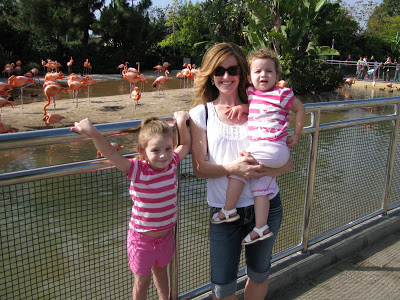 So the only downer of the weekend was our movie selection. We watched
27 Dresses
Friday night and can I just say that this was the LAMEST movie! I'm all for a good chick flick, but this was just stupid. Too fake and
predictable
. Kenny and I each had our laptops out after 15 minutes (I rank TV shows and movies by how long we watch them without pulling out the laptops). Saturday night's movie
Sense and Sensibility
was a little bit better but not as good as last weekends movies,
Becoming Jane
or
Pride and Prejudice
(we've been on a bit of a Jane Austen kick lately – it's definitely summer!). Hopefully next weekend we'll do a little better in the DVD department! How was your weekend???
xoxo, Erin