Koni was just here with me in San Diego for a visit. We had a great time together (like always). Stayed up way too late chatting…we can talk for hours. Koni and I have been close friends for a very long time. We go back – WAY BACK – in fact we met in Kindergarten. We hung out in the same circles of friends until 9th grade when we both made the High School Drill Team. It was then that we paired up…and have pretty much stuck together ever since! If we were ever without the other one in High School or College people would ask us where our "other half" was. We always had so much fun together and got along so great because we have everything in common. Koni and I both got our Elem. Education degrees, got jobs teaching school, put our husbands through Law School, both ended up in San Diego (although now she has ditched me and moved home to Utah!), and now are both busy moms staying home with our kids…we each have two little girls – of course! We can talk about anything and everything. We finish each others sentences and know what the other one is thinking with just a glance. We've been there for each other through pretty much everything in life – school, various boyfriends, graduations, weddings, babies and MANY different hairstyles! Even now that we don't talk everyday, when we do get together we pick up right where we left off like we haven't been apart at all. Here is a little trip down memory lane…
Love you Koni!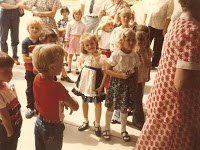 First day of Kindergarten-I'm the one posing in the
cream and blue dress. Koni is the tall one (of
course) behind me with the pig tails. (1982)
AND – My b-day party in 8th or 9th grade.
Sorry Car – not the cutest pic of you…or any of us! (1990ish)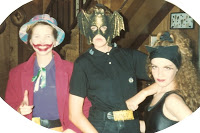 Girls Camp AND – Batman, Cat woman and the
Joker – dressing up for a dance team party. (1992)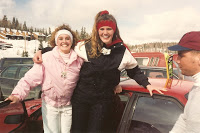 Trip to Hollywood AND – skiing at Brian Head.
Yes – the name tag in the picture above says Kenny and
that is Kenny in the skiing picture. My husband and I go
back almost as far as Koni and I do. :) (1993)

Christmas morning – this picture makes me smile.
One year Koni and I gave each other the EXACT
same thing for Christmas. Popcorn bowl with the movie
Dirty Dancing. We had a thing for Dirty Dancing.
"Nobody puts Baby in a corner" (1992 )
AND – One of our favorite things to do was save our money
and then head to Vegas to go shopping. Great picture –
I'm lovin' the wall paper and hair! Spring Break (1995)

Free printable of the paint colors throughout my home!
Enter your name and email address to get instant access to my paint colors along with other free organizing printables. More will be coming soon!
Exclusive to subscribers!