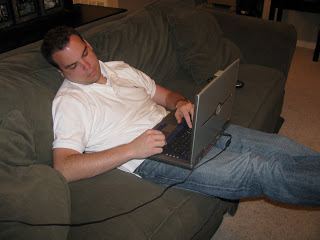 The other night I ran upstairs to tuck Ellie in bed for the SECOND time ("please please one more story…just one more drink of water…my friends – a.k.a dolls and stuffed animals – are cold and need covers."). Ellie is a master staller. When I came back downstairs I found Kenny sound asleep – he had crashed (mid-sentence on his laptop) on the couch. He has been traveling a lot for work and working around the clock to close an IPO (Initial Public Offering – attorney lingo). It has kept him incredibly busy for the last few months. My husband is such a hard worker. His job is intense and VERY demanding. He works so hard all day and hurries home at night so he can play with the girls, help me get them to bed, answer all of my endless computer questions and assist with my many house projects. On a good night and if we're lucky we get to sneak in one previously recorded show, but he is usually working while the TV is on. Then I head to bead and he stays up late to do more work. He has very little down time for himself and I know it can be exhausting. I don't know how he does it! He is an amazing attorney, husband and daddy and I love him so much! Thanks babe – for all you do…

Free printable of the paint colors throughout my home!
Enter your name and email address to get instant access to my paint colors along with other free organizing printables. More will be coming soon!
Exclusive to subscribers!