*affiliate links used. All sources are linked throughout or you can scroll to the bottom for pictures to click on!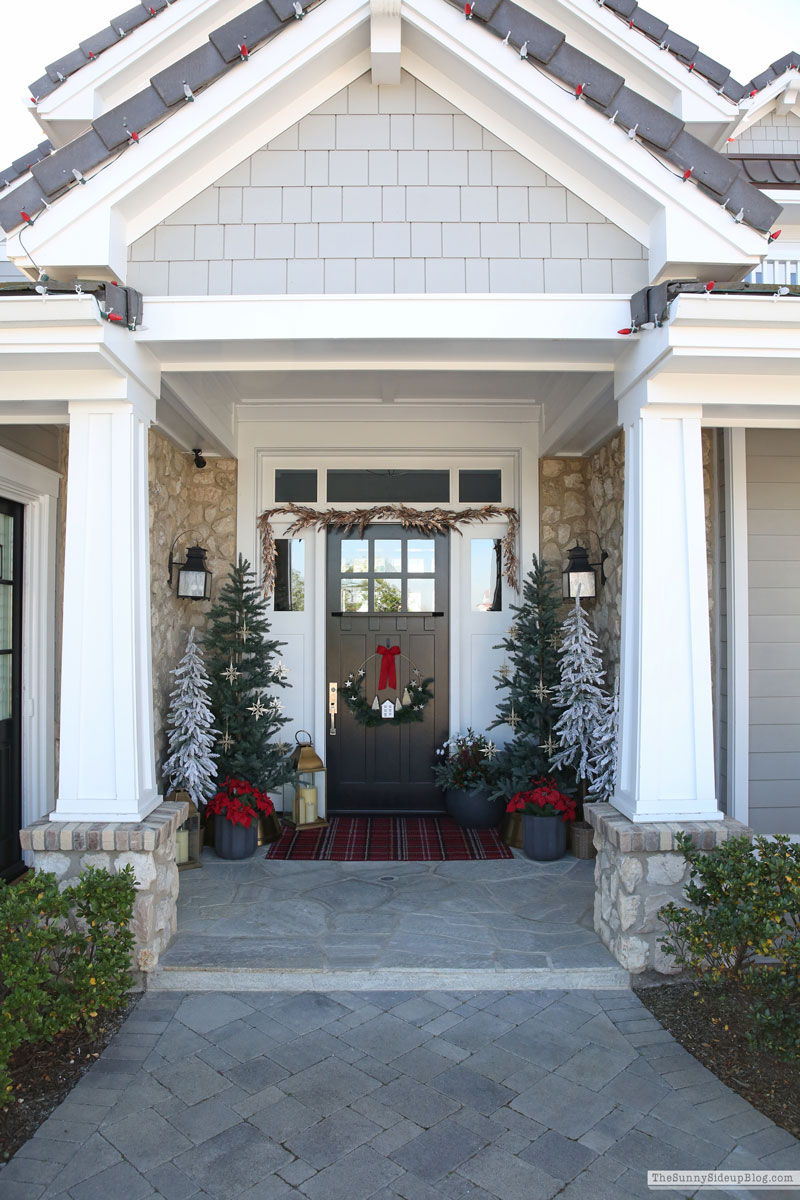 Merry Christmas! Well.. not quite, but with my red and gold holiday porch decked and glowing things are feeling very merry around here. :)  You can see that our Christmas lights are up too (yes, we're that family) but I'm patiently waiting a little longer to turn them on!
At least one more day. ;)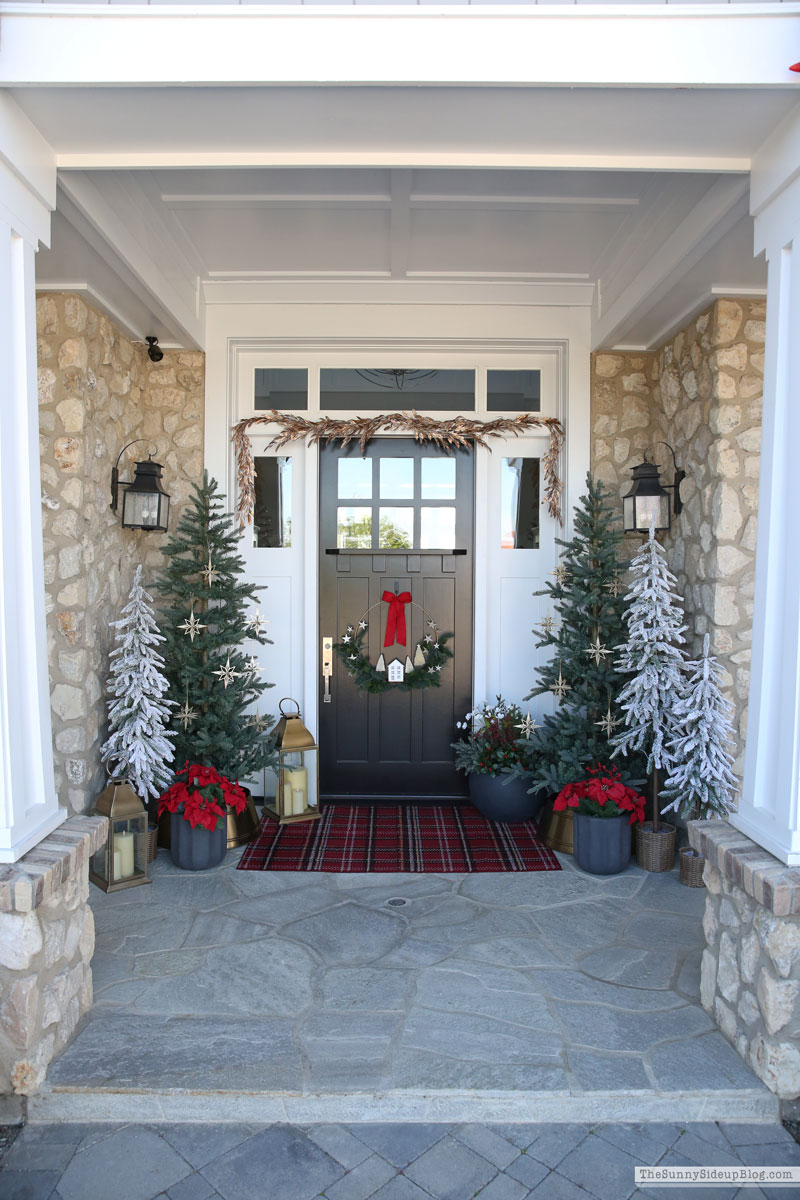 I couldn't wait on my porch though.. I was just so excited to decorate it this year! Last year I went with an all green holiday porch and while I am team green forever, I just missed that Christmas pop of red! So I brought it back. Just a little. It doesn't take much red to make things really feel like the holidays, does it!?
I started decorating this porch with my leafy glam garland over the door (I used 3 total.. one on each side and then one more in the middle to add some fullness). Once that was up I knew I wanted to bring in more gold! Then I pulled out one of my cute pine Christmas trees (I bought one last year and loved it so much I bought another this year). I was planning on using them both inside but after I saw one on my porch I knew they were both about to be re-located! They are nice and slim and perfect for each side of my front door. Then I went on a hunt for some slim flocked trees to add some snow! (I have to get my holiday snow fix somehow.) These 3 down swept flocked trees are so cute! They come in 3 sizes (4, 5 and 6 feet) and in a non-flocked version too that you can see here in the 4 ft, 5 ft, and 6 ft. They are perfect to place together or use them in different spots. I would love them inside too!
I wanted my porch to feel little asymmetrical this year for a fun change so I placed my gold lanterns and flameless candles on the left (finally took them off my fireplace mantel!) and then I put a couple of faux poinsettias in my fluted outdoor planters. (Similar poinsettias here.. I've had mine for years!)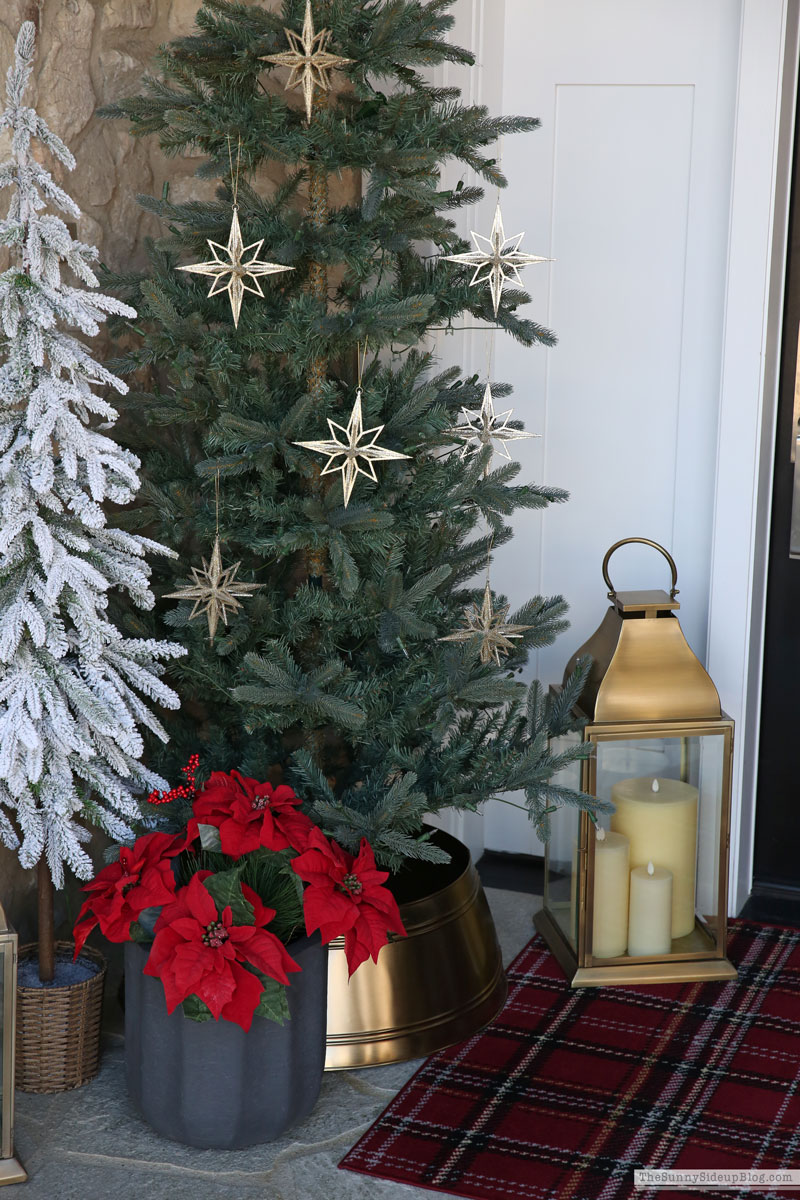 I pulled in more gold with these beautiful antique brass tree collars and my long time favorite glitter gold star ornaments.
Snapped this pic with the lights on!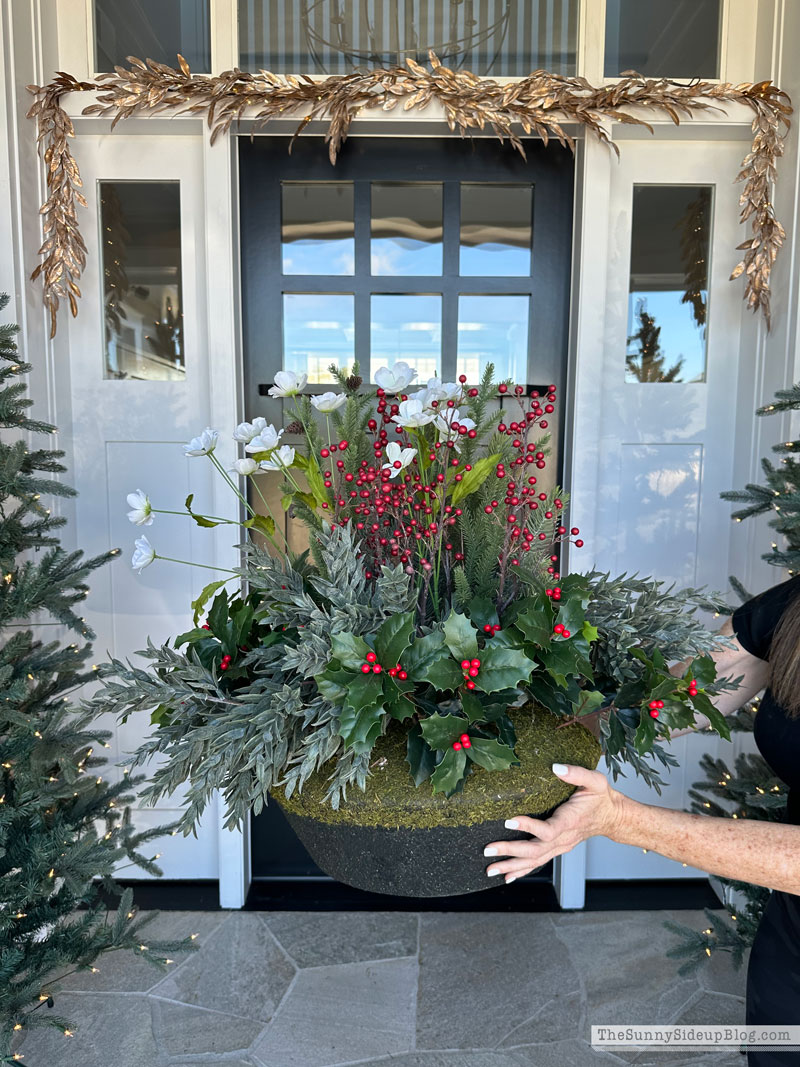 On the right I have this stunning winter garden mix. I have debated buying this for a couple of years and finally did this year and I'm so excited about it! I always want holiday flowers on my porch this time of year, but with the constant shade on my porch combined with how busy the holidays are I never want to waist my money on real plants that I know won't make it! Now I can use this year after year and it will always look stunning and never need to be watered. WINNING. It comes with all of the greenery in this big styrofoam base so the trick was finding the right planter for it.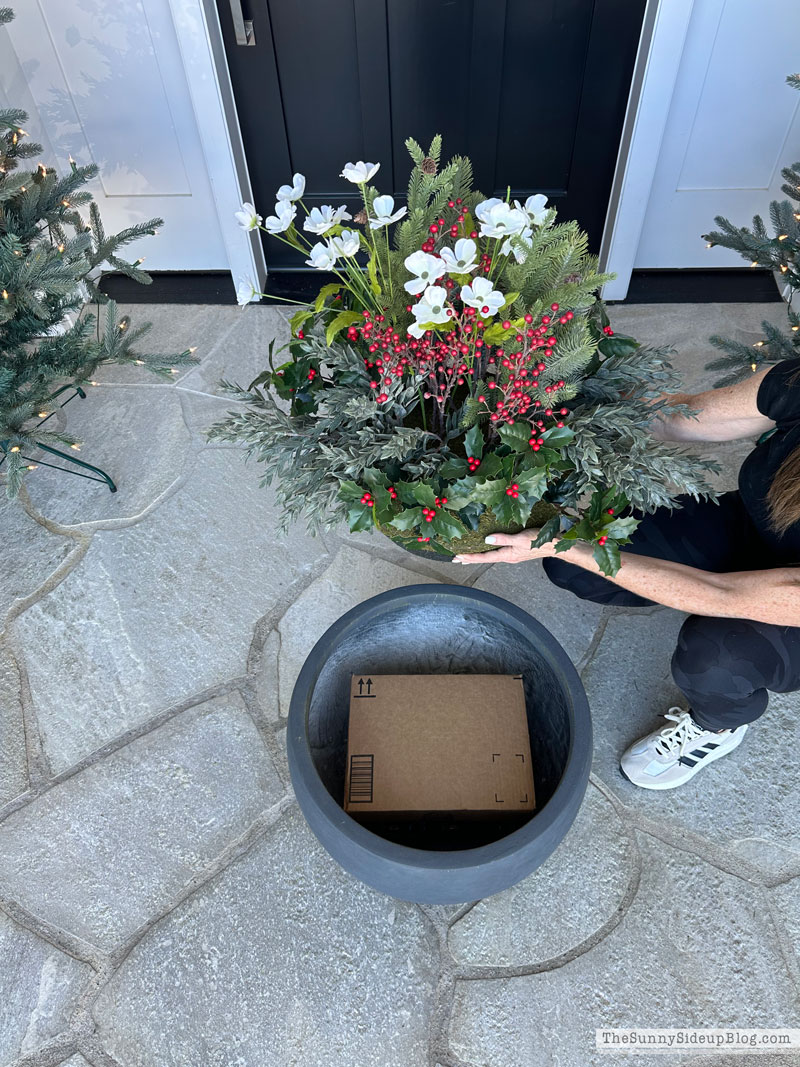 I landed on this concrete round bowl planter on Amazon (best price and look I could find!) and placed a box inside to set it on so that my flowers would be the right height.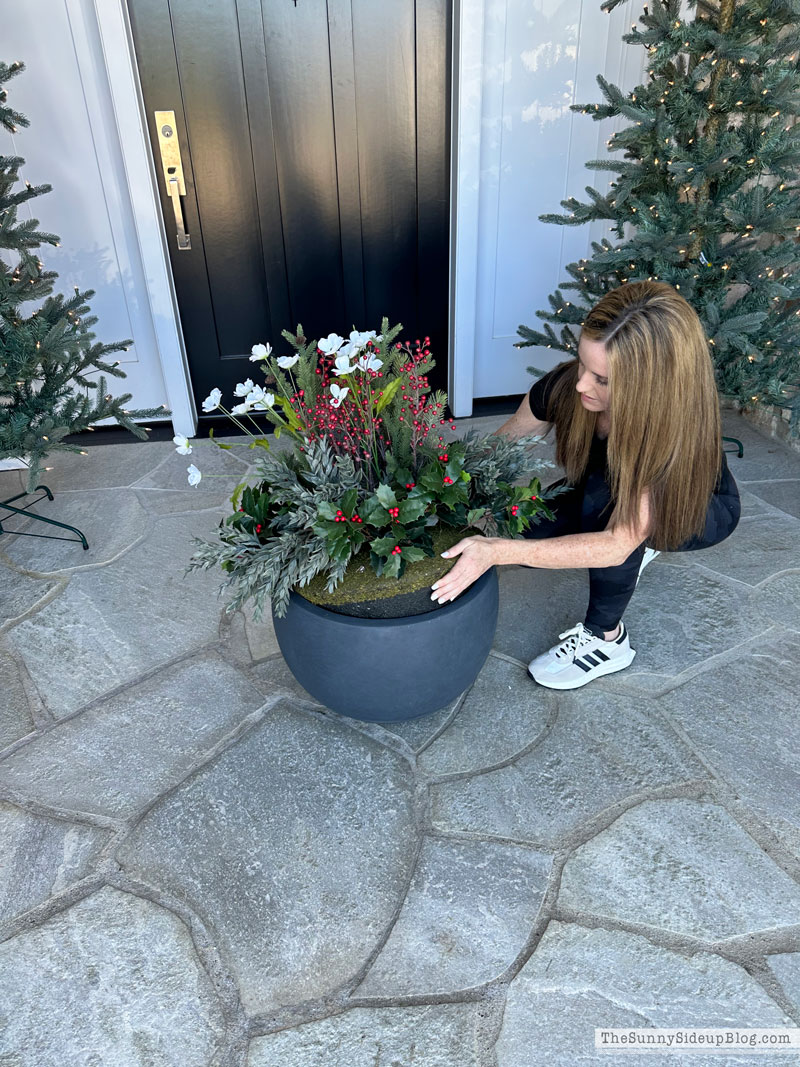 I had to place in on an angle to get it inside, but it worked!
It's so beautiful! I just couldn't love it more.
I pulled out my long time favorite red plaid rug and this cute light up village wreath that I bought last year. It was the perfect finishing touch for the door! Especially with a few more stars to add in the mix.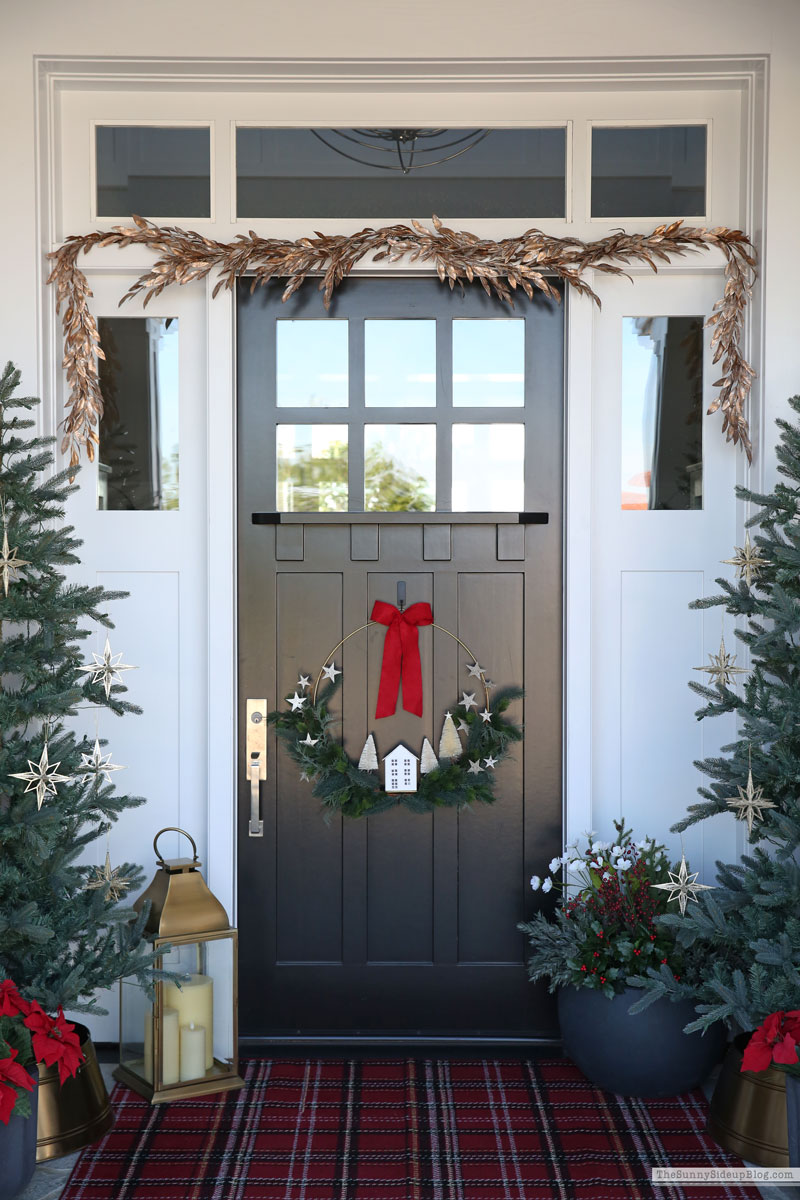 I love this porch during the day but the best part is how it shines at night! Everything is set on a timer and lights up so beautifully. I need to take pics with my camera at some point but I snapped these quick tonight with my phone to show you. It's just magical!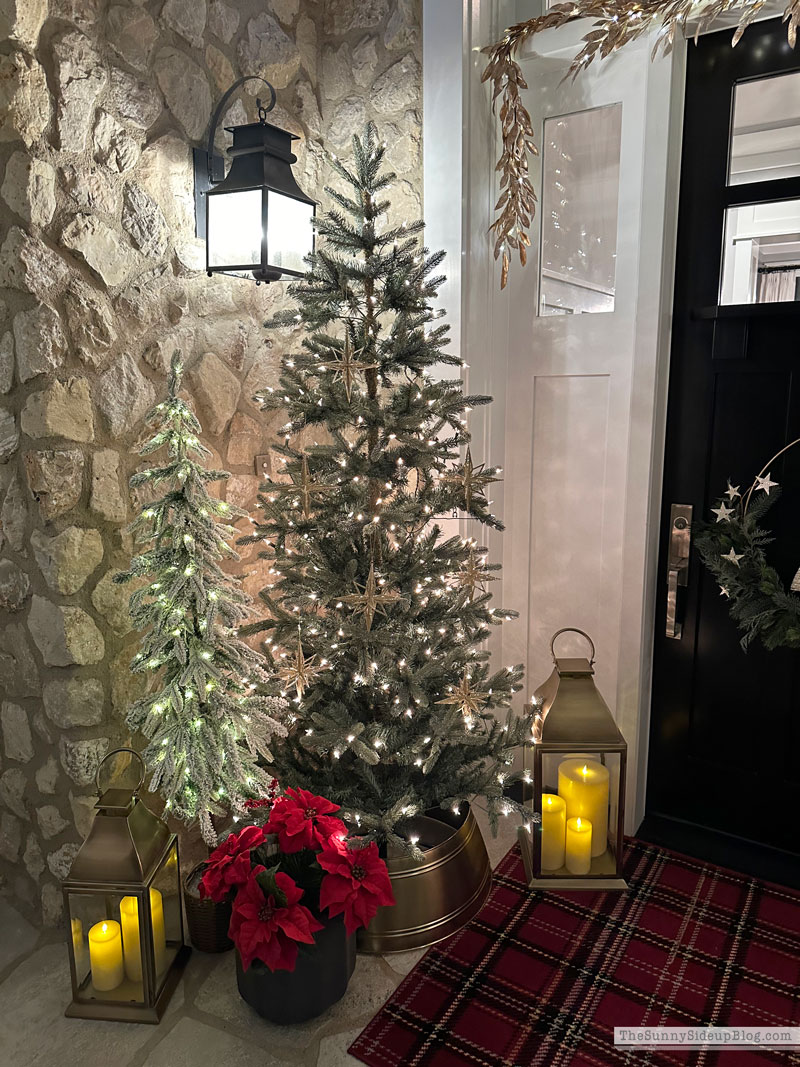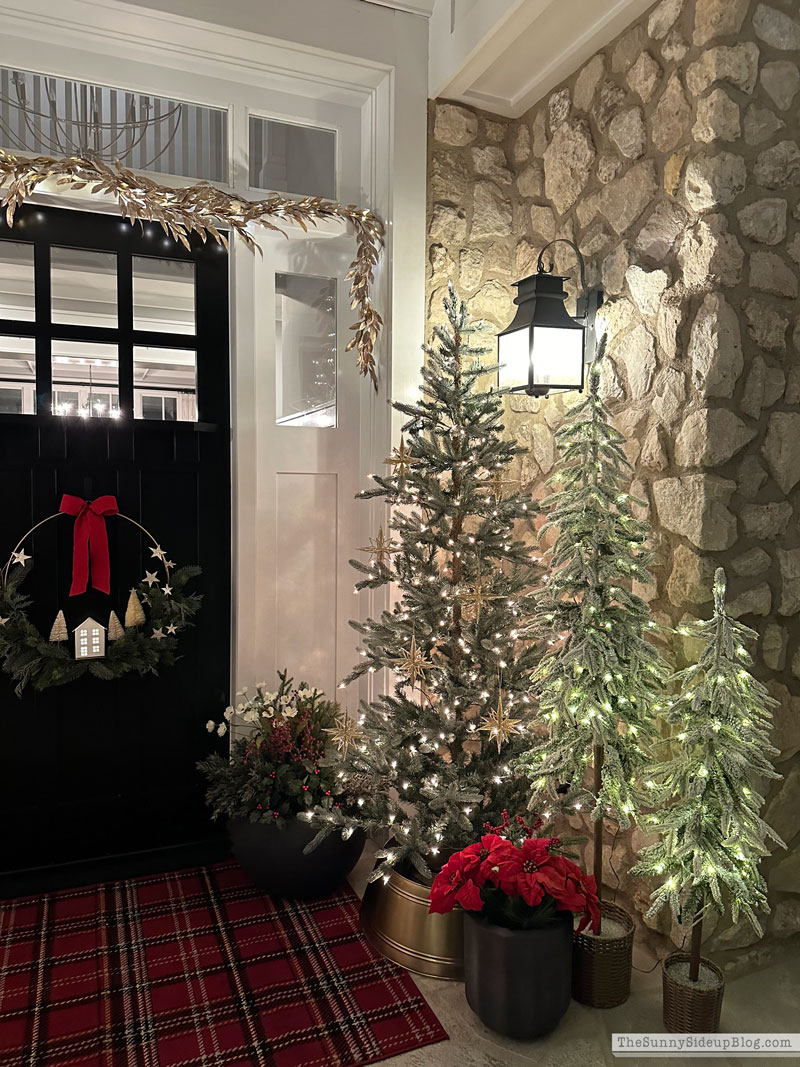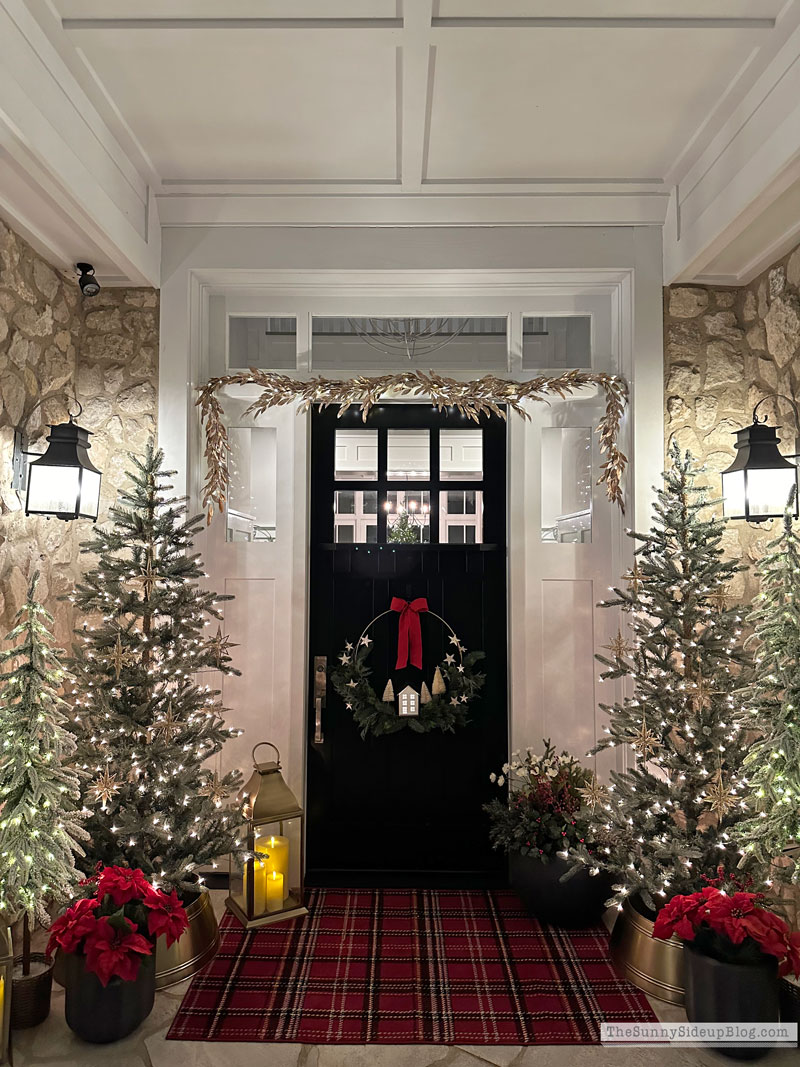 There is nothing like holiday lights! Just in time for the time change too! I never mind the nights getting dark earlier when I have my holiday lights up. BRING IT ON.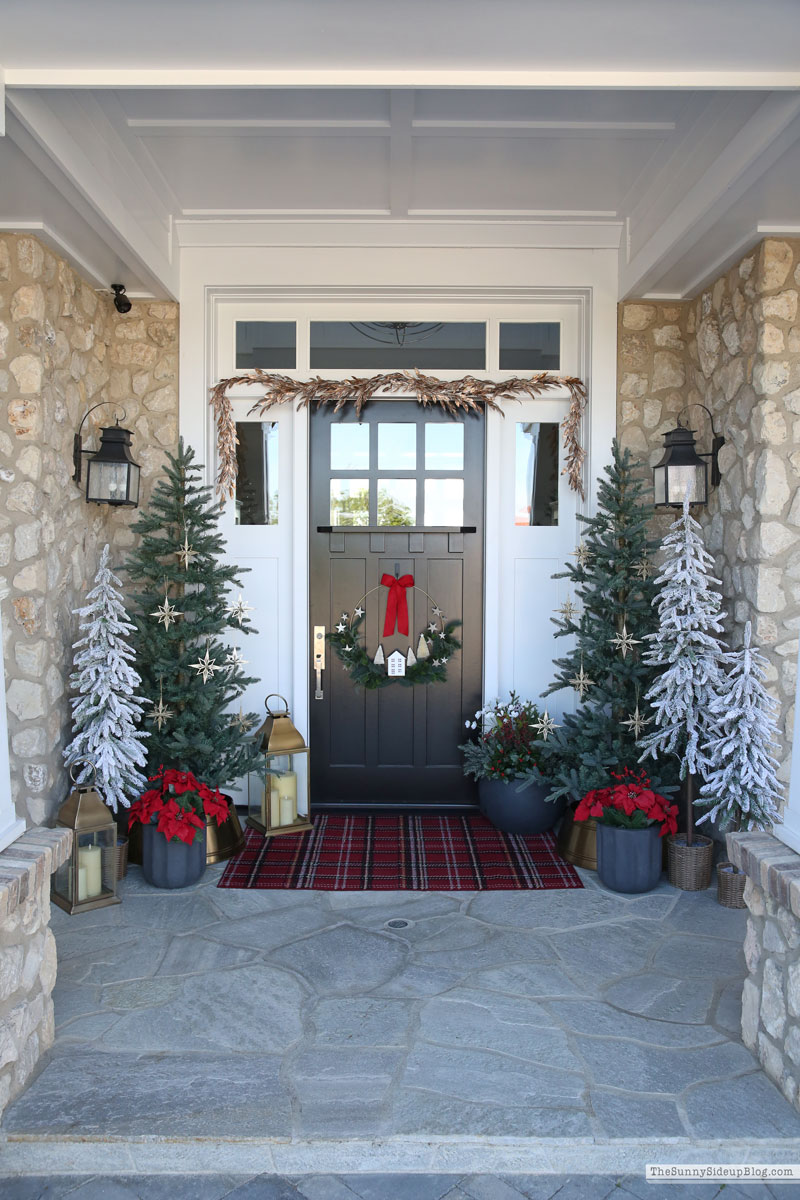 I hope you like my porch this year and I hope this gives you a few decorating ideas of your own! I'm so excited to welcome friends and family into our home this holiday season. Time spent with loved ones is the best gift of all and my favorite part of November/December.
Along with sparkly night lights.
And hot chocolate.
And cedar garland.
And more football.
And Christmas music/movies.
And cozy throws by the fire.
And ALL the decorating.
And all the eating.
But especially the decorating.
:)
{PORCH SOURCES}



xoxo, Erin