*Organized Cleaning Closet – affiliate links used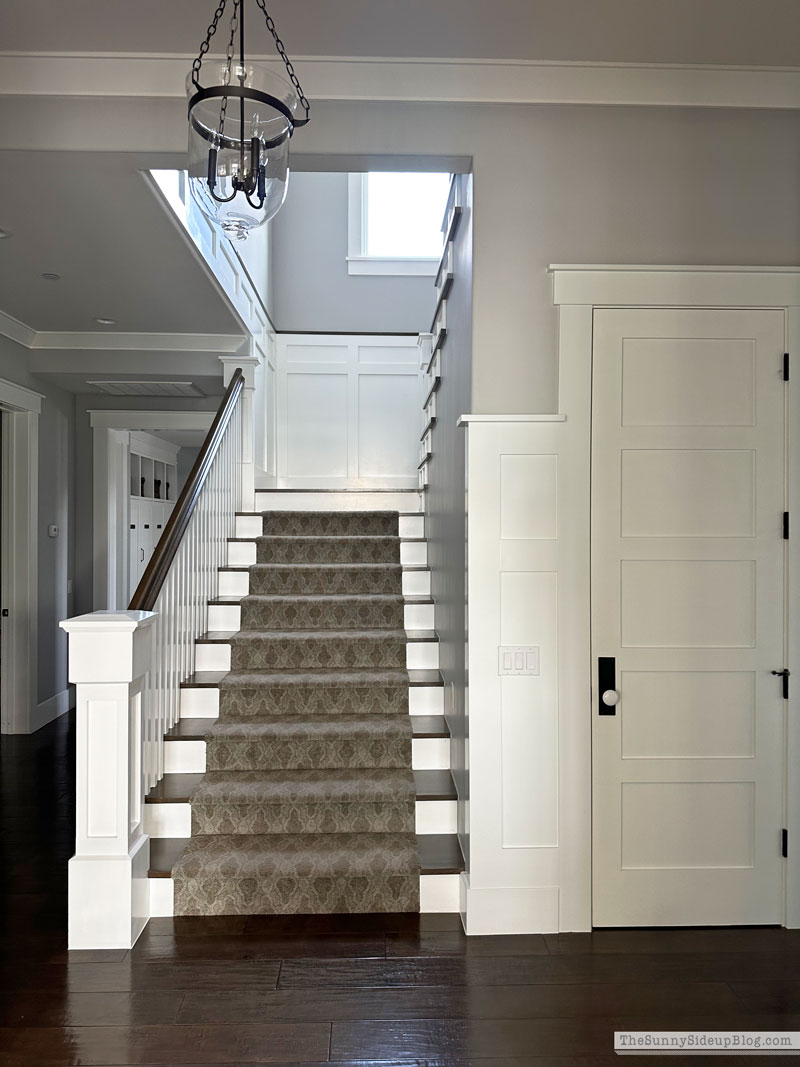 Happy Saturday! Quick post today that will hopefully inspire all of us to organize something this weekend! I actually need some motivation big time since I pulled apart my decor closet a few days ago and literally have random items all over my house. Wish me luck getting that wrapped up this weekend! But let's not talk about that mess.. let's chat about another mess that thankfully has been cleaned up and checked off my list! When we built our house I wanted this closet next to our stairs to hold cleaning supplies, but I never really consolidated supplies in this one spot. Over time it just became a catch all for anything I didn't want to deal with. Spots like that are always fun aren't they? :)
This is the "before" but I had actually already moved a few piles of things out when I remembered to take a quick picture so imagine it even worse! I pulled everything out and then thought about how I could really make this closet work better for me.
I designed this little closet inside of the closet (ha) to hold cleaning supplies on the top shelf. Brooms, mops etc. were supposed to go below it. The idea was that all cleaning supplies and products would be tucked away from my 3 year old. (Kole was so little when we built our house!) But my idea was a fail because the bottom space was too short for brooms so I ended up hanging them on the wall. This little closet became wasted space with one little shelf at the top and my cleaning supplies ended up spread out all over the house. I knew the best solution would be to add more shelves so I called Chuck (my bff and carpenter). He built this little closet and everything else in my house! I asked him if it would be easy to add a few more shelves and he said not only would it be easy, but he had a few shelves that would fit on hand and happened to be in my area. He swung by after work and 30 minutes later I had new adjustable shelves in my closet. Talk about same day service! Love him. :)
Ready to see the after?
GOOD-BYE piles! Hello floor. :)
I already had this system hanging on my wall next to my central vac and Dyson so I cleaned it up and got rid of items I wasn't using anymore.
I kept Addison's old nightstands in this space because they fit so well and work as a table for storage. This space next to the little closet was originally supposed to be a spot for an extra fridge, but we haven't needed one! Our fridge is big and I don't cook enough to need two. ;) I added a basket to hold all of my shopping bags. I keep them and always reuse them for returns or if the kids need to carry large items to school.
Ready to see my little cleaning closet?
Ta-da! And NOW I hear the angels. So good right!? Just a few extra shelves gave me all the storage I need to keep everything in one spot!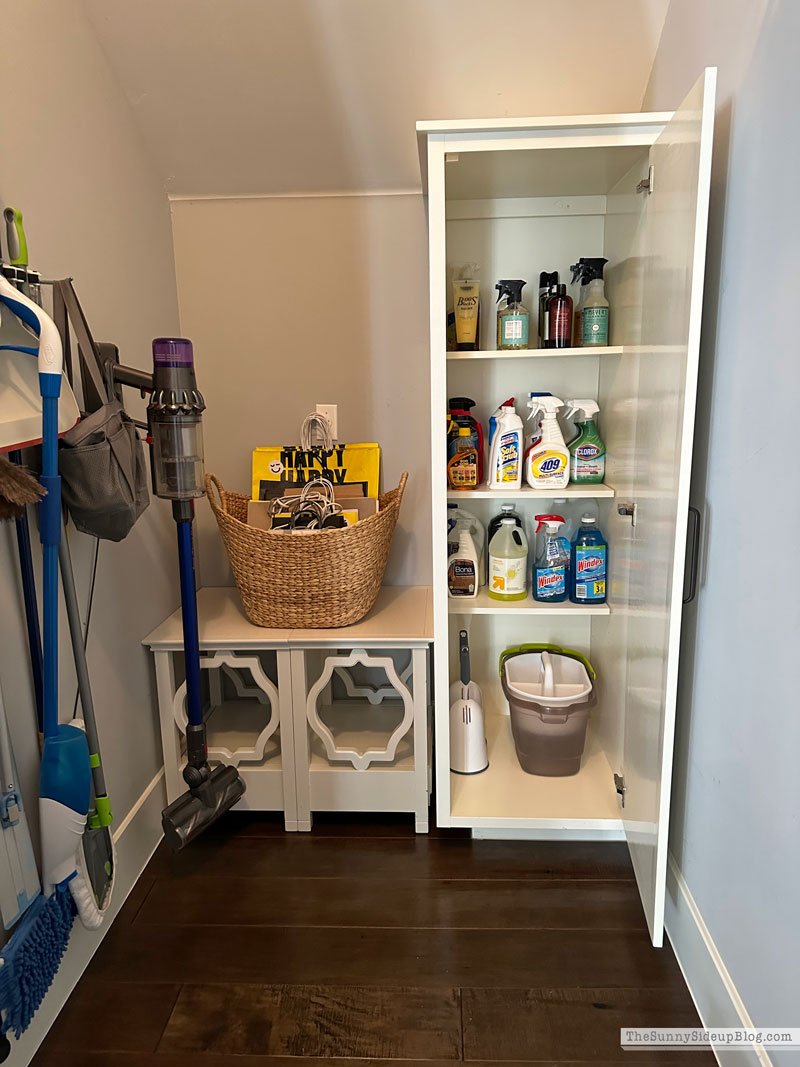 ALL cleaning supplies now have a place to land and I am one happy girl. This closet is finally being used the way it was supposed to!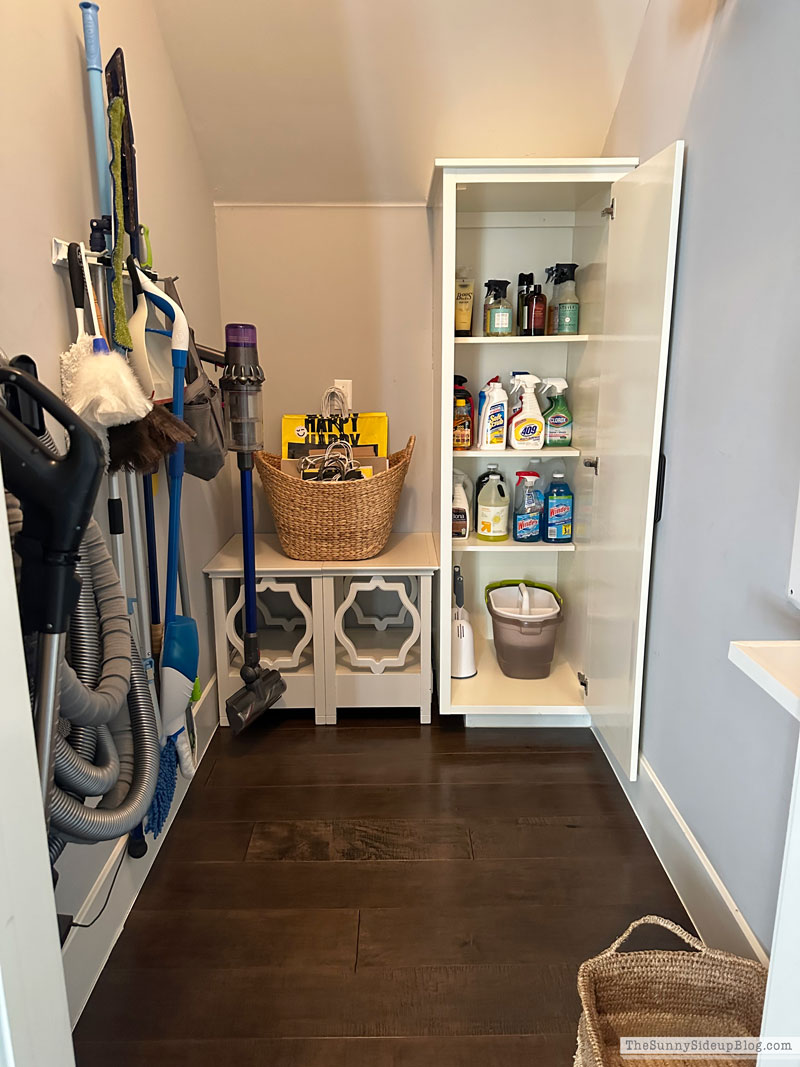 I added one more basket in the top corner because I like to have a spot to set items I need to return. I use the empty space in this closet all the time for work stuff. I set my tripod here when I'm photographing things and packages here before I get to them. I need the empty space for my daily "work mess" so that we have room to live. It's an interesting set up when your whole house is your office. ;)
One more pic with the cleaning closet door closed..
and open! I don't think I'll ever get tired of opening the door to this closet and seeing it so clean. This is a spot I've wanted to tackle for a long time! I'm so happy it's finally done.
Now time for that decor closet. Unfortunately I have WAY more vases than I do cleaning supplies (yikes) so my current project might pull me down and drag me under. Wish me luck!
Is there a spot in your home you've been wanting to clean out for a while now? Turn on a good audiobook, podcast or some music and tackle it this weekend! Best feeling! We've got this.
:)
{SOURCES}


xoxo, Erin