*This post is sponsored by Walmart. All product selections and opinions are my own!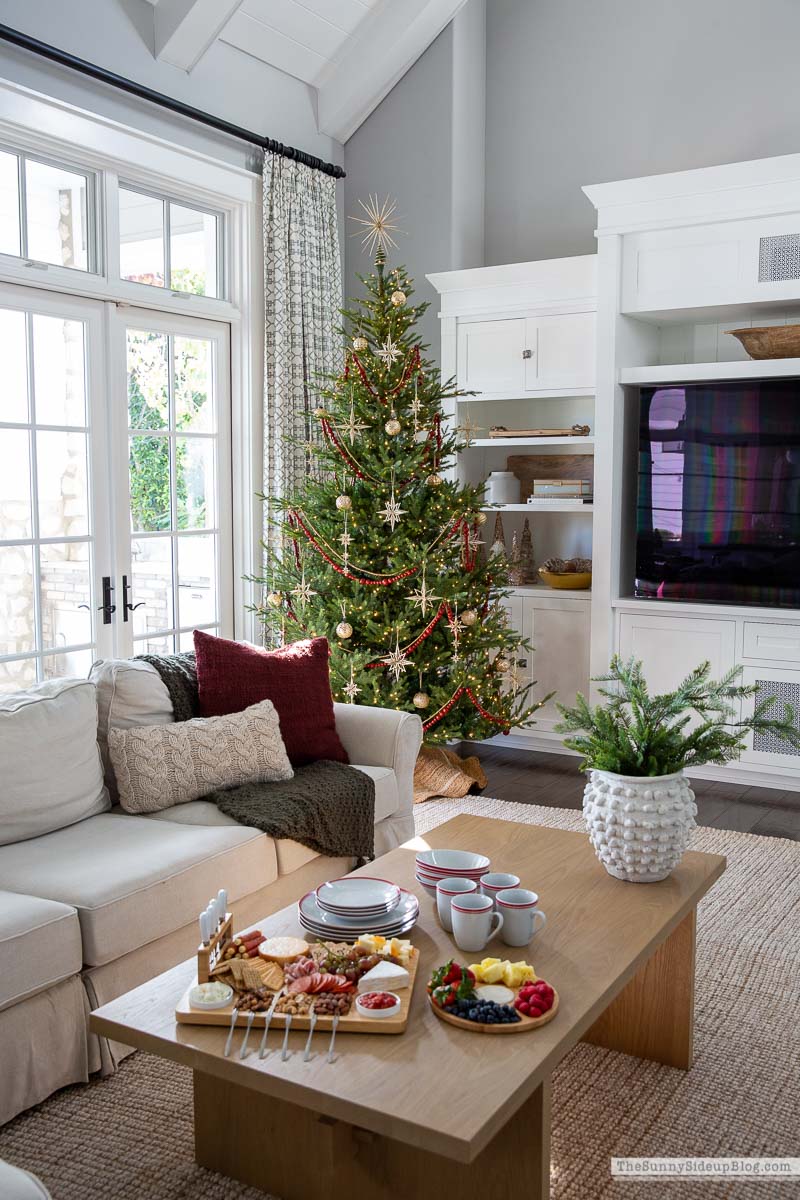 I have 4 posts that are mostly finished but not quite done at the moment! So much to share this month and the days are flying by so quickly. I'm hosting a pajama party at my house tomorrow night so I have been busy this week getting my house and ALL the things ready. I'm so excited for a fun night with friends over! Then I wish I could take a long winter's nap! But that's not in the cards until January. Ha. This weekend is booked solid. I'm sure you're feeling the wonderful madness that is December too!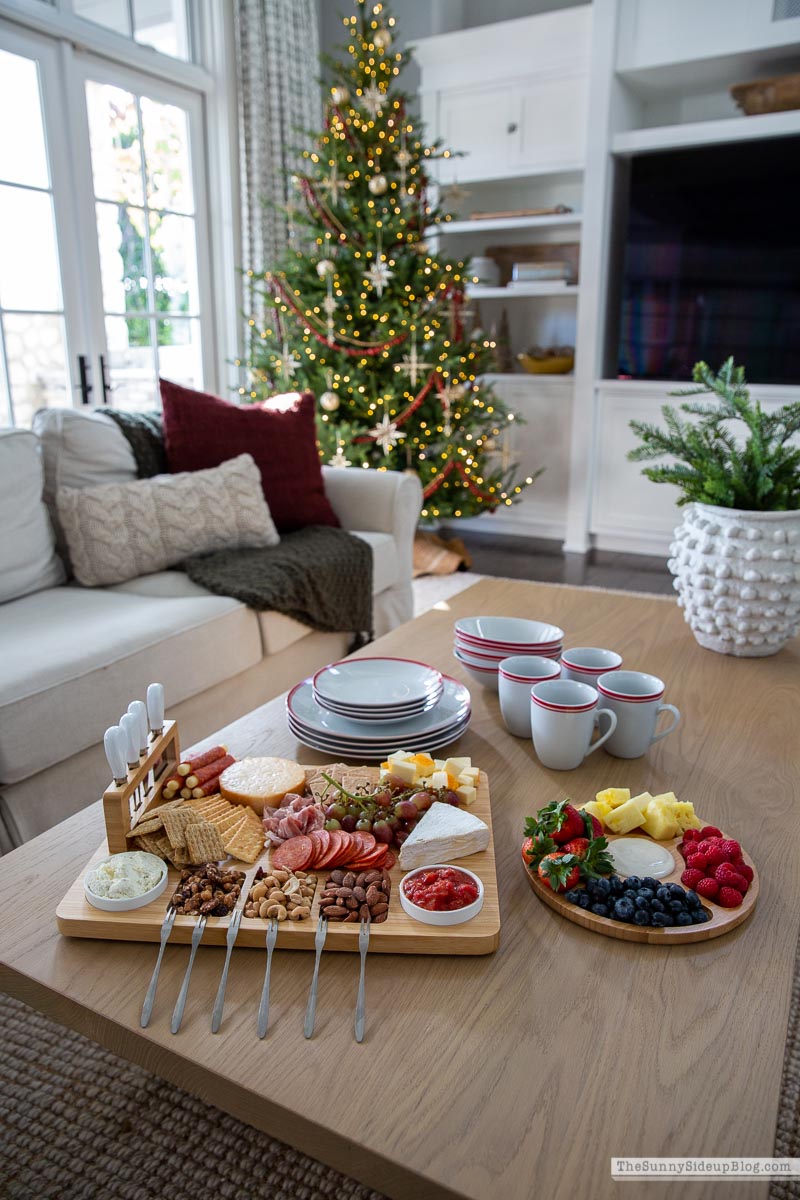 I have a friend who always helps me with my charcuterie boards when I entertain because (like all food related items) they intimidate me! So you could say that I was beyond thrilled when I stumbled across this beautiful cheese board/knife set from Walmart on-line when I was ordering groceries. (I linked lots of similar boards below too!) I ordered it along with my food and when everything arrived it was so simple to put this board together. It's like paint with numbers because everything has a place! Creativity is not necessary on this one. I'll take it! :) I also wanted to share these beautiful red rimmed dishes I've had for a while. This set is so cute for the holidays and a great price! They come in lots of fun colors.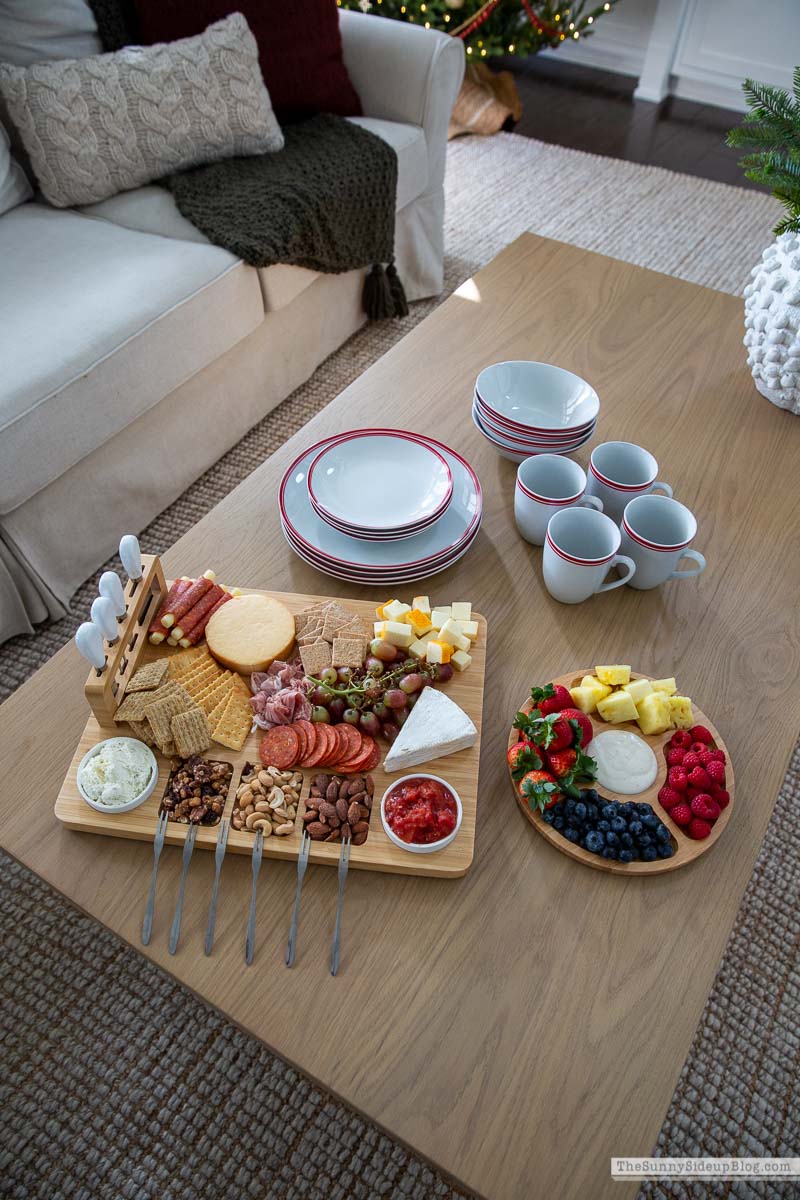 This board has cute little cut outs for nuts, round dishes for sauces and dips, a beautiful set of knives and a separate round tray for fruit! I made this for my crew in 10 minutes and it looks beautiful with very little effort on my part. WIN. It would make such a perfect holiday gift for a friend/neighbor/teacher also. Something everyone can use! It works well whether you are entertaining large crowds or just throwing something together for your kids. I know this fruit tray will be a weekly staple at our house! It's just the right size for healthy after school snacks. :)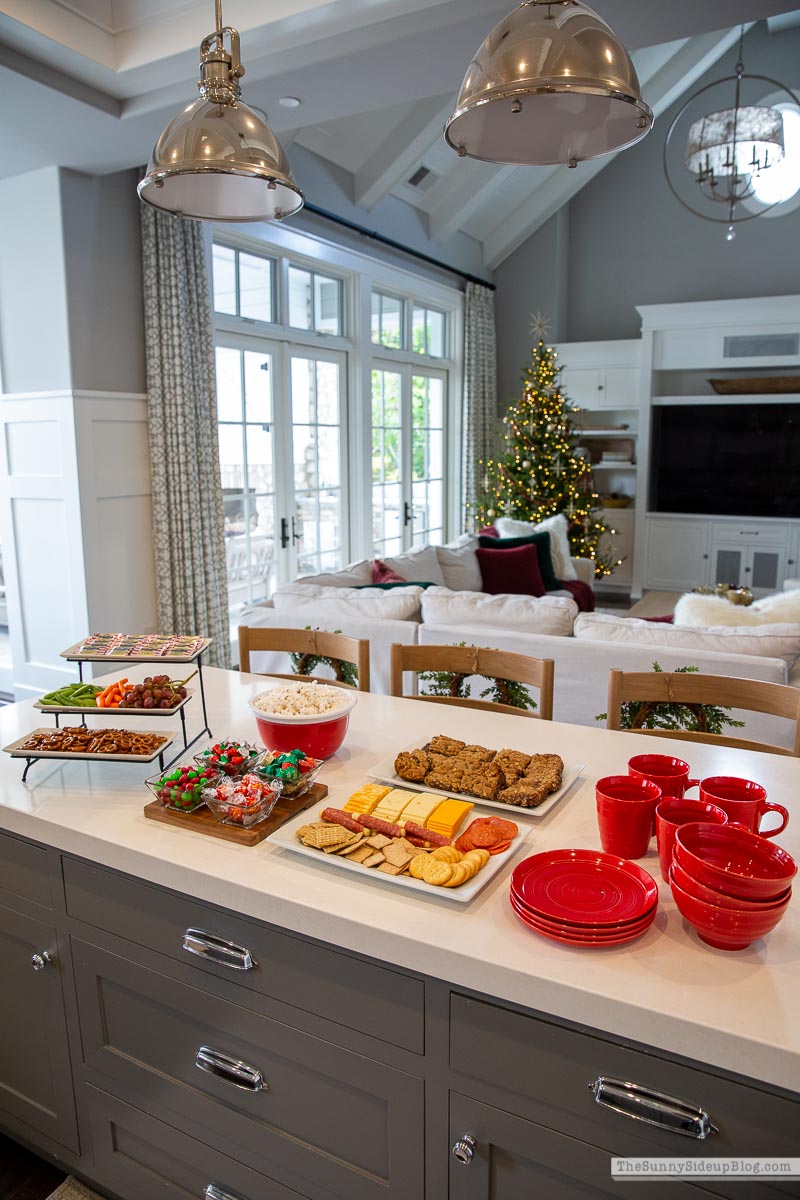 I recently shared a few other items I love to use when I'm hosting a party or fixing holidays snacks for the kids. I really do love that I can order all of my food right along with cute serve-ware from Walmart and be done! A lifesaver for this busy stage of life.
I'll be using a lot of this again for my party tomorrow night! (Recipe for the Oatmeal Carmelitas is at the end of this post.)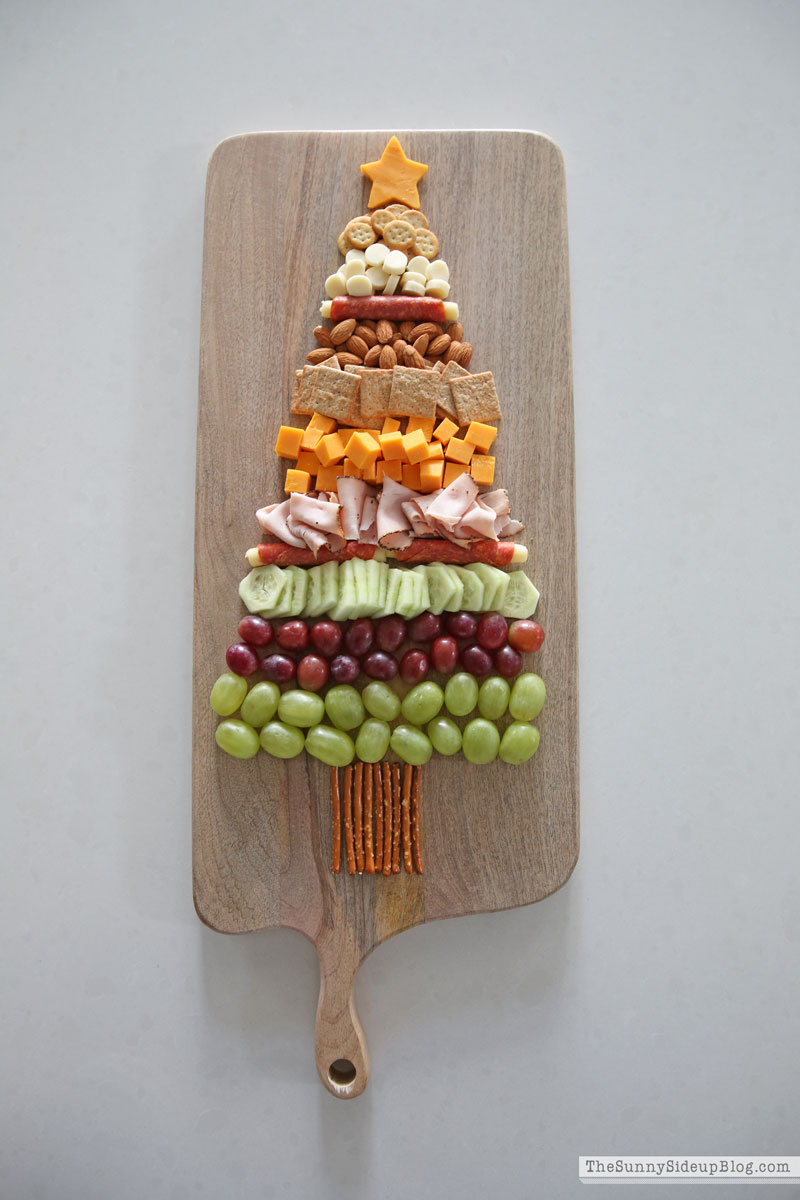 I also ordered a few fun groceries for my Christmas tree board to make with the kids (hopefully this weekend if we have time!). They loved this so much last year and decided it's a new Christmas movie snack tradition. :)
Of course I can't talk about holiday snacks without mentioning our stand-by forever favorite – Christmas Pretzel Hugs. I ordered the groceries for these too! My kids' friends all get excited and start asking when the hugs are coming. I love that. Aren't holiday traditions the best? We all need things to look forward to in life. Pretzel Hugs from a friend are always a good thing to look forward to. :)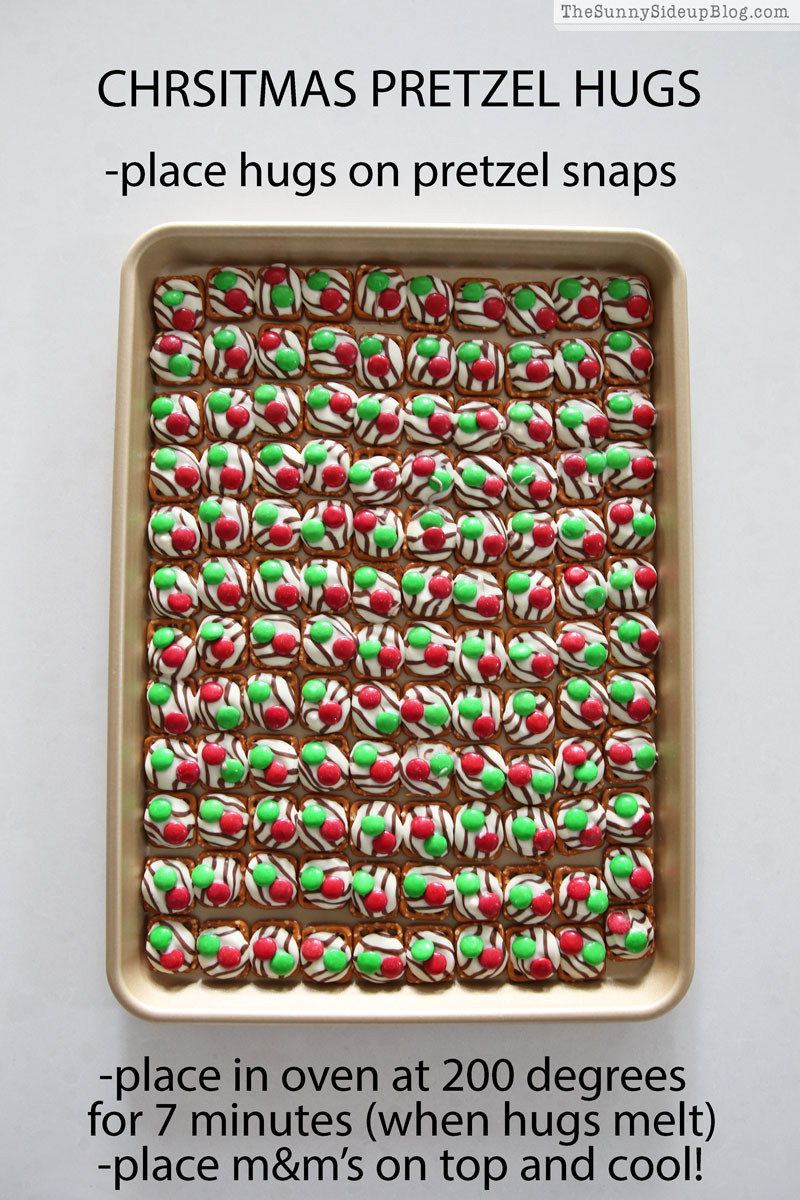 This is how to make them if you are new here!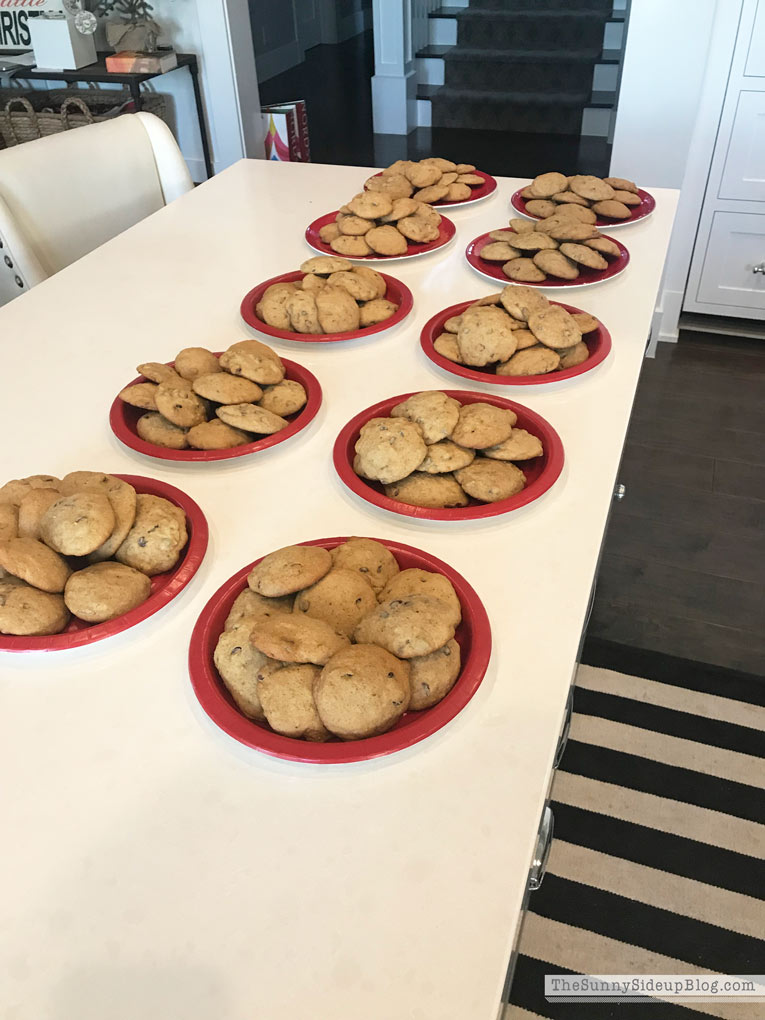 Every December I link our favorite holiday cookie recipe.(Recipe for our applesauce cookies HERE.) Really it's not a holiday recipe, but I make them every December because they bring back the best childhood memories AND they make our house smell amazing! Plus they just look so cute on red plates. :) We love taking these to neighbors and friends too.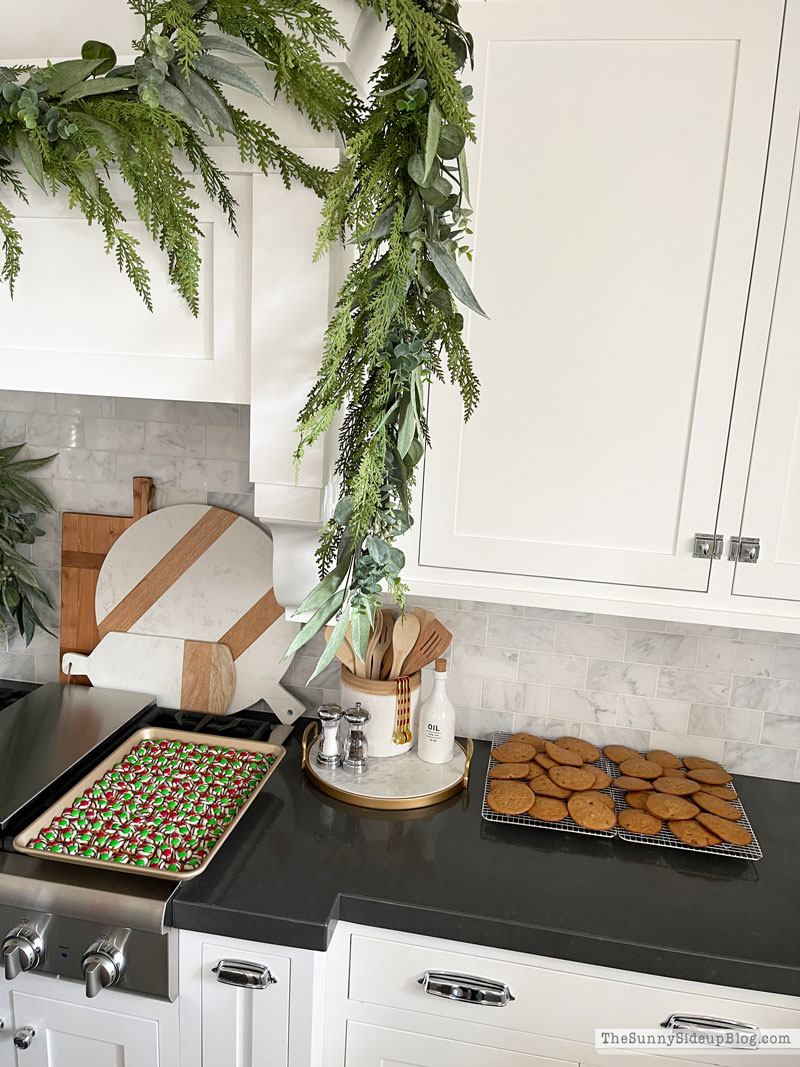 A typical scene at my house in December. :)
These Ritz reindeer treats are Kenny and Kole's favorites. :)  It's just peanut butter on a Ritz cracker and then add chocolate chips, pretzels for the antlers and a red m&m for the nose. So easy and festive!
I also love making these cute Santa hats.  Just Ritz crackers, cream cheese, strawberries and marshmallows!  Quick tip with these.. eat them soon after you make them or the crackers get soggy!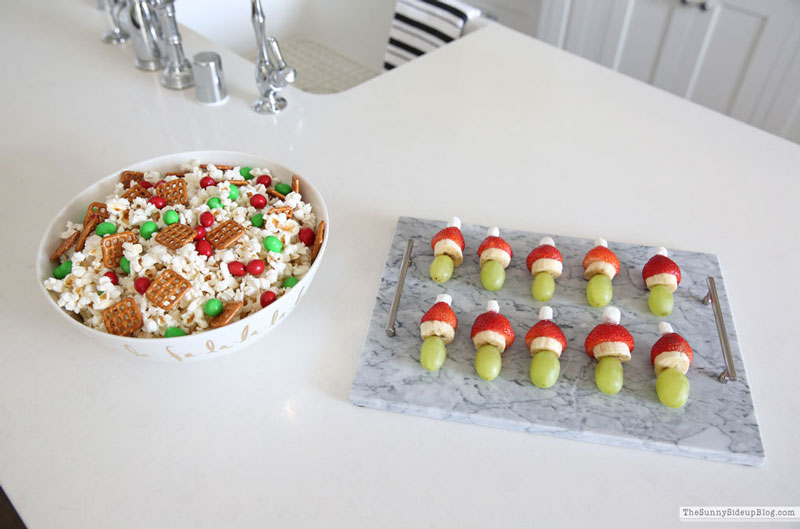 You all know popcorn is my love language. :) In December I toss holiday m&ms and pretzels in with our popcorn for movie nights.  So simple and it makes it feel like a special Christmas treat. These Grinch Santas are also adorable and so easy. They are just fruit on a toothpick with a marshmallow on top!
EASY holiday snacks. The very best kind! See you at our weekend Christmas movie night. Next up? White Christmas! I'm making Kenny watch it with me.
Again
:)
{POST SOURCES}






xoxo, Erin