*This post is sponsored by Walmart and affiliate links are used.  All product selections and opinions are my own!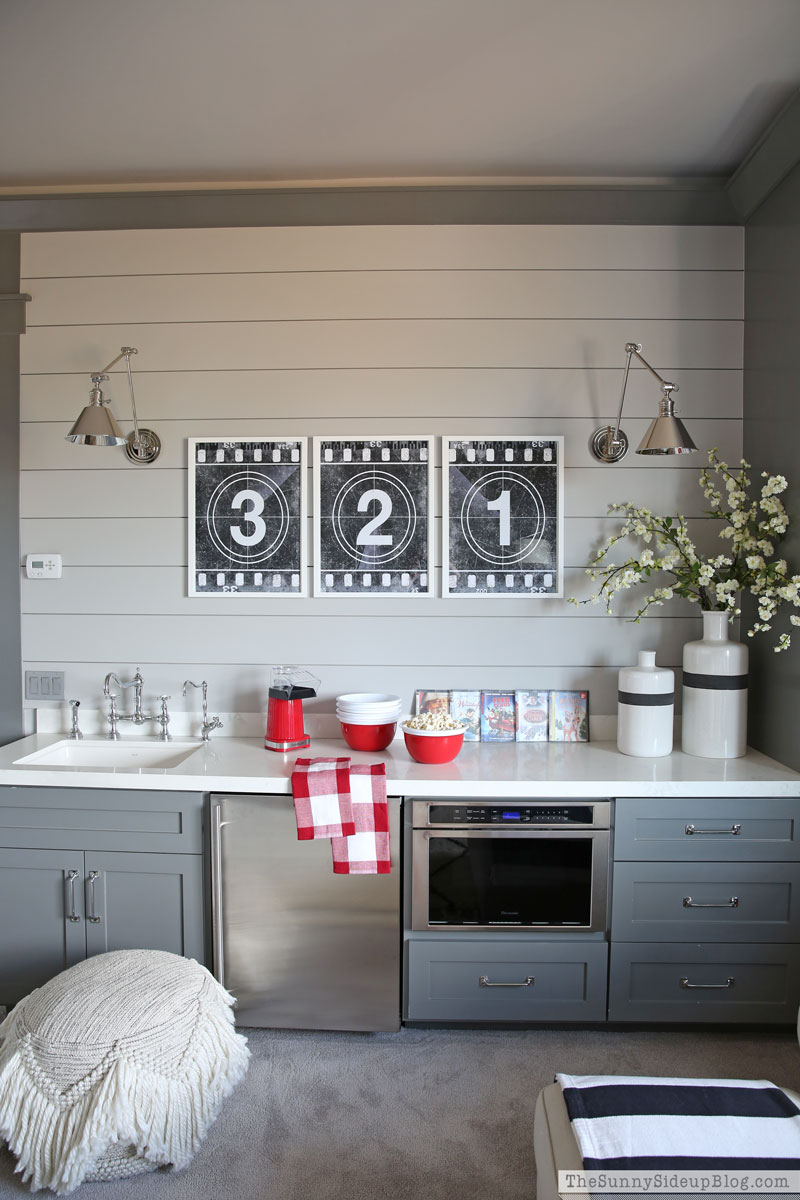 It's time!  Bring on the popcorn and Christmas movies!
Christmas movies are on repeat at our house and they are cheering us up immensely.  Rudolph is just a welcome sight every year isn't he!?  The best.  I recently picked up this cute red hot air popcorn maker from Walmart and we have been having so much fun with it!  I've always been a popcorn lover at heart and there's something magical about using a popcorn maker to pop your own.  Makes it feel extra special. :)  This popcorn maker is small but packs a big punch and is so easy to use!  (I got the cute bowls at Walmart last time I was there too but can't find them on-line!  Shared a few similar options below.)  We've  been debating buying a larger popcorn maker for our theatre room and are looking at a couple of these options.  It would be so much fun when we can start having parties in this room again!  *Hint hint Santa.. :)



Today I'm sharing some fun gift ideas from Walmart!  They have such a great selection – something for everyone on your list!  I've found that my husband is always the hardest for me to buy for so I wanted to share some things I know he would love first.  I ended up stealing a few of my own ideas. ;)  #jobperk
1. plush queen blanket  2.copper chef egg maker  3. smokeless electric griller  4. stainless steel water bottle
5. long sleeve thermal  6. glass bookends  7. decorative throw pillow 8. barbecue tool set
9. grill & panini press 10. home repair tool set  11. champion fleece hoodie   12. armor car care bucket
13. smilemart rolling desk chair  14. portable mini fridge 
If you know someone who loves to cook shopping is a breeze!  So many fun options.  As an anti-chef I'm lucky to have many people around me who are excellent cooks!  I am more than happy to support them in their hobby by buying them all sorts of fun cooking gadgets.  (LOVE all of the options below!)  Then I can insist that they have me over when they cook to you know.. witness for myself how the products are working.
I'll set the table. :)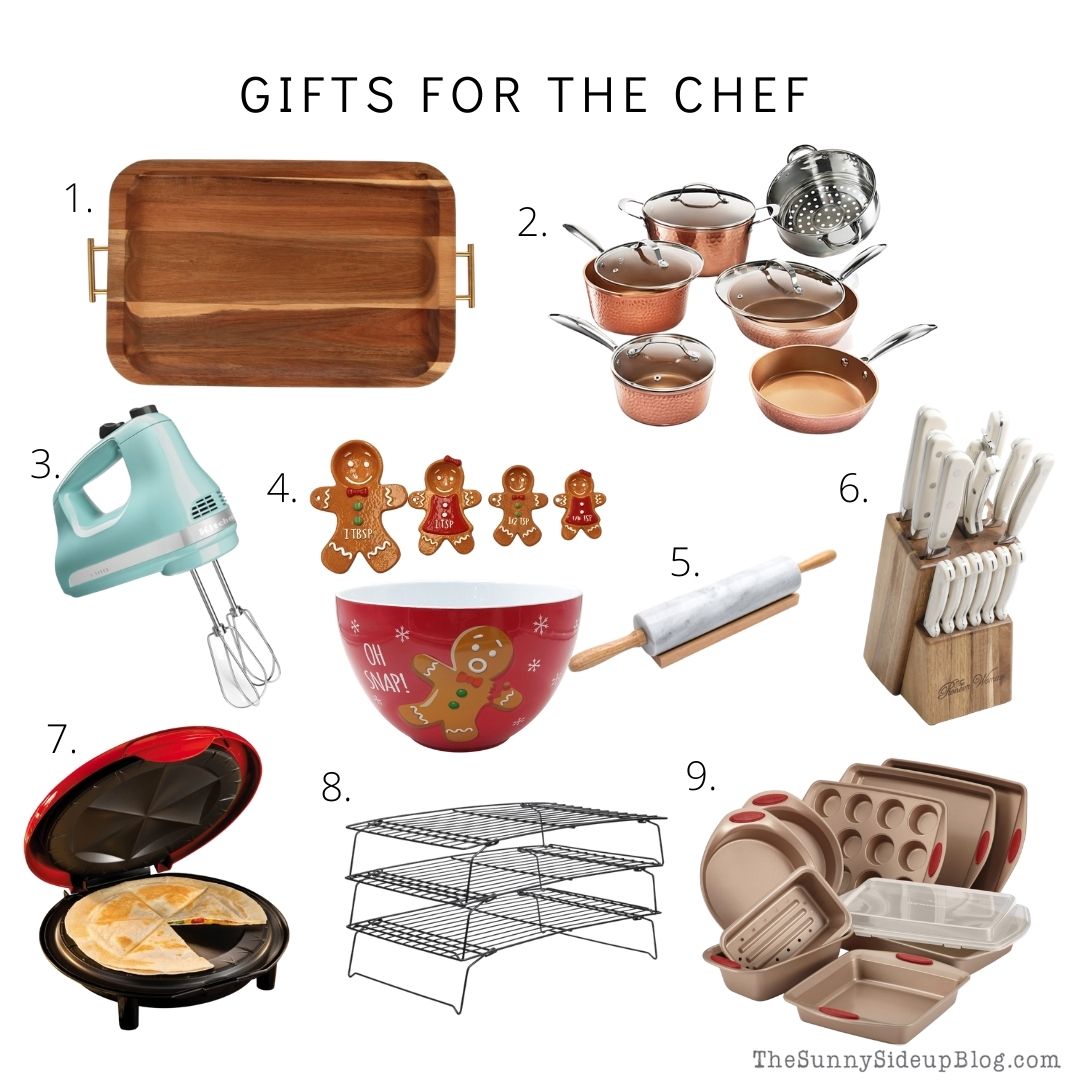 1. acacia wood serving tray  2. gotham steel cookware set  3. kitchenAid hand mixer  4. holiday mixing bowl & measuring spoon
5. white marble rolling pin  6. 14-piece cutlery set  7 .quesadilla maker  8. 3 tier cooling rack  9. rachael ray non-stick bakeware set 
Gifts for kids are my absolute favorite to buy.  You too!?  I'll have some fun ideas coming soon for teens, but if you have little ones below are things my 3 kids would have absolutely LOVED when they were younger!  A couple of the items are things they would still use/love now.  It's so magical watching little kids on Christmas morning.  We were watching some family movies of past Christmases the other night and I teared up watching the look on my kids' faces when they saw what Santa had left.  Magic! :)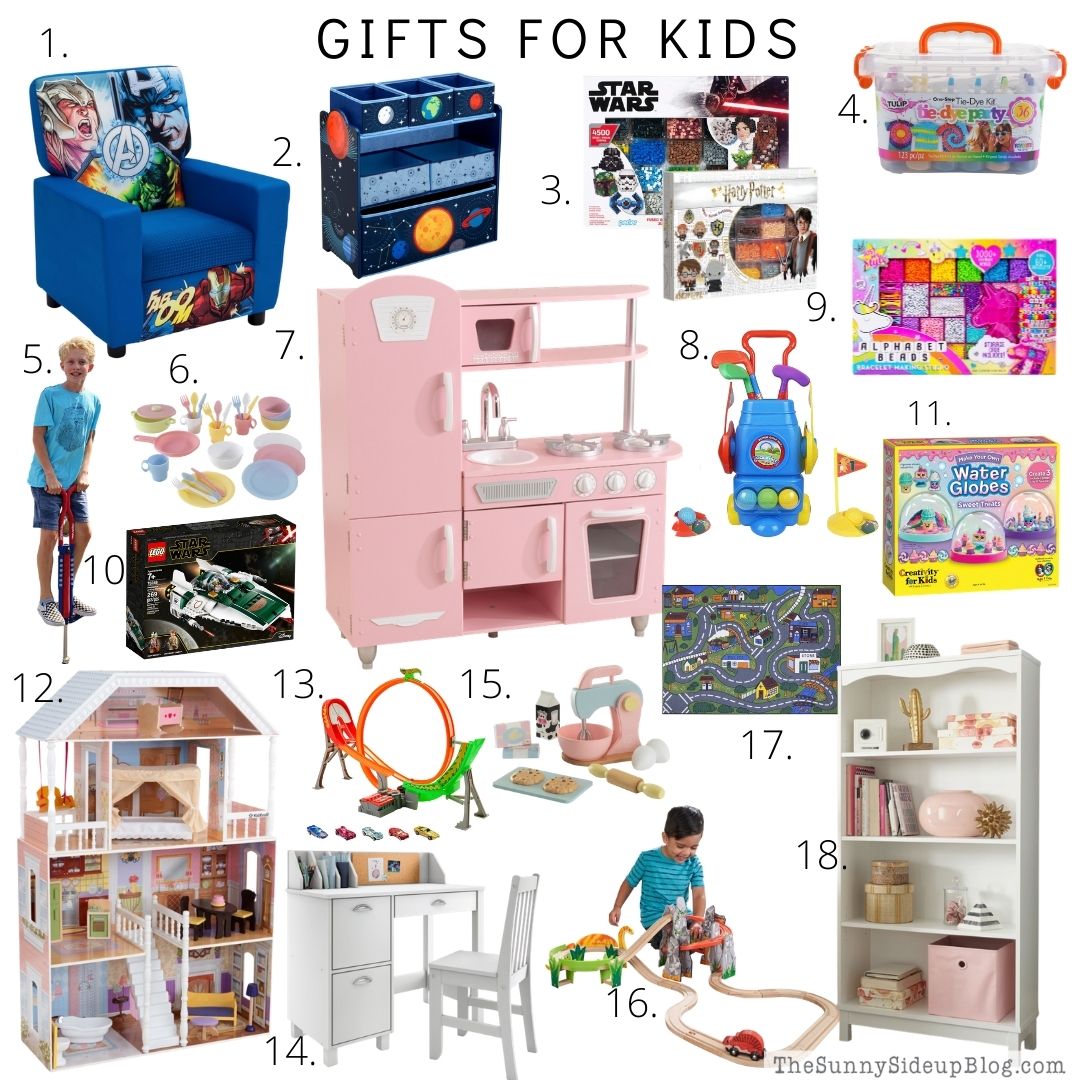 1. marvel avengers chair  2. children space toy organizer  3. star wars box kit / harry potter box kit  4. tie-dye party tub
5. master pogo stick  6. pastel cookware playset  7. kidkraft vintage play kitchen  8. kids golf club set
9. beads bracelet making studio 10. lego Star Wars A-wing starfighter  11. make your own water globes 
12. kidkraft savannah dollhouse 13. hot wheels power raceway  14. kids desk and chair  15. kidkraft baking set
16. adventure tracks  17. city life road traffic run  18. sauder 4-shelf bookcase 
I hope these gift guides gave you a few ideas for men, kids and the chefs in your life!  If you end up buying any of the fun cooking items I recommended I'll be waiting for my dinner invite!
I'm free.. hmm.. pretty much any night but Thursday this week.
Thursday I'm popping popcorn and watching Rudolph.
;)
xoxo, Erin