*affiliate links used

{faux pink peonies/white jars/cutting boards here, here & similar here/navy rugs/rug pads/marble tray/faux plant here & here/silver pendants/gray vase/similar bowl}
Alright.. let's wrap this kitchen organization up today!  Actually.. I don't know.  It's kind of a fun topic for me.  I'm not so sure I want it to end. ;)
This is the 3rd post of what turned into a mini series on my kitchen organization.  If you missed either of the first 2 posts you can check them out here:
(All kitchen sources are linked at the end of this post!  I also updated my favorite things page.  A lot of my favorites are marked down!)
In my last post I shared the island cabinets across from the cooktop so today we are starting with the backside!
The cabinet on the left (if you're facing this side of the island) holds some of my cleaning supplies.  I know.. I have a crazy amount of Meyers counter sprays and dish soap!  That's because I've done collaborations with Grove for my blog so they sent me a lot.  (This was after sharing some with friends!)  I love Meyers multi-surface cleaners and counter sprays!  Recently I've been using the lavender a lot. :)  I also love this Screen Mom cleaner for our computers and TV screens, etc.  I keep the rest of my cleaning supplies in my stair closet and a few things in bathrooms where I use them.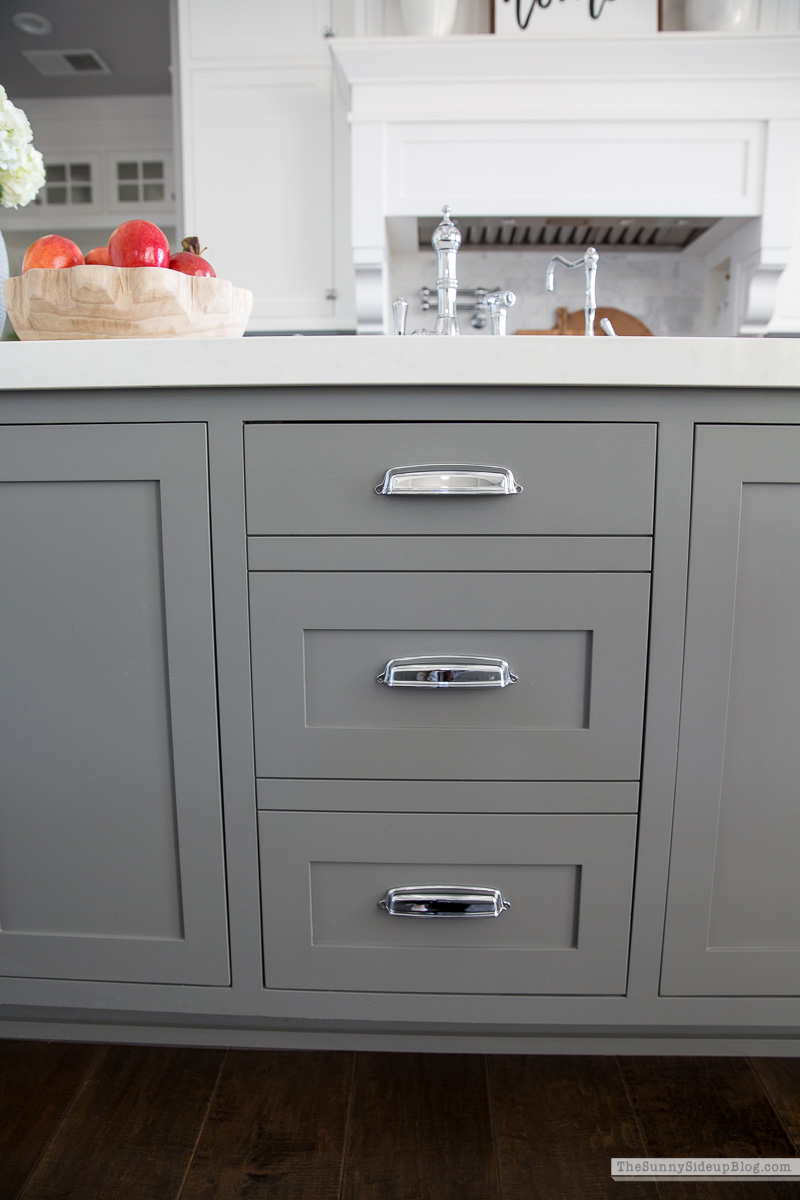 I designed this middle section of the island to look like three drawers but it's actually not!
It's one tall cabinet that opens to the right.  I'm tricky like that. ;)  I didn't really need more drawer space but I thought the look of drawers added some visual interest.  I have a hook in this cabinet that I used to use to hold all of my reusable shopping bags but now I keep most of them in my car.  It also holds two little stools in a stool stand.  We use these stools every day!  I'm short so I always need them to reach things in my kitchen.  Kole uses them all the time to reach the counter and help me cook things and I also use them when I'm taking pictures with my tripod.  Short people need step stools nearby. ;)
The cabinet to the right is just extra storage and since I've been on a cleaning frenzy it's nice and bare at the moment!  Just holding a few extra OXO containers for the pantry and my favorite drink dispenser.  Ready to pull it out for warm weather and outdoor dinners!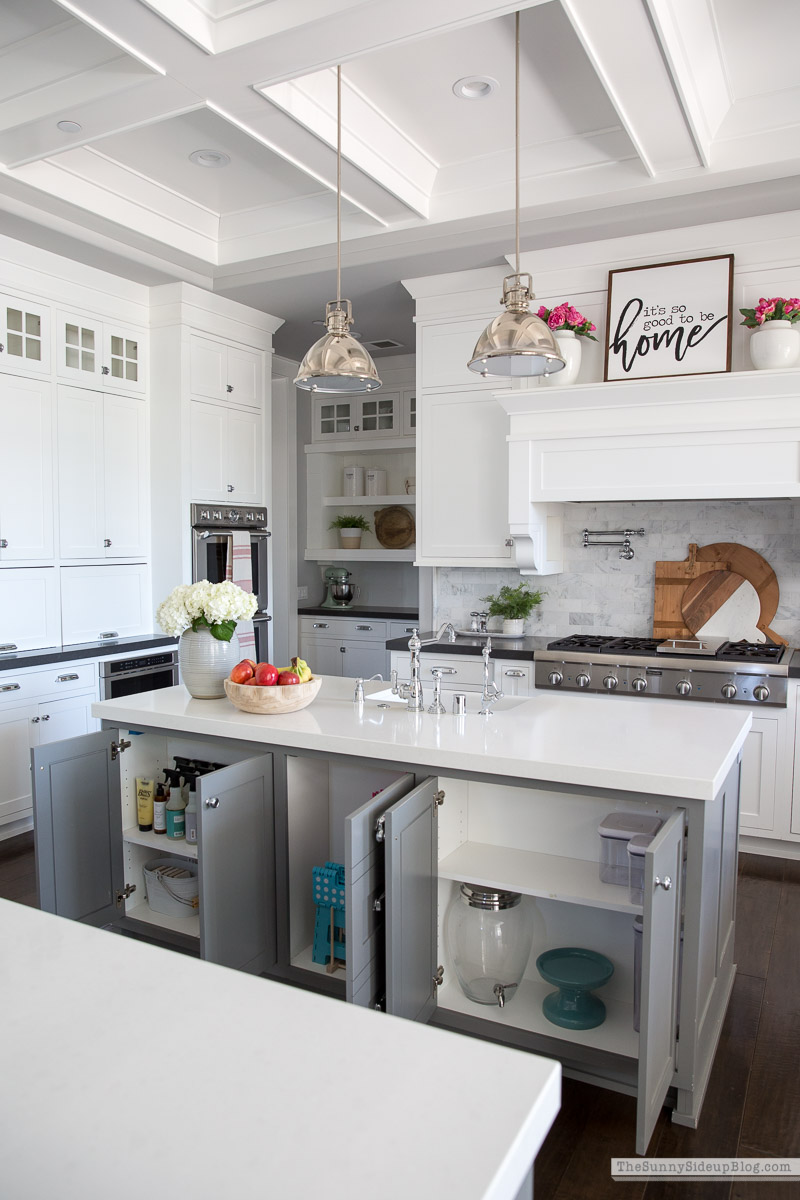 Island cupboards open..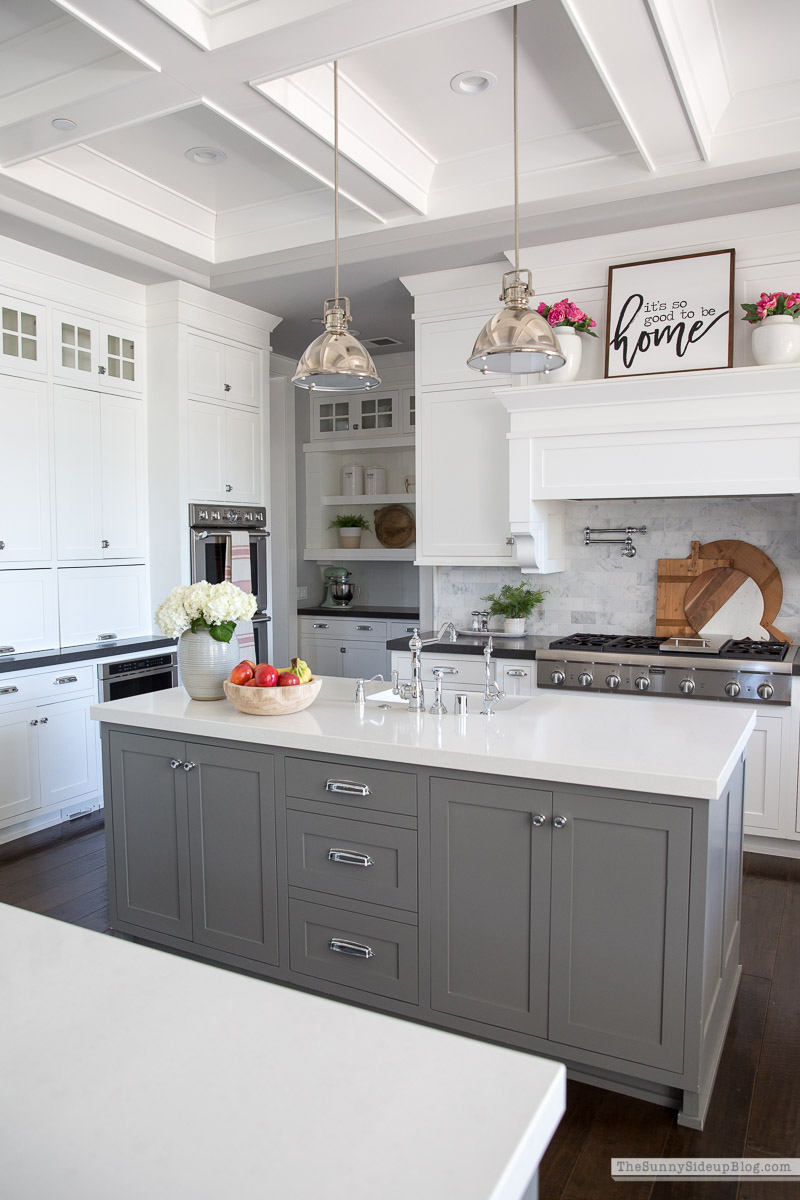 and closed.
I have to say that I learned a very valuable lesson when we moved into this house.  I had always lived in small apartments and a much smaller home before we built this house and I had to work really hard to purge often so that I could stay organized.  I remember thinking "if I only had more space..  it would be so easy to keep things organized!"  Then we moved into this home.  A larger home that I had designed myself with storage in mind and the first few of years living in this home I was the most unorganized I've ever been.  I had so much space for things!  So things filled up all the space.  Then I spent too much time moving all of our endless stuff around trying to compartmentalize it and failing miserably.  I finally realized (or maybe just finally remembered!) that the key to staying organized isn't about having more space.  It might make some things easier, but the real secret to keeping your home organized?  LESS STUFF.  It just is.
Which brings me to the last section of my kitchen – the cupboards and drawers in this second island.  I never planned on having storage in this island (we really didn't need it) but my architect convinced me to add it because we might as well use the space inside this island that was going to be here anyway.  In some ways I wish these were all fake cupboards and drawers because this island constantly becomes a dumping ground!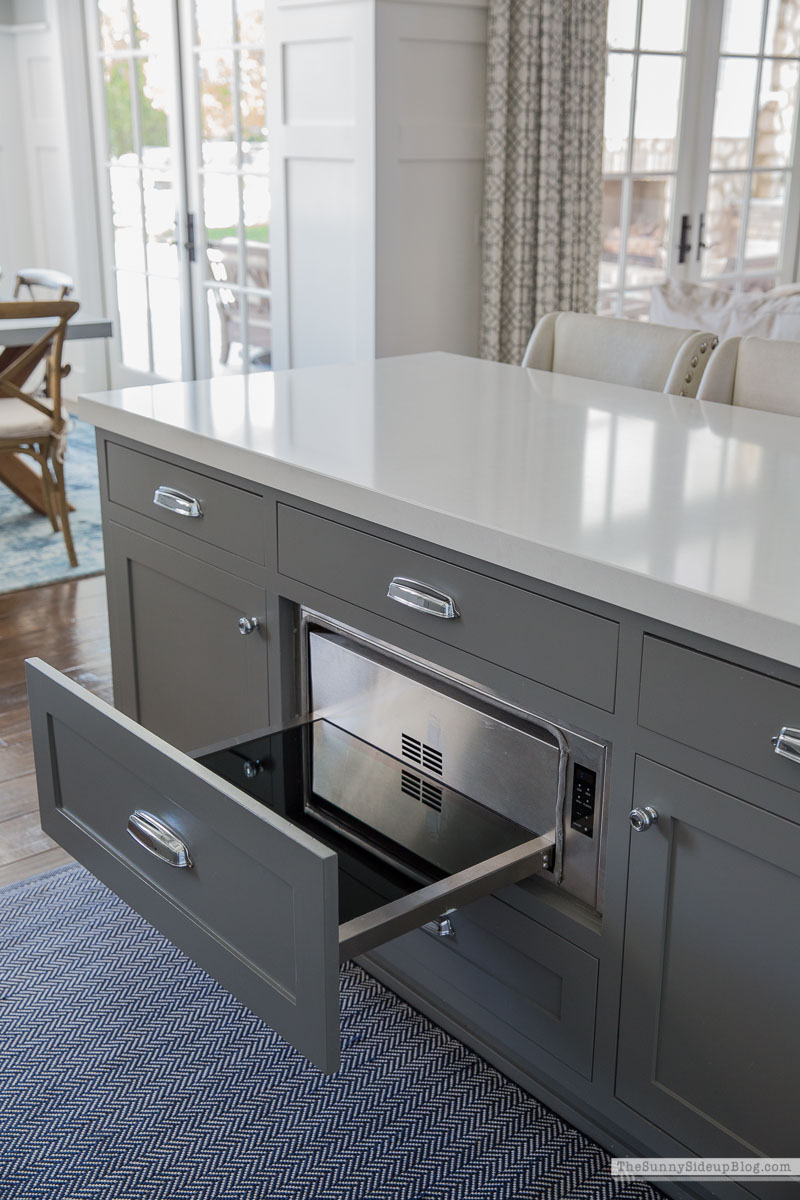 My architect also convinced me to put in a warming drawer.  I knew I wouldn't use it much.  I remember joking with him about "what would I use it for?  To warm up my kids chicken nuggets for dinner?" ;)  I've used it a few times for our family and it has come in handy a few times when we've had catered events at the house for my husband's office, but other than that not so much.  If Kenny isn't home in time for dinner it usually means he's eating out with clients so there's never a time I make something and want to keep it warm for later.  In my opinion it's something you could do without in a kitchen remodel/build.  I'd put your money towards two dishwashers instead! ;)
The drawer below this holds our cords.  I FINALLY got this space cleaned out and am determined to keep it this way!  The angels were singing when they saw this one finally organized. :)  I have to share the before's of this one quick..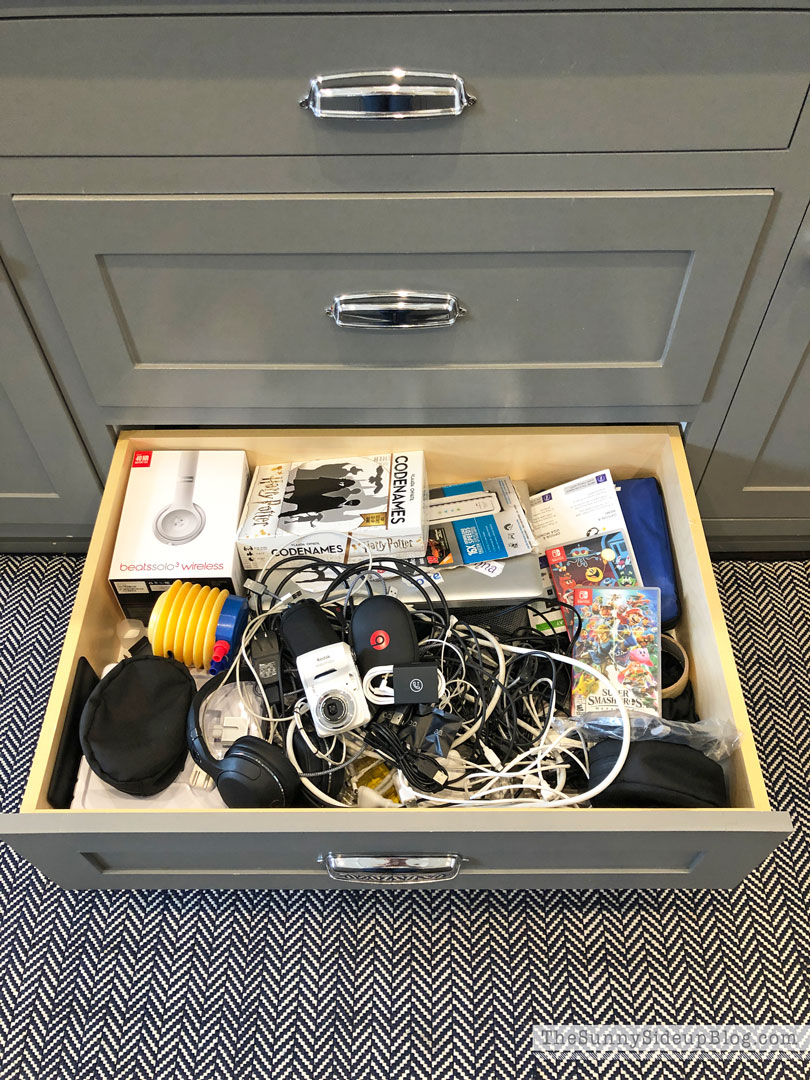 See what I mean by the danger of having too much storage space?  To just fill it with junk!?  What even WAS this mess!?  A dumping ground for cords and random electronic items.
The trick to staying organized?  Get rid of what you don't use or love.  This is all we really need to keep in this drawer.
Once this drawer was only full of the items we really needed to keep I rounded up some organizers I already had on hand.  Two containers from a set of fridge organizers I had (these big bins work better for me here than in the fridge!) and another random organizer with three long compartments to hold our cords and chargers.  Wow.. such a difference!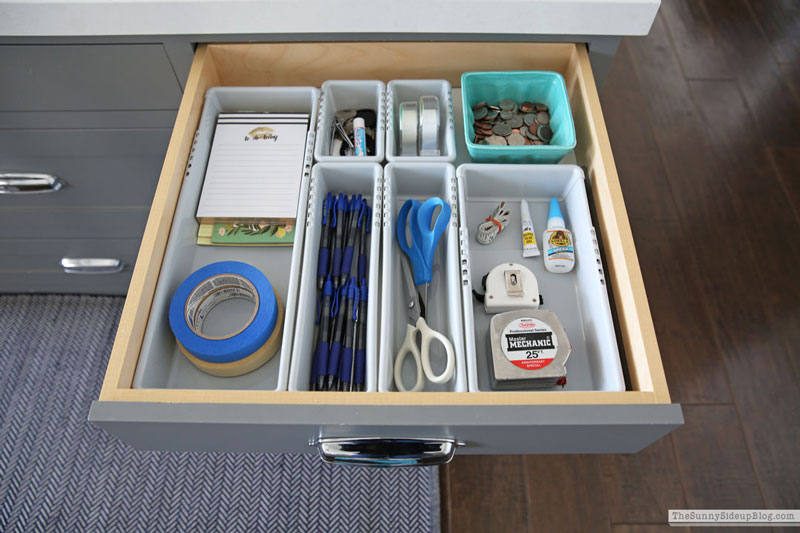 The top drawer on the right is our beloved junk drawer.  These expandable organizers have made it so easy for me to keep it looking like this!
The cupboard below our junk drawer I've been using to keep games and books, etc. for the kids.  Mostly Kole's stuff that we pull out when we have an "I'm bored" moment. :)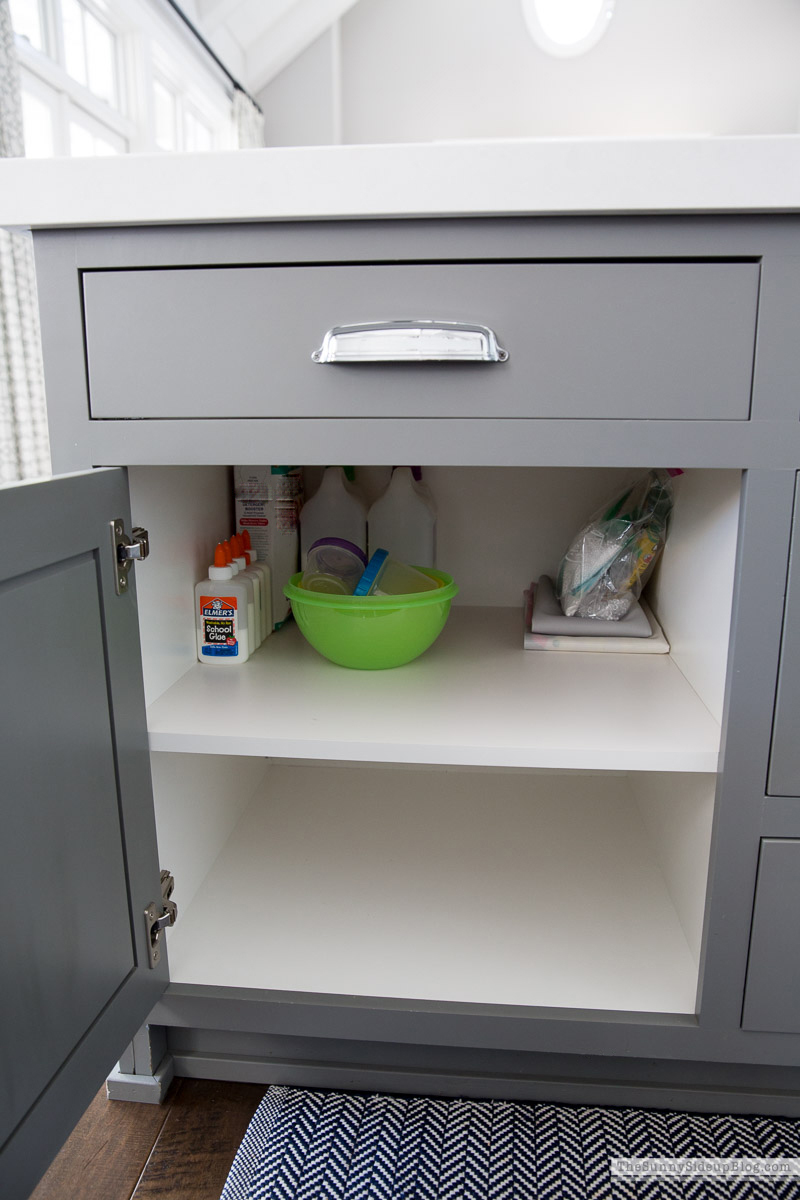 The cupboard on the far left was full of Addison's slime stuff but I have very happy news (for me!).  She is finally growing tired of the slime and moving on to other things.  Thank goodness!  I never thought this day would come.  I want to cry happy tears every time I think about it.  We recently cleaned this cupboard out and tossed most of the items that were here.  We kept a few things in case she ever changes her mind, but I have a feeling the rest of the slime supplies will slowly disappear.  Sometimes things like that happen in our house.
It's a mystery that will remain unsolved.
;)
So that is how our second kitchen island is organized!  You might notice that I didn't share the top left drawer.  When we moved into this house my husband asked if he could have one drawer to hold his random items that I wouldn't touch.  A drawer I wouldn't sort through, organize, label or compartmentalize.  One I would just leave unattended.  It was a tough sell, but I reluctantly gave him his beloved messy drawer.  I have to just not open it.  Because it bugs me.
And I want to sort through, organize, label and compartmentalize everything in it.
Second island closed and clean!
We have one other small section of the kitchen for storage that wraps around the perimeter.  The bottom drawer and cupboard on the left don't open and are just for looks because of the three drawers on the front side of them.  The top three mini drawers are currently empty but I've used them before for school supplies when kids are working at the kitchen table.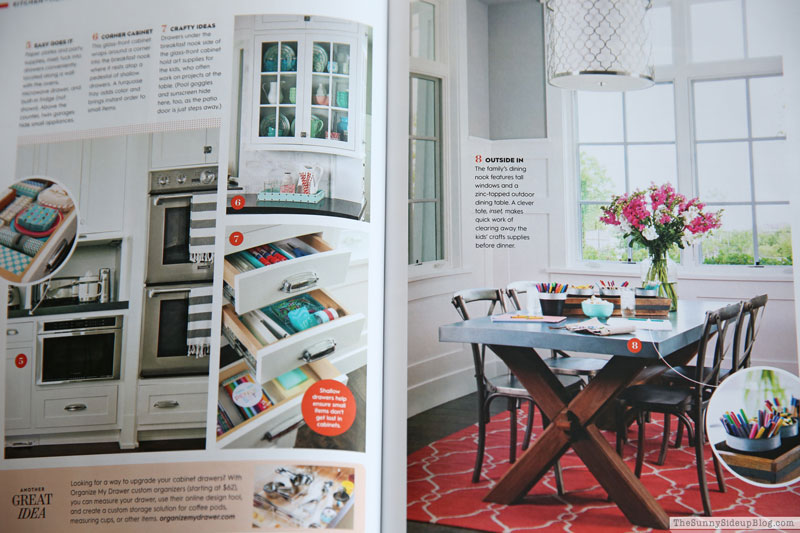 I never took a pic of the inside of the little drawers when I used them for school supplies, but I found this pic I have of one of the Better Homes and Gardens magazine features of my organized kitchen and it shows them open.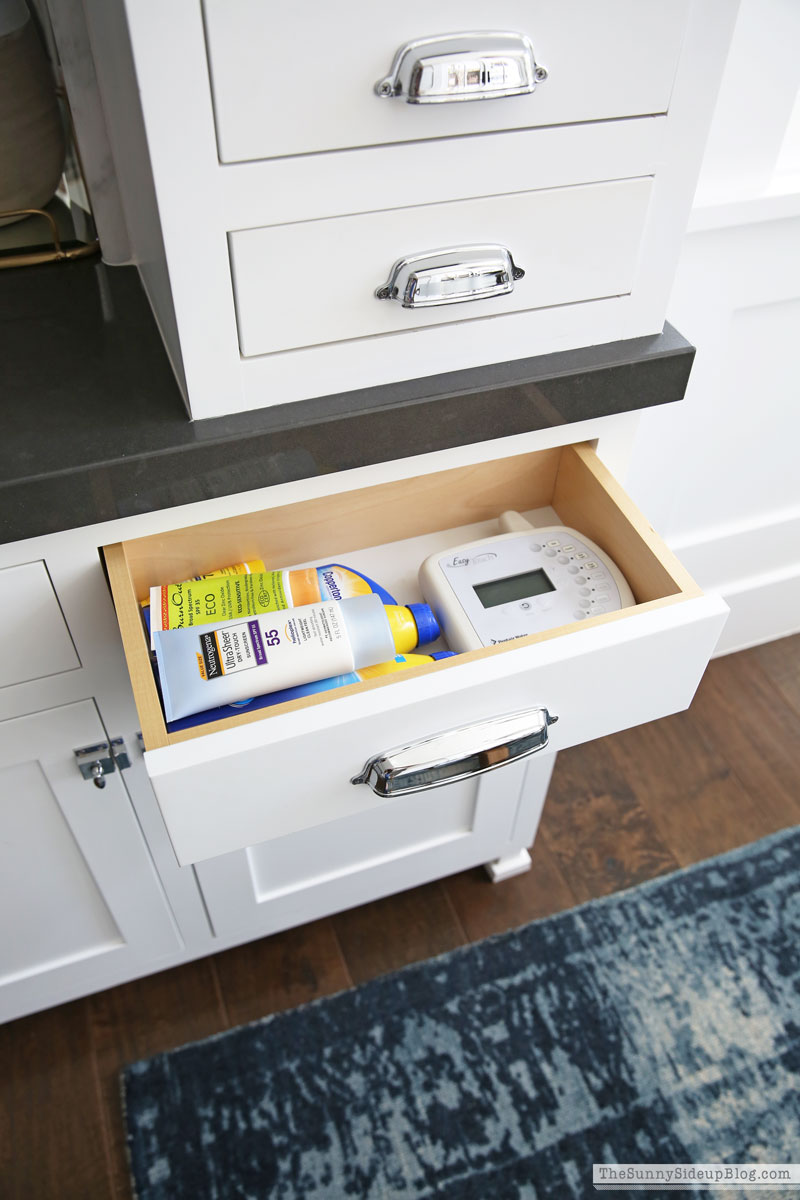 The top right drawer holds our sunscreen and pool remote.  This is right by the french doors that lead to our yard and pool.
The cupboard below used to hold Addison's slime.  Unlike her dad she doesn't mind if I take charge and organize her stuff. ;)
Right now I'm using it to hold my small decorative mugs and bowls.
Did I mention that I'm so happy Addison is done with the slime? :)
Whew!  That wraps up my kitchen organization!  I hope this fun little miniseries gave you a few ideas for your kitchen!  I organized most of this space by just spending 15 minutes a day.  A drawer here.. a cupboard there.  Feels so good to finally have it complete!
Now time to finish up my closet.  Send prayers!  For some reason cooking accessories are a lot easier for me to part with than shoes and clothes.
;)
{POST SOURCES}











xoxo, Erin