*affiliate links used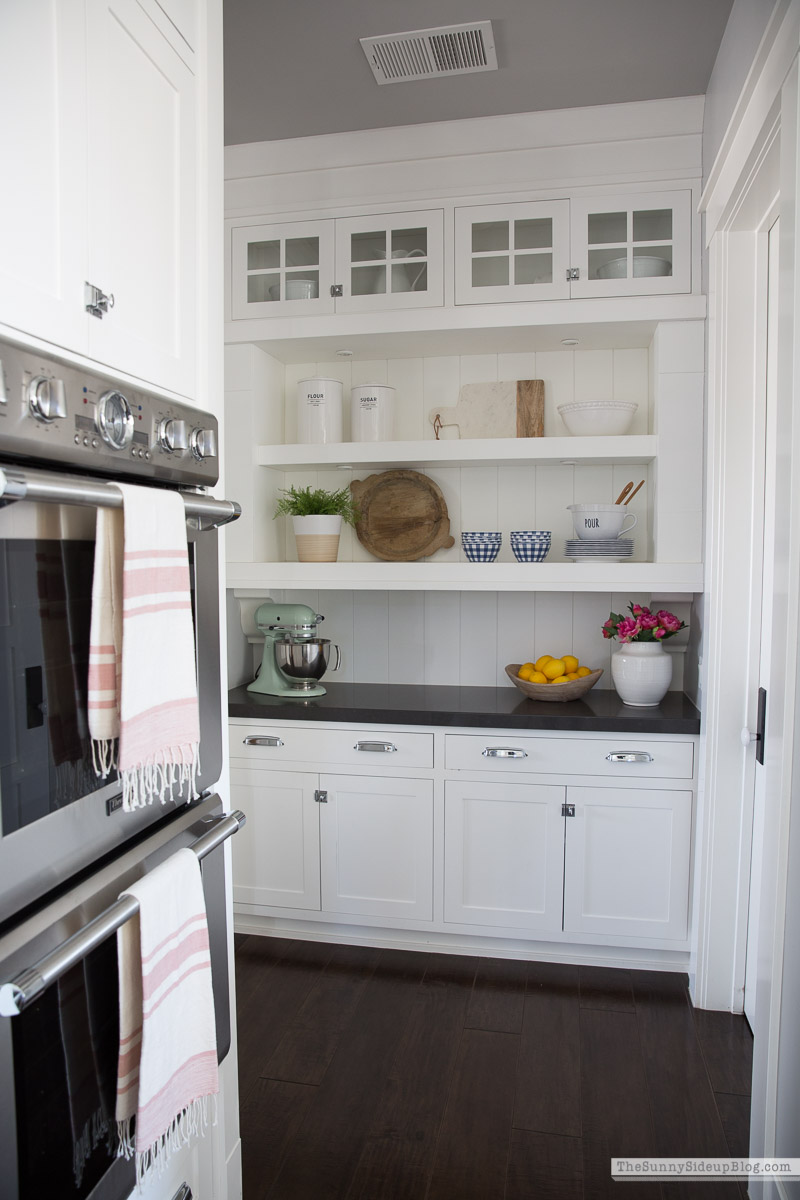 {flour/sugar canisters/marble & wood cheese board/similar bowl/faux plant/gingham bowls/Kitchen-aid Pistachio mixer/white terracotta jar/pink peonies}
Happy April everyone!  Spring is finally here!  Looks like it will be a Spring spent at home but I'm ok with that.  I did a huge brain dump today on my April to-do list (I have cute monthly to-do lists in my printable library!) and wrote down ALL THE THINGS I want to accomplish this month.  The situation we are all in is hard, but I'm going to do my best to enjoy the positive sides of it.  More time with my family and more time to get to those things I always want to do and never have time for!  I'm determined to have my garage and closet ORGANIZED and DONE by the end of April.  As well as 10,000 a few other projects in-between too.  My list might be just a tad too ambitious but I'm going to give it my best shot. :)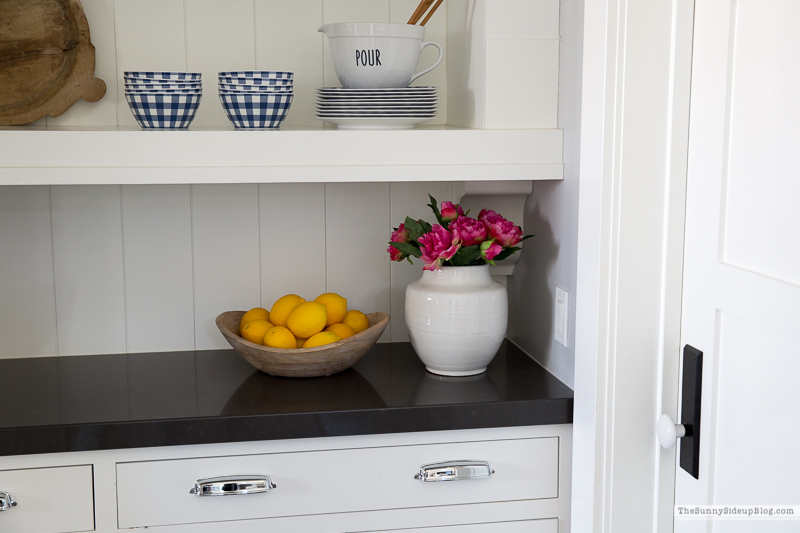 I also started thinking about Easter because it's next weekend!  Ahh!  It snuck up so quickly this year didn't it!?  My kids have been great about staying home but there have definitely been some hard moments with fun things they were looking forward to being canceled and of course not being able to see their friends.  (Face time used to drive me crazy but now I'm beyond grateful for it!)  I'm going to try to make Easter as special as I can with a small at home church service, some fun family activities, a nice dinner (ahh.. send help!) and fun Easter surprises to wake up to.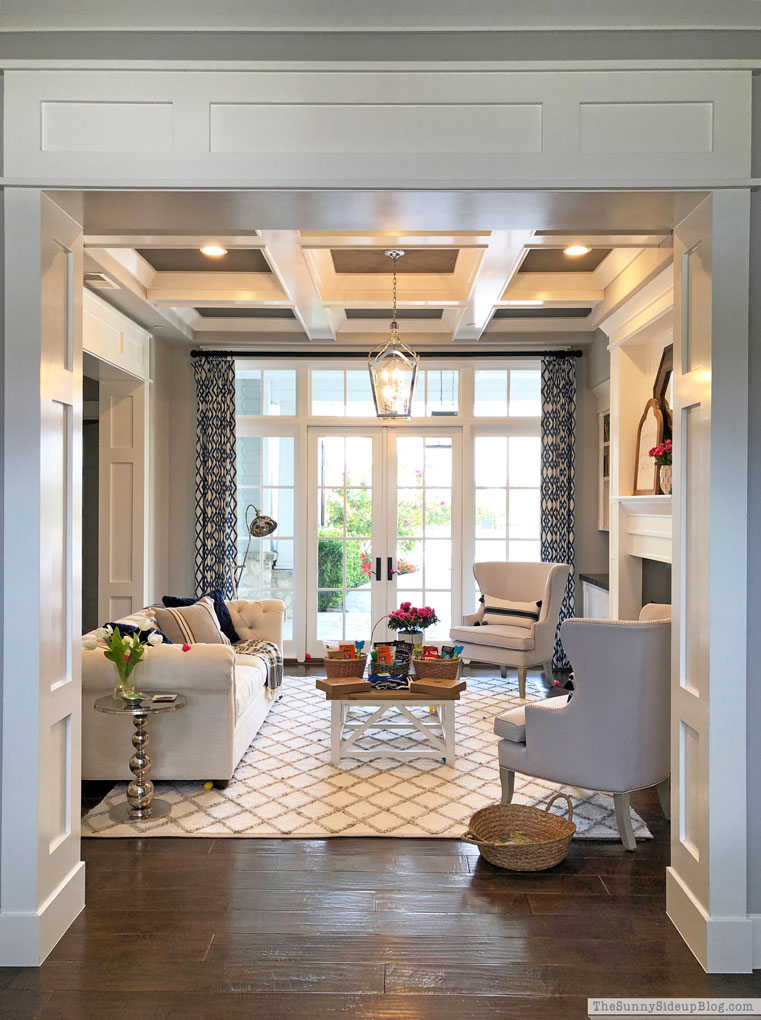 This was our living room last year on Easter Sunday.  If you look close you can see a lot of colorful eggs hidden in this space!  The Easter bunny always scatters plastic eggs full of candy (and a few special eggs that hold money) in our living room and then my kids' baskets are always sitting out on the coffee table.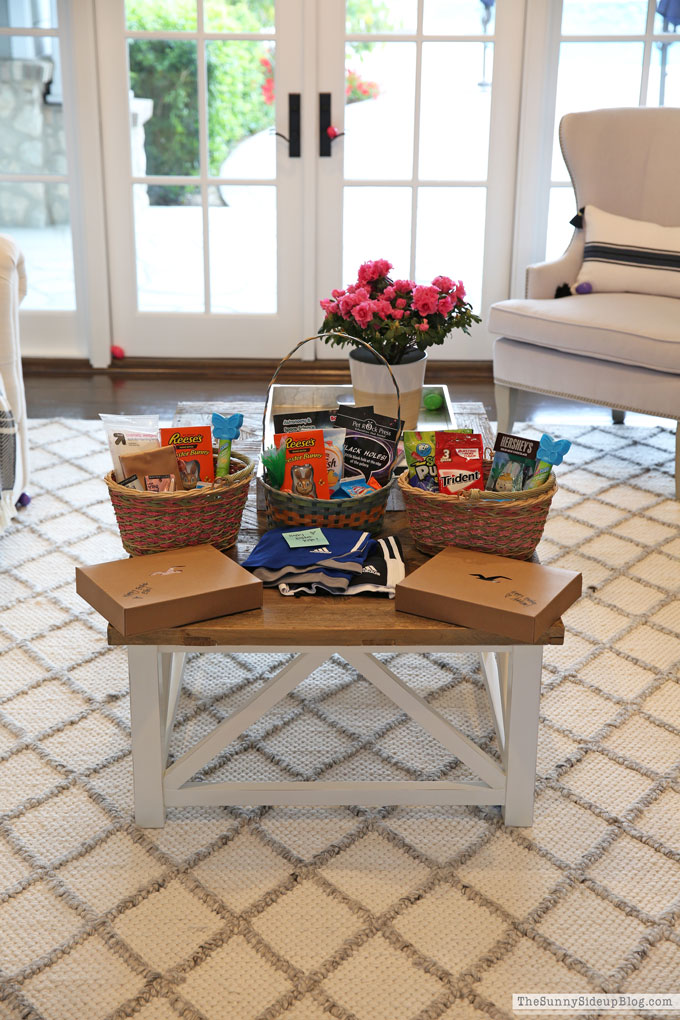 Then there is always one more surprise that is hidden somewhere in the house.  Each of the kids' surprises are hidden in a different spot and they each have their own clues that lead them to their gift.  My kids LOVE our traditional Easter treasure hunt each year.  It's way more about the hunt than the actual surprise!  Ad said to me last week.. "mom.. can you let the Easter bunny know that even though El and I are teens we aren't getting too old for the treasure hunt?"  Ha. :)  I told her I'd make sure he got the news.  Guess the Easter Bunny better get moving!
Last year I got some questions about what I put in my kids' baskets now that they are getting older.  Always candy of course (so I can eat half of it).  For my girls I add some small things like nail polish, lip gloss, earrings or a necklace, a Starbucks gift card, phone chargers, pens, notepads, etc.  For Kole I'll add things like markers, small toys, a stuffed animal, flip flops, a book or a card game, a hat, small legos, etc.
If you are looking for more fun ideas for kids for Easter I've rounded up some of my favorites below!  Then below the Easter ideas I'm sharing my favorites from the new Target line by Studio McGee!  Ahhh!  It's seriously SO good and you can order it all on-line starting today!  So many fun things for your home at Target prices.  I also rounded up a few Madewell favorites because they are having a big sale right now and you all know how I feel about Madewell.  (Please put your hand over your heart.)  Studio McGee at Target AND a Madewell sale?  Sounds like a happy Easter for mom too! :)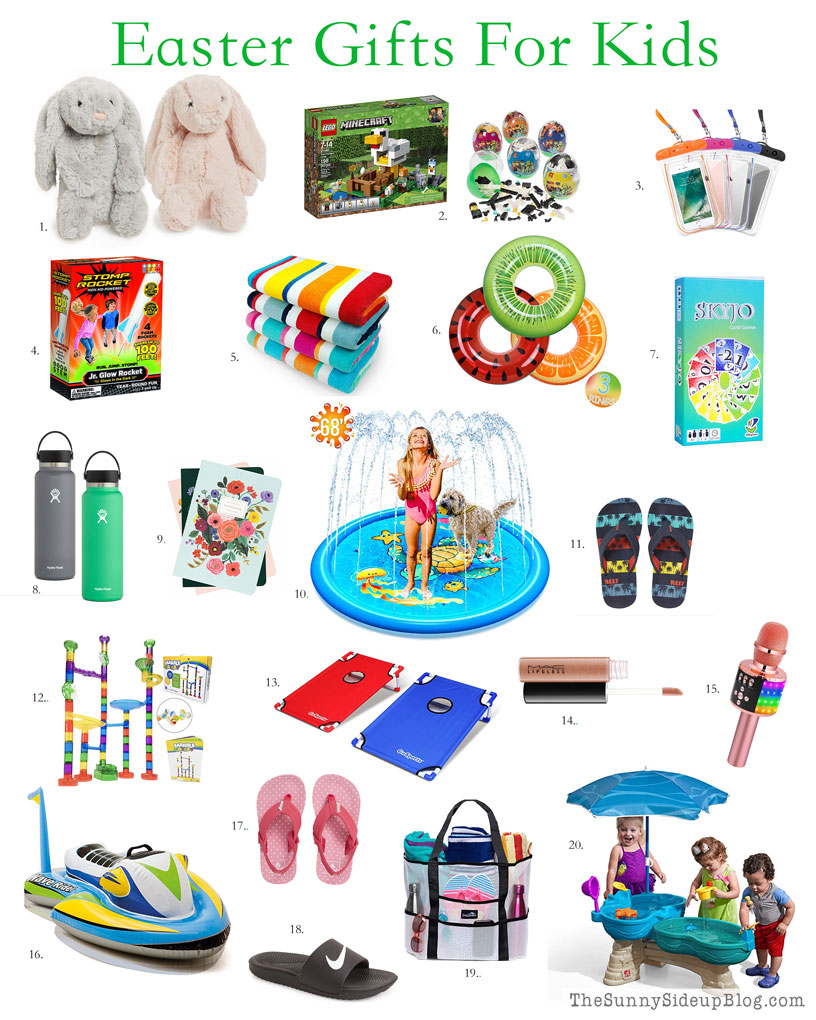 1 – Bashful Bunny Stuffed Animal – these bunnies are the softest!  I always give them as baby gifts and my kids each have one.  Perfect for Easter.
2 – Lego Minecraft Chicken Coop & Easter Eggs with Building Blocks – Fun gifts that will entertain boys for a while!
3 – Waterproof Phone Pouch – Getting these for my teens and I'm excited to have one too!  So nice to have your phone protected during summer activities.
4 – Stomp Rocket – One of Kole's favorites!
5 – Cabana Stripe Beach Towels – I love putting summer stuff in a cute beach bag for Easter.  These towels are adorable!
6 – Inflatable Pool Swim Tubes – Another fun summer staple that makes a cute gift.
7 – Skyjo – I ordered this for our family because people love it in the reviews.  Looking for a few new family games for this month at home!
8 – Hydro Flask – Long time favorites that would make a fun Easter surprise.
9 – Garden Party Notebooks – Cutest notebook!  I'll take all 3 please!  You can never have too many notebooks. :)
10 – Inflatable Splash Sprinkler – How perfect is this splash sprinkler!?  It would entertain kids for hours in the backyard!  Perfect for a month of staying at home.
11 – Ahi Boys Flip Flops – Flip flops are another Eater staple at our house and these are CUTE for boys.
12 – Marble Run – Kole got this for Christmas and we just pulled it out yesterday!  Perfect time to build it for him to play with.
13 – Cornhole Toss Game – This is another fun game my kids love.  I'm sure we'll be pulling this out often in the backyard this month too!
14 – Mac Lipgloss – My favorite.  This mini size is perfect for teen girls' Easter baskets!
15 – Karaoke Microphone – This looks like a fun way to keep the kids' entertained too.  And my husband.  He never passes up a chance to do some Karaoke.
16 – Wave Rider Ride-On – My kids are too big for this but if you have a little one.. ahh!  I'm dying at how cute and fun this is for summer!
17 – Ahi Girls Flip Flops – Cutest flip flops for girls!  My favorite are the Cheetah print or the pink dots!
18 – Kawa Slide Sandal – A fun options for teen boys.
19 – Mesh Beach Bag – This beach bag looks so perfect.  Large, fits ALL the things, one that you won't mind getting sandy and dirty.  I think I'm getting it for myself. :)
20 – Spill & Splash Seaway Water Table – My kids all would have LOVED this when they were younger.  I used to fill up buckets and bowls with water in our backyard and they would be entertained for hours playing with their little toys in the water.  Perfect if you need to entertain little kids at home this month!
I hope that gave you a few fun ideas for kids!  Now for the Studio Mcgee Target line.  I honesty love everything in this collection, but below are my #1 picks and things I'm looking at for my home!

SO good right!? I'm seriously so excited about this collection.
And here are a few fun things I am loving on sale at Madewell right now.  These prices were too good not to share!


Happy weekend everyone!  Come back tomorrow for some fun organizing. :)
xoxo, Erin