So!  I know I said my next post would be an organizing post.. and that's coming!  Surprise.. I took too many pictures and it's taking me a while to go through them all.  I'm nothing if not predictable. :)  But I wanted to pop in quickly today to share some monthly to-do lists and calendar pages that are in my printable library!  And to talk all things to-do lists because lists are my favorite.  Along with throw pillows, peep toe booties and cherry ice chapstick.
It's the little things. :)
I think we all know the power of a good brain dump.  If you don't, it's definitely time to give one a try!  Getting everything out of your head and onto paper is the BEST feeling.  You mind is free to dream up all sorts of things when it isn't bogged down with the mundane to-do's of every day life.
I designed these simple monthly to-do list pages to use for brain dumps.  I've tried using apps on my phone for lists like this and while they work and are fine for a few days, I always end up going back to a good old pen and paper list.  These pages are perfect for a beginning of the month brain dump!  Write down ALL the things without worrying about when or how you'll do them or what's most important.  When you feel overwhelmed with where to start, just get it all out of your head and on paper.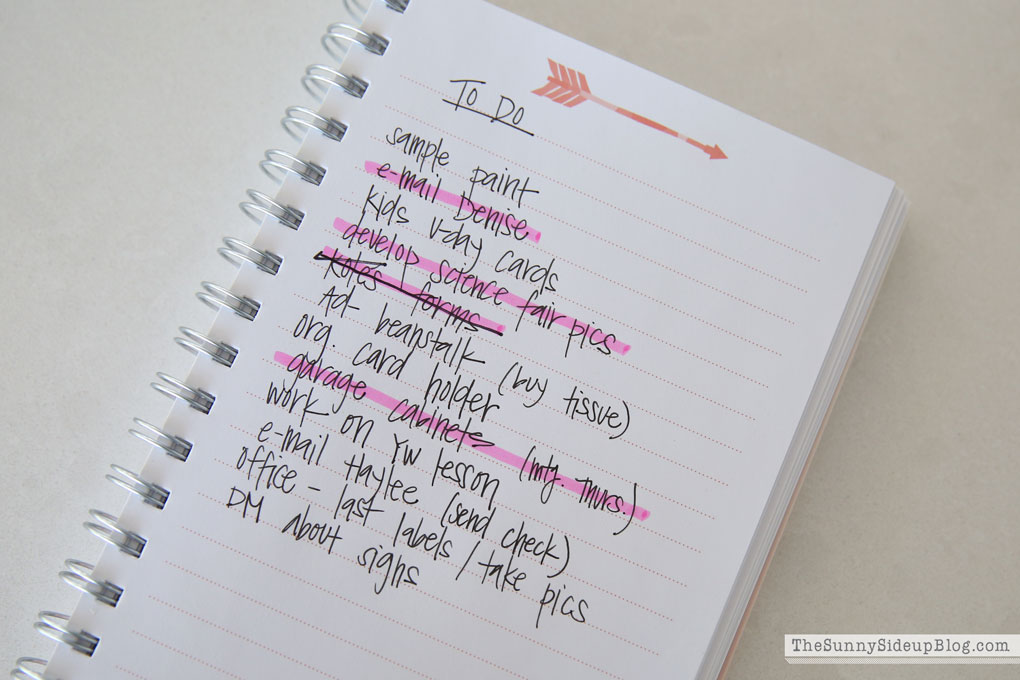 Once I've written my list I prioritize what needs to be done by highlighting three things that are the most important each day.  When one item is done I check it off and then highlight another item.  This picture is of an older to-do list.  I love that the new monthly to-do list printable has boxes to check off next to each item!  Such power in checking off a box. :)
If it's a large project I'm working on, I use my Current Project sheet to break things down into small steps.
Visual to-do lists (like this one I recently shared) are another great way to get things out of your head and to keep track of projects.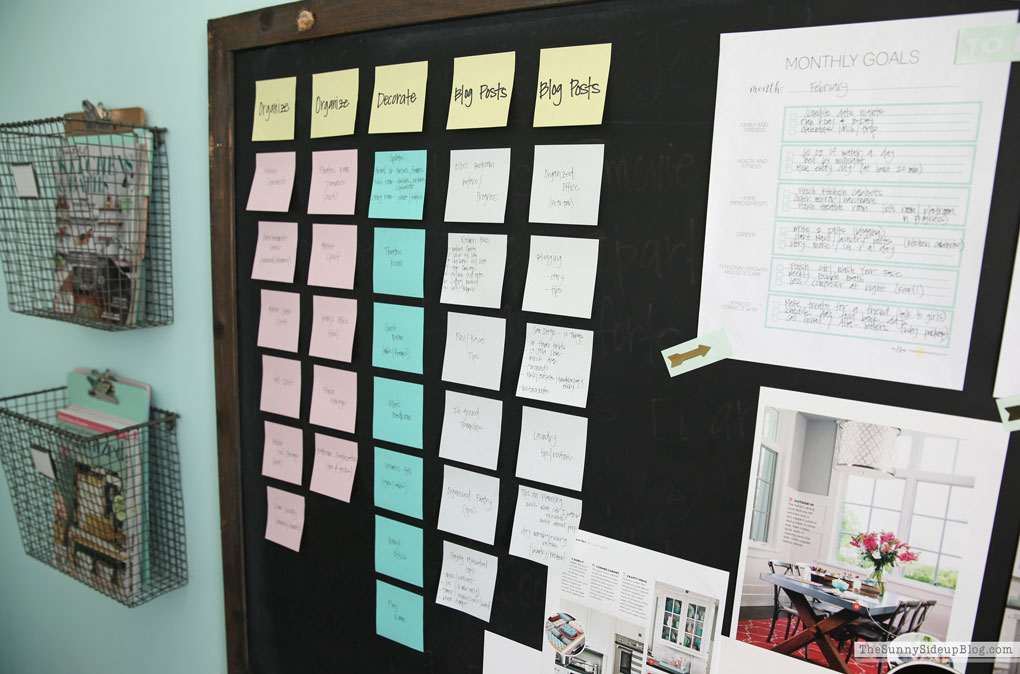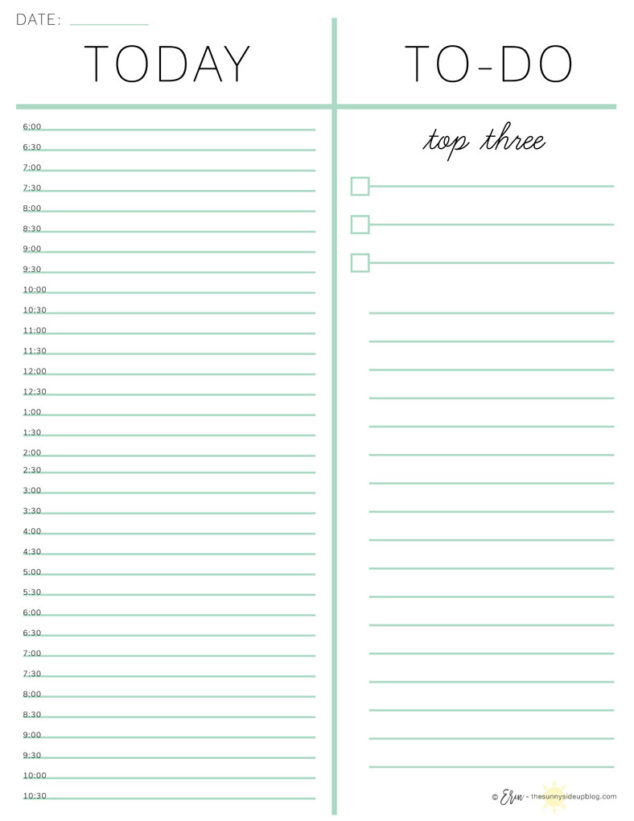 Another to-do list option is this favorite printable that helps with time blocking your day and prioritizing your top three items to get done.
In the summer when our schedule is less structured I love this day/week/month to-do list.  Clearly I need to add sticky notes to the favorites list next to my cherry ice chapstick. :)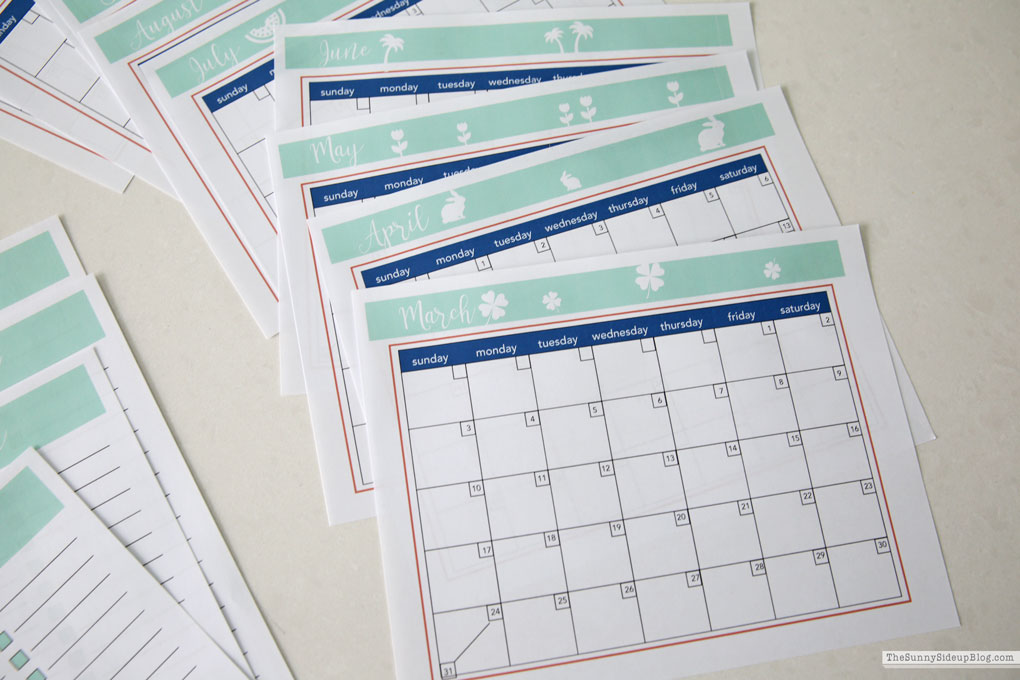 Sometimes I love using a blank calendar page to brain dump and keep track of specific things!  We use our phones for our family activity calendar (there are too many things going on to write down every day) but I love having blank calendar pages for things like planning summer camps or family trips or for planning blog content.
There are so many different ways to plan your day and to make to-do and project lists.  I hope I've shared some options if you are in a rut and need some motivation!  For me, mixing up my to-do list and trying something new always motivates me and helps with my productivity when I'm in a rut.
You can probably tell by my many list making options that I tend to get in ruts often.  Ha. ;)
(You can see the planner I put together with my printables here.)
I should have had these monthly to-do and calendar pages up at the beginning of the year, but I figure better late than never right?  I'm happy to kick things off with March this time around.  And yes.. I know they are a little on the "overly cute" side with the pictures representing each month, but the school teacher in me couldn't help myself. ;)
Happy planning! :)
(If you are already a Sunny Side Up subscriber just enter your info. again to get the printables.. it won't add you twice!  Also, if you sign up and don't get an e-mail soon after check your junk mail!  Once in a while it lands there first.)  
xoxo, Erin