Come on into my office!  I'm excited to show you my new Visual Planning board!  Also known as my goal setting board.  And my project to-do list board.  And my let's get motivated inspiration board.
Basically I call it anything other than its original name..
my chalkboard. :)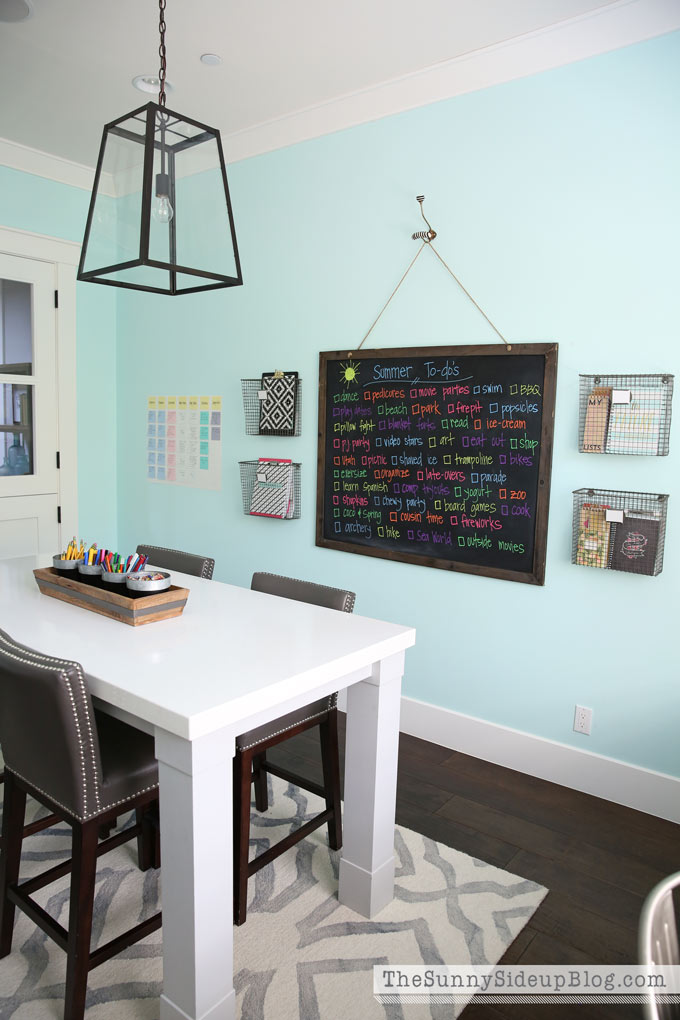 You might remember a post from a few years ago that I shared on my "Visual to-do list."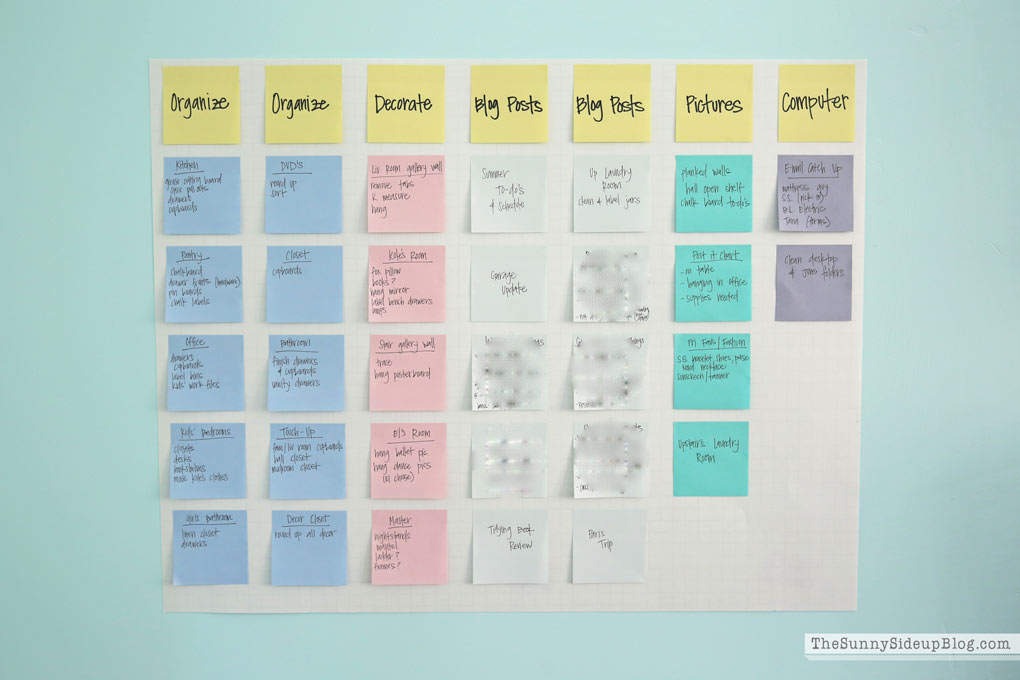 I've always been a visual person/learner and love seeing the projects I'm working on all laid out in front of me.  Big picture planning like this REALLY helps me.  It's basically my way of dumping my brain out onto my wall instead of keeping it all jumbled up inside my head.
If you had a pre-conceived notion that I was sophisticated in any way I'm sure my explanation of this little project just blew that theory out of the water.  Ha.  Better you know the real me. ;)
I used to have my Visual to-do list off to the side of my chalkboard so that I could use my chalkboard for other things, but I decided to mix it up this year and put my chalkboard to better use.  It's front and center in my office and I wanted to create something that would not only be a brain dump station, but also an inspiration board that will help inspire and motivate me to meet my goals.
I'm so excited about how it turned out!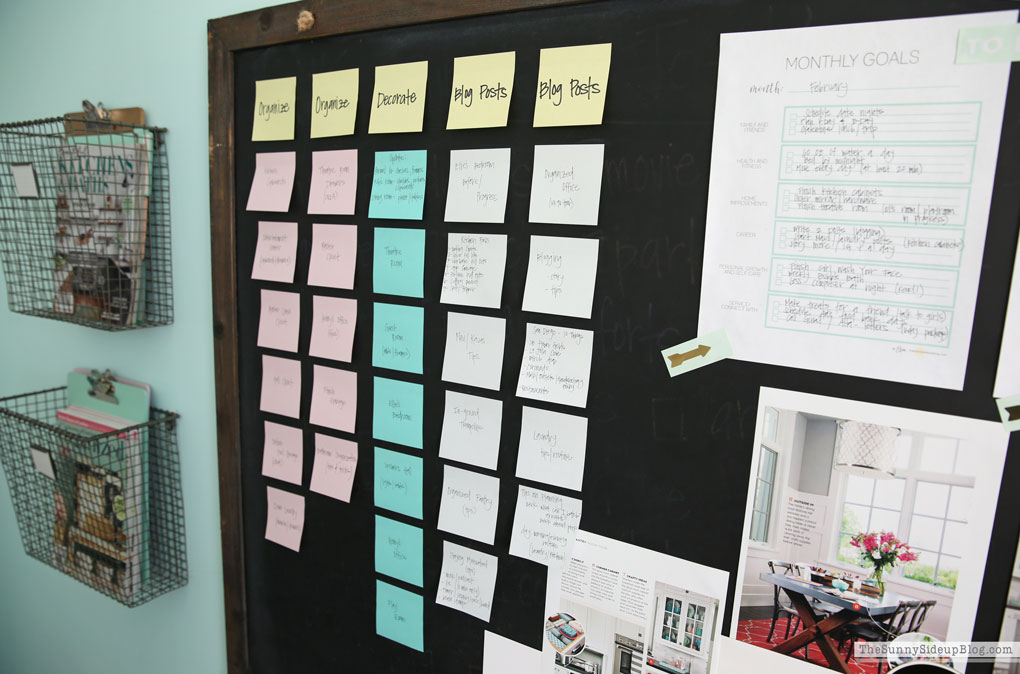 I'm a huge fan of sticky notes (just can't quit them!) so I use the left side of the board to keep track of spaces I'm organizing, spaces I'm decorating and ideas for blog posts.  There are so many other things I always have going on each day that I keep in my planner, but I love having these 3 things (the things I really enjoy doing!) out in front of me as daily reminders.  I also love the feeling of pulling off one of my sticky notes and tossing it when my project or post is finished!  They never go away of course because I'll always replace old sticky's with new sticky's, but still.. major satisfaction when I can throw away a sticky note. :)  #itsthelittlethings
At the top right of my Visual Planning Board I put my Monthly Goals and Daily Habits printables.  I'm loving these so much! (You can download your own monthly goals and daily habits page HERE and read more details about them in this post.)  I took these pictures early in the month when I was just getting started on these goals/habits.  Because they are right in front of me every day in my office I can't help but be reminded of the things I'm working on.
Although that still doesn't guarantee I'm in bed by midnight..  (sigh)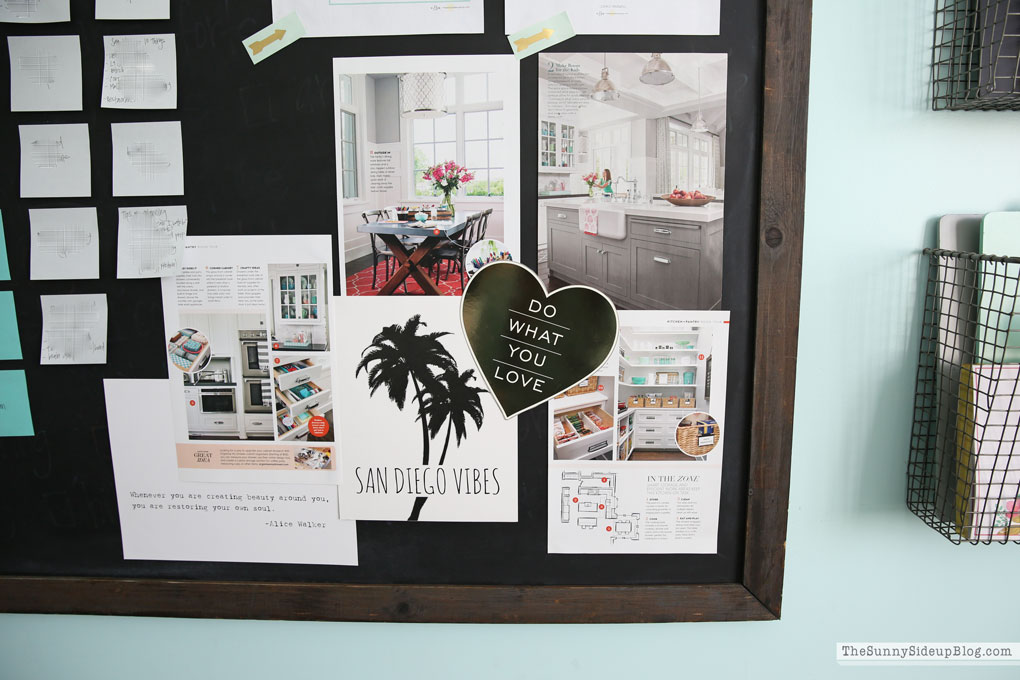 I had some empty space at the bottom of my board so I decided to create a little inspiration.  I tore out a few pages of my kitchen organization from the magazines I was featured in last Spring and then added a favorite San Diego picture and my Do What You Love heart.  That's the secret to happiness right there.
Just do what you love and the rest will fall into place.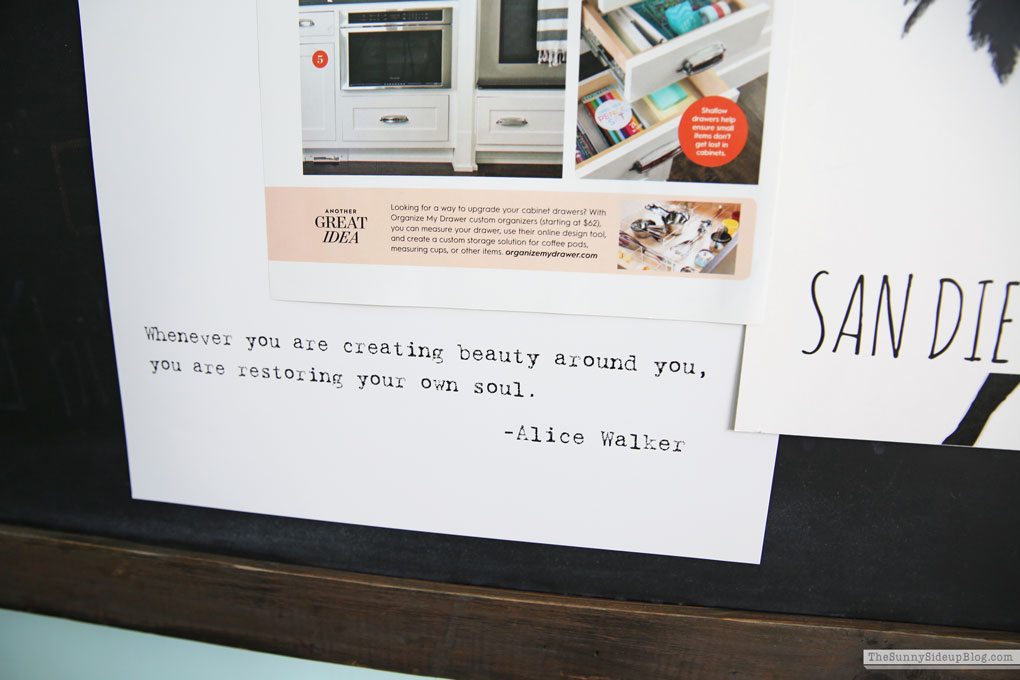 I also added my all time favorite quote at the bottom.
Whenever you are creating beauty around you, you are restoring your own soul – Alice Walker.
Amen to that. :)
So that's it!  My Visual Planning, goal setting, project to-do list, motivational inspiration board.  It's helping me stay on track!  And I can use all the help I can get. :)
Do something you love today for me!  And then come back to see more office organization.
So that I can share more of what I love with all of you.
:)
{OFFICE SOURCES/FAVORITES}
*affiliate links used






xoxo, Erin