*This post is compensated by Walmart and affiliate links are used, but as always all product selections and opinions are my own! 
I'm sharing some organizing progress with you all today!  YEA.  Attic and office organization to be exact.  But before I jump into that bag of chips, I have to quickly say that blog posts take me a long time to put together.  This is in large part because I have issues with taking WAY too many pictures.  Way too many pictures means I have to spend extra time sorting, selecting, editing, watermarking.. preparing the pictures to post.  Taking less pictures is something I'm really going to work on this year.
Starting with my next post.
Ha.  This post is picture heavy!  As many of my posts are.  Grab a snack.
Chips anyone? :)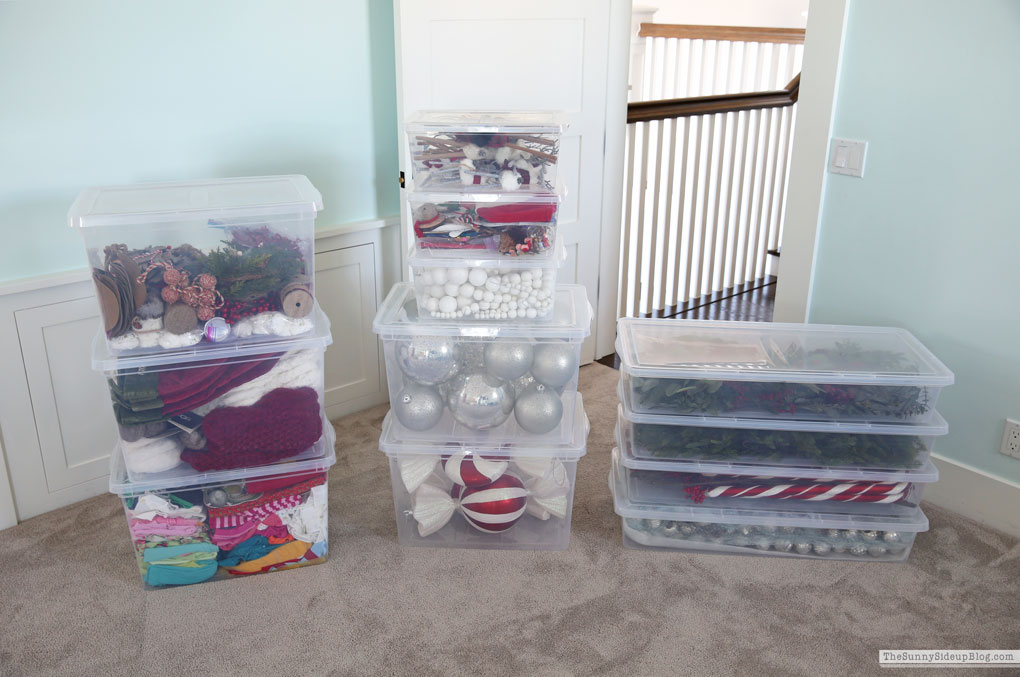 I had so many questions about how I store my Christmas decor after the holidays and yes.. I realize it's now February and not on your mind anymore.  But I spent a good part of January organizing my attic and wanted to share my progress regardless!  Soon after Christmas I ordered these clear Mainstay boxes from Walmart and got to work sorting and purging ALL the things in my attic down to only the things I really love, use and wanted to save.
I quickly realized that I love, use and want to save a lot when it comes to Christmas decor. :)  Clear containers are my favorite when it comes to storing items like this because then I don't need to label everything and I can easily see what's in each box when it's time to decorate for the holidays again.  Walmart has so many storage options at a great price!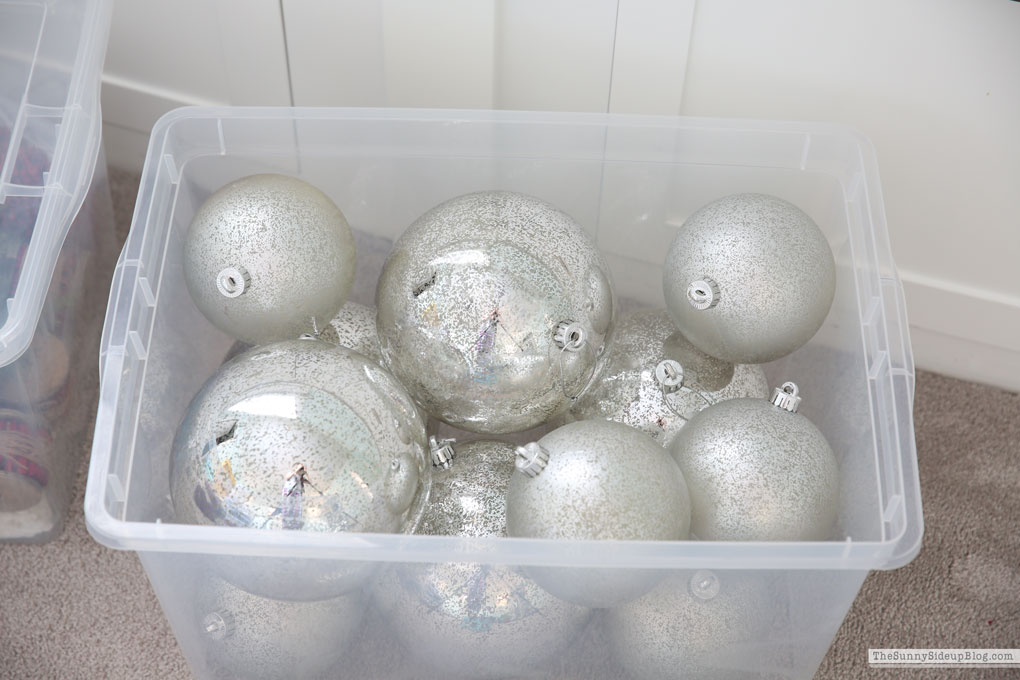 This set of 68 quart clear boxes was perfect for most of my items.  I used them to store large tree ornaments..
miscellaneous holiday decor..
stockings, tree skirts, throws..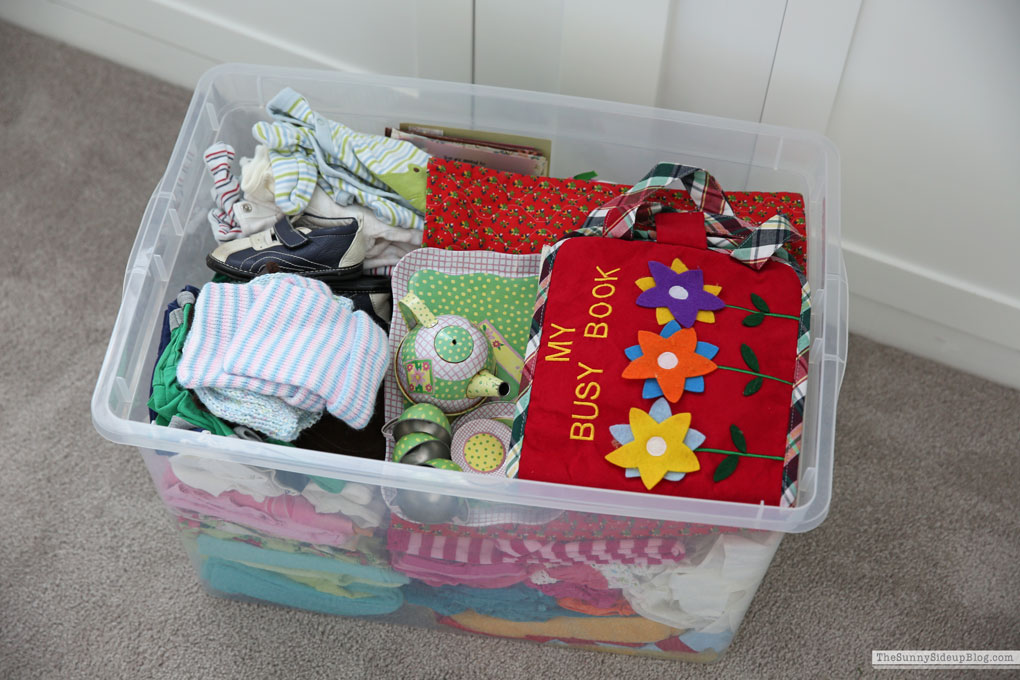 and one box I used to store keepsakes from my kids' baby/toddler years.  I have to be honest in telling you that this is the one thing I struggle with when it comes to letting things go.  Other items I can ruthlessly purge and not think twice, but I struggle with letting go of my kids' baby stuff and probably still saved too much.  If you saw how much I started with you would be proud of this one box.  Progress for now!
These smaller 17 quart clear boxes were perfect for grouping other similar holiday items together.
I used them for things like my reindeer..
and the keepsake ornaments from the kids.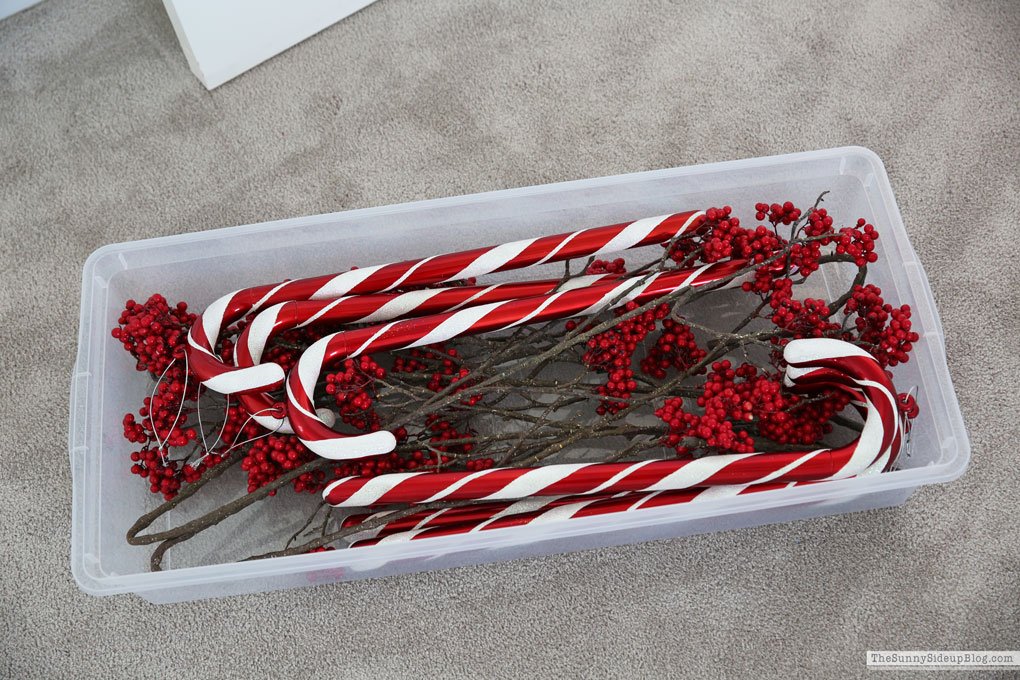 Then I used these under bed clear boxes for longer Christmas tree decorations.
They were perfect for all of my greenery too!
And for my mercury ornament garland.  (Quick tip for next year: save bubble wrap from Christmas gifts you order to use when you store breakable ornaments and decor!)
So here is the "after" of my upstairs attic space.  Do you love that my outdoor deer made perfect wreath holders?  Who knew? ;)  I would share the "before" of this space if I had a picture of it, but it scared me so much I didn't photograph it.  Let's just say you couldn't comfortably walk in this space!  It was bad.  I'll share more pics I took at some point.  The left side of my attic is all of my seasonal decor and keepsakes and the right side is ALL Christmas.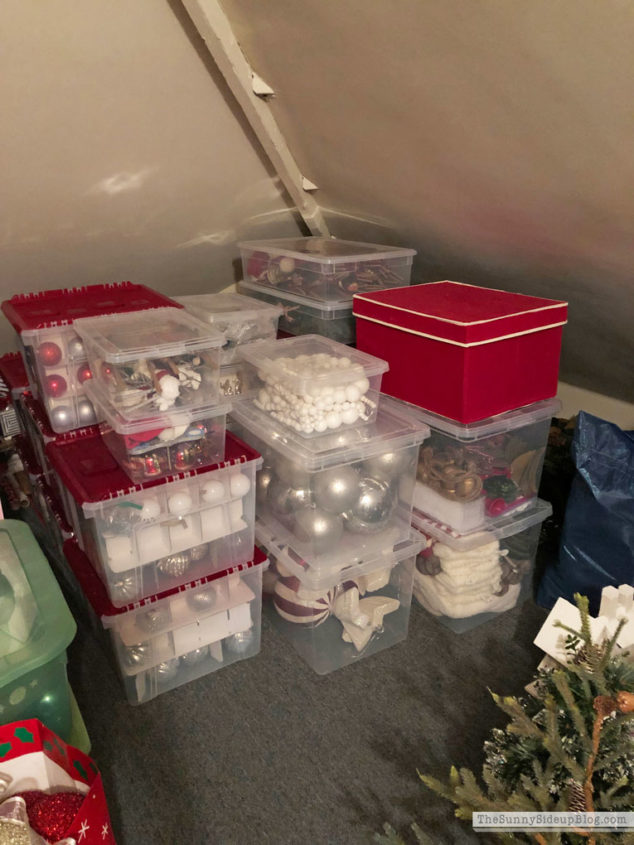 My new clear bins were a perfect solution to hold the items I love and wanted to keep!  I combined them with the ornament boxes I've had for years and love having all of my holiday decor so streamlined and organized!  Next year will be an easier process setting up and taking down for sure.
Next space I've been chipping away at.. for years!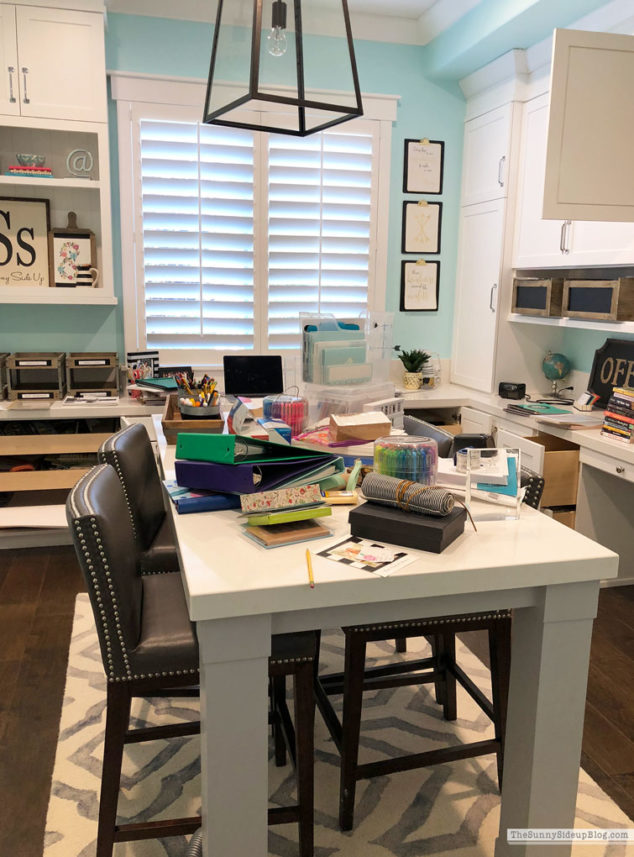 My office.  Oh man.  This space has been hard for me!  It has been "sort of kind of but not really organized" for years.  I finally decided to go through the things I have been putting off going through since we moved into this house 5 years ago and just GET IT ORGANIZED once and for all!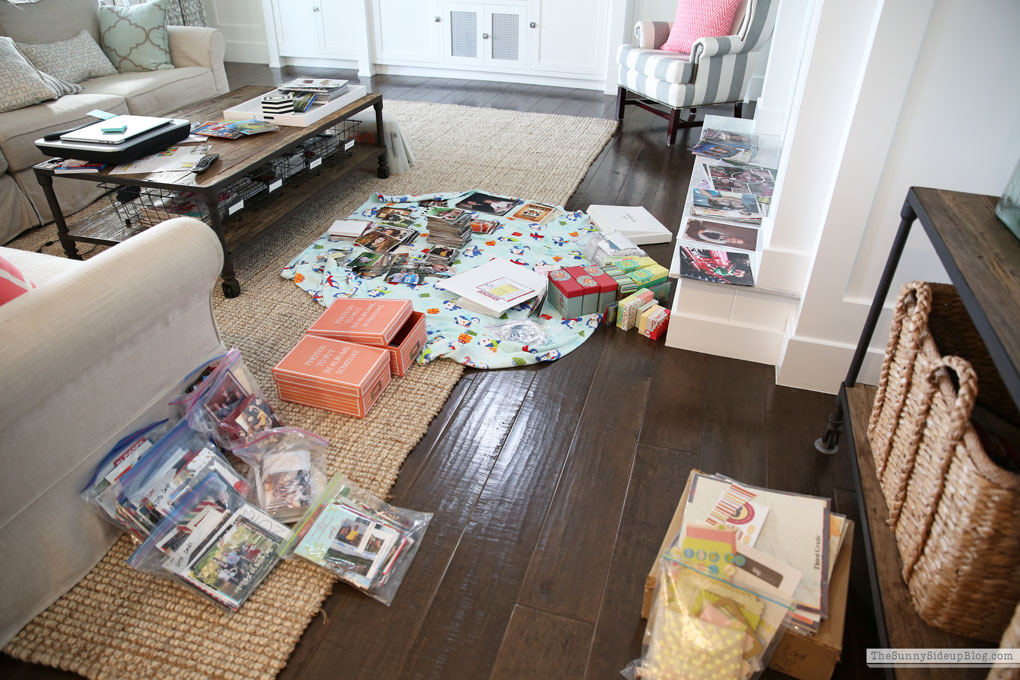 That meant pulling everything out of my cupboards and making decisions on what projects I started years ago were worth keeping and finishing and what I needed to just let go.  That also meant going through random miscellaneous pictures that aren't in albums or organized on my computer and figuring out what to do with them.  I'm not going to lie.. this little project took hours.  Several nights of pulling things out of my cupboards and drawers and sorting and organizing in the family room in front of my TV.  My favorite spot to organize. :)
But at last it's DONE!  My office is completely organized.  (Angels are descending!)  My cupboards that initially looked like this.
Now look like this.  Ahhhh!  I can't even tell you how happy I am to have this project finished!  There are too many pics to share of this space now so I'll write a complete post on my organized office soon, but I have to share this one cupboard first because I'm so excited about!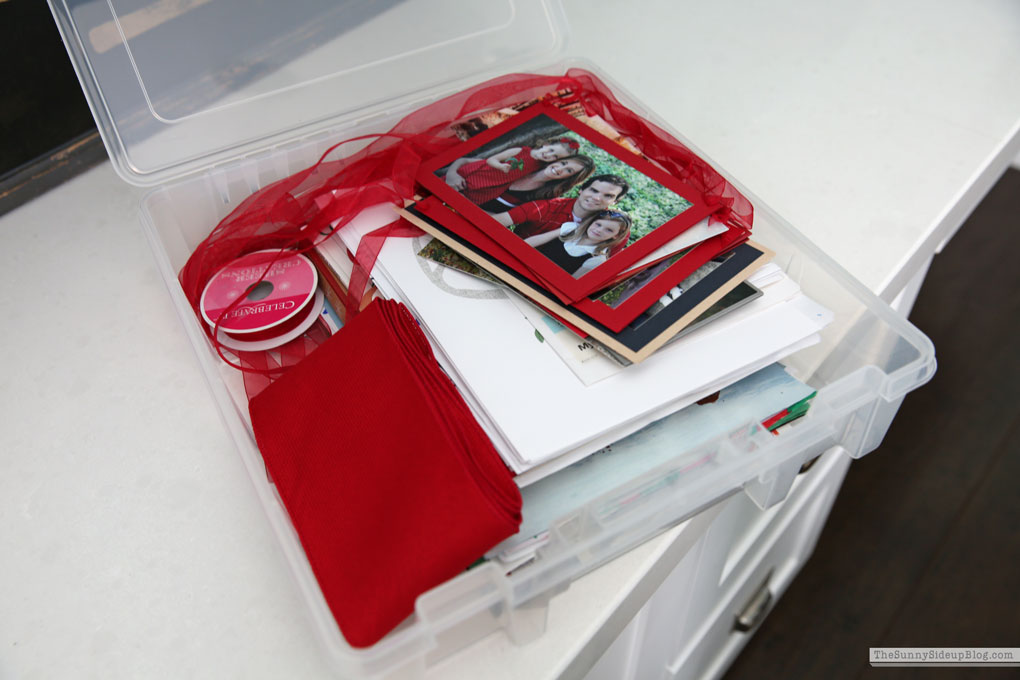 For a long time I didn't sort through random craft items in this room because I wasn't sure how to organize them best.  When I discovered these cute Craft Supply Boxes I was thrilled.  PERFECT solution!  I ordered 12 and got to work!
They are the perfect size for ALL the things I needed to store but wanted separated.
They were just a tad too big to fit in this cupboard facing forward so I turned them sideways and labeled everything.  They stack so nicely and getting rid of the bulky boxes that were holding some of these items saved so much room!
Those of you who have followed my blog for years know that I used to be really into scrapbooking.  I had so many scrapbook supplies that I finally said good-bye to because I just don't have the time to spend on pages like I used to.  I did keep some items I'd like to still use and some random craft items I know my kids will use for projects.  I still love scrapbooking, but know that if/when I do start working on family albums again they will definitely be simple!
I even have one empty box for a future project.. score!
Hopefully you'll be seeing some of the "in progress" projects in this cupboard actually completed someday.  For now I'll settle for just having them organized. :)
After getting my cupboards in order I felt the need to spruce up my desk with a few fun new accessories!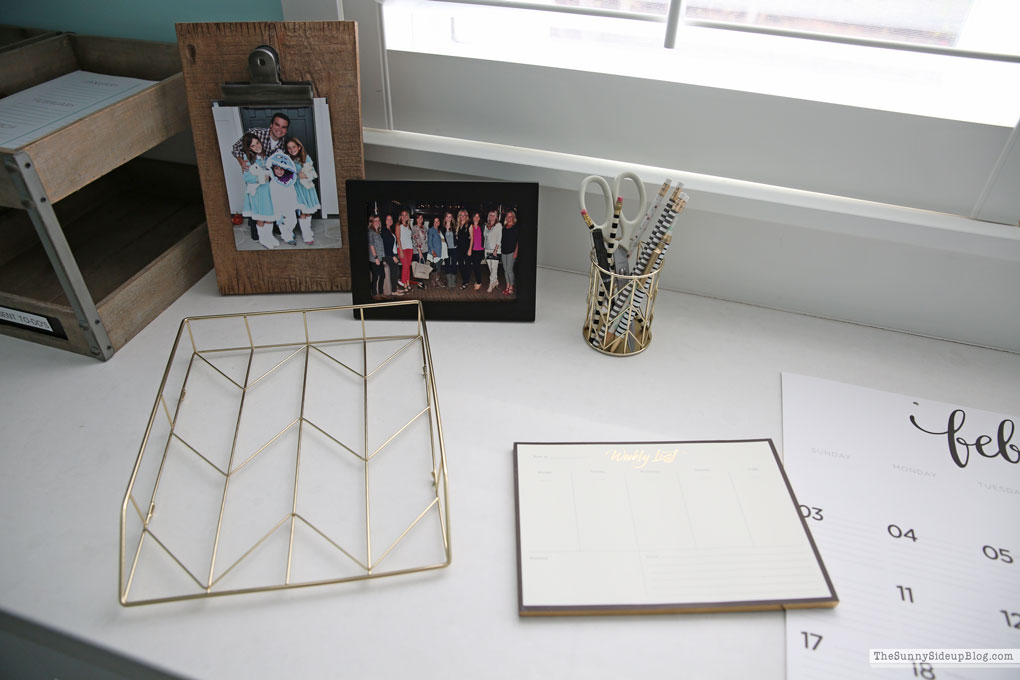 So in love with this gold desktop metal tray!  And the matching pencil cup.  I've been using the tray to hold my planner/printables.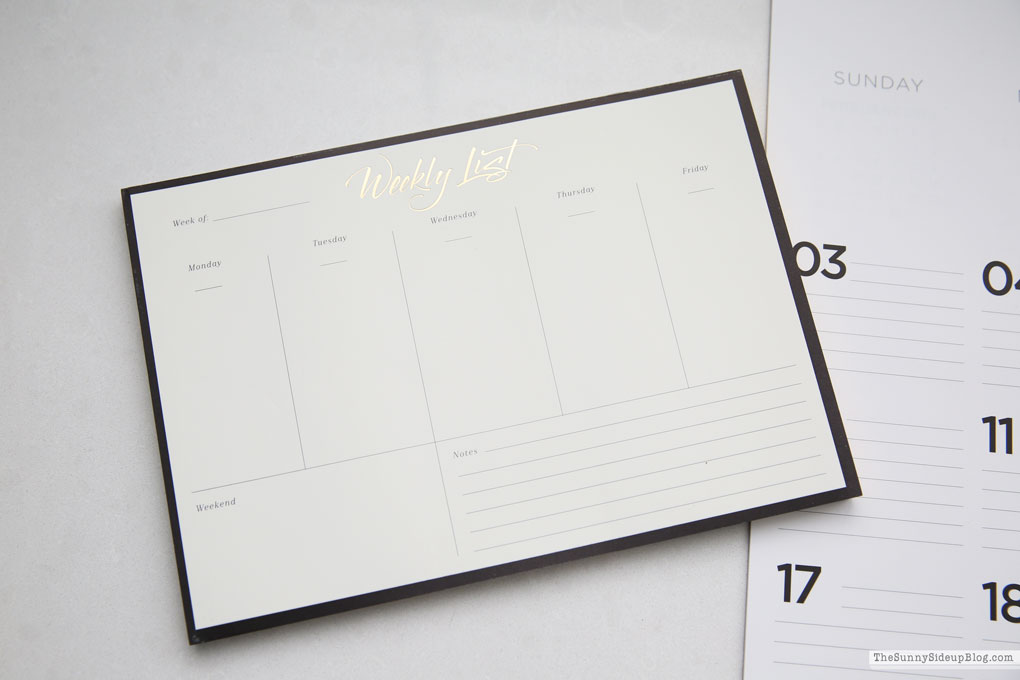 I also picked up this Weekly List Notepad.  Thinking I'll use this for planning meals!  I'm always more motivated when I have a cute notepad. :)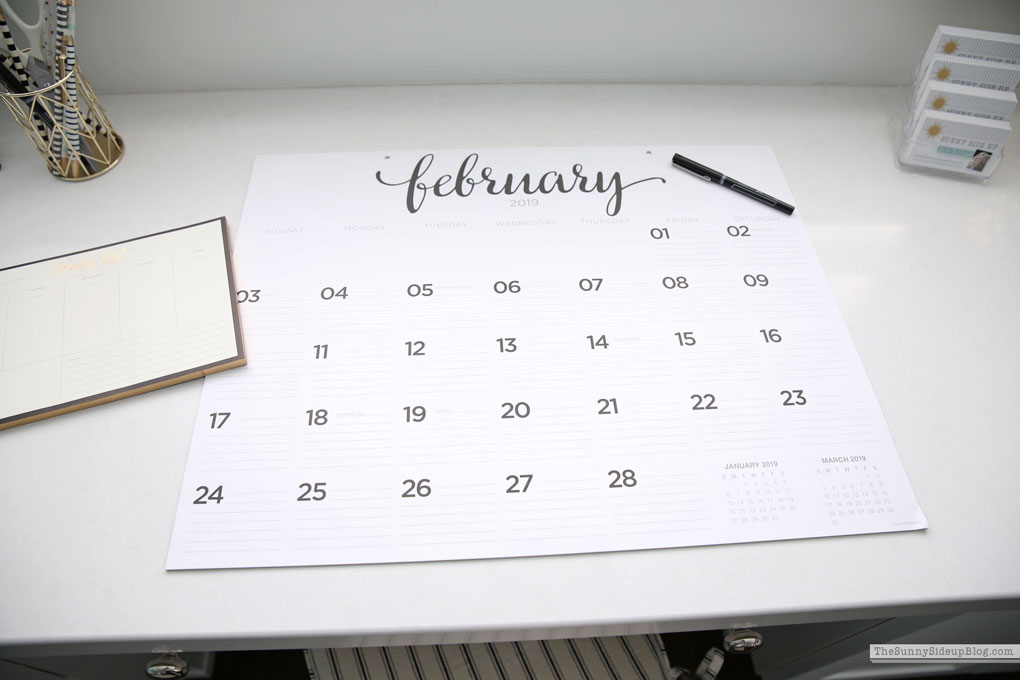 I also love having a large desk calendar to write reminders on that I'll see every day.  The font on this one is so cute!
Last new addition was this little business card holder rack to hold my business cards.  Because I have them.  And displaying them like this makes me feel official. ;)
A cute and clean desktop.
And organized cupboards for a new year.  Well.. a month into the new year.  But a new year nonetheless.
My work here is done!  Time for that bag of chips.
:)
{POST SOURCES AND FAVORITES}




xoxo, Erin