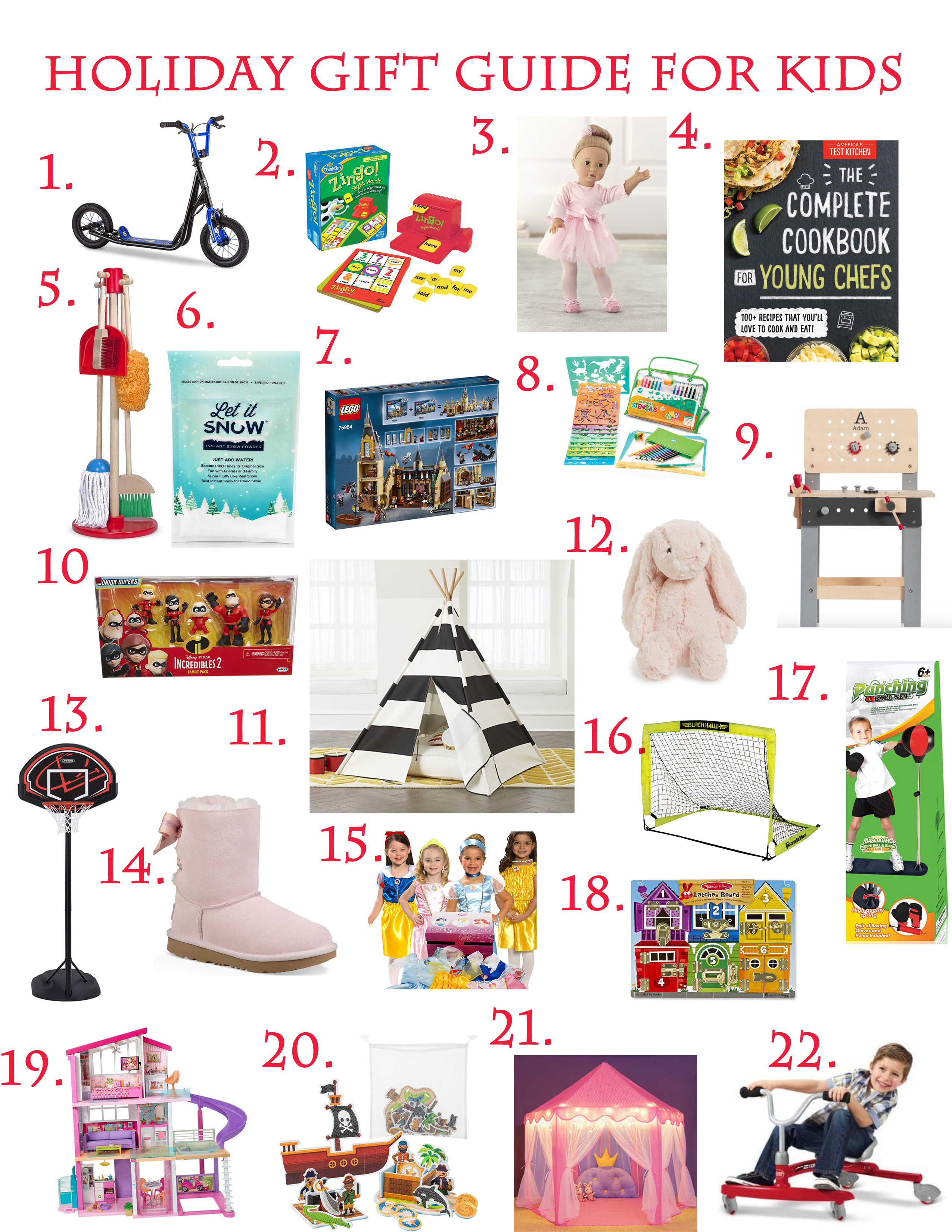 Happy weekend friends!  I'm so excited to be sharing my 2018 Holiday Gift Guide for Kids with you all today!  The "kid" gift guides are always my easiest and favorite to put together.  Between teaching Elementary School for 6 years and then parenting my 3 kids the past 15 years I feel like I have a pretty good idea of what a lot of kids love.  Plus toys are just FUN!  Nothing like surprising a little girl with a new doll house on Christmas morning.  Or a little boy with a new punching ball set.  Wait… what?  Ha ha.. that's one thing Kole wants this year!  Sometimes my kids wish for off the wall things, but for the most part, the toys I'm sharing in this gift guide have been tried and true and tested around here and are hands down our favorites!  I hope these ideas are helpful (for you or Santa) this year. :)
1 – Mongoose Expo Scooter 12″ Wheels – Since Kole doesn't read this blog I think I'm ok mentioning that mom bought these fun scooters for him and his cousins this year!  They have absolutely loved their Razor Scooters and ride them all the time so she thought this would make a fun upgrade.  Sure to be a hit!  I still remember the Christmas me and my sister and our neighborhood friends all got pink scooters.  One of our favorite Christmas mornings we always talk about!
2 – Zingo – Kole's all time favorite game when he was a couple of years younger.  If only I had a dollar for all the times I've played it with him!  I could afford a lot of Zingo games. ;)
3 – PB Kids Dolls (on sale!)  –  PB Kid dolls are too much fun.  So life like and you can brush/style their hair.  I miss buying dolls!  If my niece was a few years older I would buy this Special Edition Equestrian Doll so fast!  And the horse and stable.  Maybe I want these for myself for Christmas.  I'm not even kidding about that.  Ha..
4 – The Complete Cookbook for Young Chefs – This looks so cute for kids who are interested in learning to cook!  I got it for Addison this year (she knows to stay away from this post!).  The recipes look simple so maybe her mom can also learn a thing or two. ;)
5 – Let's Play House (Dust Sweep Mop) Pretend Play Set – All three of my kids LOVED to pretend to clean with me when they were little!  They always cleaned along side of me and I honestly think it helped teach them some basic housekeeping skills and how to pitch in and help at a young age.  Our little pretend broom and mop were favorites and we still have them today!
6 – Let it Snow (snow powder for slime) – if you have a child who is still into slime (I'm so sorry.. I'm suffering from the same fate over here!) this snow powder is all the rage.
7 – Harry Potter Hogwarts Great Hall – This looks amazing!  Perfect for the child who is into Legos or Harry Potter.  And if you have a child who loves both.. this should make him/her very happy.  And very occupied!  The gift that gives back to parents too.. ;)
8 – Stencils and Drawing Art Set for Kids – Most kids love stencils!  And I think they get overlooked a lot.  We often get our kids art sets, but stencils are a great addition because they give kids some direction.  Kole has never been into art and coloring, but if I place a set of stencils in front of him and he can trace a few things it spurs his imagination and creativity.  I've always loved stencils!
9 – Personalized Woodwork Bench – Santa brought Kole this personalized Woodwork Bench for Christmas when he was younger and he loved it!  I loved that it had his name on it. :)  Kids have so much fun hammering and pounding with tools.  Kole also had and loved a set just like this one he got for Christmas one year.  Toys he played with again and again and again!  He still gets out the drill from time to time and "fixes" our cupboards. :)
10 – Incredibles Action Figures – My kids played with small action figures like this ALL the time when they were younger and this set is adorable!  Have you all seen the new Incredibles movie?  We watched it as a family last week and loved it.
11 – Black Stripe Teepee (on sale!) – If you follow my blog closely you know we have and love this black stripe teepee!  Aside from being fun to play inside, it also looks darling in a playroom or bedroom.  Because.. stripes. :)
12 – JellyCat Stuffed Animals – My kids all love their stuffed animals.  Still today they each have a few that they sleep with and drag around.  JellyCat stuffed animals are the softest!  Lots of fun, fuzzy options for a child of any age. :)
13 – Lifetime Youth Basketball Hoop – I'm not totally sure what Santa has up his sleeve this year but if I had to guess I'd bet on this lifetime youth basketball hoop for Kole.  Or this one.  Both look like great options for some easy basketball practice in the back yard. :)
14 – Kids UGG boots – I held off getting my girls Ugg boots for a long time because they are pricey and kids' feet grow so quickly!  But they wanted them so much so one Christmas a few years ago I finally caved.  I've been pleasantly surprised how much they wear them!  They live in them during the winter months even with our not so freezing climate.  They have been so cute on them and worth the money!  So many fun styles out this year.  I especially love these Bailey Bow boots for girls and I know Kole would love these cozy Dakota Moccasins!
15 – Disney Princess Dress Up Trunk – I can't share a gift guide for kids and not include princess dresses for little girls!  Long time readers remember just how many we use to have at our house. :)
16 – Portable Soccer Goal – Perfect gift for any little soccer player!  My mom bought one for Kole when he started playing soccer this year and it's so easy to pop up in the yard for a little kicking practice or a game when friends are over.  This one comes in multiple size options too!
17 – Boxing Ball Set with Punching Ball – Kole wants a punching ball for Christmas this year and this is the best I found!  I'm actually really excited about this because he has SO MUCH ENERGY and is always walking around punching things like my throw pillows.  Hoping he can burn off some energy with this thing and leave my beloved pillows alone. ;)
18 – Latch Board – all three of my kids LOVED this!  Such a great little toy for toddlers!  It really held their attention and was great for fine motor skills.  We still have ours.  I'm saving this beloved toy for grandkids!  I absolutely love Melissa and Doug and would recommend any of their puzzles, games and toys for young kids.
19 – Barbie Dreamhouse – Probably my girls most favorite Christmas gift ever!  Oh the hours they would spend playing together with their dolls and doll houses.  Have I mentioned how much  I miss that? :)  We have lots of favorite doll houses.  Aside from the Barbie Dreamhouse (hello elevator, pool and slide!) my girls also loved their Kidkraft dollhouse (this mansion is amazing!) and when they were really little this Fisher-Price My First Dollhouse was a favorite. We still have all 3 dollhouses.  None of us can part with them!
20 – Pirate Ship Bath Toys – Kole's all time favorite bath toys!  These fun pirates stick to the side of the tub so kids can build ships on the side of the tub and and then float the rafts while they play.  Kole played with these in the tub for years and never got tired of them!  My kids also loved these foam letters and numbers in the tub when they were younger.  Too much fun sticking things on the side of the bathtub. :)
21 – Princess Castle Play Tent – I think the only thing my girls loved as much as their dolls and dollhouses (and their princess dresses!) was their pink play tent.  We had a pink play tent in our living room for years!  This Castle Play Tent is such a dream for any little girl.
22 – Radio Flyer Ziggle – Ending on one of Kole's long time favorite toys.  He loved his Ziggle and rode it every afternoon for years!
I usually include 20 items for my gift guides but had these 22 and just couldn't shave 2 off because I love all of these toys so much!  Like I said.. I hope they are helpful!  Happy toy shopping. :)
PREVIOUS GIFT GUIDES IF YOU MISSED THEM..
xoxo, Erin