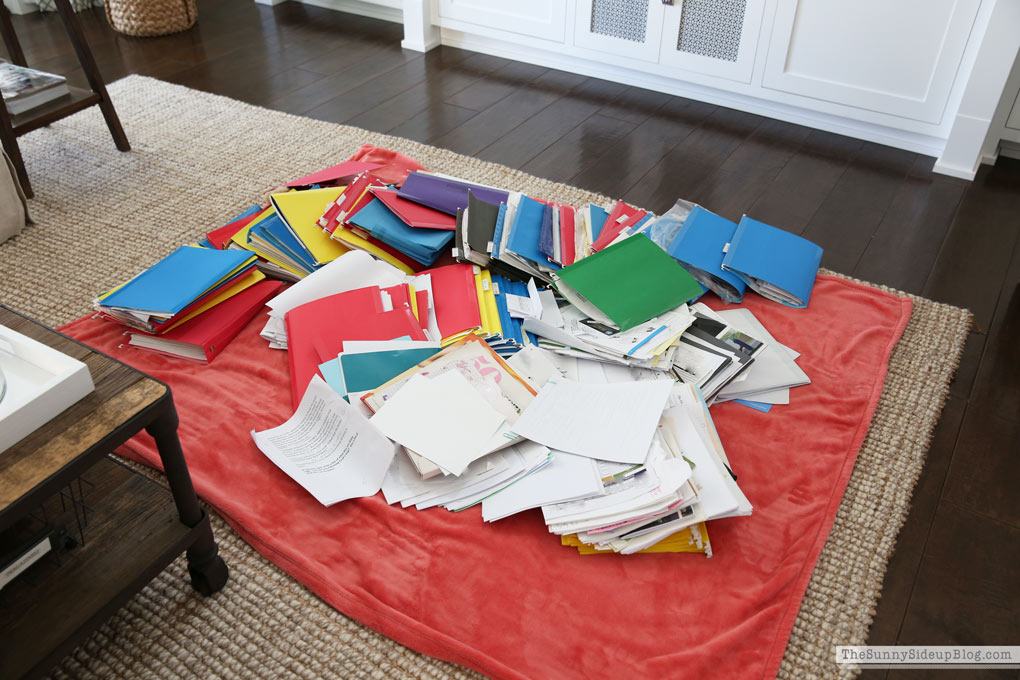 Talking organized paper files today!  Raise your hand if you've ever struggled with controlling the paper in your home!?  Or just nod your head!  Or smile.  Not that I can see any of this, but the thought of you joining me in this never ending struggle brings me great comfort regardless. :)
Last week I decided to pull some file folders out of my office drawers to sort through.  The drawers had been driving me crazy for months because they were getting overstuffed with paper I knew I didn't need to hang on to anymore.  I decided that since I was going to sort through my office files, I might as well sort through some old files in our filing cabinet in the garage.  And since I was doing that, why not go through the files sitting in a pile in my husband's office too?
Why not!?
All of the sudden I was staring at this ENORMOUS pile of paper on my family room floor wondering two things.  1) How in the world did we let our paper consumption get so out of control!?  And 2) Why in the world did I just turn a 20 minute project into a 4 hour project!?
If you give a mouse a cookie…  :)
But I was determined to organize my paper files once and for all so I sat on the floor and got to work!  Two Hallmark 'Christmas in July' movies later my family room floor looked like this.  One very large sack of paper to recycle, a pile of paper that needed to be shredded, a pile of paper I needed to ask my husband about, and my categorized paper piles.
For me this has always been the easiest way to organize paper.  Dump everything on the floor.  Pick up each paper and decide if you can recycle it or if it needs to be filed.  If you are going to file it, decide what category it fits in, write that down on a sticky note and add to it as you go.  I never know what my folders will be named until I've made my sticky note piles and figure out what paper can be combined in a folder.
I had some Smead hanging file folders on hand so I chose some blue folders (worked best with my office decor!) and got to work labeling.
This is what I was left with after everything was sorted!  Even as I was putting the piles into folders I ended up getting rid of more paper.  I kept asking myself what I really needed to hang on to and keep.  I had a whole pile of papers on emergency preparedness I was about to create a file for, but then reminded myself that if I ever decide to prioritize that and update our 72 hour kits, food storage, etc, I will most likely go on-line to find information.  No reason to keep extra forms/paper that I deep down know I won't ever use!  If they have been sitting in my office drawer for the past four years and I haven't looked at them, chances are I won't look at them in the next four years either. :)
I only kept things that are current and that I refer to often.  Be ruthless when you are purging paper!  Or anything else for that matter.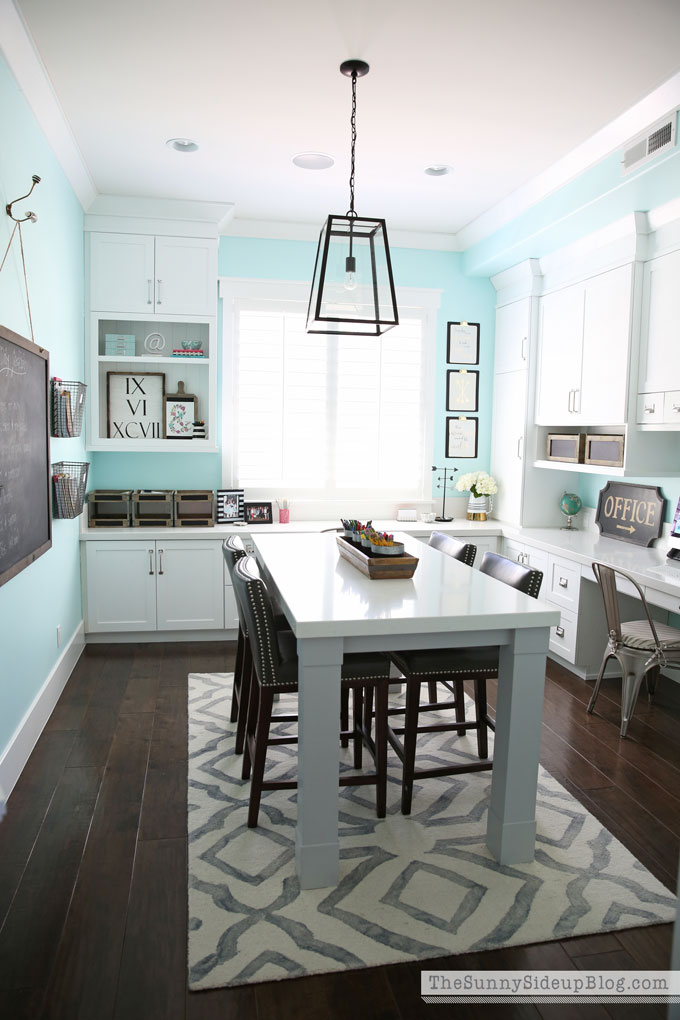 Time to put things back clean and organized!  My favorite part of the process. :)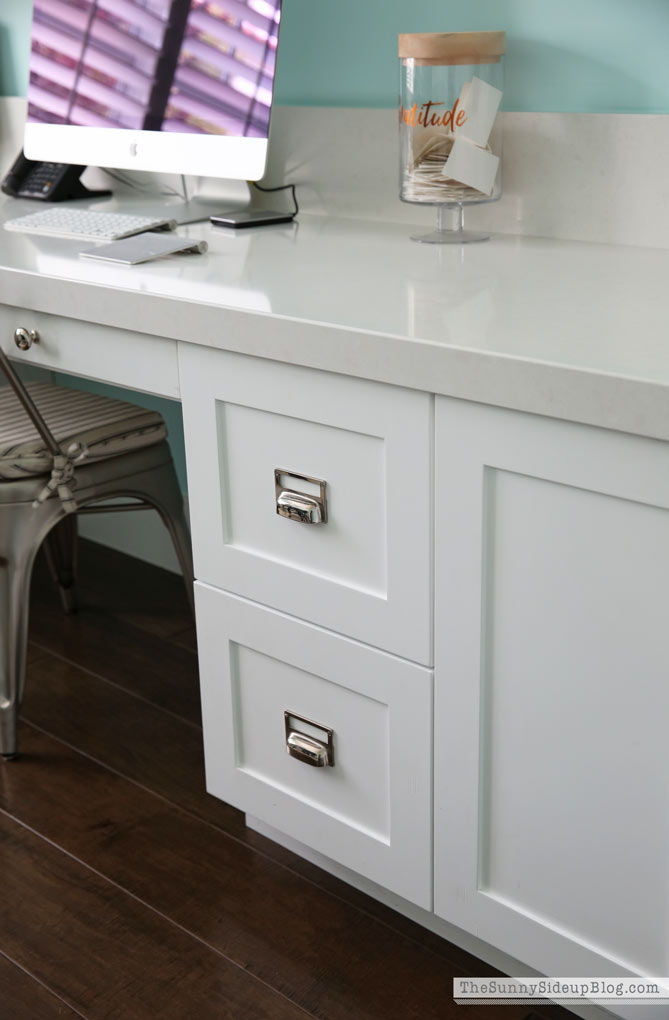 The drawers on both sides of my computer look like this closed..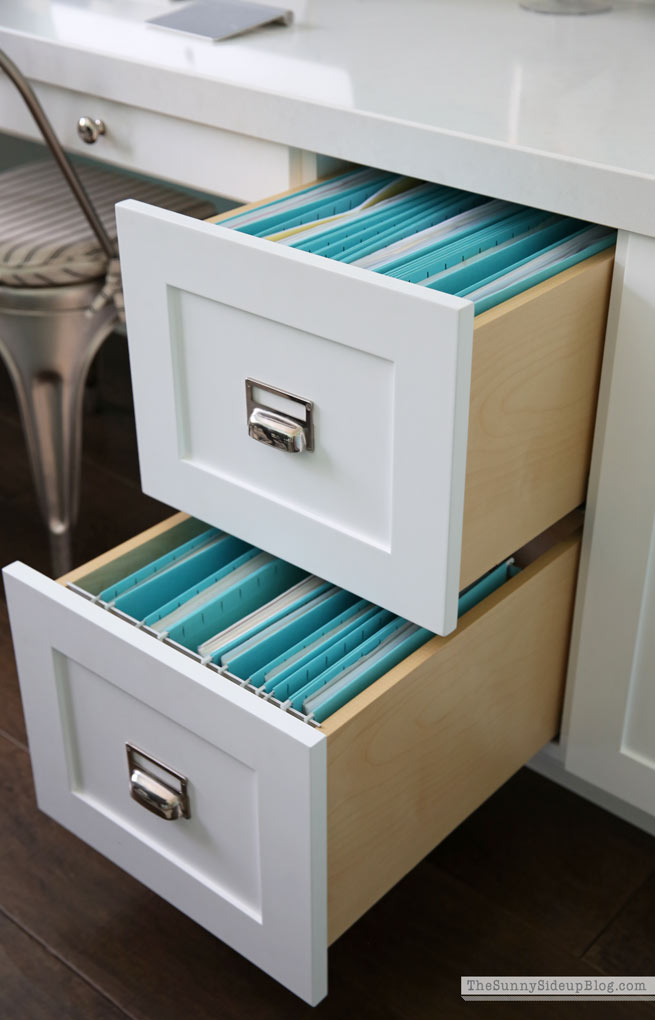 and like this open.
Organized paper files!  Wait for it.. do you hear!?  The angels are singing again.
I knew they'd be back. ;)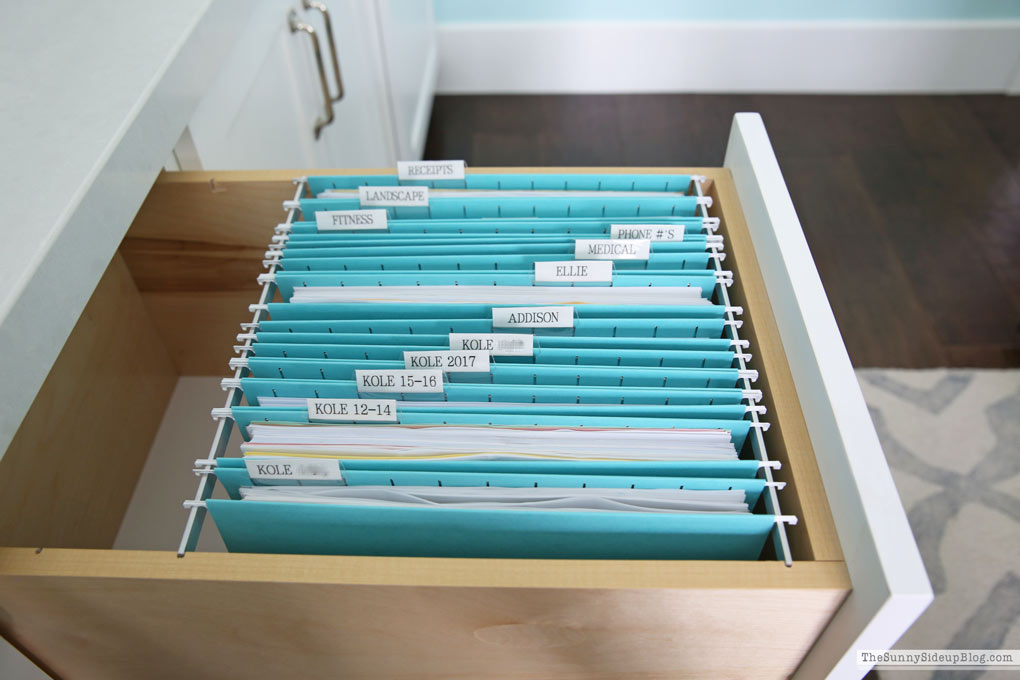 I used my trusty label maker and kept things simple.  Just folders that hold important info. I refer to often.  I was able to recycle a lot of things I kept from when my girls were younger so for now my little buddy is monopolizing most of the drawer. ;)  After the kids' individual folders I just kept things I refer to often like family medical forms (immunization cards), class phone directories..
fitness forms (with the list of knee exercises I'm supposed to be doing everyday), yard stuff I need and receipts.  I don't keep many receipts, but I like to hang on to receipts for larger home decor items.  Mostly so that when I get questions like "what fabric did you put on your couch.." I'll be able to find and remember the answer. :)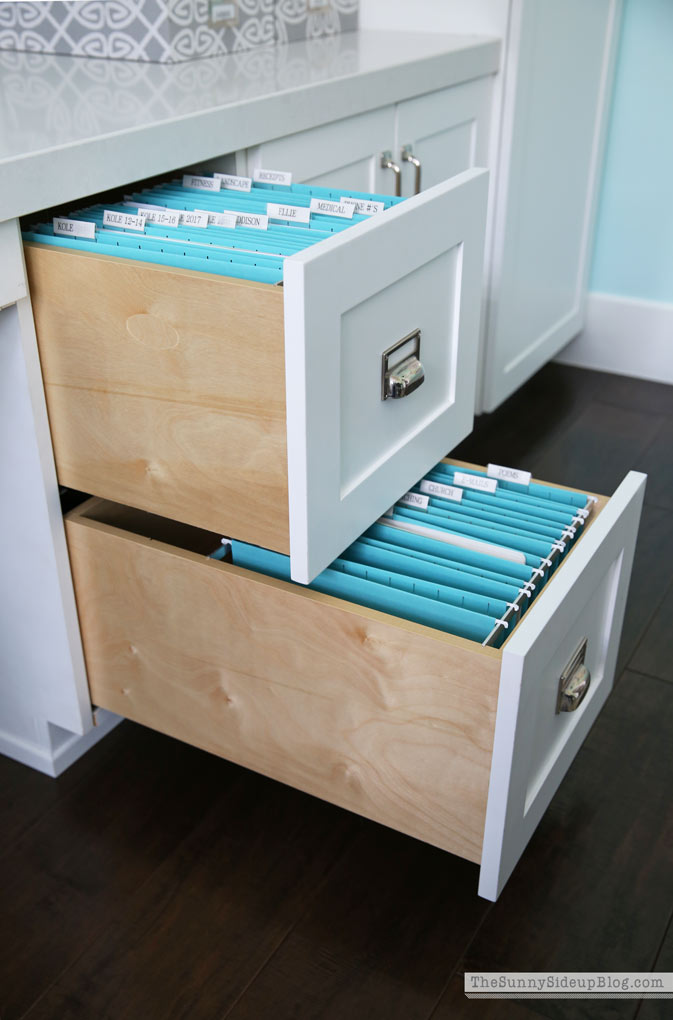 I had my cabinet guy make these built-in file drawers for my offie and I've loved them.
I had him make the drawers deep in case I ever want/need to use longer file folders.  In my previous house with NO office/drawer space for things like this I used a lot of file crates to organize my files…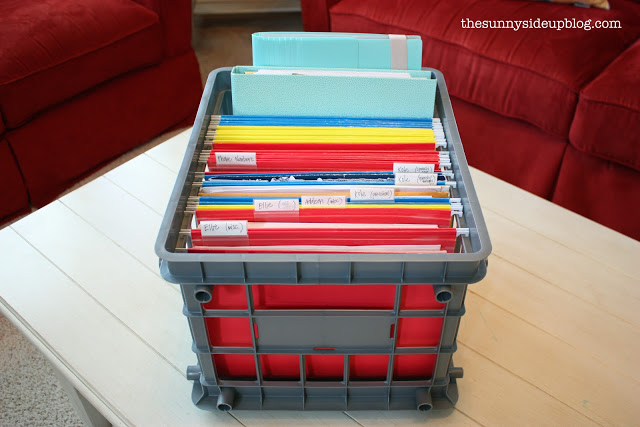 They work great if you're short on office space!
The bottom drawer holds forms I want to keep but don't look at often.  Transcripts and important papers from college, some stuff from my teaching years, church talks I want to hang on to, some special e-mails I've printed and saved and the poems my husband's grandma wrote us for Christmas every year (love seeing her handwriting).
Other forms we keep (taxes, finances, etc.) my husband has in his office and I still need to go through those.  But that requires his help so tackling that little project is a horse of a different color.  Ha.  Then I have the kids' school boxes I'm finishing and some keepsakes in a different cupboard so as soon as I wrap up our paper organization I'll do a huge post that includes how I'm organizing ALL the paper in this house.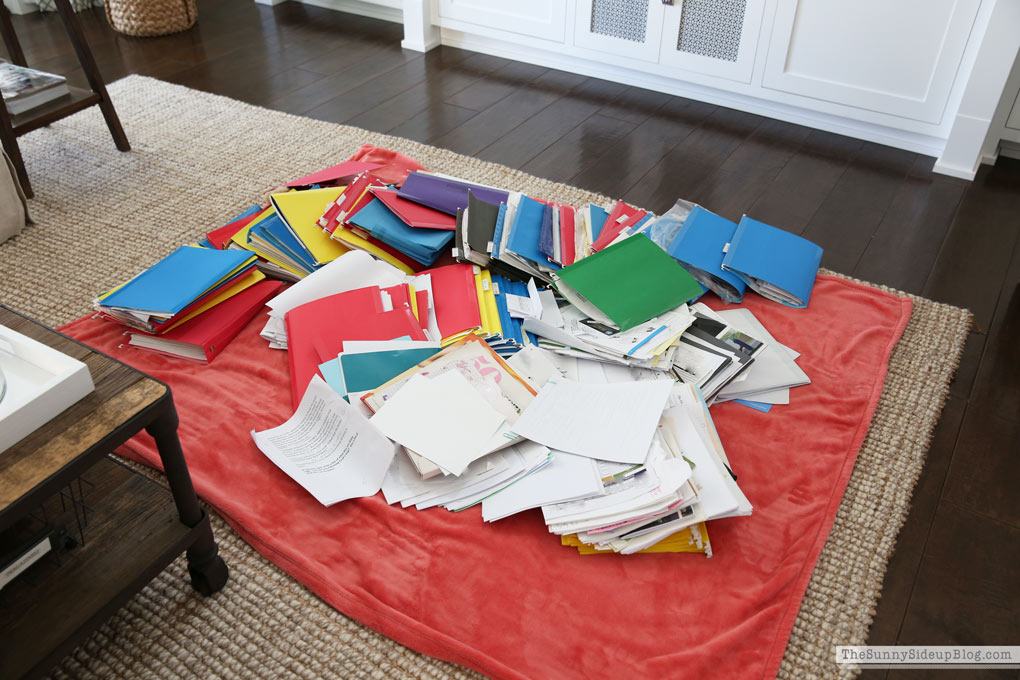 Which thankfully after last weekend, is now much less. :)
BEST feeling ever getting these files organized!  It's funny how we dread projects like this and keep putting them off, but when we just START and get it done we realize it wasn't that bad and wonder why we didn't do it so much sooner!  At least that's what always seems to happen with me. :)
So if you have drawers stuffed full of paper like I did, here is your invitation to set aside a few hours as soon as possible and JUST DO IT!  Turn on your favorite movie (or Hallmark Christmas in July because it's on and why not?) and start a recycle pile.
Then the angels can come and sing at your house too.  I'll loan them to you!
It's a beautiful thing.
:)
SaveSave
SaveSave
SaveSave
SaveSave
SaveSave
SaveSave
SaveSave
SaveSave
SaveSave
SaveSave
SaveSave
SaveSave
SaveSave
SaveSave
SaveSave
xoxo, Erin