Fall.  Isn't it such a fun time of year!?  I love living in San Diego, but we don't get a lot of Fall outside.. unfortunately our Palm Trees stay in tact. :)  Because of this, I've always tried to bring Fall inside our home as much as possible.  Of course with Fall decor – lots of pumpkins and throws and all things warm and cozy.  But also the smells!  Something baking in the oven (admittedly Fall is the only time of year I enjoy baking) or a Fall scented candle burning.  Coming home to a clean house that smells like Fall is one of my all time favorite things!


So when Grove came out with new Fall scented cleaning supplies you know I was all over it!  And I'm so excited to share how you can get them for FREE!  I'm a huge fan of Grove Collaborative.  If you haven't heard of Grove they are a company that sells all natural eco friendly cleaning supplies and other products.  I love their products.  I love their customer service (honestly the best customer service you'll find).  And I especially love that they deliver exactly what I want/need right to my door.  BEST THING EVER.
Right now for a limited time Grove has Mrs. Meyer's seasonal scents in Apple Cider and Mum and they are offering them for free to new customers! Oh my word friends.  Talk about bringing Fall inside your house!  The Apple Cider smells like real apples!  I love it and thought it would be my favorite.. until I smelled the Mum.  I can't even describe how the Mum products smell except.. FALL.  Like a Fall garden, but in your kitchen.  Between my pumpkin spice candle and my new Fall cleaning supplies my house smells amazing.  It makes me so happy.  :)
Grove is offering something special for my readers.  (YEA!)   If you sign up with them, you get the Mrs. Meyer's seasonal scents and a Grove striped dish towel for FREE!  This is an amazing deal valued at $31.45!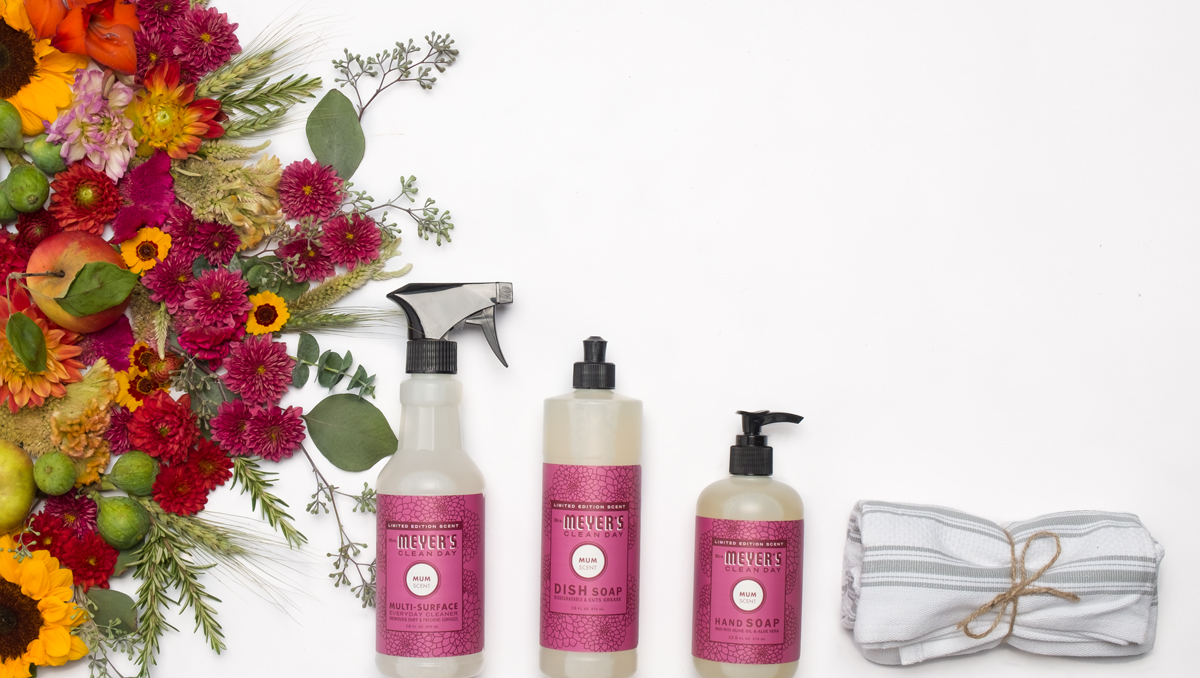 You can choose between the Apple Cider.. 

or the Mum scent.  You honestly can't go wrong with either!  The dish soap is great and so is the soap (love them both!), but my favorite is the multi-surface spray.  Aside from smelling so good, I love the way it makes my counters and stove sparkle.  It's a really great cleaner.  I'm also a sucker for all things pretty and love that the colors coordinate with my Fall decor.  It's the little things. :)
If you're a new subscriber to Grove you can get the set for FREE + free shipping with your first order.  So recap of what you'll get: 
Free Mrs. Meyer's fall seasonal hand soap

Free Mrs. Meyer's fall seasonal dish soap

Free Mrs. Meyer's fall seasonal multi-surface spray

Free Grove Collaborative kitchen towel

Free 60 Day VIP trial
Here's what to do to get your free supplies!
Sign up for Grove Collaborative here. You will receive the Mrs. Meyer's offer for free when you sign up!

Answer 4 quick questions about your home that Grove Collaborative will then use to customize your first basket — this takes under 30 seconds and is so fast.

Once you've answered the questions, you can finalize your basket of products to suit your household needs by adding or removing items. (Easy to do because they sell so many great products and also a lot of basic things we all use and need in our homes.)

To receive this offer, your order needs to be a minimum of $20. Choose the combination of products and scents you love and want to get in your first box.

You made it! Click Finish & Pay and place your order.
Not long after you'll receive a happy box on your door step.  Then each month after that you'll get an e-mail reminding you to adjust your cart and choose what items you need (if any that month).  My last order with Grove was just LOTS of toilet paper and I had it delivered early because we were running out.  (You can adjust when it comes too!)  Now we are stocked for a while and a mad dash to Costco was avoided once again. :)  Here are some other products from Grove that I love and use all the time.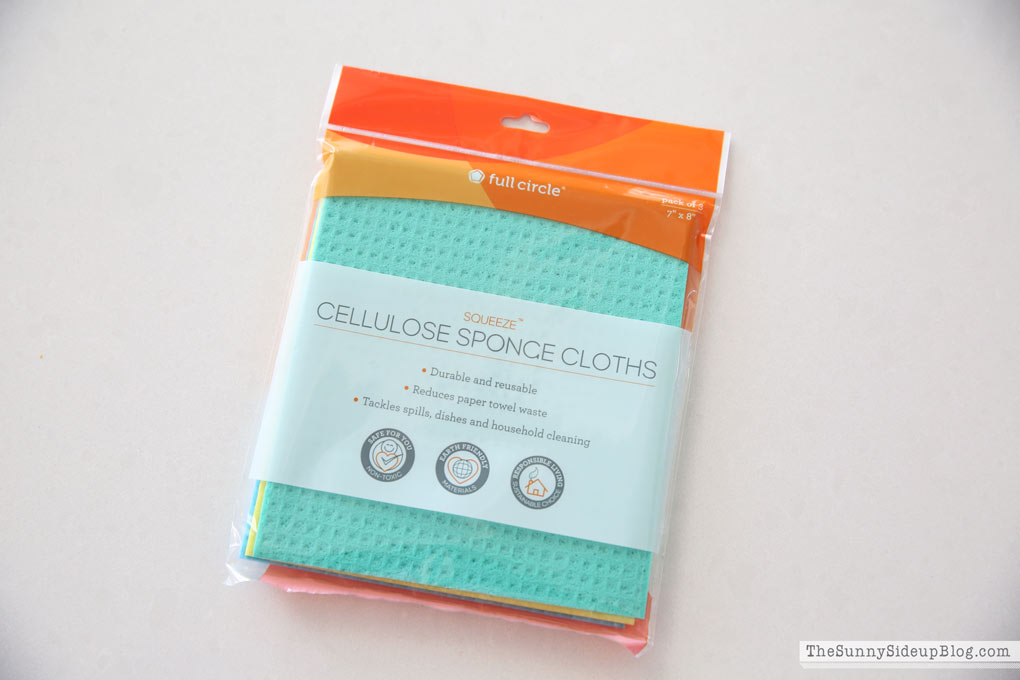 I'm also a VIP member, which means I get free shipping, free gifts, price matching, exclusive sales, and personal service.  I love it so don't forget to sign up for the free 60 day VIP trial when you check out to see if you love it too!
I snapped a quick picture today of how I organize my Grove products.  Cleaning supplies that smell good make me happy.   But cleaning supplies that smell good and are organized?  Even better. ;)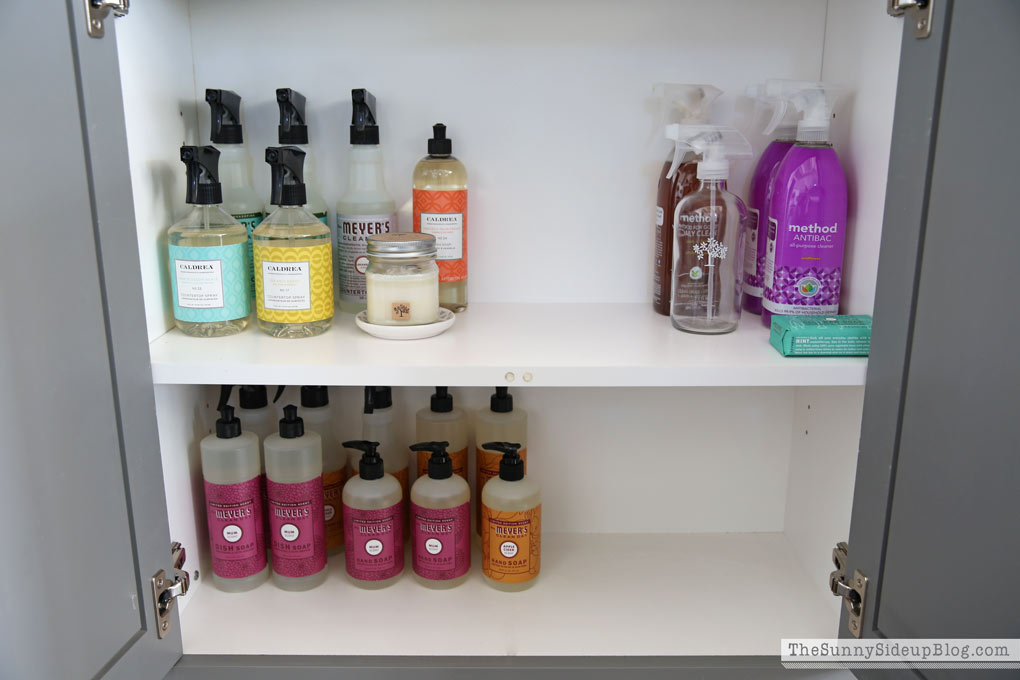 For a while I had them in my cleaning closet under the stairs, but because I use most of them in my kitchen I decided to move them to one of the cabinets in my island.  Do you think I ordered enough of the Fall scents?  Didn't want to run out!  Ha!  I'm kind of obsessed.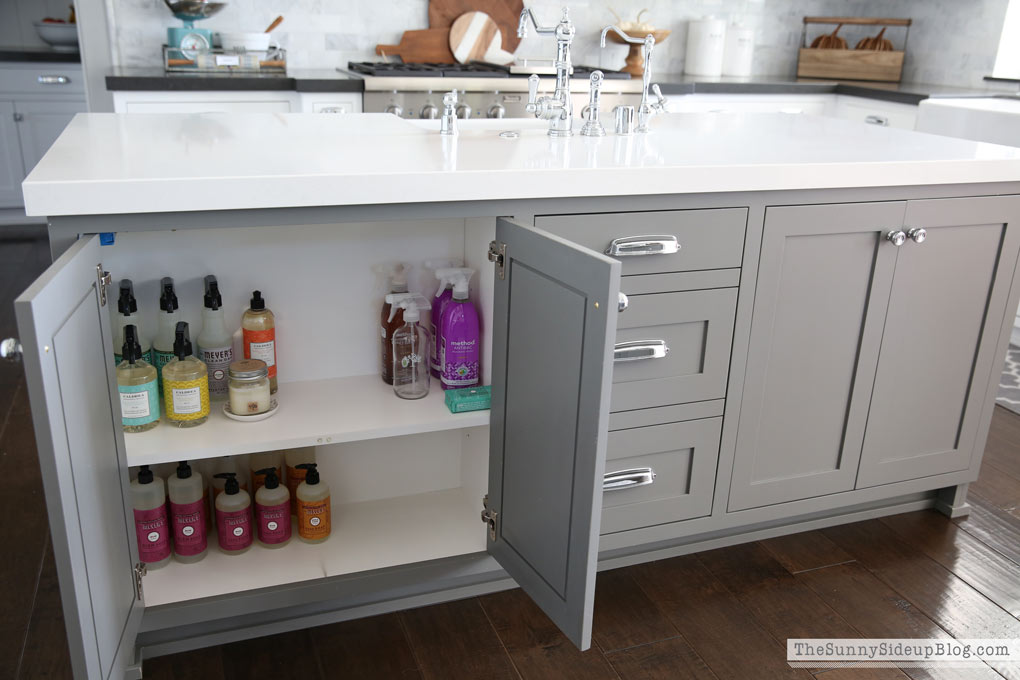 Here is a shot that shows you where this cupboard is located.  It's a happy cupboard for me. :)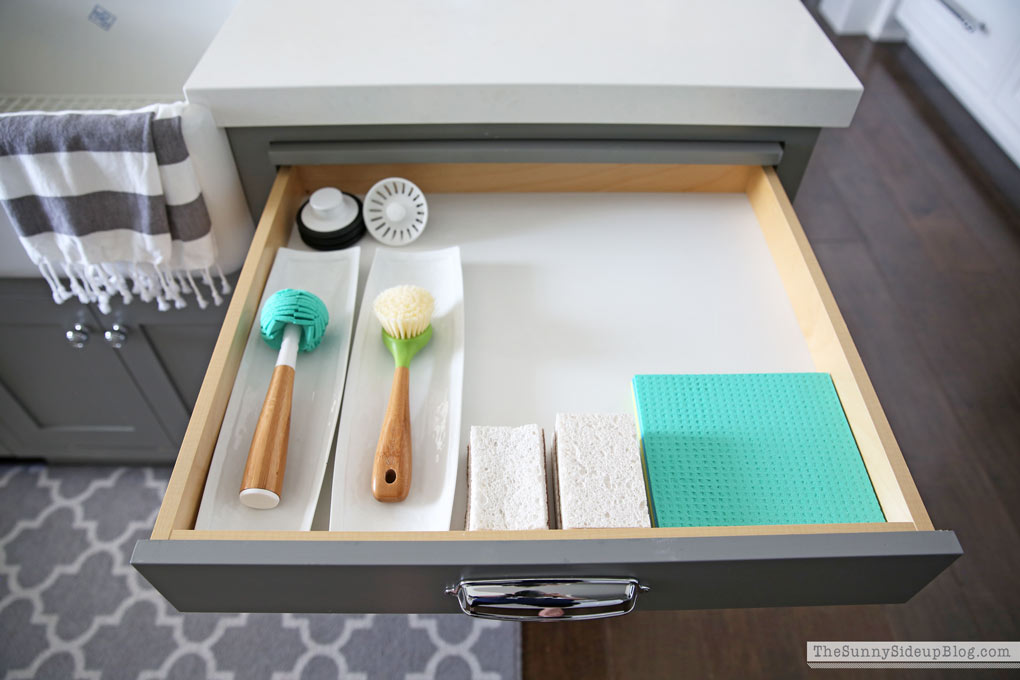 The reusable sponge cloths, sponges, and scrubber brushes are some of my every day staples and I keep them all in this drawer by my island kitchen sink.  Grove has so many great products to choose from!  Affiliate links are used in this post, but honestly you guys.. I would share this company with you all regardless!  They are a company I use, love and absolutely endorse.  Grove has made things so much easier for me.  I used to run to Target and Costco weekly and now I hardly go anymore!  (Unless I just want to cruise the isles for fun kid free.) ;)  Everything I need to take care of our home comes right to my door.
If you haven't signed up yet, give it a try!  You have nothing to lose.  Also, there are only a limited number of sets available and the offer ends soon, so hurry up and place your order!  I have a feeling these Fall scents are going to run out (possibly before the week ends) because they are so good and there are limited quantities.
Enjoy!  And let me know if you like the Apple Cider or Mum the best!  Tough decisions.
Life is full of them.
;)
xoxo, Erin