It's still Friday (barely!) on the west coast.  Cutting it close with my Friday Favs. :)  How is everyone doing?  I'm good!  Thanks for asking. ;)  Feeling especially happy tonight that I made it through this week.  My husband has been in New York all week for work (traveling back this very minute.. YEA) so I've been flying solo around here and I made an interesting discovery.
My 3 kids are a lot of work.
:)  Seriously though.  They are.  I love them.  And they're worth it.  Most of the time. ;)  But wow.  There was a lot going on this week and I felt pulled in so many different directions.  As my girls are getting older the evenings have become nothing short of crazy.  (Those of you with older kids.. why didn't you warn me!?)  Not having back up to pick up El at her late dance classes or help Ad with homework while I get Kole showered and do reading with him and make dinner.. I felt it!  I was seriously out numbered this week and missed my husband immensely.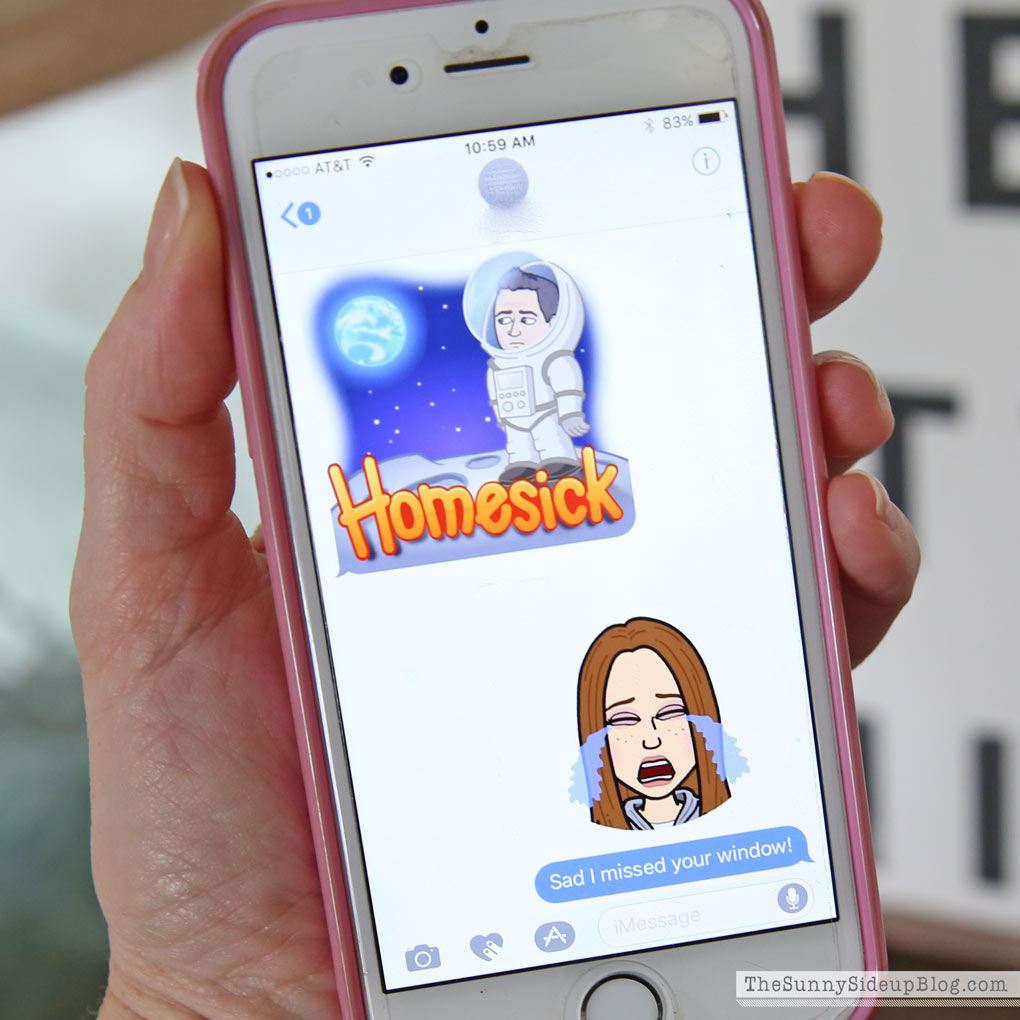 I think he missed us too.  :)  He has such small pockets of time to call me in-between meetings and dinner with clients, etc on these trips.  Most of the time I wasn't able to talk to him because I was in a meeting or busy with the kids so we send each other a lot of text messages throughout the day.  And bitmojis.  Because we live with two pre-teens so we're nerdy like that.  Can't wait to see him!
Ok.. on to a few of my recent favorite things!  Lots to love right now.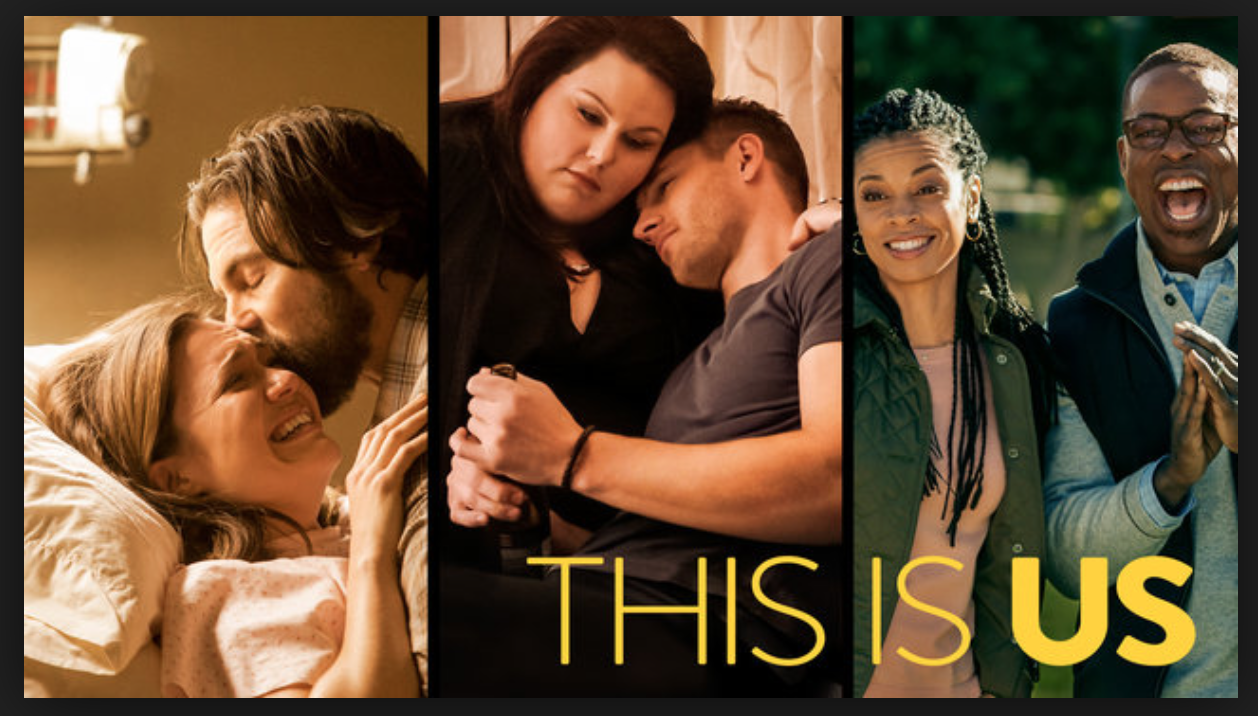 First of all.. are you all watching This is Us?  I'm sure you are, but if not – START!  Oh my word.  Kenny and I are really loving this show.  If you haven't been watching it, you have to go back and see the first few episodes.  Start from the beginning!  I don't want to give anything away to those who haven't seen it.  I'll just say that it feels so good to finally have something on TV again that I can't wait to watch!  There has been a lot of hype about this show and so far it's living up to the hype.  Good stuff!  Check it out if you haven't already.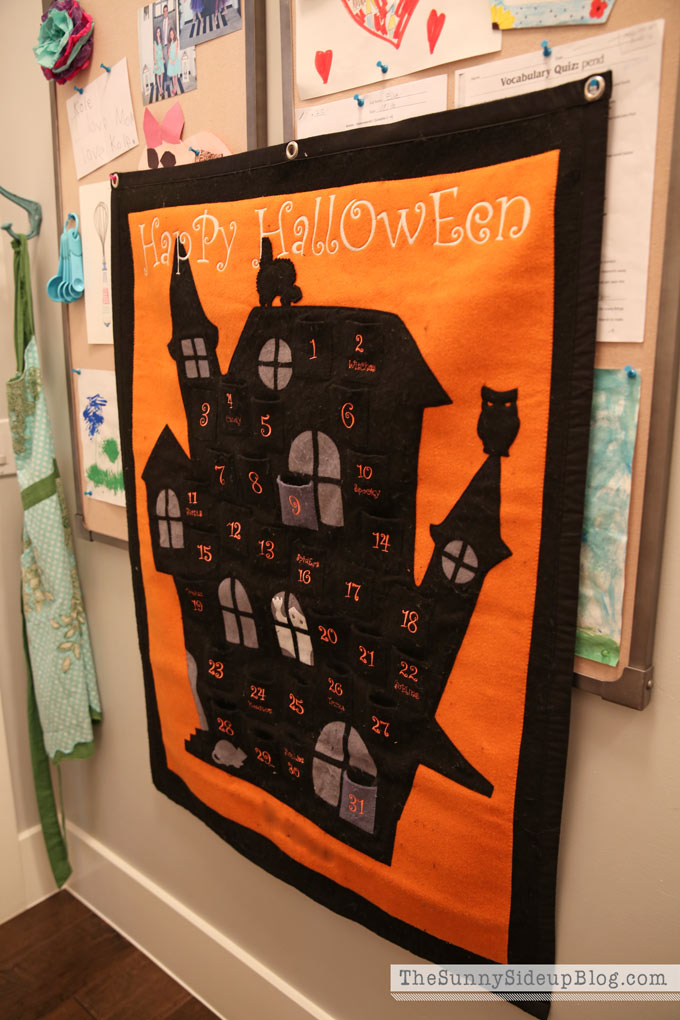 This is actually my kids' favorite thing right now.  To be honest I usually forget about this, but my kids never do.  Every October they remember and get so excited for me to pull out the countdown.  It's full of candy right now (hanging in our pantry) and they love eating a piece every day and counting down to Halloween.  I count down to Halloween too.  Because that means it's closer to November/December. :)   This was from PB kids years ago.  They have darling count down calendars for the holidays.  This cute pumpkin count down is on sale for just over $25 right now!  I'm thinking of ordering this Thankful countdown for November because my kids love these so much.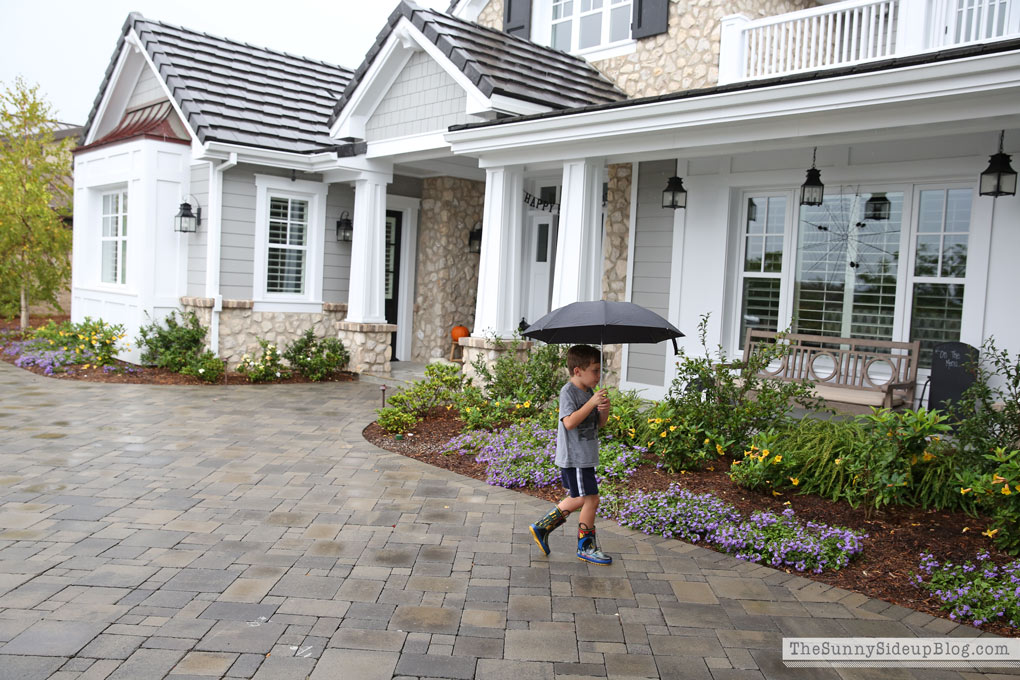 A couple of weeks ago we had rain!  Still hot and humid but it made it feel like Fall and I loved it.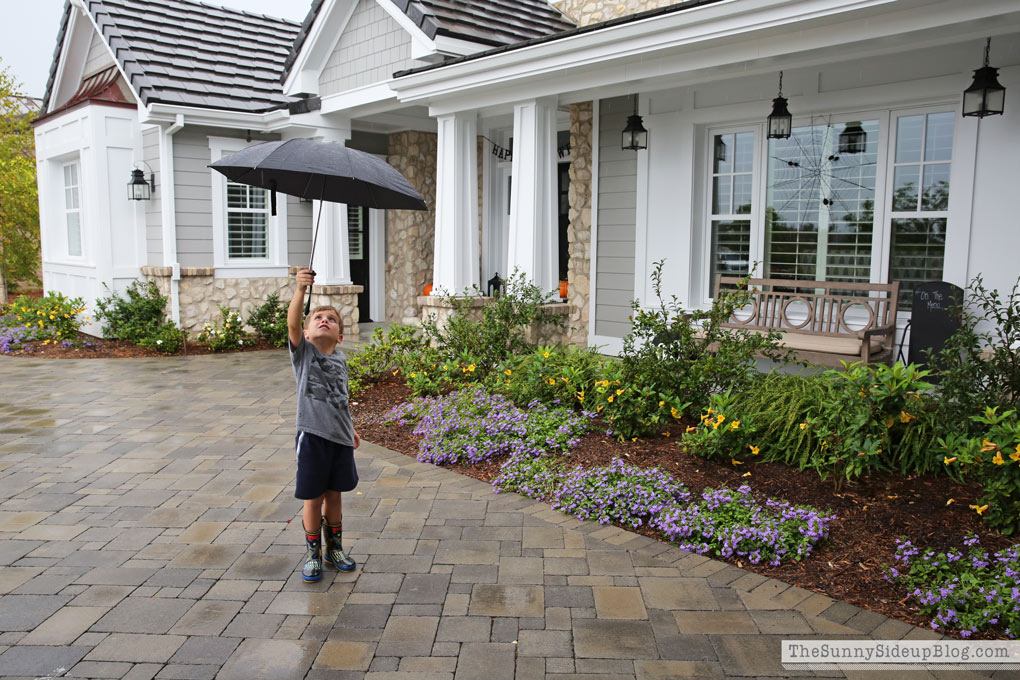 So did Kole.  :)  Rainy days always inspire my three favorite things – organizing, decorating and pajamas.  I guess sunshine inspires those things too because they happen a lot around here.  But rainy days are seldom for us so we cherish them.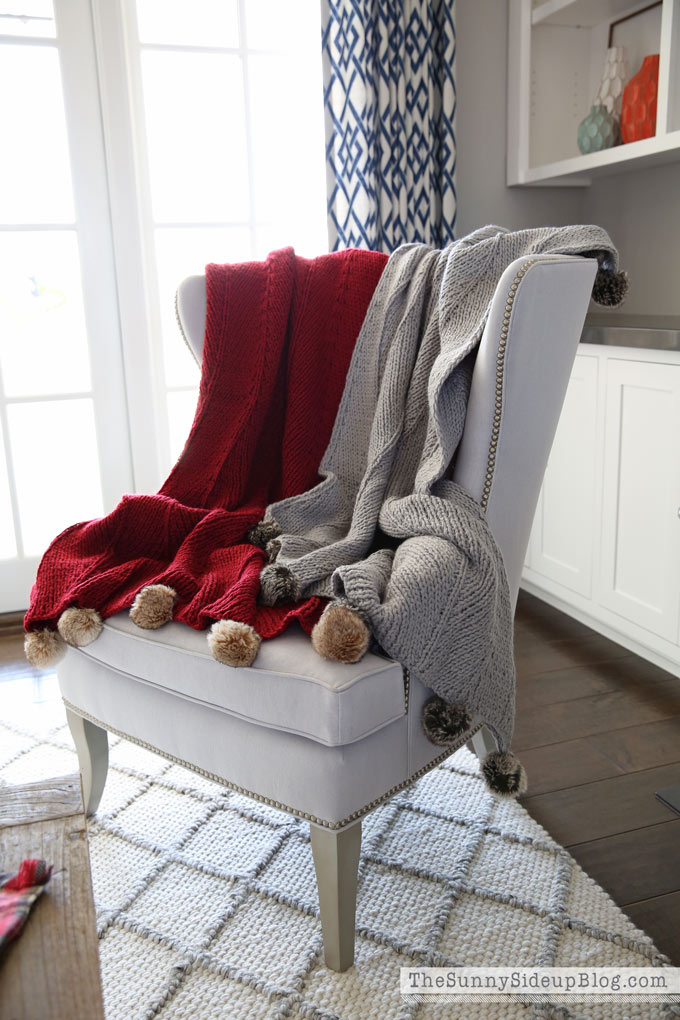 Alright friends.  I try really hard this time of year to not skip all things Fall and jump to Christmas but I'll be honest.. November and December are my favorite months of the year and about this time I can't help starting to plan for them!  We decorate for Christmas early at our house (you can read my opinion on that in this post – to each his own!) and I've already started thinking a bit about my Christmas decor.  It's too fun not to!  I have a cozy red throw from PB that I ordered years ago and every Nov/Dec when I pull it out our whole family fights over it!  So this year I knew I wanted a couple more really nice heavy throws.  These pom pom knitted throws were love at first sight!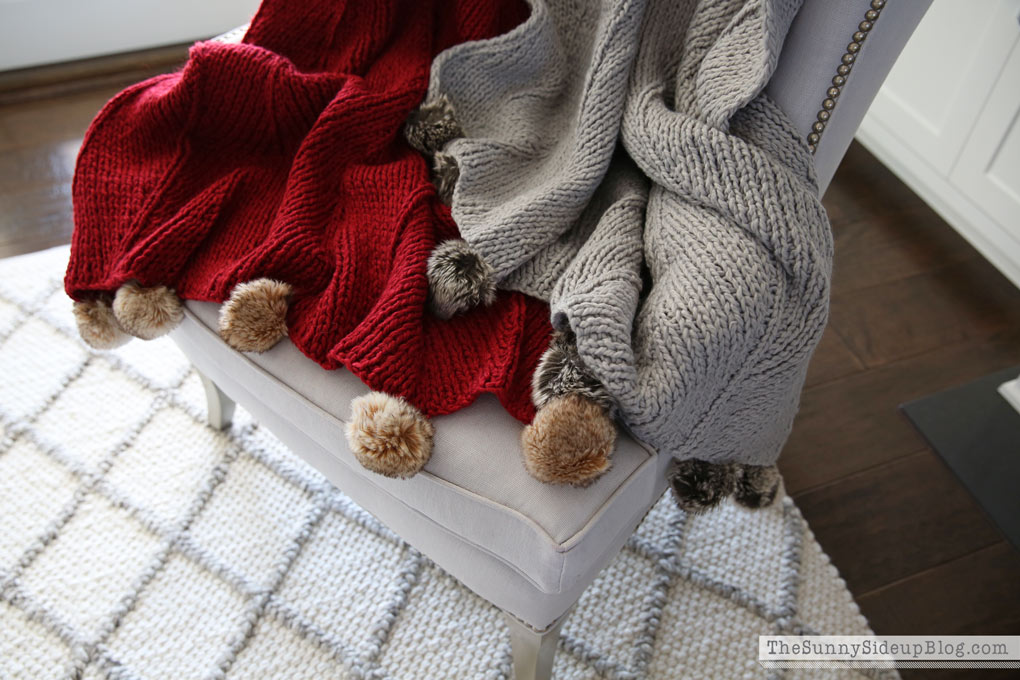 I absolutely adore the faux fur poms on them and aside from looking great for decor draped over a chair or couch, I knew they'd be perfect for snuggling in to watch a movie.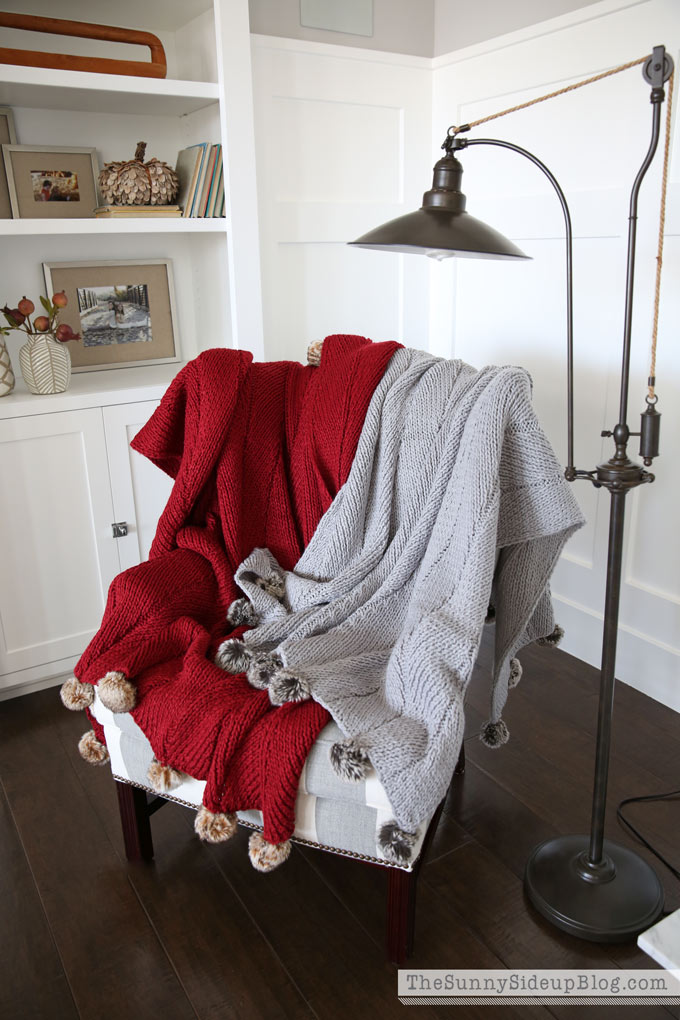 I laid them out in a few places thinking about where to put them but as soon as my kids saw them..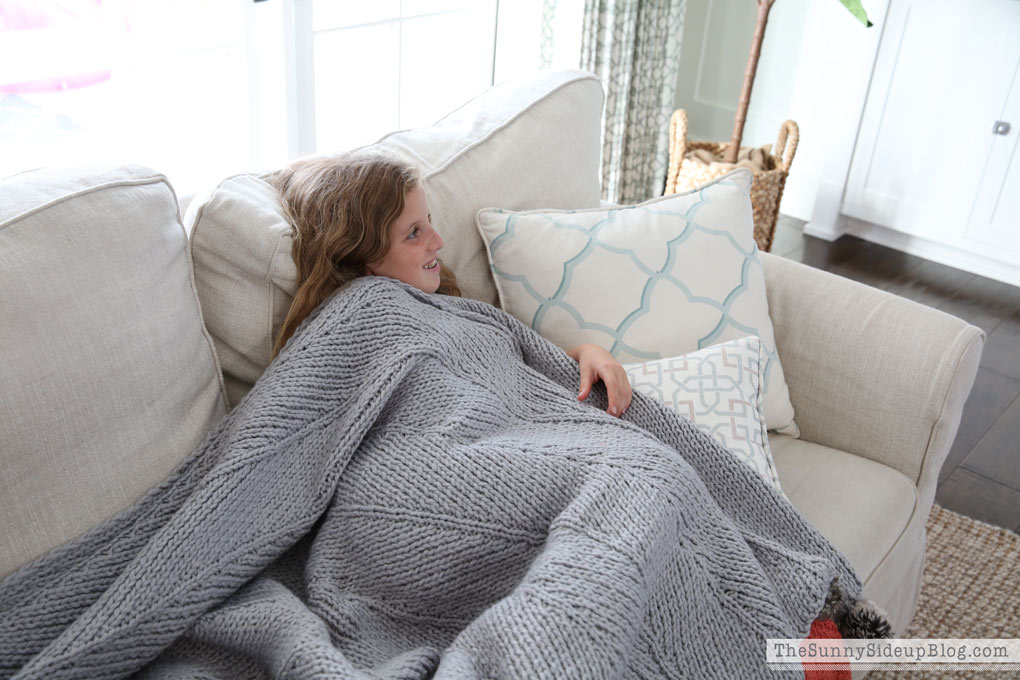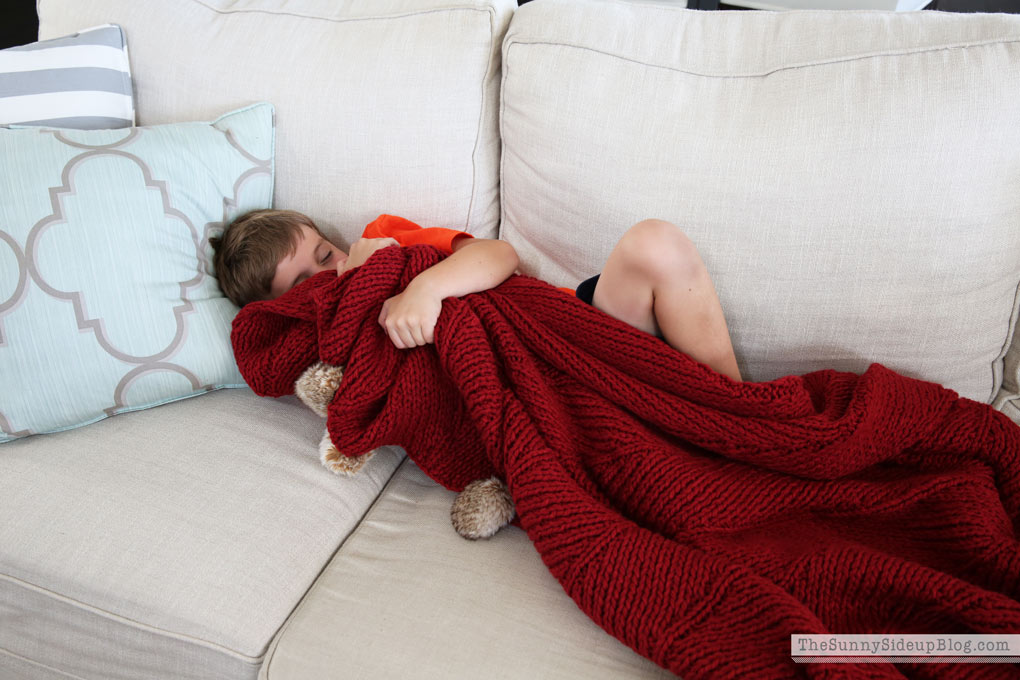 They were off the chair and on the couch.  They are still on our couch!  Looking oh so lovely with my neutral fall decor. ;)  Guess these are keepers!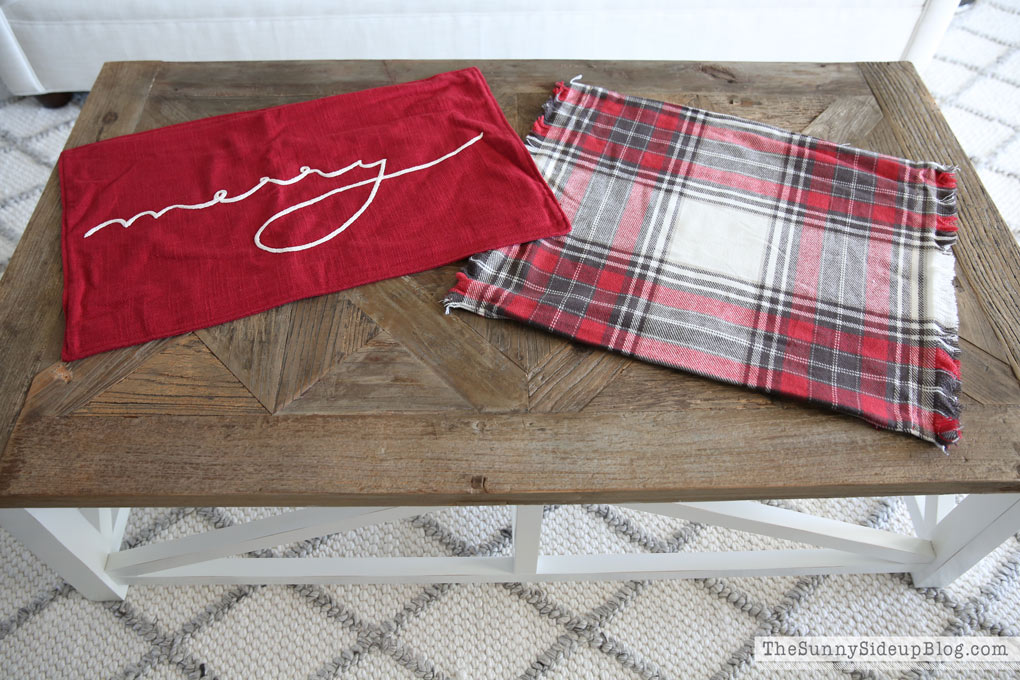 Last year all of the cute PB Christmas pillows sold out SO fast.  There were a couple I loved that I didn't get in time so this year I ordered early.  I waited for one of their 20% off weekend sales (they are doing it again this weekend!) and got the throws and several pillow covers.  This "merry" pillow and "Hamilton plaid" pillow have come but the rest are back ordered a bit.  I'm sharing the pillows I've ordered with you now because I have a feeling they will be gone when I finally get around to decorating with them!  (Btw.. quick tip to save money.  I almost always just order the pillow covers at PB.  Then I buy inserts at the craft store for less or just use some I already have from every day pillows I'm not using.)  


Aren't they all so fun!?  Love them!  PB Christmas pillows are always my favorite.  And you can never have too many Christmas pillows in your life.  You can quote me on that one.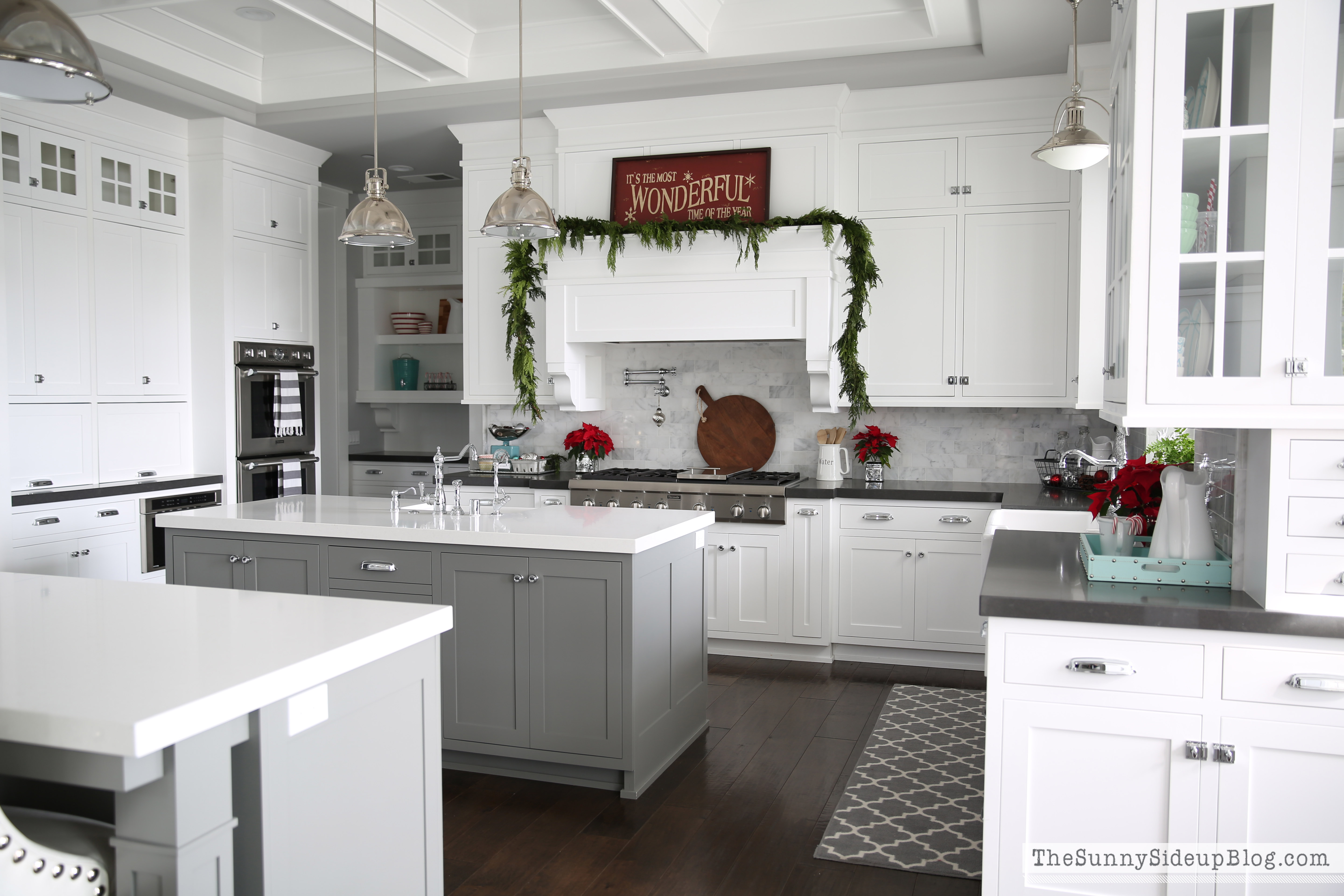 One last thing and then I'll leave December and come back to October!  For today anyway. :)  Remember my
"It's the most WONDERFUL time of the year" sign
that I put on my range shelf every year?  It's back in stock!!  I bought this about 5 years ago and I haven't seen it since!  I get so many questions about this every December so for those of you who love it and want one I'd act fast.  It already says "limited availability" and I have no doubt this will be gone soon.  You all know how much I love
this sign
.  It's a favorite Christmas staple at our house!  PB also has
a similar sign in gray
and some other really fun options if you are looking for something larger like this to decorate with.  I especially love large signs like this on my console tables.  As you all know. :)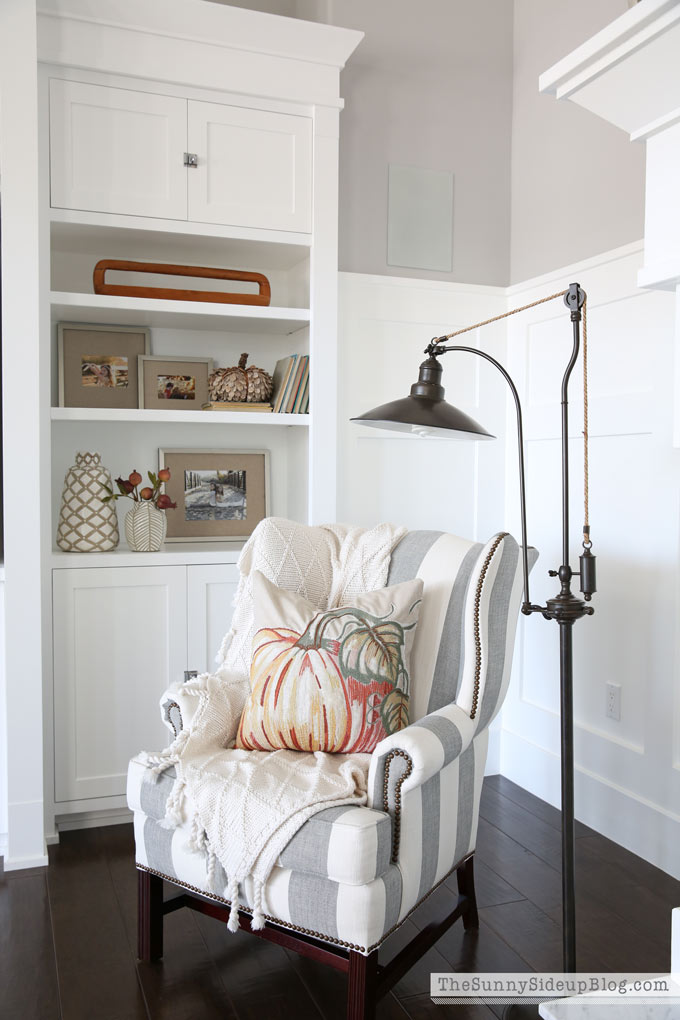 Most of
PB's pumpkin pillows
are also marked way down plus 20% off this weekend.  Woot woot!  Happy time for holiday decor shopping.  See?  I told you I'd come back to October. ;)
Ok – on to some fashion!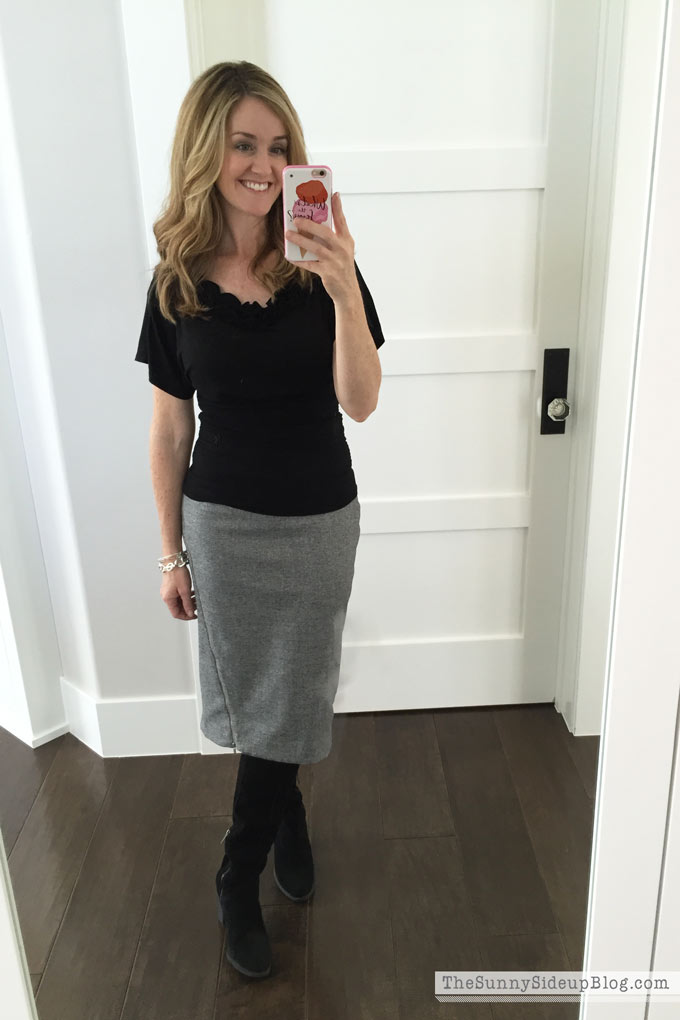 Wore this a couple of weeks ago to church.  Loving my new black Ugg boots I got during the Nordstrom Anniversary sale!  They are so soft and warm.  Too warm for our Fall weather for now so I have to wear them with short sleeves.  This top I've had for years.  The skirt was from BR (similar here or here).
We had family pictures taken last Saturday and I woke up that morning with NO clue what we were all going to wear.  I made a mad dash to the mall to find something.. anything for us to wear for pictures and instead came back with a few new tops and jackets for me.. ha!  Never fails.  We threw together outfits we all already had (the most unprepapred I've ever been for family pics!) so we'll see how they turn out.  At this point I'm just happy they're done!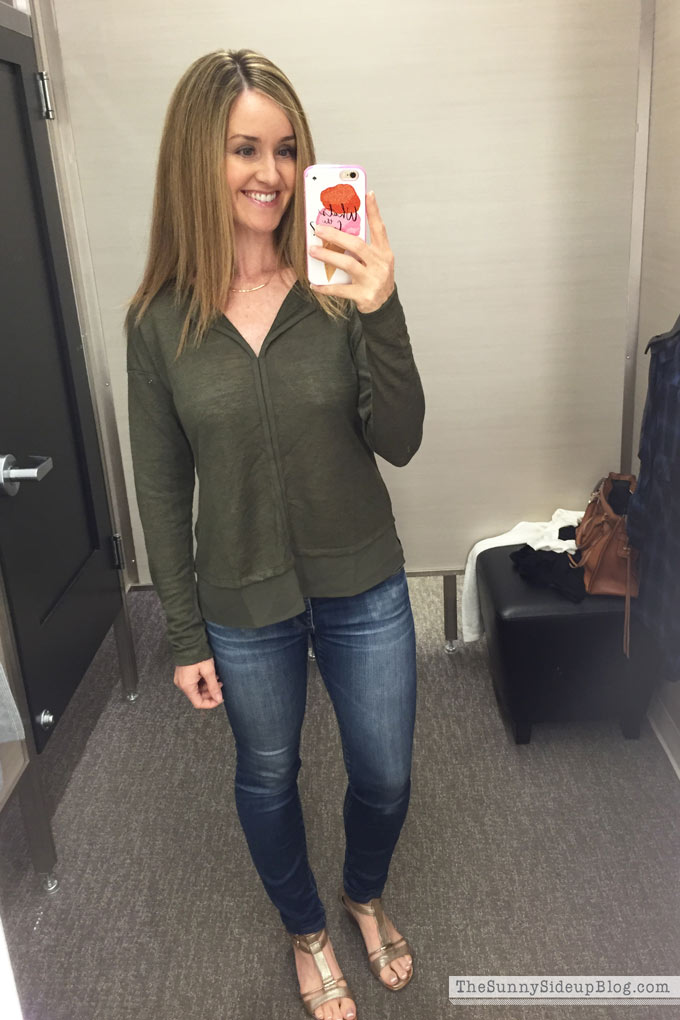 This Hanna split neck top is so cute and cozy!  Love the material.  (My favorite AG jeans I'm wearing in these pics are on sale too!)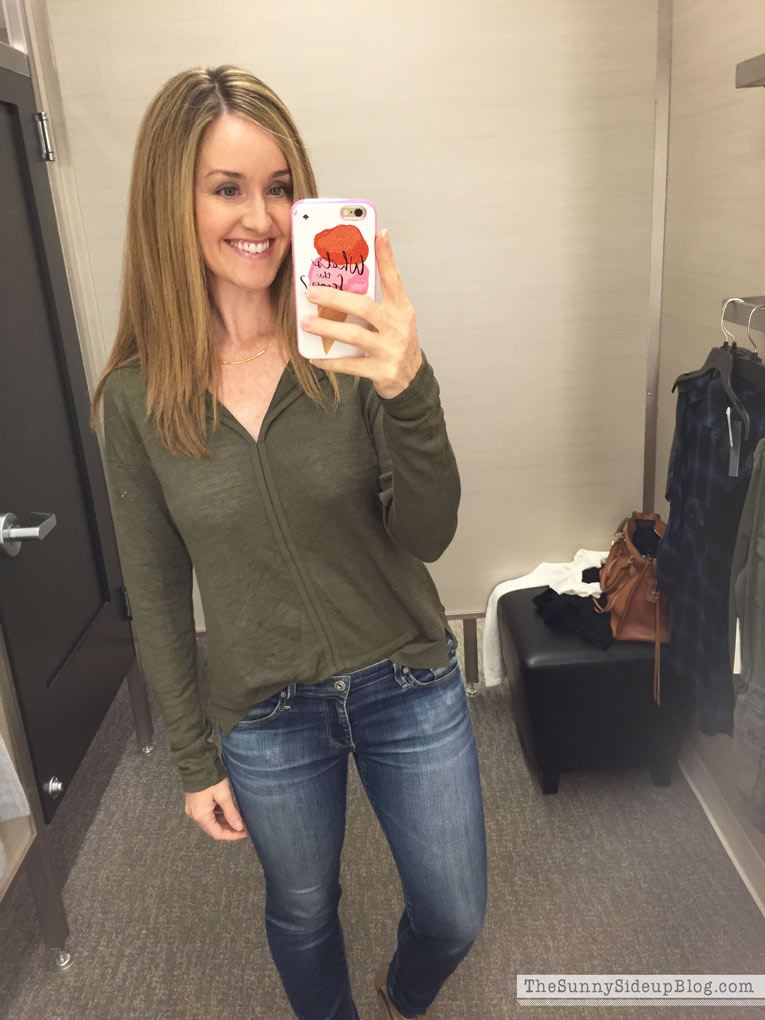 I bought the green but it comes in six colors.  I like it tucked in a bit in the front.  (True to size.. this is an xs.)


I also loved and came home with this plaid flannel boyfriend shirt.  It's such a great fit.. really light weight and comfortable.  Not as big and boxy as some flannels.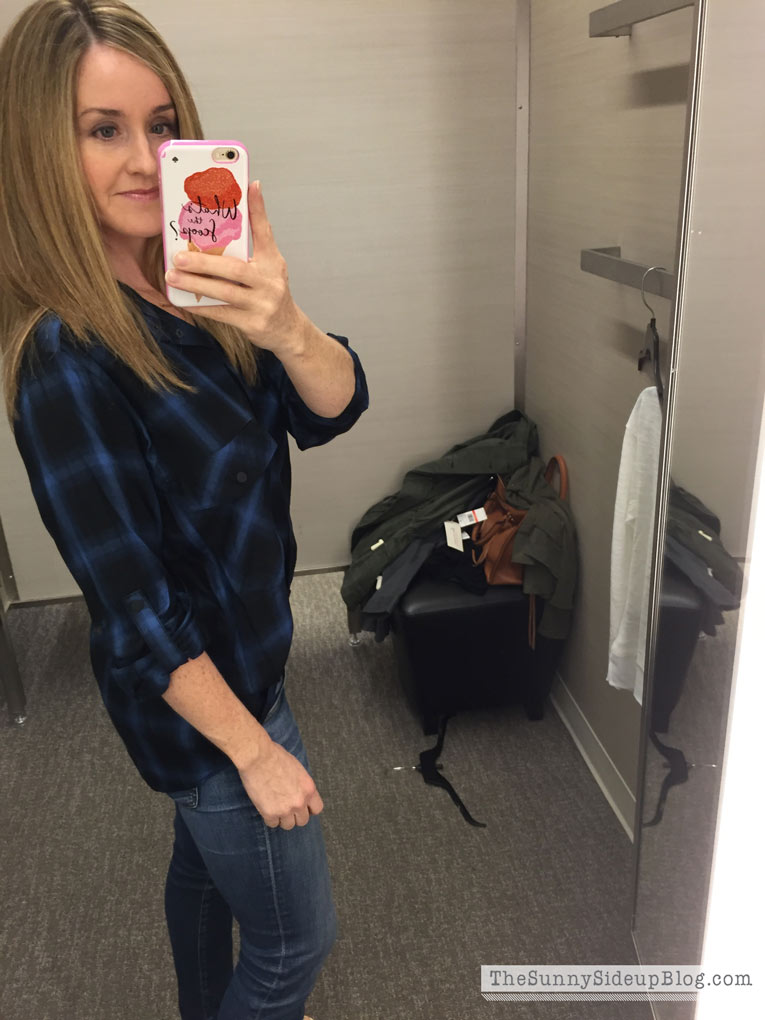 I'm wearing an xs and it's long in the back.  It comes in lots of fun patterns/colors.  The red would be fun for the holidays for those of you who look good in red!  I live in cargo jackets during our mild winters so I also came home with two new jackets.  (This green stretch cargo from Vince Camuto and this gray cargo utility jacket.)  I'll include the pics of them below and share pics of what they look like on in my next fashion post because this is becoming a novel!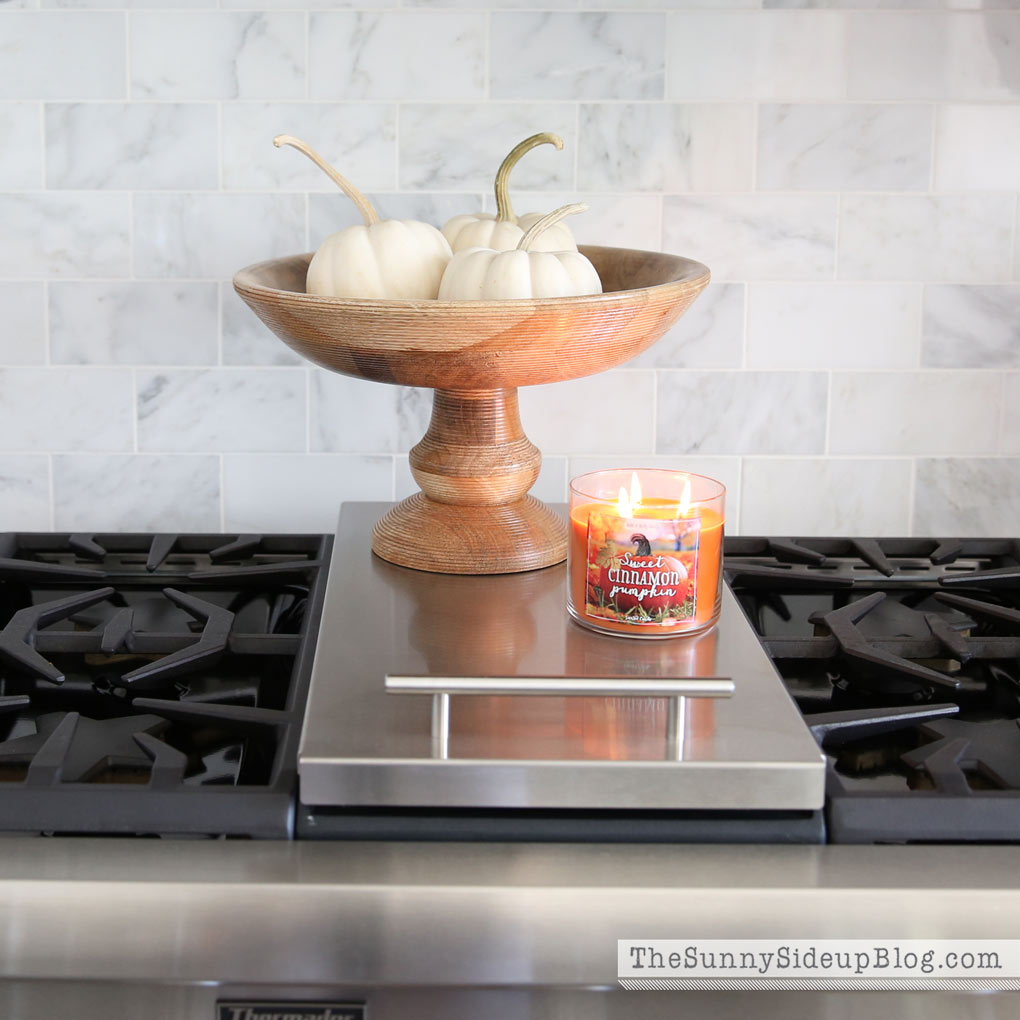 One last favorite for the week.  This
Sweet Cinnamon Pumpkin
candle smells absolutely heavenly!  You can find it at Bath and Body Works.  It's got a hint of a Christmas smell with that cinnamon which is probably why I love it so much.  But the pumpkin is there too!  I bought several and then went back and bought more to give to friends.  I'm like the cinnamon pumpkin candle fairy lately because I want everyone to enjoy this as much as I do!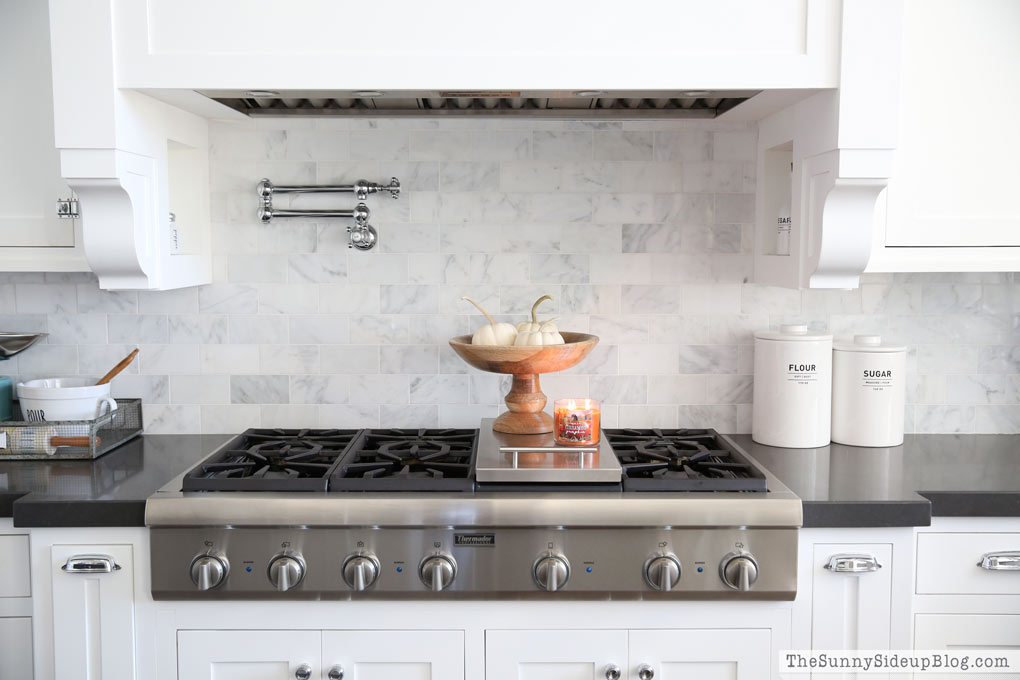 So your assignment for next week (if you choose to accept it) is to watch
This is Us
with your cinnamon pumpkin candle burning while you do some early on-line Christmas pillow shopping.
And you can thank me later.
;)
Happy weekend everyone!
xoxo, Erin