Happy Friday everyone!  So glad the weekend is here.  I don't know about all of you but I feel like I still haven't recovered from Christmas break!  I'm trying to get back in the swing of things around here but I feel like I'm moving slower than usual.  Anyone else?  At least I was able to get a few spots organized so the week wasn't a total bust!  Pictures coming soon. :)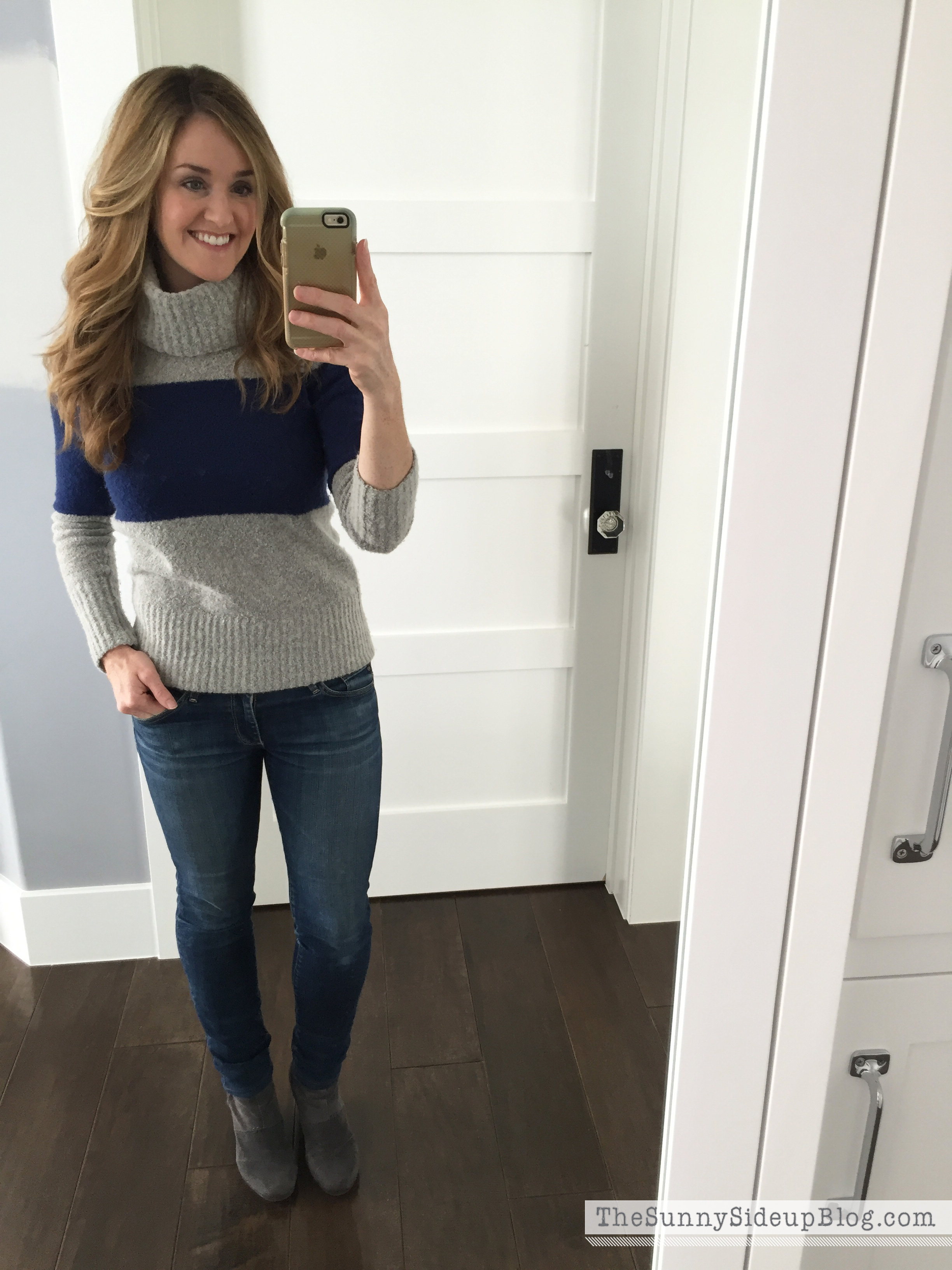 Sharing a few fun things I've been wearing lately!  It has been cold here (just low 60's but really cloudy) and every day I want to reach for this grey and navy turtleneck tunic from Banana Republic.  I bought it in December and I'm seriously embarrassed about how much I've worn it since then!  It's cute and comfortable and just perfect for cloudy, casual days.  They also have the same sweater in black and grey and I'm thinking of buying it too just so I look like I'm trying to not wear the same thing every day. Ha!  {Jeans in every picture in this post are my tried and true AG favorites.}  Shoes are my favorite Toms booties.  I've had them for over a year and LOVE them.  Like the sweater they are casual and comfortable.  And on sale right now!  Everything at Banana just went 40% off for the weekend too – YEA!  (Just enter their code.)  This sweater and this one are in my cart and need to come home. :)

Wore my sweater last weekend on a date night with my cute husband!  Hoping we can sneak away for a couple hours again this weekend.  It's always so nice to have an uninterrupted grown up conversation for longer than 5 minutes.  It's the little things.  :)
{My purse sold out in the brown but they still have it here in a really pretty green!}


Btw.. before we carry on with all things fashion, do you love the paint swatch behind me?  I told you my master bedroom was covered in paint options.. ha!  I definitely want to go lighter than what I originally chose (the original color clashes with my headboard and has too much of a purple undertone) but wondering if my new color is too light?  K.. sidetracked.  That's a post for another day!  In this pic I'm wearing another Banana sweater I love.  It's their micro-rib sweater and it's really thick so it's nice and warm!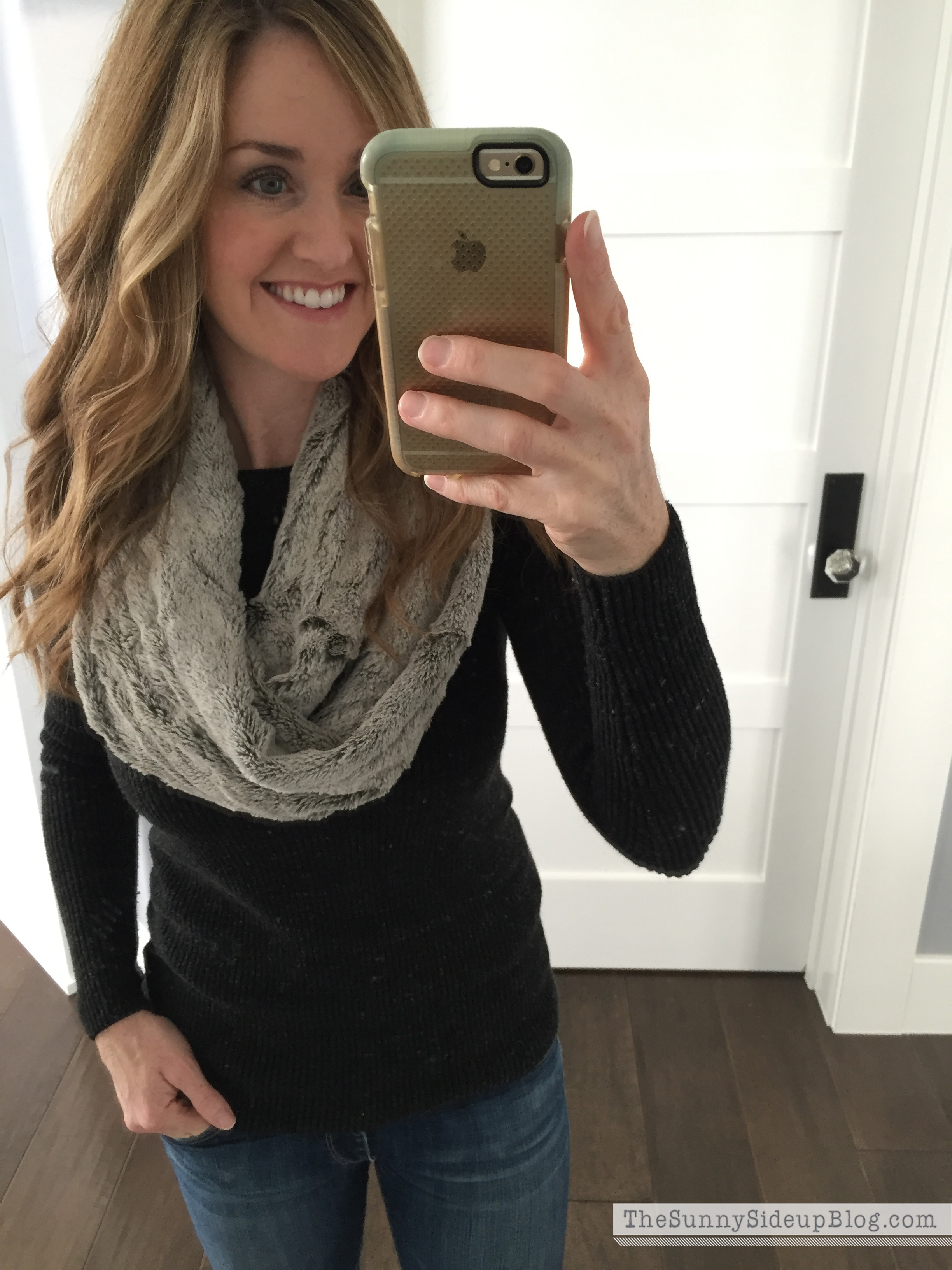 It's the perfect sweater to wear under scarves.  I got this scarf from Nordstroms but couldn't find it on their site.  While I was looking I got a bit sidetracked because they have so many cute scarves right now!  I love scarves and we only get to wear them for a couple of months here so I'm living it up.  I have one on at least three days a week. :)


Same Banana sweater a different day with this plaid cashmere scarf from Sole Society.  These fun booties I've had for a while are also from Sole Society.  (These are almost identical.)  Sole Society recently got more fun new booties in and I'm debating buying this pair too.  So cute, right!?  They are less than $45 right now!
This sweater is from Target baby!  Love it.  So comfy and perfect to wear with leggings. I couldn't find it on-line but it's almost identical to this one.  Leggings are the best in the winter, aren't they!?  They make me feel like I'm in my pajamas all day which is always a good thing!  These leggings are from Ann Taylor.  I have a few pairs from Ann Taylor and really like the fit.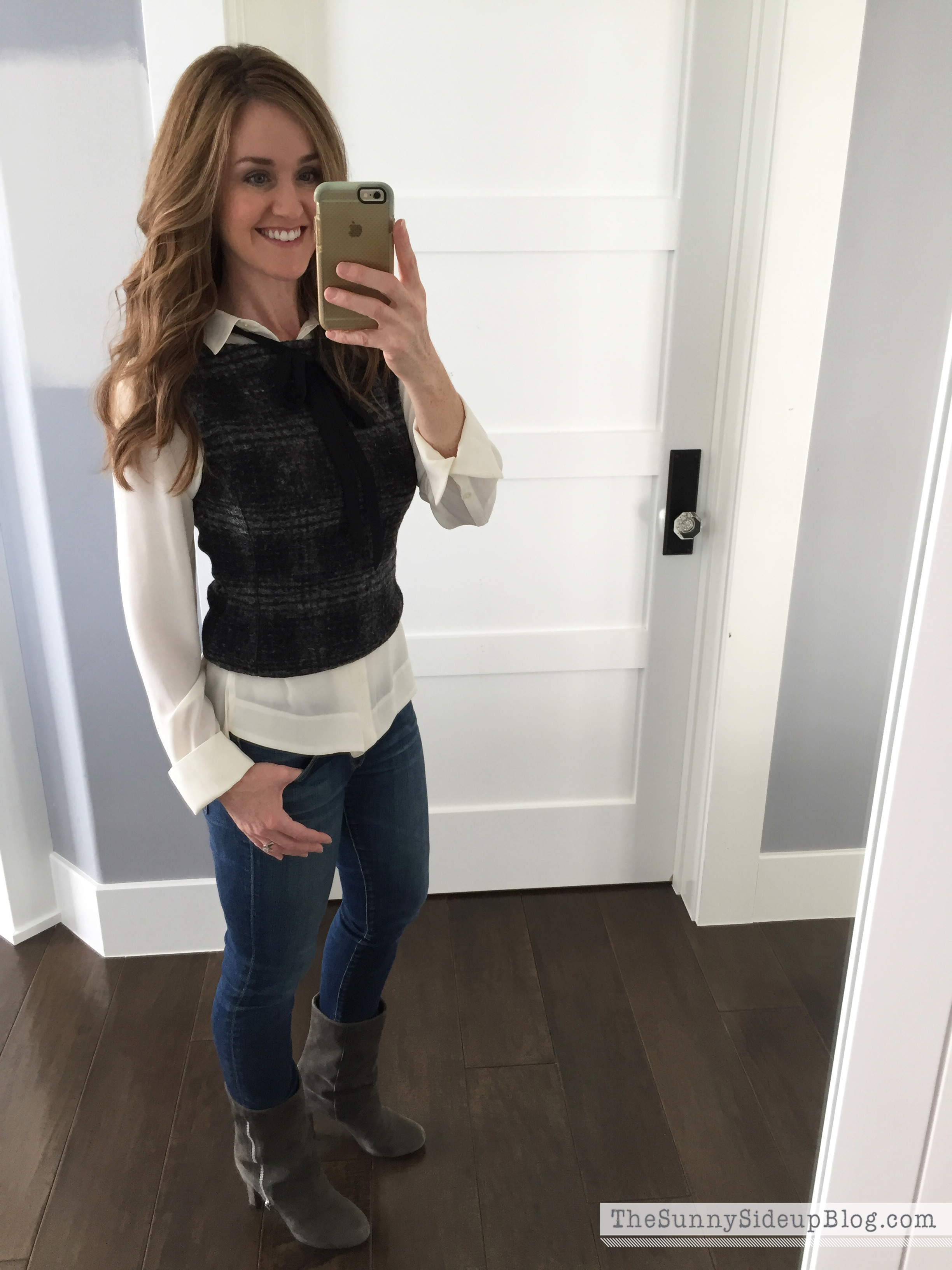 K.. this next outfit I really love.  It's from Banana (did you know I love that store?) ;) and it can be super dressy or dressy/casual depending on what you pair with the blouse.  This is their tie-front blouse with their plaid cutout-back tank over it.  In this picture I paired it with my favorite jeans and grey boots, but I've also dressed it up even more with a black skirt and heels.  (Shoes are a few years old and the only similar boots I can find are these black Jessica Simpson booties.)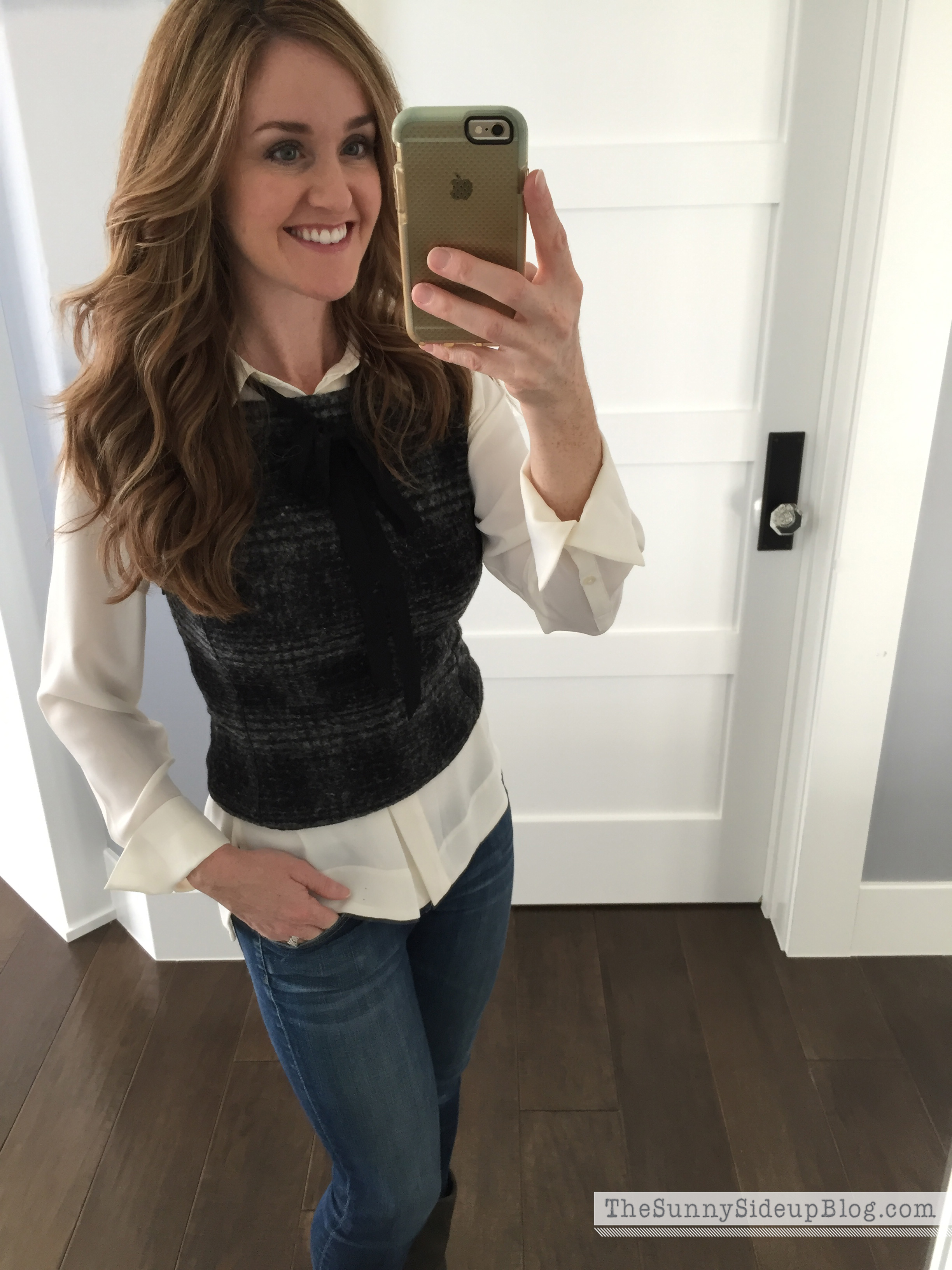 I wanted to show you a close up of this cute tank and how the black tie from the blouse looks over it.  Hard to see, but it's so cute!  It has been perfect for events that I want to dress up a bit for.  Dressy/casual clothes are hard for me to find so this blouse and tank have been on repeat!
Last latest fashion obsession!  This was a Christmas gift from my husband.  I think I squealed when I saw this pretty Kate Spade box!  Might have begged him politely hinted that I wanted this.  :)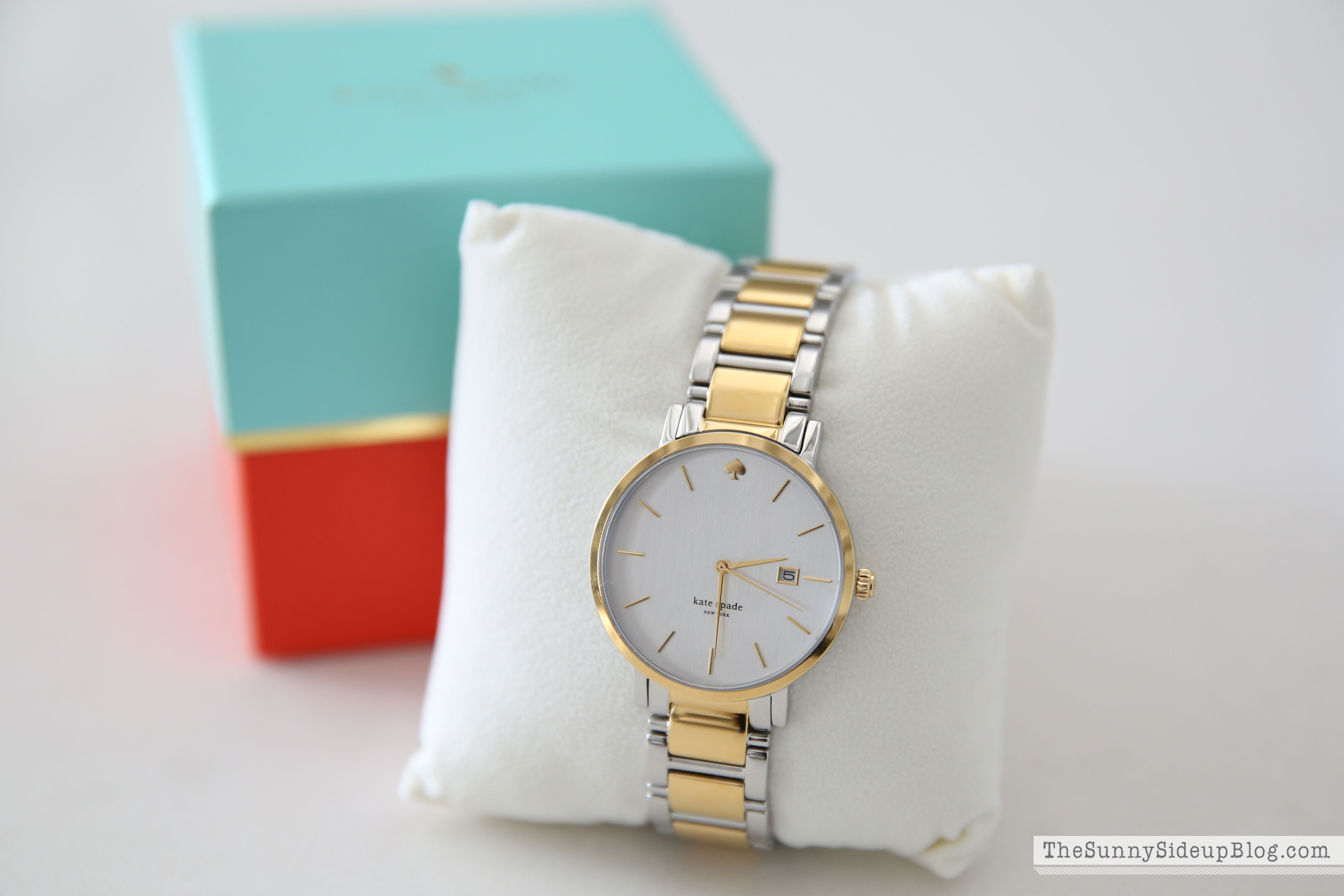 It's Kate Spade's  "Gramercy Grand" Bracelet Watch.  I haven't worn a watch in years and have been wanting one that was gold and silver so it didn't matter what other jewelry I was wearing.  It's so fun to wear both!  The second I saw this I knew it was the one. :)  I have a few cute bracelets I'm excited to wear with it.
I'd love to model it on my wrist for you all, but I haven't worn it yet because it's too big!  I need to have some links taken out and just haven't had time to do it yet.  This weekend for sure because I'm taking Ellie shopping for her birthday.  She turns 12 on Tuesday!  Pass the kleenex!!  I can't believe it.  Time flies.
No pun intended.
:)
Enjoy your weekend everyone!
xoxo, Erin