Dear Kole,
My little buddy.  You turned five years old today.  FIVE!  I blinked and it happened.  My baby is growing up.  We had your Kindergarten orientation last week.  This is my third time doing the Kindergarten thing so you'd think it would be pretty routine.  I was fine while they introduced the Kindergarten teachers.  Fine when they talked about your schedule.  Even fine when then showed us the Kindergarten classrooms.  But then they took us outside and showed us the little tables you'll sit at to eat your lunch.  And the little playground where you'll play at recess.  And suddenly my heart started to hurt so badly and I couldn't hold back the tears.  Your dad looked at me and just shook his head.  And I know!  I'm crazy.  If I'm already this emotional and it's just orientation time we are in big trouble on the first day of school.  But it's hard.  You are my baby.  My only boy.  My little sidekick for life.  Or so I wish.


A few things about wonderful you right now.  First of all – the two of us are so close Kole.  Unbelievably close.  It has been that way since day one and your sisters and dad tease us about it.  We like to do everything together and go everywhere together and we have a language all our own.  Sometimes I spoil you.  Ok.  All the time I spoil you.  :)  Don't get me wrong – I am firm when I need to be (and you give me lots of times that I need to be!) but there is also so much love going on between the two of us every day.  A love fest some might say.  I shower you with hugs and kisses and you tell me "you're the best mom ever" and I melt like putty in your little hands.  We snuggle a lot.  And read stories.  And when I put you in bed you always yell after I close the door "I love you mommy!  Have good dreams!  Night mom!  I love you!  See you in the morning!  Night mom!  I love you!"  And I say the same right back.  Sometimes this goes on for five minutes.  We have serious separation issues.  :)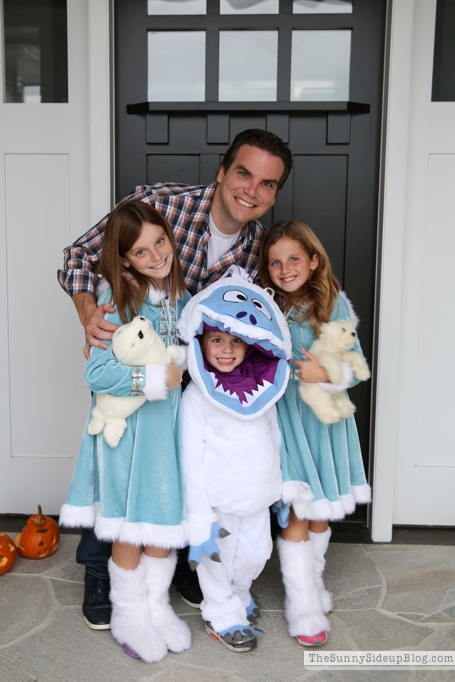 While you are a true momma's boy, you definitely love your dad and sisters too.  You get so excited to see your daddy each day when he gets home from work and if anyone asks you your favorite thing to do it's to "go to the Zoo with my dad!"  You also love helping dad with "work."  Anytime dad is in the garage or yard you are right by his side "helping."  I don't know what he would do without so much help.


Your sisters love that you are finally old enough to really play with them.  The three of you can often be found on the trampoline or riding your scooters and bikes around the yard together.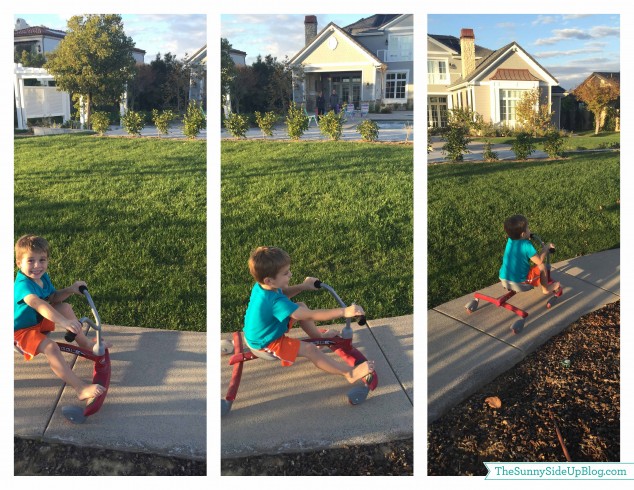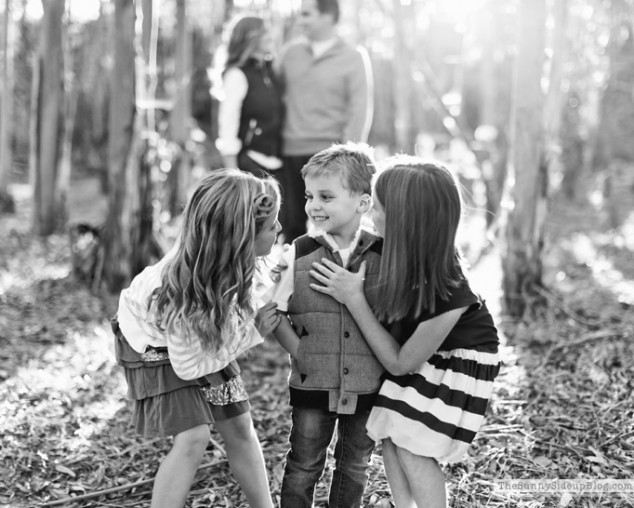 These two take GOOD care of you.  You pretty much have three moms hovering around you all day making sure all of your needs are met.  You have no idea how good you have it buddy.  :)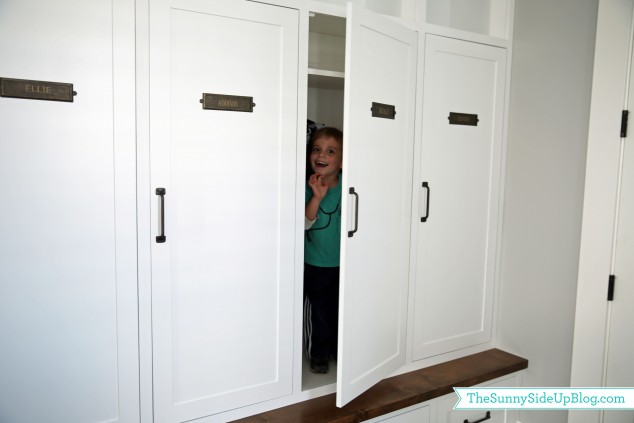 Another favorite activity of yours is hide and seek.  You never get tired of hide and seek Kole!


You have become REALLY good at it.  :)  You also love playing with your race tracks, dinosaurs, snakes, stuffed animals and transformers.  You love to group all of your toys together and carry them around in baskets.  Categorizing and baskets.  No wonder the two of us get along so well.  :)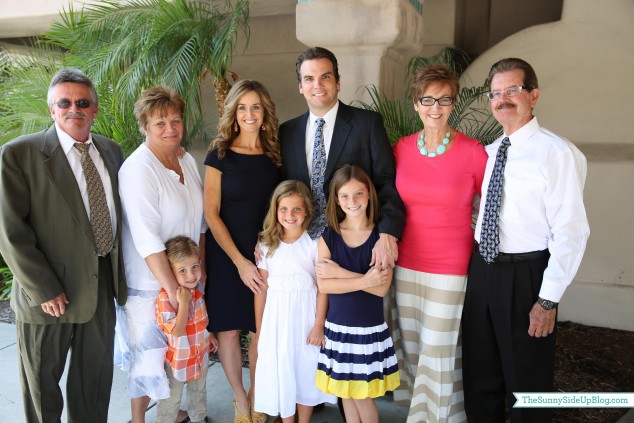 You absolutely adore your grandparents Kole.  All of them.  Utah has become a magical land where nothing but fun happens.   You talk about "Utah" like it's the best place on earth and countdown to each and every trip we take.  I love the special relationship you have with your grandmas and grandpas.  They all adore you.
Your favorite things to eat are noodles (of any kind), turkey, waffles and popsicles.  You really love popsicles.  I had to tell you that they "weren't selling them anymore at the store" because we needed a serious break from the popsicles.  Then you came shopping with me a few weeks ago and "guess what mom!!  Vons has popsicles again!"  Just great.
You like to ask questions.  You ask me questions all day long.  About anything and everything.  You still don't like to wear pants or anything long sleeved.  I'm so grateful we live in a place where it is mostly sunny.  You'll be in big trouble if you ever move anywhere cold and actually have to wear a coat!
You really dislike being alone.  You are such a people person and always want someone with you or at least nearby.  If you aren't minding me, all I have to do is suggest a time out away from everyone and you shape right up!  You have such a friendly personality.  Everywhere we go you say to random people "hi!  my name is Kole!" and then tell them a random fact about the day.  We have a hard time getting through the grocery store quickly because you are chatting it up with anyone who will listen.  :)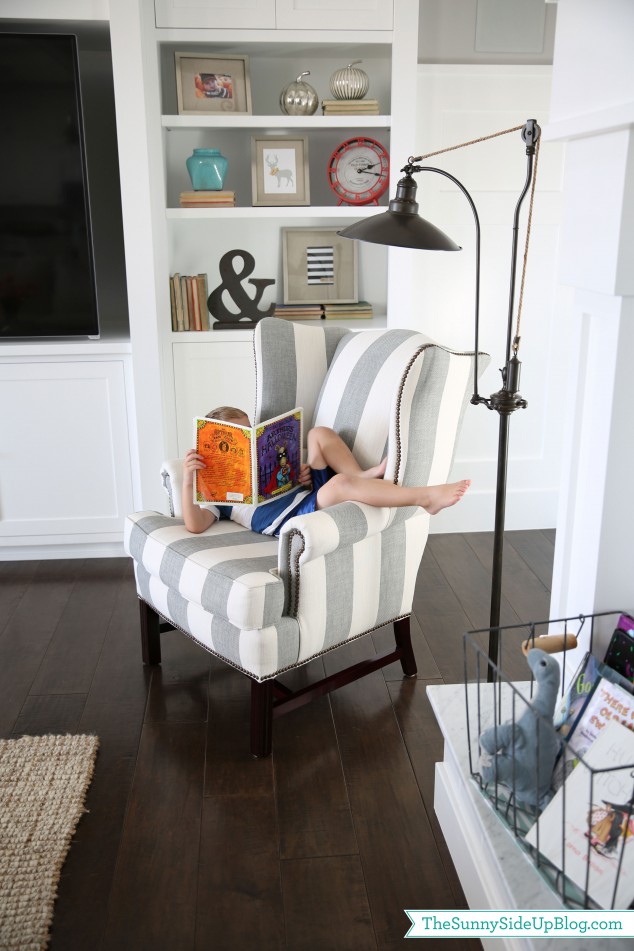 You love to read buddy.  We could sit and read books all day.  I love walking in a room and seeing you in a chair reading.


You have come so far Kole.  They delays you had in speech and other areas when you were 2 and 3 are completely gone.   We just had a meeting with your preschool teachers and it couldn't have gone better.  You are right at or above where you need to be in every area.  The two of us have worked so hard the past few years with your therapists so this meeting was one to celebrate!  I couldn't be more proud of all you've accomplished so far in your little life.  Your teachers also said you are quite the charmer and that they all adore you.  I can't say I was surprised to hear this one.  :)
I'll never forget the day your dad and I went to the doctor and found out you were a boy.  I'll never forget the feeling that swept over me and how I knew.  I just knew at that second that you would be such a blessing in our lives.  I knew you were meant to be my little boy.  I knew that I loved you more than my heart could begin to handle.  And I was so right.  You make me happy Kole.  Every day.  Your smile and your laugh and your voice and your silly little quirks and your hugs and your unconditional love make me so happy.  Thank you for all the happiness you bring into my life.  I'll love you forever.  And then for longer after that.  Happy 5th birthday sweetheart.
xoxo
Love, mom
xoxo, Erin