**So sorry!  Comments to this post were lost when I switched my blog to WordPress.  I read them all!  Thank you!
Earlier today I was making a list of our favorite toys to share with all of you to give you a few gift ideas (coming soon!). It occurred to me while I was thinking about the toys my kids love and play with again and again that books should be at the top of that list. We try to be careful about over doing it with toys (our kids get them for Christmas and birthdays and if they save their own money for something), but books? Well. I personally believe you can never have too many books. Especially children's literature! It is by far my favorite.
Every year for Christmas we pick out several new books to give our kids and sure enough years later, while they may or may not be playing with their past Christmas toys, we are definitely still enjoying the books they received. So I thought I'd share a few of our all time favorites that get read again and again and again around here!
Olivia – The Olivia books crack me up. My girls and I get such a kick out of that spunky little pig. :)
Owen – I adore all of Kevin Henkes books (Lily's Purple Plastic Purse is also a favorite!). But Owen is especially adored around my house because my kids and I all have special blankets in our lives. :)
Today I feel Silly – I used to read this darling book to my 4th and 5th graders on the first day of school and then talk about how we all come each day with different feelings. Such a good book to talk about moods and how normal they are. My kids love the story and moving the different faces around at the end of the book.
The Day the Crayons Quit – I mentioned this darling book in an earlier post. It's a new book for us this year that we love. SO funny! And creative and just cute for everyone. Big hit with my kids.
The Empty Pot – Oh I adore this book. Kenny gave it to me our first Christmas together. (All I asked him for was children's books to start my teaching career!) It is such a darling story that teaches the importance of honesty in such a profound way. One of my all time favorites.
Tops and Bottoms – FUN book. Teaches kids to use their brains to get ahead. The illustrations are beautiful and it opens from top to bottom instead of side to side. My kids love that.
Fanny's Dream – I adore this book! If you haven't read it, you must. The lesson it teaches will stay with you. This book is such a treasure.
Because my 4 year old little buddy and I spend so much time reading together each day I thought I better share his top picks. These are the books we read over and over. And then over and over again. And then one more time. :) If you have a son, grandson, nephew, cousin – any little boy ages 2-6 in your life you need to buy for – these books are guaranteed to be a hit!
The Monster at the end of this Book – We have several copies of this book because it was such a hit with Kole and I could only find the small one to photograph. If you haven't bought your little one (boy OR girl) this book DO IT! It's hilarious! Grover keeps getting more and more upset with every page you turn because he's scared of the monster at the end of the book. Which turns out to be him by the way. (Spoiler alert!) It's so cute and will have your child squealing and laughing out loud.
How Do Dinosaurs Say I'm Mad? – All the Dinosaur books are a hit with my buddy but this is his favorite. I think we've read it a total of 1,289 times. At least.
The Little Mouse, The Red Ripe Strawberry, and the Big Hungry Bear – All three of my kids LOVED this book. Such a cute, simple story and I love it for bedtime because it isn't crazy long. :)
Go Away Big Green Monster – This was Kole's number one for about a year (age 3). Very simple, cute story for little ones who are into monsters. As many 3 year olds are.
Digger Dozer Dumper – A gift from Kole's grandma. If you know a little boy who is into trucks this is a darling book. Kole has it practically memorized and we talk over and over about what each truck does. Darling illustrations. Huge hit at our house.
Leonardo and the Terrible Monster – Another favorite monster book with a cute surprise ending.
Goodnight, Goodnight Construction Site – A gift from Kole's other grandma. Both of his grandma's gave him truck books last year and both books were huge hits! This is such a cute story saying goodnight to the trucks before bedtime.
We have a collection of most of the Dr. Seuss books but these are the two my three kids all loved the most!
This is our ALL TIME favorite book for kids ages 1-3. My kids loved this Wheels on the Bus book so much. It's full of movable parts that they just couldn't get enough of. The only problem with it is that your little one will destroy it if they are left alone with it. It was a book I didn't let my kids look at on their own – just a special one for me to read at story time.
I still ended up replacing it with each child and our current (and third) copy has tape holding it together. :) But totally worth it! My kids all LOVED this book. If you are buying for a 1-3 year old, look no further. This book will be a hit!
And it goes without saying that we are HUGE Little Critter fans around here! This collection is just too adorable. I think these books are just as much fun for grown ups as they are for kids. :)
If you are having a hard time thinking of a gift for a child in your life consider a book instead of a toy! Chances are it will last much longer and make more of a memory and impression on their life. My mom always wrote a little note to us on the inside cover of books she bought us with the date. I now do the same for my kids. Personalizes the gift that much more. :)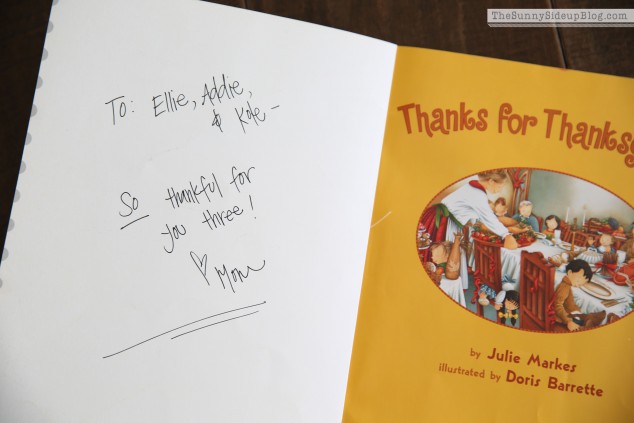 At some point I'll share books for older kids that we adore as well. My girls are reading books that I loved in Elementary school right now. Love that! There is nothing as magical as getting lost in a good book.
Happy Reading (and shopping!) everyone!
Feel free to add one of your child's favorite books in the comments!
We are always on the hunt for great literature.
p.s. If interested you can also check out our favorite Christmas books and our favorite Christmas movies. Tis the season! :)
xoxo, Erin