Fiddle Leaf Fig trees.  They have been all the rage in design for a while now.
Popping up on blogs and in home decor magazines right and left.
They seem to look amazing and just 'work' in any style of room.
Adding personality..
and life to every space they fill.
I am a fan.
So a few weeks ago when I was at Home Depot picking up some plants for my kitchen and happened to stumble upon this beauty it was love at first sight.  Such a gorgeous plant!  So healthy and green and just … cool.  I paused for only a minute – unsure if I could actually keep it alive – but once I was told Home Depot has a one year warranty/return policy on all plants I knew we were in business.  This beauty was coming home with me.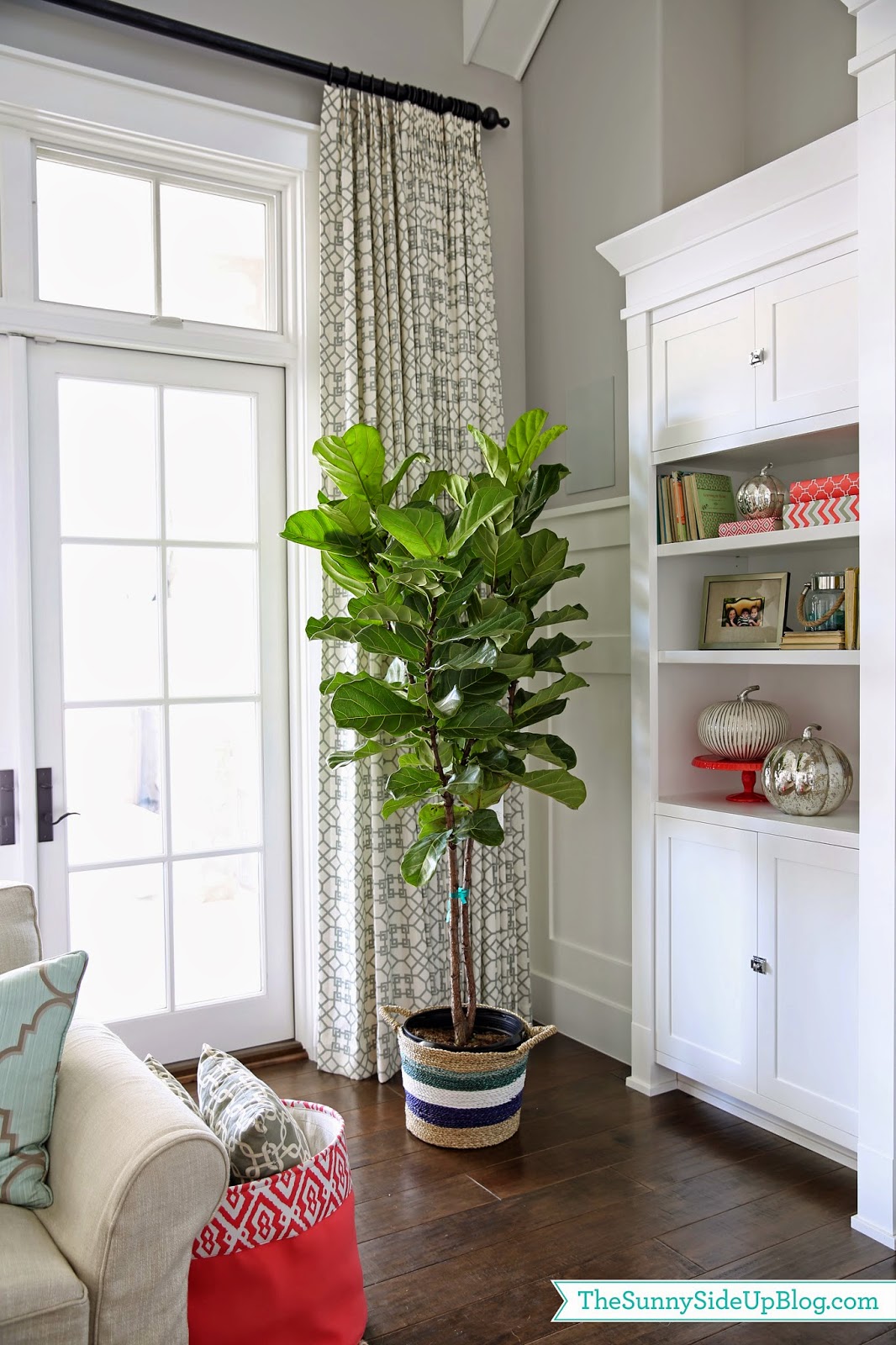 I raced home so excited about my new plant.  I set it in the only basket I could find knowing I'd have to figure out a better pot/basket for my plant later.  I placed it in the family room corner I had planned for it, stepped back, and waited to hear angels sing!
But the angels didn't sing.
Instead they just sort of squawked.  My fiddle leaf was way too big for the space covering half of my bookshelf.  I moved it around in the corner and just couldn't make it work.  No matter how I placed it, it just didn't look right.
 So I tried it on the other side of the room behind the chair.
Which looked AWFUL.
Angels had left the building at this point.
Then my husband walked in and said "what's with the ugly 80's plant!?"
WHAT!?  That isn't just a plant!  I told him.  It's THE Fiddle Leaf Fig!  And they are all the rage.
Just apparently not in our house.
I moved the plant to a few different rooms and still wasn't feeling it.
The magic was lost and I could tell it wasn't meant to be.
 So I took it back to Home Depot.
They might not be popping up right and left in the design world, but they suit me just fine.
Plus the angels (and my husband) seem to agree.
:)
xoxo, Erin