A few new additions in the house!
We finally got our dining nook light installed. Yea!
Light over the table at last! I had a really hard time choosing a fixture for this space. I wanted something chrome like the kitchen lights, large enough to fill the nook area, and something that I loved. Obviously. :) Finishing the house was so hectic towards the end that I decided to just wait until we moved in when I would have more time to search for what I wanted. I'm glad I did because I like this so much more than a lot of the other fixtures I was considering. I know it's a bit trendy, but I love this pattern so much that I don't think I'll grow tired of it anytime soon. Kids are just happy to not be eating dinner in the dark anymore. I tried to make it a cool thing but "Friday night candlelight" was getting a bit old. :)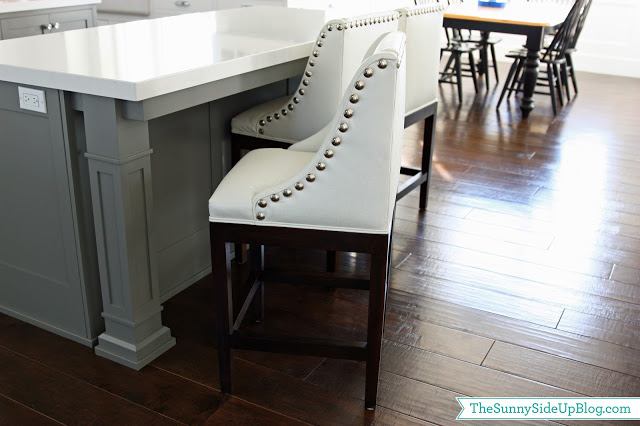 We also got the new barstools we've been waiting for. Fun Christmas present for me!
I've been in love with these
Marcello barstools from Ballard Designs
for a looong time. When the grey barstools I bought at TJ Maxx didn't work because of the grey islands I immediately knew what I wanted to replace them with. But when I went to order these they weren't the right fit for our islands (not standard height for some reason?). So I met with my friend/designer who has helped me with a few things (pillows for the girls rooms, etc.) and had some custom made to fit under our island with the same look.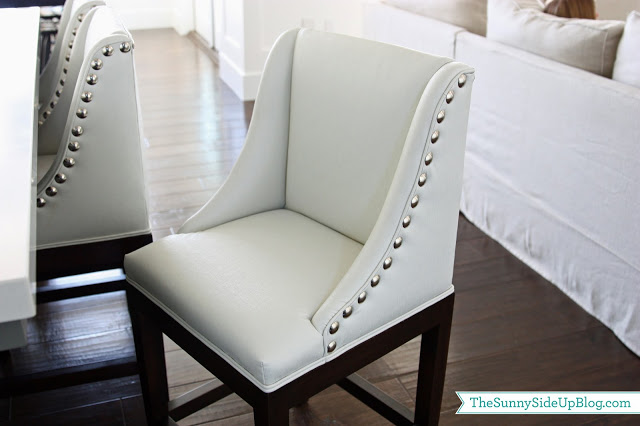 I didn't love that the Ballard barstools swivel back and forth because I know my three year old would have way too much fun with that little feature. :) Plus I was worried the gap would be a catch all for crumbs. So I had them made without the separation between the seat and legs.
I kept the large chrome nail heads the same because those are my favorite part!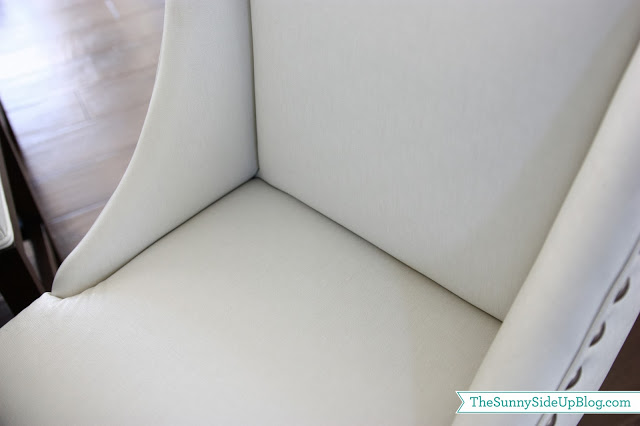 I really wanted a fun pattern for a pop of color/design, but I just knew I would regret fabric barstools. One night of spaghetti with my three kids and they would be history! So I chose this white material that looks like fabric, but isn't. You can wipe spills/messes right off. Kid friendly and mom approved. :)
Ignore the half way done decor in my glass shelves. I've changed it three times since then. :) Still a work in progress. Now that our light and barstools are in I'm itching to find a table that goes better in the nook. I'm having a hard time with that one. I'm having a hard time with all of the main furniture we are considering. The only rooms coming together decor wise right now are the girls' rooms. I'm excited to show you the progress!
You can see we also got the light over the kitchen sink. I'm wondering if it needs to hang longer? It came with another rod to extend it but when the rod is on the light hangs down into the window too much. I might need to saw the rod in half. Now that's a scary thought. That would most likely end with me losing a limb. Is the perfect light length worth it? :) You can also see in this pic my little buddy with his fishy crackers. Best way to get him to behave for 2 minutes so I can snap some pictures.
And when the crackers run out a little guitar serenade from his sister also does the job.
Tricks of the trade.
:)
xoxo, Erin