I had plans for Christmas decorating this year.  BIG plans.  I was going to deck the halls like there was no tomorrow.  And then reality hit and I learned a few things…
1- Moving in will take us a year.  Not a month.
2- Finishing the new house will take months.  Not a week.
3- Christmas decor looks best sprinkled in with regular furniture and decor.  Which we don't have much of yet.
Painters and carpenters have been in my house "finishing up" for weeks now.  I started putting things on the mantel and then had to take them down to paint the mantel.  I wanted to put garland on the stairs, but there were too many places that needed touch up paint on the stairs.  You get the picture.  Let's just say that this year was a bit of a wash as far as holiday decorating goes around my place!  But that's ok.  Next year we will be a bit more settled and hopefully have a table or two!  The one spot I was able to spruce up a bit was a corner of my kitchen.
A little Christmas decor in my bay window was enough to help us get in the mood for the season.   I love having a bay window in the kitchen.  I've always wanted one.  My window guy tried to talk me out of it because he said it would be such a pain to clean.  What!?  It's so not a big deal to climb on the counter get on a chair and wipe it off once a week.  Glad I didn't cave!
 This is my favorite spot in the kitchen.
You can see in this darker picture that I have a great view of the backyard.
I love to do the dishes and watch the kids play.
 Sometimes I get distracted from the dishes and the kids playing because I'm staring at my sink.
It seems to have that effect on me.
I'm so careful not to scratch it.  I bought these racks to keep in it to protect it.  Sometimes I think I should just not do the dishes at all.  You know.  To protect the sink.
See.  I'm getting distracted.
Back to the Christmas decor!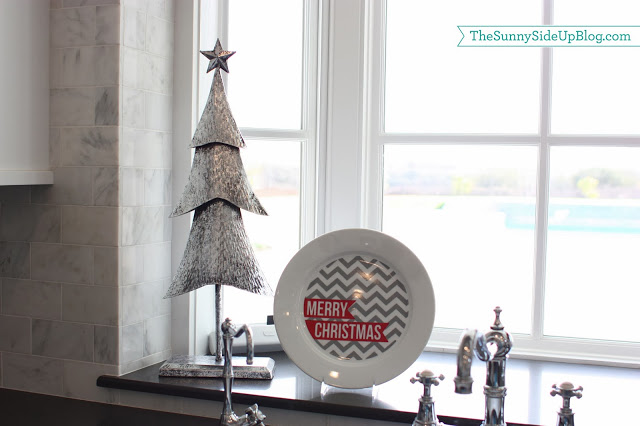 Just a tree and a plate in one corner.
Poinsettias in a pitcher and candy canes in the other corner.  Our candy canes are quickly depleting.  I'm clearly not the only one who is climbing on the counter.
Close up of the faucet.  Because you all wanted details.  And I've already led us astray in this post.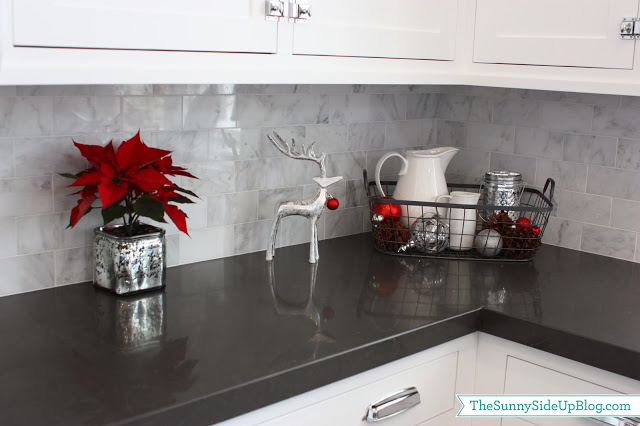 A touch of Christmas in the corner!  I didn't have time to shop for anything new this year so I tried to come up with new ways to use things I already had.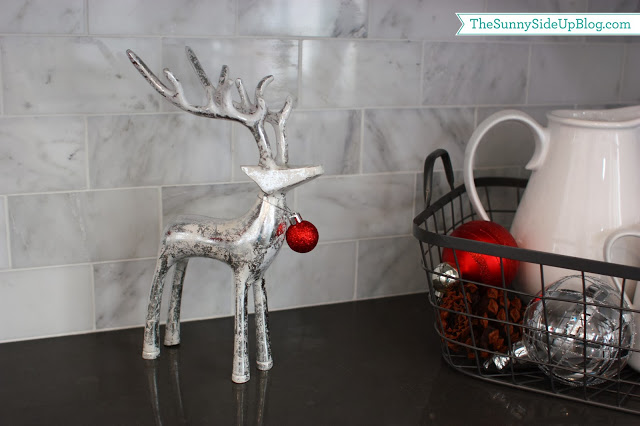 He loves the bay window too.
 I just tossed some white pitchers, pine cones and ornaments in a basket and called it good!
So while we weren't able to do much for holiday decorating this year, we at least have a touch of Christmas in the kitchen.
 Now if we can just get the rest of our lighting we'll be set.
Enjoy your weekend!  Lots to do!
:)
xoxo, Erin