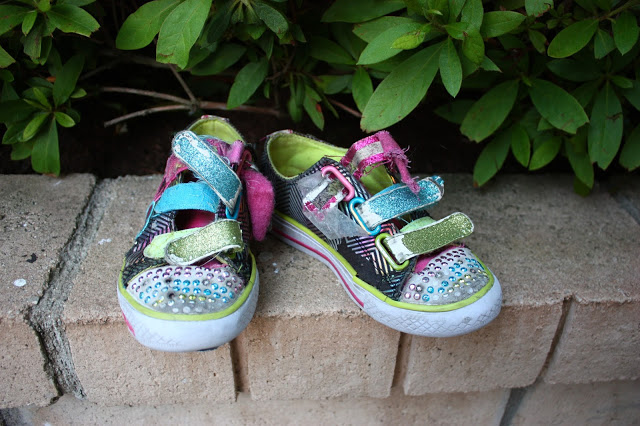 We survived! By proof of my used to be 1st grader's shoes (yes – that's scotch tape you see dangling from the tattered velcro) school is officially out for the summer! I'm sure at some point when I have the energy I will post all about the past week's festivities. Or maybe not. Maybe I will subconsciously block it all from my mind forever and pretend it didn't happen. Either way, at this point I only know one thing. We are sleeping in tomorrow. And I'm not packing lunches. And the girls' hair will not be done. And neither will mine. And we may or may not get out of our pajamas (just knowing we have the option makes me all tingly inside). And that was more than one thing, wasn't it. That was a lot of things that when combined together all equal one word – SUMMER TIME! That was more than one word, wasn't it.
I'm feeling a letter coming on…
Dear Summer,
While you certainly have your drawbacks and are by no means perfect, this year especially you have been calling my name. I usually crave a schedule, but frankly this year – I am over ours. I have been looking forward to you for so many reasons. Less driving, more time with my kids home playing together (and fighting together, but that's another thing I'm subconsciously blocking from my mind and pretending won't happen), less alarm clock, more popsicles, less messes and piles, more purging and packing, less homework, more creative play, less activities, more sunscreen, less rushing, more relaxing. You are also special to me this particular year because you are our last summer together in this home. The first home Kenny and I have owned together. The place I brought all of our babies home to. You will also hopefully be (fingers crossed) the first piece of many happy summers to come in our new home. So yes. I am extremely excited about you this year summer. Thanks for finally arriving. There were so many times I didn't think you ever would.
Your friend (at least in the beginning),
Erin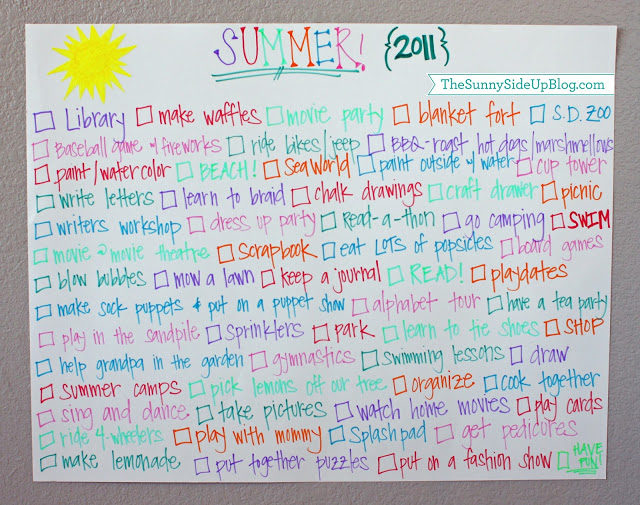 **The girls and I usually brainstorm together to come up with a fun Summer to-do list. I didn't do one this year because it would simply say: BUILD, PACK, MOVE. :) But here is our 2011 list if you are already a couple of weeks into summer and have completely used up all of your good summer activities and you are about to go out of your mind CRAZY with the kids home all day. (Been there. Done that. Bought the t-shirt.) And there is no doubt in my mind it's on the horizon for us again this year too. Just one more thing I'm subconsciously blocking from my mind and pretending won't happen.
Happy Summer friends!!
:)
p.s. Scotch tape DOES NOT hold shoes together. Just thought you all deserved to know the truth.
xoxo, Erin