Every afternoon the girls do their homework and I do my housework. And by housework I don't mean cleaning and laundry, although I should be cleaning and doing laundry. Instead I go over cabinet and built-in sketches, take calls regarding plumbing and electrical issues, and compare prices for light fixtures on-line. We also eat lots of cheese and crackers during this time. Cheese and crackers make us think better. Kole runs circles around the table tapping each of us on the leg and saying "play!?" so we take turns chasing him in the back yard or up and down the stairs. Then when all three of us girls are worn out and can chase no more we turn on Peppa Pig. We are always SAVED by Peppa Pig. This has become our afternoon routine. :)
Today I have been working on my range hood that will go over my oven. And by "working" I mean pondering, contemplating, debating, and stewing. I'm a little torn and would love some help from anyone who has an opinion! Here is the latest sketch: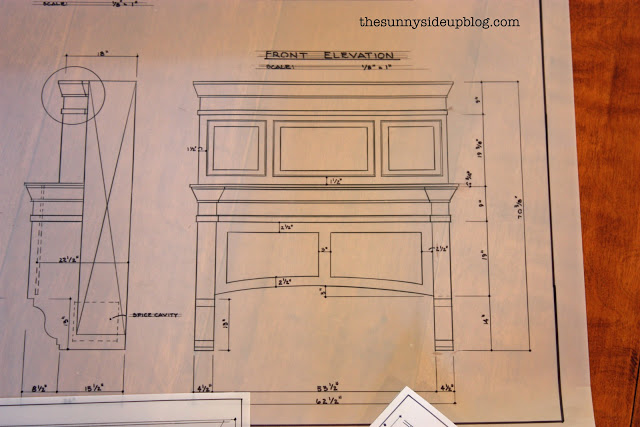 I feel like it's SO close to how I want it, but I can't quite say it's done. Does the top section with the three panels need to be longer? Should I move the corbels up under the shelf instead of below it? Do I want to lose the arch and make it straight along the bottom? The hardest thing about building everything from scratch is having TOO many options. I'm swimming in options! Or more like drowning in them. I would love to hear your opinion on the range hood! You know. So that I can tweak it ten more times and drive my cabinet guy even more crazy than I already have. Thankfully he is so sweet and calm and patient with me. I need to make him some muffins.
I'm really not much of an arch person and most things in my house will be straight lined, but I added the slight arch to the range hood because I'm going to do a valance over my kitchen window and wanted the two to compliment each other.
Here are the two options for the window valance and I'd love to get your opinion on this too!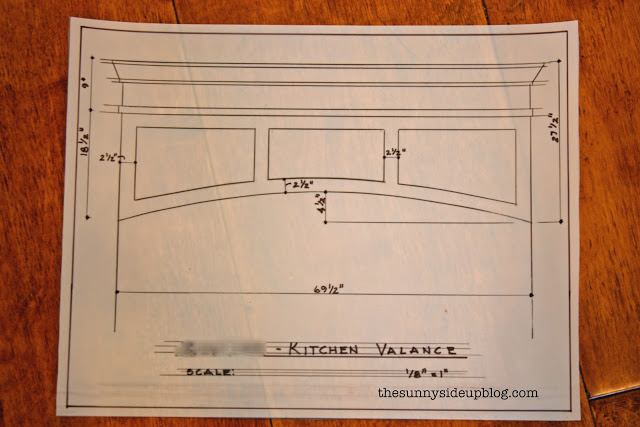 Do you like it better with two panels or three? Thanks in advance for sharing your sage wisdom and advice! I clearly didn't eat enough crackers and cheese this afternoon to power through this decision on my own.
Now for some more decisive new house news, I bought bar stools!
What do you think!? My designer (who lives in Utah) called me one afternoon and said "Erin! I found some bar stools that are totally you in TJ Maxx at such a good price!" He took a pic with his phone and as soon as I saw them I called my mom. "Mom – I love you. Remember how I'm your favorite and how I've brought you so much happiness over the years…" :)
"What do you want Erin."
"I need you and dad take his truck to TJ Maxx and pick up some bar stools for me. Keep the receipt just in case I see them and change my mind. Oh. And then I need you to store them for me until the house is finished because you know I don't have an ounce of room for them in my current house."
She and my dad went to TJ's and got the bar stools for me. Clearly because I'm their favorite and have brought them so much happiness over the years. And I don't want to return them! Even though my dad predicted that I would. (Such little faith dad!) Fingers crossed they will look good in the new kitchen! I can only fit three under my island, but I bought four just in case I need an extra. Accidents tend to happen often with my crew.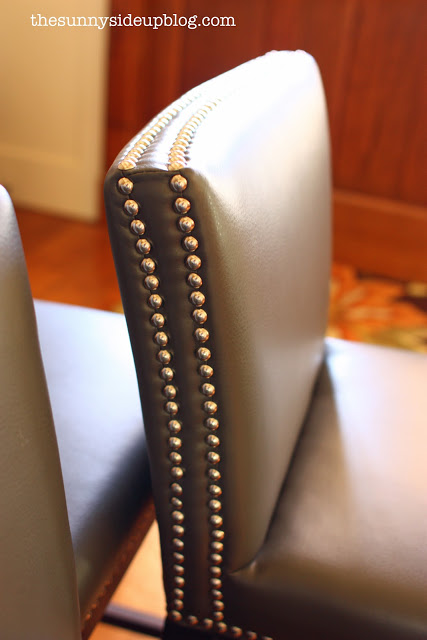 I love the nail head trim and that they are leather so they will be easy to wipe clean. Pretty and practical. Something I'm always attempting to achieve. YEA for my first furniture purchase for the new house! And thanks mom and dad. I love you both and suppose the two of you have made me pretty happy over the years as well.
:)
xoxo, Erin