I have been staring at my computer screen for two straight hours now. Granted, I've been catching up on recorded shows at the same time which is part of the reason I'm still staring at a blank screen. :) But the other part of the problem – my problem – is that I have so many random thoughts that are all jumbled up in my head lately about blogging and I don't really know how to share them. So this post will be a bit scattered since at the moment, I am a bit scattered.
When I decided to start a blog four years ago I did it for two reasons. 1- I love to write and take pictures and record memories so I thought it looked like something I would enjoy. 2- I wanted to share pictures of my kids and my life with close friends and family who lived in other areas. So I started a blog. And my family and close friends read it. And aside from sharing what my kids were up to, I also started sharing what I was up to. Because that was fun for me. And I never once thought that people I didn't know would start to read my blog.
But people I didn't know started reading my blog.
And those people I didn't know commented once in a while. And that was exciting too. It was exciting and it was a little scary. I knew I'd never know who was reading and it made me feel a bit vulnerable. For a while I seriously thought about making my blog private because I was sharing so much about my family and kids and life.
For a while I also thought about writing two blogs. One about my family that would be private and one about my projects for anyone who was interested.
But I never separated the two topics. And the reason I didn't is because I couldn't. My family is everything to me and everything I do is about them or for them or because I need an escape from them. :) But regardless, it's all about them.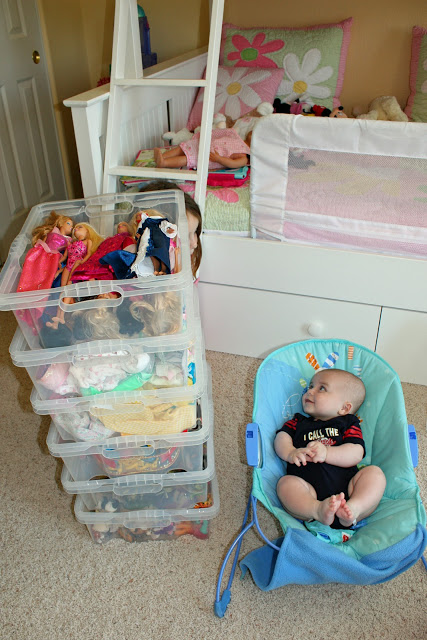 (picture from a post on toy organization… supposedly)
So I didn't change anything about my blog and I kept sharing pictures and projects and the funny things the girls would say and the slightly annoying things that Kenny would say and how much I loved it all – even when it was slightly annoying. And during the process I was "meeting" and connecting with all sorts of wonderful people. And it made me love blogging even more. Blogging has been a lot of things to me. A creative outlet, a way to record the little things that I know I'll soon forget and never want to, motivation to complete projects, an escape from difficult days being a stay at home mom to three wonderful but incredibly active children who leave me feeling a mix of blessed and exhausted at the end of each day, a way to make new friends – most of whom I've never met but who I still feel incredibly close to. Blogging has been a huge blessing in my life.
Right now, I need a little direction when it comes to blogging. I am completely scattered. (Did I mention that yet? That I'm feeling a bit scattered lately?) I think my problem is that I have a lot more on my plate than usual with the new house and Kole's therapy (which we recently bumped up to six days a week because he is showing a lot of progress). I have very little time to do the things I love. When I do find a 15 minute break to work on something for my blog I am completely torn! I have so much I'd love to do and I don't know which direction to go in. Should I organize something on my list? Decorate the front porch for Halloween? Complete a page in Kole's scrapbook? Take a picture of what I'm wearing? Share more new house updates?
I will always post about my family and what my kids are up to. Those posts are the heart of my blog and the ones that are the most precious to me. But because I am feeling so scattered lately when it comes to the other hobbies I write about, I would love some direction from you!

So here is a question that I hope you will take a minute to answer: What kind of posts do you enjoy the most?

I'm not planning to change anything about my blog, and like I said, the family stuff will remain the same. It would just help me to hear if your favorite posts are about the new house, organizing, scrapbooking, decorating, fashion, etc. because I love to post about them all and right now I need some direction!
So direct me! :)
I would love to hear from as many of you as possible! I want to get an idea of what the majority of you come here for. Plus it would just make for a really fun weekend. :)
Thank you thank you thank you. Thank you for sticking with me through this post. I know how completely random it was. Thank you in advance for taking a minute to answer my question. And thank you mostly for checking in with me and making Sunny Side Up a part of your routine. I am truly touched each day by the wonderful people who read this blog. Your kindness and support mean so much and like I said, I consider you all friends.
xoxo,
Erin
xoxo, Erin