Well. In one hour it will be September 6th. And September 6, 2012 happens to be mine and Kenny's 15th anniversary. I was going to do a fun anniversary post, but aside from the usual craziness a typical Wednesday brings, Kenny and I have spent most of our day discussing fireplaces with our builder, architect, designer and framers. And now it's late and Kenny is asleep on the couch and I should be asleep on the couch so an anniversary post isn't going to happen. But that's ok. Because our 15 year anniversary post would look a lot like our 13 year anniversary post since we haven't changed much in the last forever. We have decided to celebrate huge this year. By giving each other a new house. And maybe dinner for two. :)

(Kenny – I still love you most. And if we are still married by the time this house is built we are going to celebrate big time. Probably by buying window coverings. But at least the house will be finished. And we will still be together. Finishing each other's sentences, trying to outwit each other with sarcasm, faking our way through parenting and arguing over who is a better driver. When we both know it's me. Keep your eye on the prize.)
I know – how romantic, right? That driving comment is going to infuriate my husband so this should be fun. I'll get an earful after he reads this post tomorrow about how I drive too fast and ignore speed bumps and make my passengers feel like they are on a roller coaster. I'll have you all know that aside from Kenny I've never had a passenger complain. Sure my passengers are all 8 years old and under, but still…
Anyway. On to the house! We have frames! So exciting. Here are some pics I've taken over the past few days…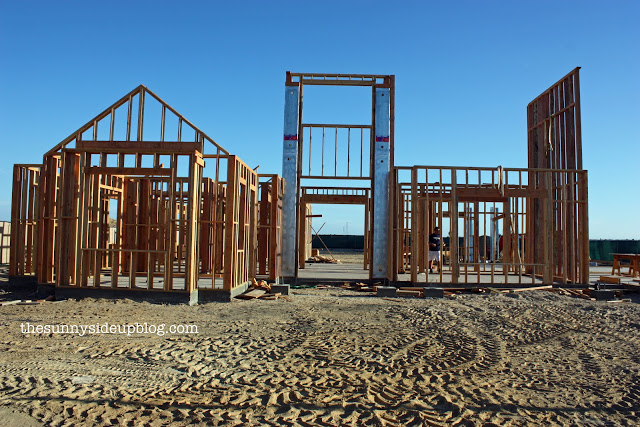 Kenny's office is popping out on the far left. Front door/entry where the silver beams are. Formal dining to the right of the front door. We had quite a debate over that formal dining room when we designed the house. I didn't want one. There is nothing formal about dining with me. :) I think it's a room that sits and hardly gets used. BUT. Kenny wants to be able to entertain for his work and have formal dinners so we added the formal dining. Hope his clients enjoy grilled cheese sandwiches.
When you walk in the entry you can see straight into the formal living room which has a wall of french doors. I wanted to walk in the front door and immediately see the yard and pool.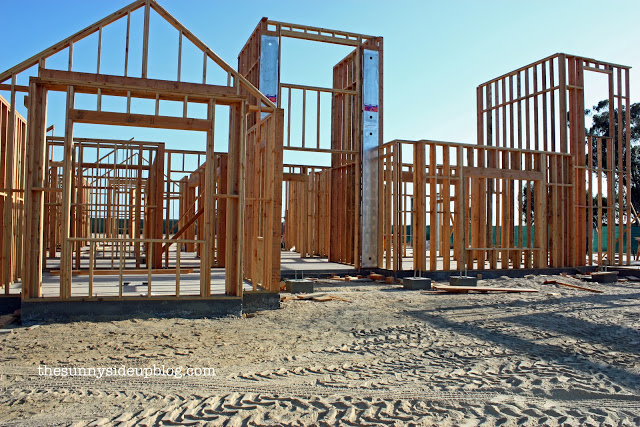 I took this picture today and the framers had finished a bit more.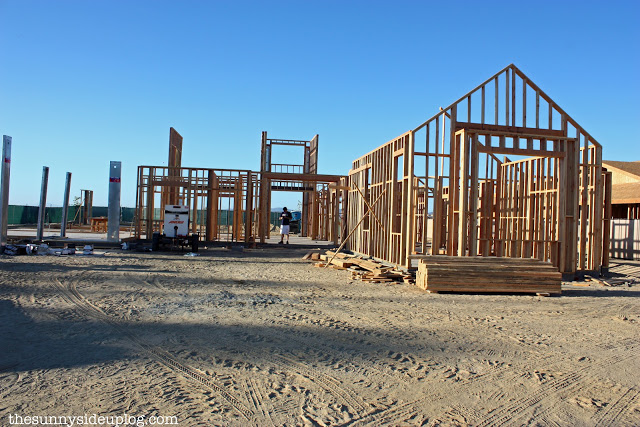 This is a view from the back yard. Our master bedroom is to the right of Kenny.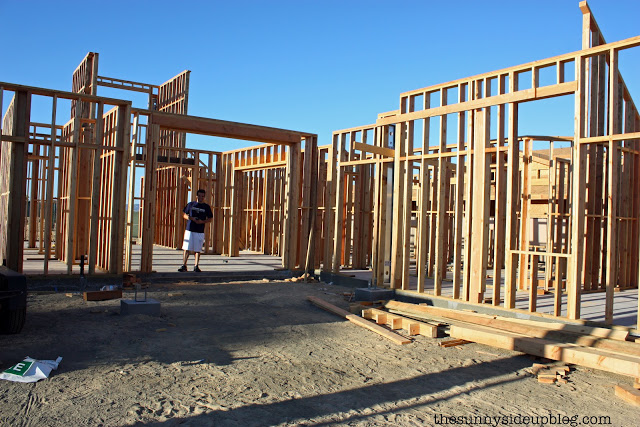 Kenny is standing where the french doors in the formal living room will be.
We are going to have a back porch (you can kind of see the cement posts where the pillars will be).
They also started framing the garages today! Yea for progress!
The master bedroom.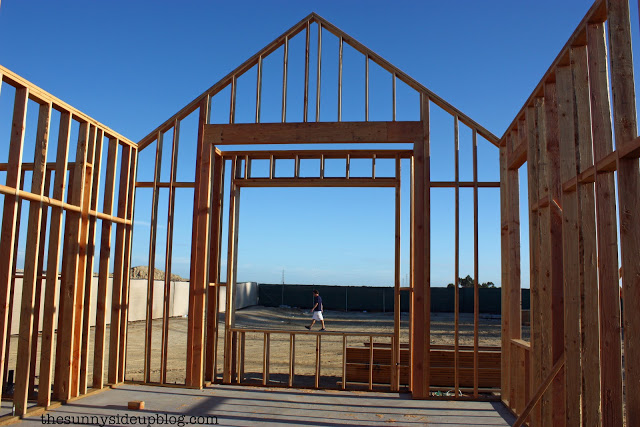 K – I didn't mean to do this but how cool is this picture!? Looks like Kenny is tiny and walking on our window. Clearly I have mad photography skills. Or I just take so many pictures that something cool is bound to pop up in a photograph every now and again. Nah. Mad photography skills.
(It's my anniversary, humor me.)
And in other house related news I am still in the process of figuring out wood floors. We ordered a box of some that we really like and I laid it out in my kitchen to get a feel for it. It's nice seeing it during different times of the day and in different lighting.
I'm looking for floors that have wide planks, that are distressed, and dark but not too dark. The sample to the right has a little too much red in it for me. I still don't know if this is the one. Much to Kenny's dismay. He could care less what we get. He just wants decisions made.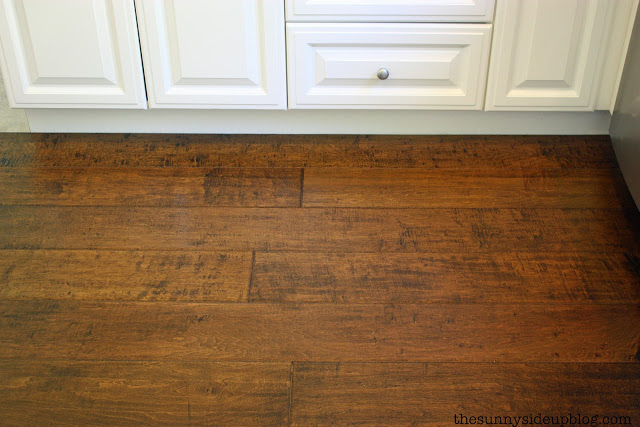 I decided I'd try the fishy cracker test on my samples…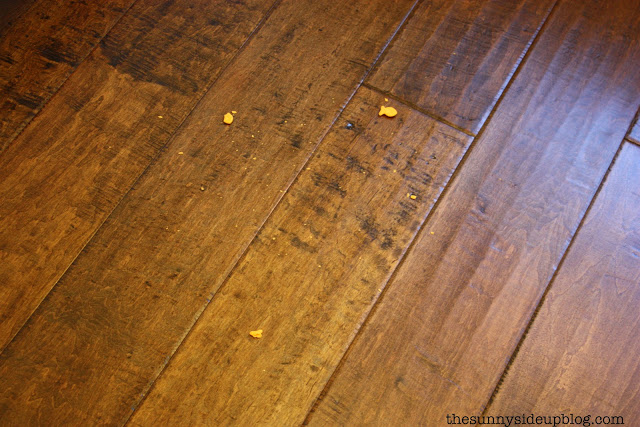 Floor sample #1
Floor sample #2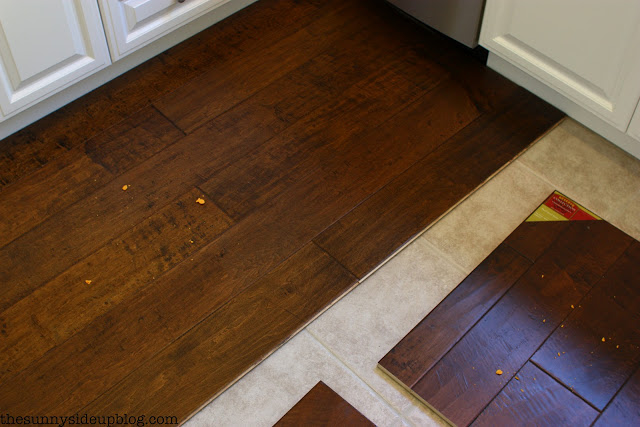 I wanted to see how the floor will really look.
:)
p.s. Some of you have asked me why we didn't build a basement. Good question! Nobody has them around here! It's mostly because of our mild climate, but there are other reasons too. Instead of boring you all with the details, you can read
this article
if you are interested.
p.p.s. Some of you have mentioned the word verification being a pain when you are trying to leave a comment. I agree! Those codes drive me nuts! I took it off once but received so many spam comments I had to put it back on. I'm taking it off again because I love hearing from you all and I don't want it to be difficult for you to leave a comment (or too time consuming), but if I get flooded with spam comments again I'll have to put it back on. We'll see how it goes!
Enjoy your day! September 6th is a good one.
:)
xoxo, Erin