Sharing more of my Spring decor today! Yes I recognize that it's the beginning of May and almost summer. My current schedule doesn't allow for much "me time" to play with my decor (and by not much me time I mean no me time) so it took me longer than usual to pull everything together. The good news is that all of my decor works great for summer too so I'm good to go until Fall! I'll share pics of all things "Spring" soon, but for now, here are a few updates…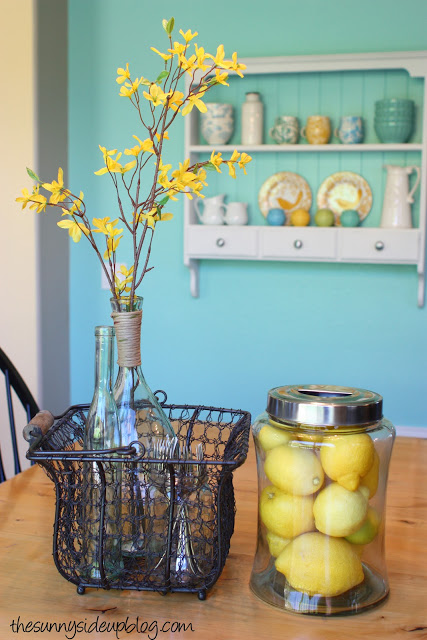 I was looking at my Pinterest boards a couple of weeks ago and I noticed that I was pinning A LOT of pictures of clear jars and bottles inside of baskets. I love that about Pinterest. You can get a real sense of your style and things you are drawn to without even trying. So after viewing some of my favorite inspiration pictures (I'll have to share those in another post!) I created my own little Spring centerpiece with clear bottles in a basket. I already had the basket, the skinny bottle, the flowers, and the mason jar. I found the larger bottle holding the flowers at Home Goods and knew it would be perfect to complete the look!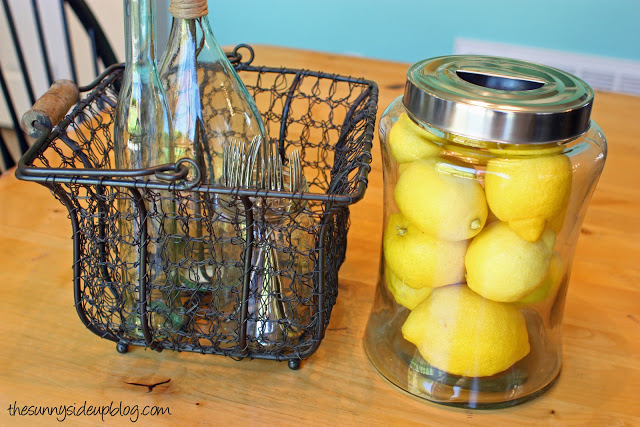 Some of my inspiration pics had silverware inside of jars so I tossed some forks in the mason jar. I just think it looks so cool. And my girls think it's so cool to grab a fork for dinner out of the basket. (It's the little things.) My lemon tree was bursting as usual and I LOVE to have lemons in my house this time of year. I tossed some in a clear jar I've had for years and also added some to the bottom of my fruit basket. They smell so good!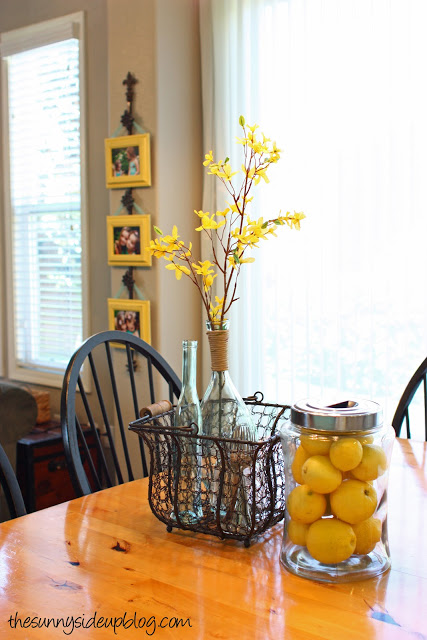 I especially love the way the yellow flowers and lemons coordinate so well with all of the other yellow throughout my house. There is a lot of yellow going on around here. It's making me happy. :)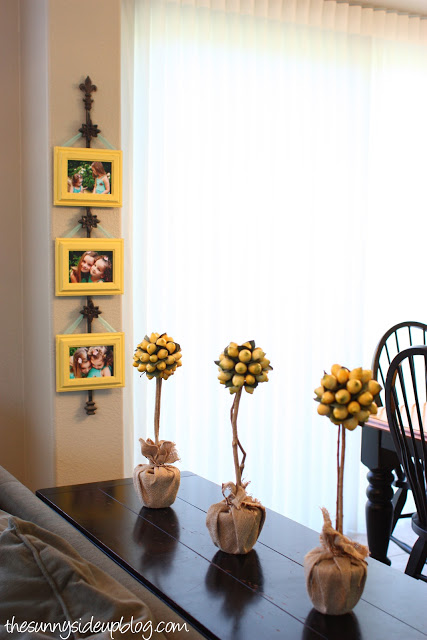 Oh what's that? More lemons? Don't mind if I do. :) When we met with our landscape architect the first thing I told him was that I wanted lemon trees. I will miss the little tree in our current backyard that we planted when we first moved here. It has grown so much. Kind of like us. (And now I hear Kenny singing "A Whole New World" in the background – his standby whenever I get sappy.) But I can't help it. Aside from looking and smelling so good, lemons are perfect for life metaphors.
When life gives you lemons…
K. I'll stop now.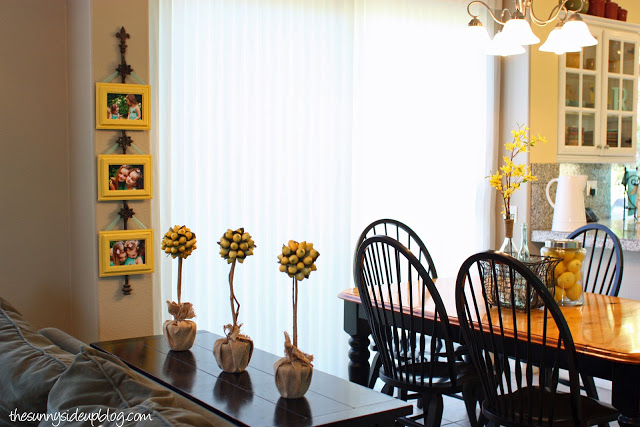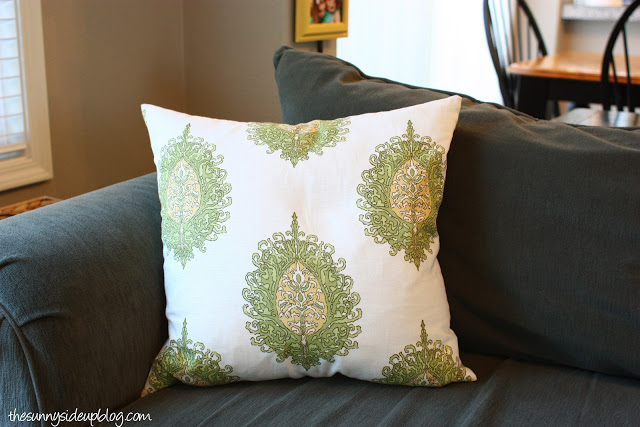 So I've mentioned before how OVER my couches I am. I'm holding out to buy new couches for the new house. Since I'm stuck with these for another year I bought some new pillows that work with the green but also tie in the yellow.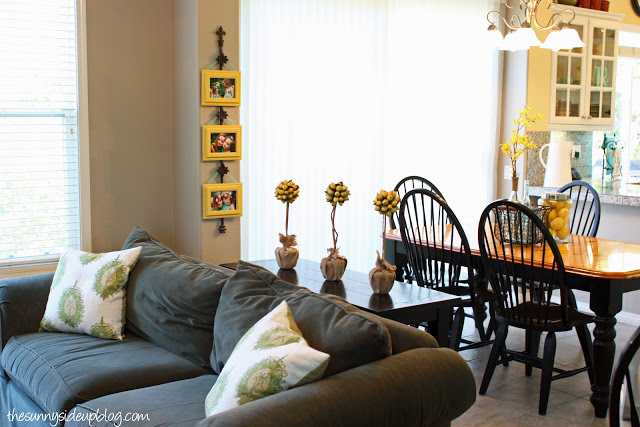 Every time I look at these couches I think of that song from Sesame Street "One of these things is doing its own thing…" Anyone else remember that song? They definitely don't match everything else going on in my house right now. I tried slipcovers but they didn't look good with our carpet so I'm stuck being patient. I don't like being patient. But while they aren't the look I'm going for, these couches are comfortable. VERY comfortable. Perfect for blogging. :) Guess I can be patient a bit longer.
I was mid photo shoot taking these decor pics when a certain someone woke up from his nap.
Addie loves getting him out of his crib.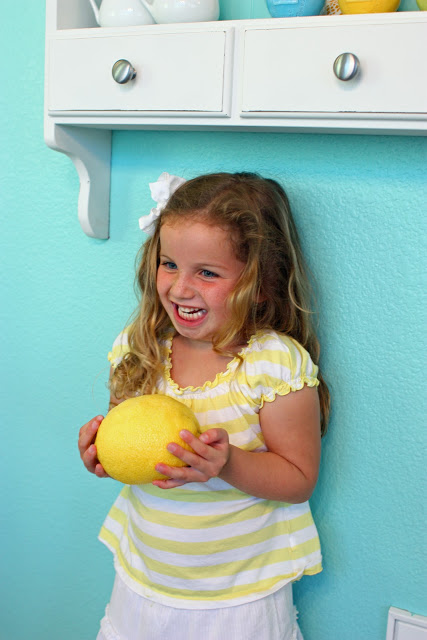 She also loves all of my lemons. Especially the really big ones.
I love that her shirt matches the decor (not planned, but I'll take it!).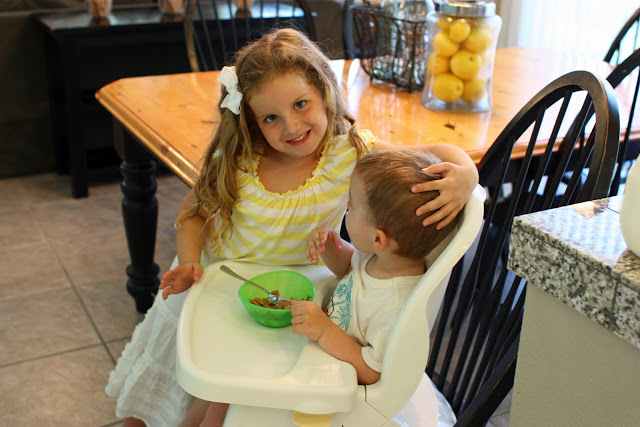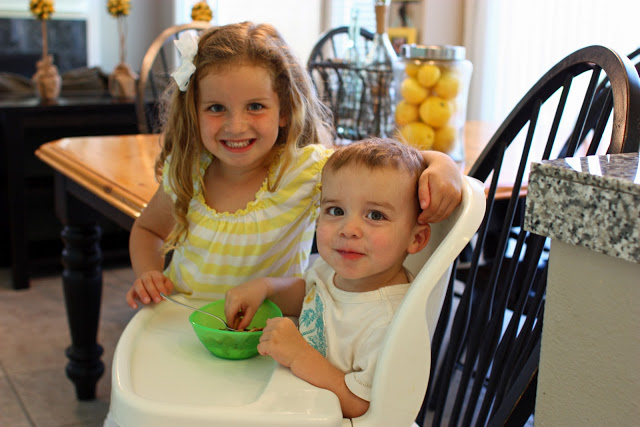 Two of my best accessories.
:)
xoxo, Erin