I SO appreciate you all! Thank you to everyone who shared kitchen tips/opinions/advice. I seriously read through the comments three times with a notepad in hand! I think a few of you have talked me into adding a mini fridge in the island (great suggestion!). Having two dishwashers was mentioned and that little feature has been in the plans since day one. I'm all over it! Some of you mentioned that you couldn't picture the two island thing. I have been doing a lot of research to figure out if I want to do this and I landed on this picture: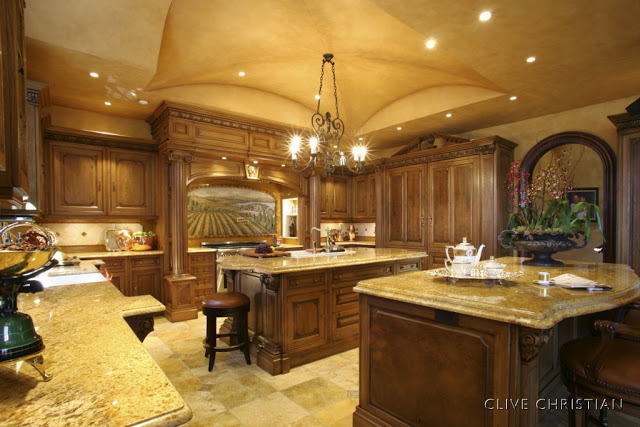 This is not at all what my kitchen will look like, but it does give you an idea of the two island concept. This picture came with an article discussing why two islands like this are better than one large island when designing a big kitchen. They basically pointed out all of the same things my cabinet guy mentioned. Our kitchen is similar to this picture in that it is a big square shape with the stove behind the island and the main sink to one side and the fridge on the other. These two islands are approximately the same size mine would be if I did two. One would be for food prep with another sink and dishwasher (and maybe a mini fridge!?) while the other island would have bar stools and would be for eating/entertaining. Picture these two islands connected to make one HUGE island. That is the other option. Just thought I'd share this picture in case anyone is a visual person like I am! In fact, I'm such a visual person that designing this house on paper has been really hard for me. We had a 3-D rendering done of the outside of the house and I was like "Oh! Is that what it looks like!? Kenny said "yeah – you designed it! Didn't you know what it would look like!?" But unless I get a clear visual it's hard for me to picture exactly how everything juts in and out. So different than seeing it flat on paper. Several of you have asked if I will share my floor plan. Yes! Of course! I will share so much of this process with you that I bet by the time this house is built you will all be so sick of reading about it! If you stick with me through it all that is! I just want to wait a bit to post the floor plan because we are still making minor tweaks and changes. There will be a lot more to share once our plans are final and have been approved by the city and we are breaking ground (hopefully sometime around July). Right now we are dealing with boring stuff like city codes and the structural engineering (snore). I can't wait to get to the good stuff! More kitchen layout meetings please! :)
I didn't have time this week to pull together a Fashion Friday post, but I bought some really cute stuff at Banana Republic! Hoping to share it all next week. For now here are some random recent pics…
A few from our Spring Break in Palm Springs: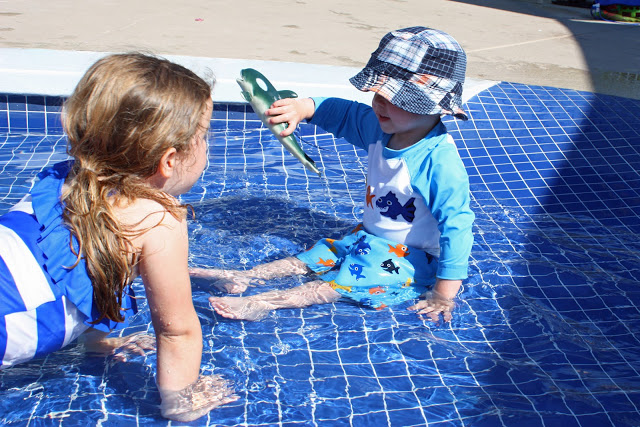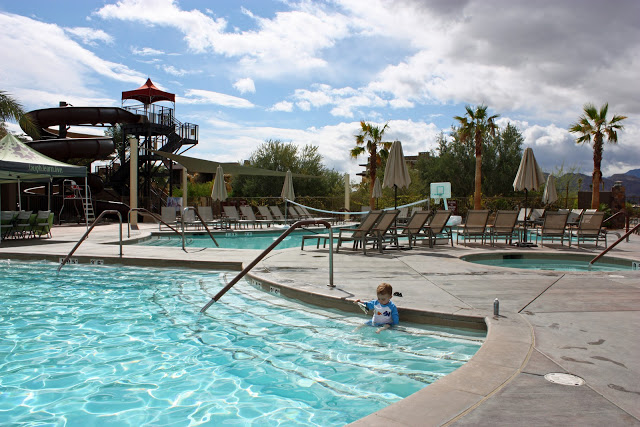 We were always the first ones at the pool in the morning…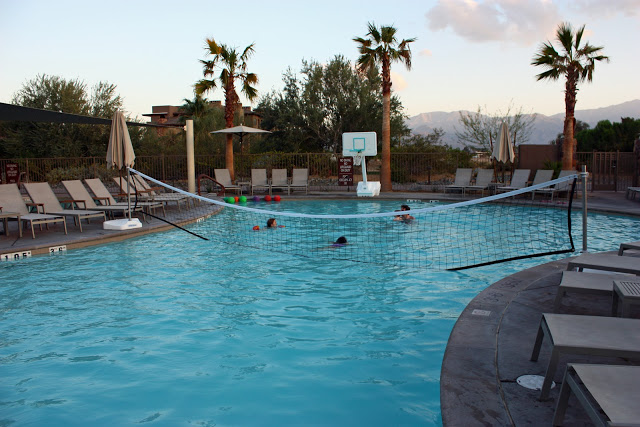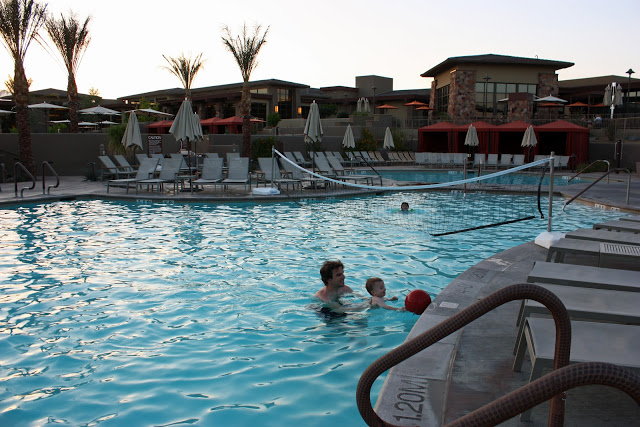 and the last ones at the pool in the evening. We took a three hour break mid-day for Kole's nap which worked out perfectly because that was when the pool was hopping with people. We timed things just right so that we were almost alone in the pool most of the week. Loved that!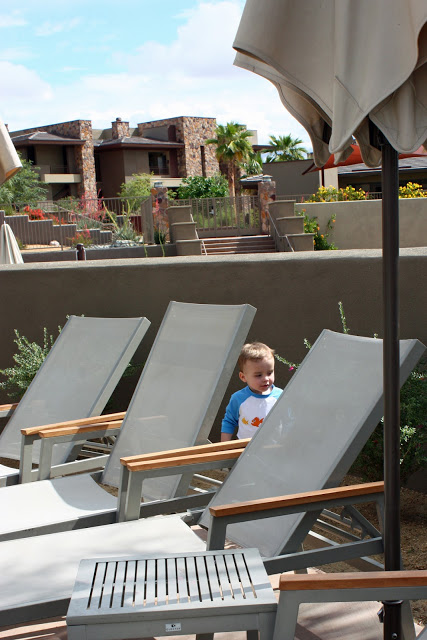 Of course, I spent a great deal of my time not swimming, but chasing. Kole swam a little, but seemed to prefer running around behind all of the lounge chairs in the dirt. I was ok with it because I learned a long time ago what to expect when you travel with little ones. Lower your expectations and you will have a fabulous time! Remember: It's not a vacation. It's a family trip. Jut viewing it that way makes a difference for me. I wrote a post all about it a few years ago. :)
And a few pics of our annual weekend walk. We always let Kole out of the stroller for a bit….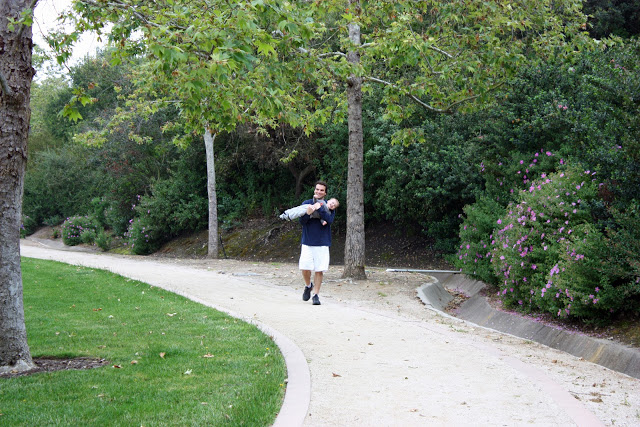 and then the girls run ahead while one of us wrestles with Kole to get him back in the stroller.
The girls had a trial run for their upcoming dance recital. They had to go to dance class this week with full hair/make-up/costumes on. It was the first time I've ever put make-up on them! Kind of fun. :)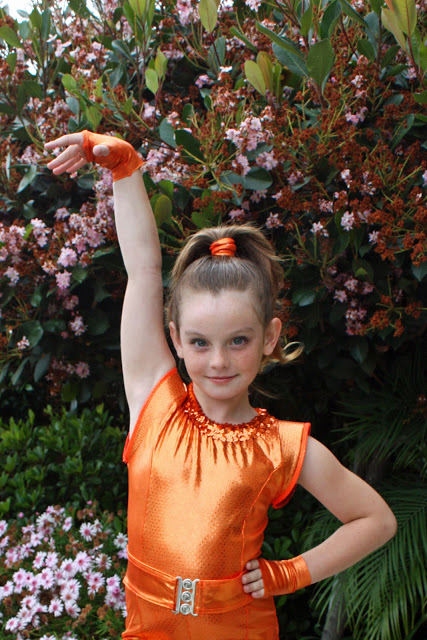 Well. Not so fun for Ellie. She was SO not impressed. She likes her dance (hip hop dance to Lady Gaga's "Bad Romance") but the costume was WAY too itchy (shock) and the make-up drove her crazy. She couldn't wait to come home and take it all off and get back in her pajamas.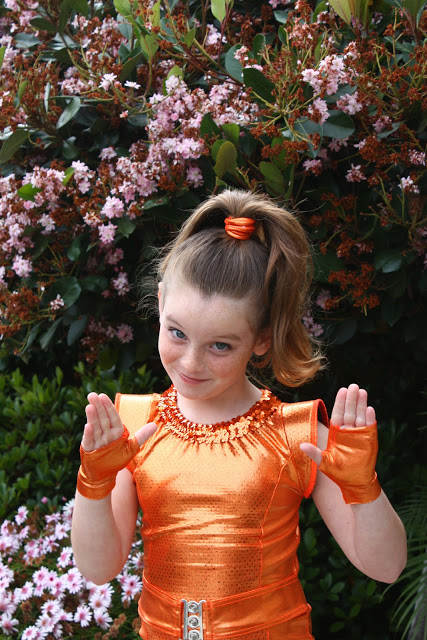 She wouldn't even let me take more pictures. Just the one above and then a nice "enough mom" pose.
My little ballerina on the other hand…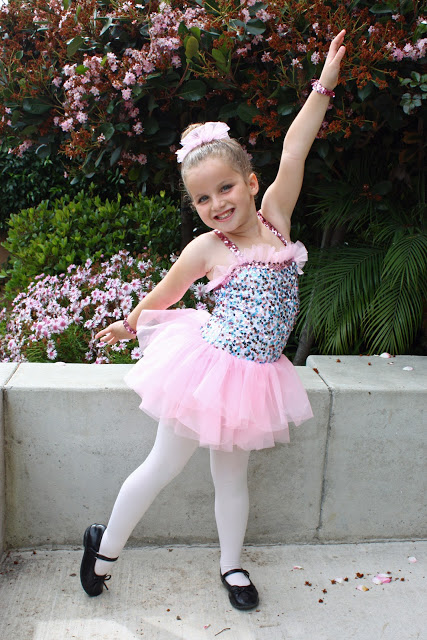 was a TOTALLY different story. What a ham! She loves her dance. Loves her costume. (Who cares about comfort when you are wearing something so sparkly!?) And especially loved the make-up. So funny. She was beyond excited for me to put it on her. "And can you put some of that stuff on my eyes mom!? The stuff that makes them colorful? And can I have some lip gloss? The sparkly kind! And that black stuff on my eye lashes? Do it just like yours mom!"
Then I couldn't get her away from the mirror. :)
When we got to class they used her as an example because her bun was in the perfect spot on her head (high – not low). It was her day to shine and she grinned ear to ear the entire class.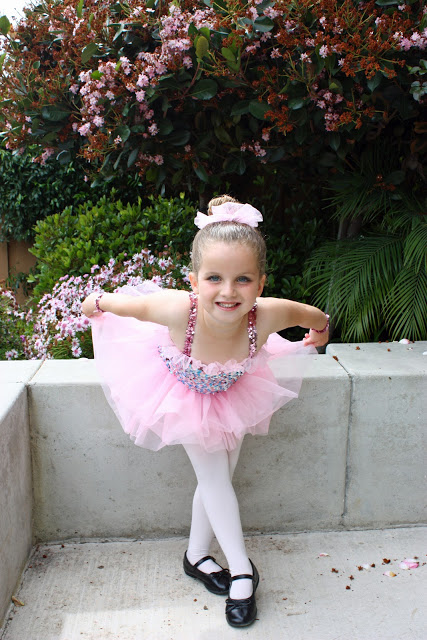 I'm in trouble with this one.
:)
Have a great weekend everyone!
xoxo, Erin