I just spent the last few minutes happily checking off a very long to-do list. I had the most productive weekend I've had in … well … forever! Why was I so productive?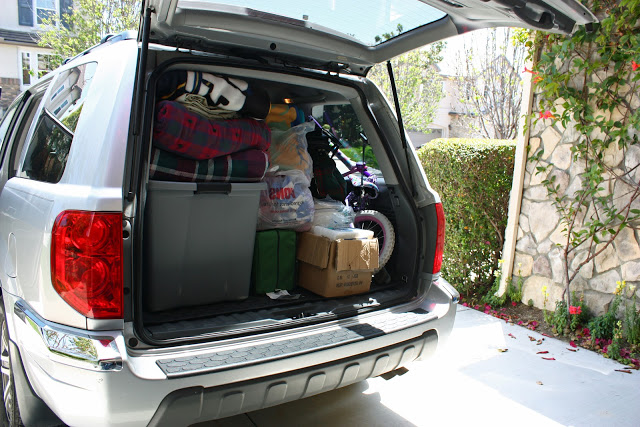 Because I had three less people to take care of! On Friday afternoon Kenny packed the car and took the girls camping for the weekend. Kenny and I grew up camping and it is really important to him that our daughters have the same outdoor experiences that we did growing up. Since I've become more of a once a year "glamper" instead of a once a month camper Kenny decided to join a group of dads that do fun activities with their daughters once a month. Most of the time they camp, but they have also done other fun things (horse back riding, ice skating, etc.). The girls LOVE this special time with their dad. It seems they have a bit of their father in them and really enjoy camping! Kenny LOVES that they are spending time in the great outdoors. And I LOVE that all of this is taking place without me having to sleep in a tent. :) Win win win.
The captain of the ship.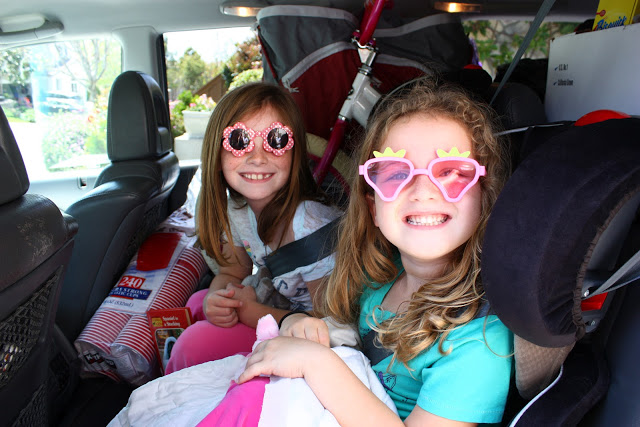 And his overly excited crew. Ready for another adventure.
In flower and strawberry sunglasses no less.
Because the best rule of camping is to come prepared.
And because they also have a bit of their mother in them too. :)
So! Back to me and my most productive weekend! While the girls were roasting hotdogs and marshmellows over an open fire, Kole and I were having our own little party at home. We woke up early on Saturday (thanks to my two year old alarm clock who still hasn't learned the beauty of sleeping in) and we headed out on a walk. It was a beautiful morning. Sun was shining, birds were chirping, and the ocean breeze felt better than ever. I just knew it was going to be a productive weekend! After our walk, we ran a few errands – including a stop at Staples which is always a favorite because of my never ending love for school suplies. Then we came home and while Kole took a nap, I tackled to-do #1: organize my magazines in my new magazine holder!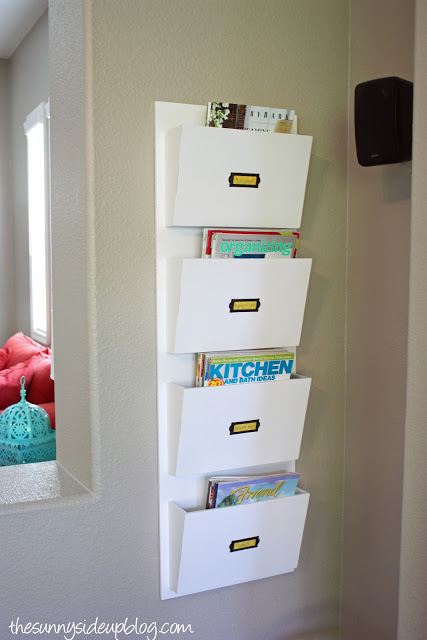 Ta-da! Isn't it beautiful!? Kenny hung it a couple of weeks ago for me and I haven't had two seconds until this weekend to go through my magazines. I tossed the ones I didn't need and filed the keepers. Best birthday present ever! :)
The only spot we had to hang it that made sense was this corner next to the TV. I wanted it close to my couch (Kenny and I each have our own) so I could access it easily during my down time at night. My goal after 8:30 PM is to land on my couch and not get off of it. Unless it's to get some popcorn. Or to plug in my laptop. Or now, to grab one of my favorite magazines.
I cut out some fun yellow scrapbook paper and labeled each cubby: Miscellaneous (for magazines like Pottery Barn, Ballards, and In Style that I get in the mail and want to save), Organizing and Decor (some of my favorite magazines ever!), Kitchen and Bath (my largest stack of keepers), and Church (for all of our church magazines).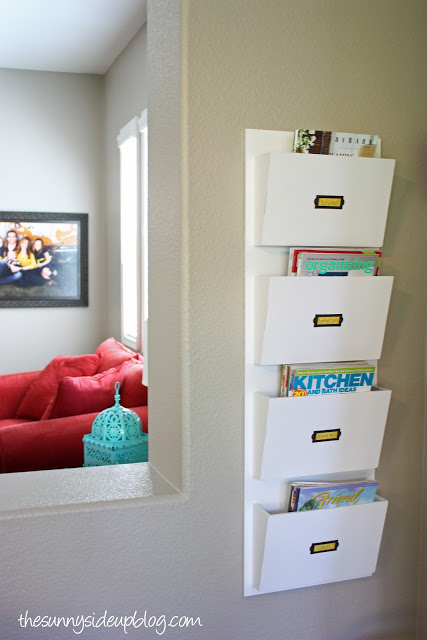 Isn't it lovely!? Everything has a home. I can't wait to move it into my scrapbook room in the new house! It's a good thing we're moving because I'm running out of space to decorate in my current house. There isn't a blank wall left! And that is a true tragedy. Indeed.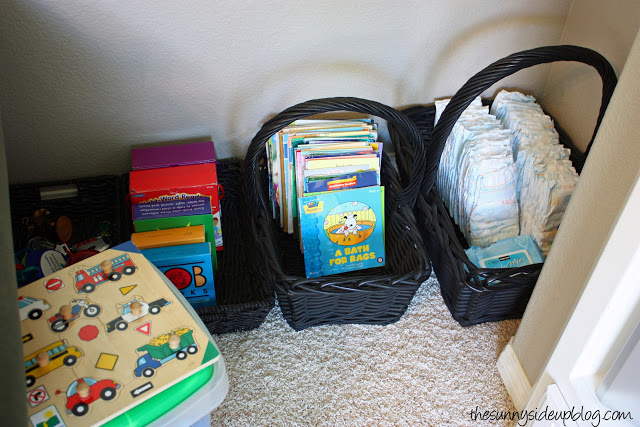 Below my white beauty sits my little stash of baskets. Tucked away behind the couch with all of the essentials we need to get through the day. The girls have their books. Kole has his diapers, wipes, and toys, I have my treasured magazines in a beautiful organizer, and Kenny has a happy wife. Once again a win all around!
Aside from organizing my magazine stash, here are a few other to-do's I tackled during Kole's nap time and bedtime:
– mini clean out of the fridge, freezer, and pantry
– cleaned out my purse and balanced my checkbook (I'm not in the negative Kenny – rest easy)
– organized all of the girls' recent school work and Kole's baby stuff for PL albums
– touched up a few walls with paint (something I've been wanting to do forever)
– watched the movie City Slickers while I cleaned out my in box. (I love that movie. Always makes me want a pet cow.)
– took lots of pics for future blog posts
– washed all sheets – including Kole's crib sheet – which aside from cooking is my least favorite chore.
– cleaned the entire house top to bottom
– caught up on ALL laundry
Just in time for my campers to come home and unload. Bringing half of the outdoors home with them.
And a whole lot of new laundry to fold.
:)
xoxo, Erin