I know. Can you believe it!? I actually managed to pull together a Fashion Friday post. Nothing too exciting. Just what I wore this week. I'm going to have to make this a quick post since I went to dinner with friends tonight (got home at 10:00 because we can't stop gabbing) and then caught up on American Idol with Kenny (listening to his ever so witty commentary the entire show). Now it's after midnight and I'm getting an "I had a crazy day and then talked too much with girl friends and then humored my husband for the rest of the evening" headache. Do you ever get those? Tylenol just doesn't cut it.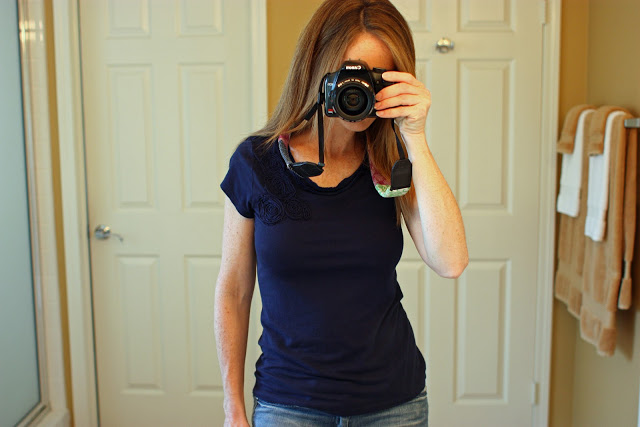 Simple navy tee from Banana Republic. The roses near the right shoulder turn it from a wear around the house tee to a wear out and about tee.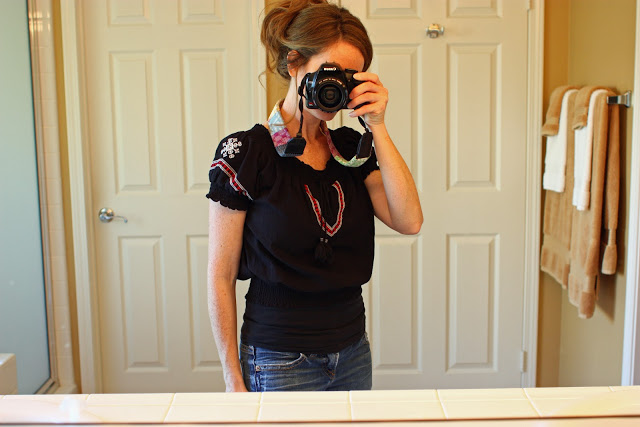 I think I've shared this Forever 21 top before. Have I? It's super short so I wear a black tee underneath it. My fancy up-do is becoming a staple lately. And by fancy I mean not fancy.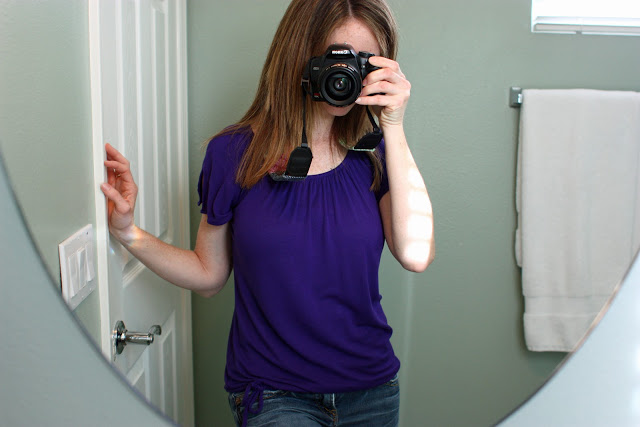 Purple top is from Banana Republic. I bought it when I was pregnant with Kole. It's maybe not the most flattering top post baby, but I like the sleeves and it's comfortable. You can tell from the three tops I've shared so far that comfort was on my mind this week. You can also tell that our weather hasn't been as humid since I'm sporting straight hair. Ok. This is a fun game. What else can you tell from the picture? I can tell from my rambling that I need to go to bed.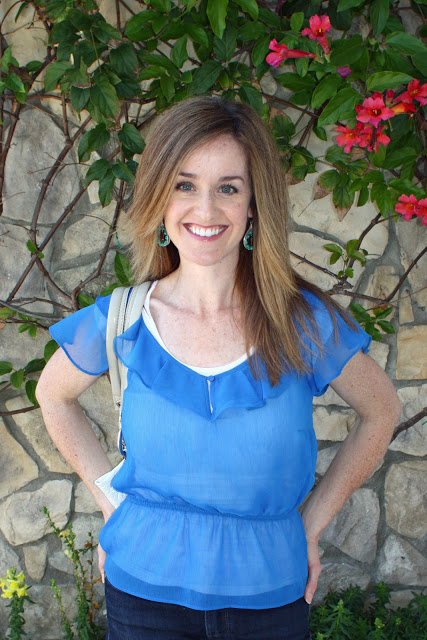 I bought this blue top a couple of weeks ago. Forever 21 for 10 bucks!
I love it for Spring. It's so lightweight and feminine.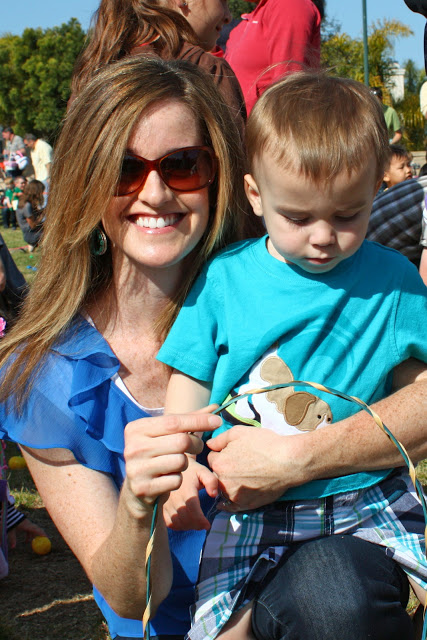 I wore it for the first time to Kole's first Easter Egg hunt. Funny now I'll probably always think of that when I wear this shirt. Or I won't. But now that I typed that I for sure will. Can you tell it's late and I'm tired tonight? Have I mentioned that already? When ever I get overly tired I start to ramble and laugh a lot. It's like I can't talk enough and suddenly everything is SO funny. My sister does the same thing. We think we are HILARIOUS when we stay up late together. Then we wake up the next morning and wonder what in the world was so funny the night before. I wish my sister was here right now. Kenny is asleep on the couch and he just isn't cutting it.
Here's a newish dress I wore to church last Sunday –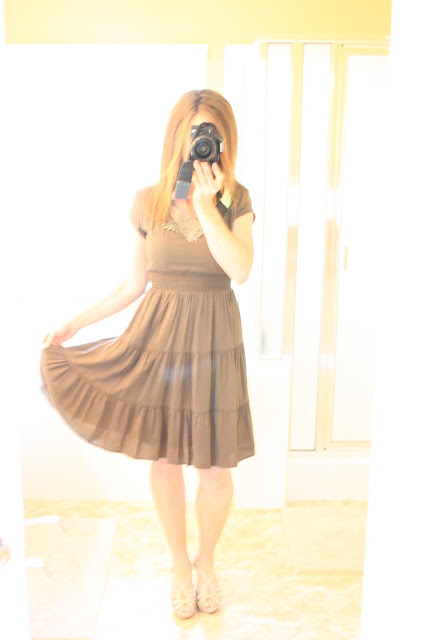 Whoa! Time to adjust the camera settings. :) But isn't this picture cool and ghost like?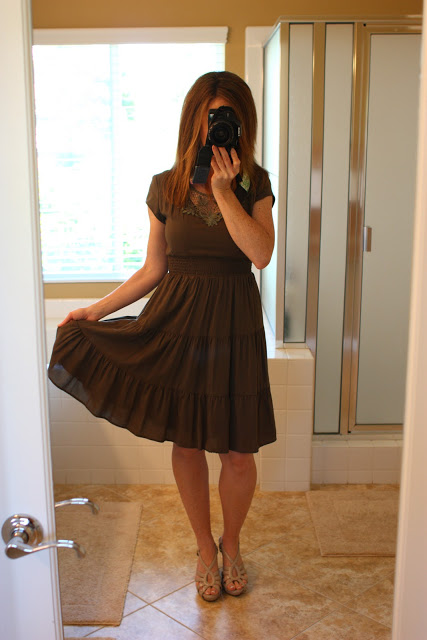 Ok. Now I've got the lighting figured out, but what in the world was I doing with my hand? I look like I'm about to curtsy for y'all. I said "y'all" because Kenny and I are going to take a little trip back to Virginia next month so I'm practicing up on my "y'alls". I said this was a "newish" dress because I bought it last summer in Utah and Sunday was the first time I've worn it! I sort of forgot I had it and re-discovered it when I cleaned out my closet. Yea for an upcoming trip and a re-discovered dress! :)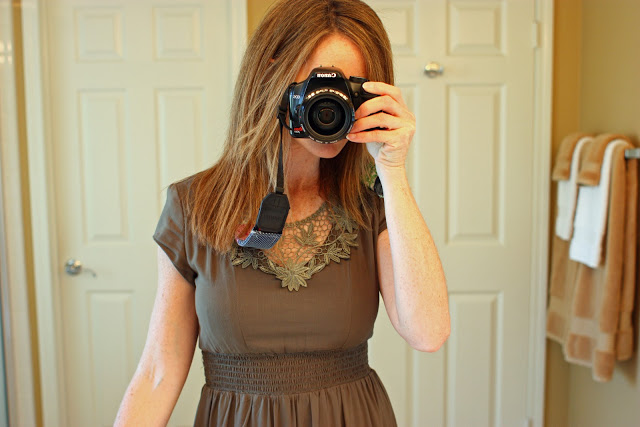 It's just a simple peasant dress. Fun detail on the top and gathers above the waist.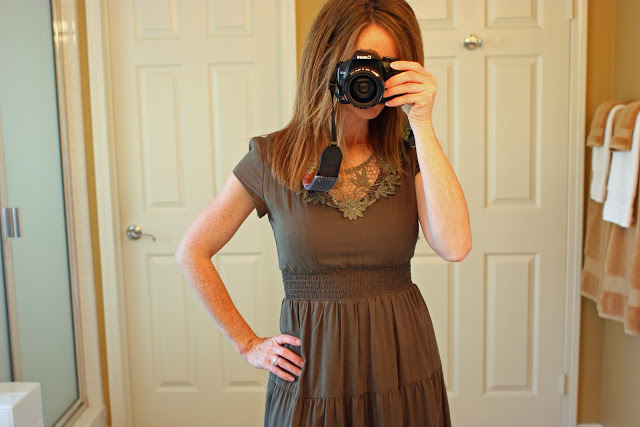 I want to find a belt to wear over the gather above the skirt but haven't found the right one yet.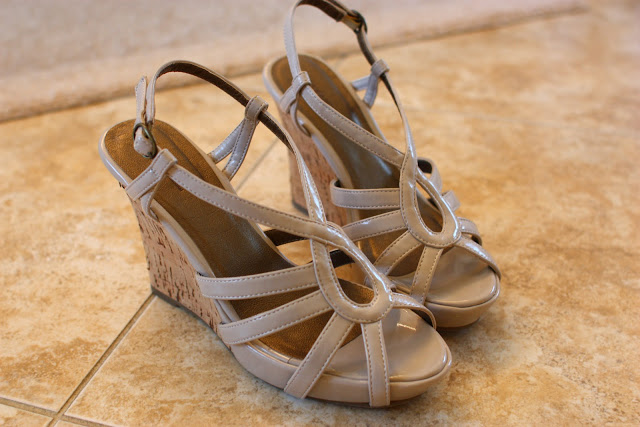 The shoes I wore with it are from Nordstrom Rack. A neutral wedge! How very predictable of me.
I am literally falling asleep mid-sentence with my laptop on my lap. (My mom will not be impressed.) Enough rambling for one night. I'm off to bed! But I'm going to take some Tylenol first.
Even though I know it just won't cut it.
Have a great weekend everyone!

Free printable of the paint colors throughout my home!
Enter your name and email address to get instant access to my paint colors along with other free organizing printables. More will be coming soon!
Exclusive to subscribers!