Alright ladies.  Let's talk jeans!  If you've read my blog for a while you know that I have a minor (ok – major) obsession with designer jeans.  Kenny gave me my first pair for Valentines Day four years ago and I've said before that if he only knew what he was getting himself into he would have opted for chocolate instead!  :)  Since I started writing my Fashion Friday posts, I've have received many e-mails asking me jean related questions (mostly regarding designer jeans).  I'm certainly not claiming to be any sort of jean expert, but I'm happy to share my favorite designer jeans along with a few overall jean tips I have learned along the way.  Fun!
First of all I just want to say that I know not everyone is in a place financially where they can afford to buy designer jeans.  When Kenny and I were living in Virginia while he was going to Law School I was working three jobs (teaching school, tutoring kids after school, and working nights at a clothes store in a mall) just so we could pay our bills and keep our debt down.  We would go grocery shopping late at night and see the "Night Help Wanted" sign on the grocery store door and he'd tease me about applying because who needs sleep and I could sure use another job.  I know.  Hilarious right?  At least he amuses himself.  One morning my $5 eye liner from Walmart broke and I totally started bawling!  I knew I'd have to wait a week until I got paid again to get new eyeliner.  So yeah, even though I'm not there now, I've been in a place where $200 jeans would have been out of the question.  And I don't think that you have to have $200 jeans to look good.  Hardly.  BUT.  If you are in a place financially where you can splurge on something for your wardrobe and you are like me and live in your jeans, I do think that designer jeans are well worth the money.
So what's so great about designer jeans that makes them worth the money?  Try a few pairs on and you'll quickly find out.  Great material with just the right amount of stretch.  Designer jeans are tailored to fit your body so much better than regular jeans.  The bottom line is that they accentuate the good and improve the bad!  And if you find the right pair for your body, you will look so fabulous in them that you will never want to take them off!
Here are my favorite brands of designer jeans (click on each link to check them out – affiliate links used):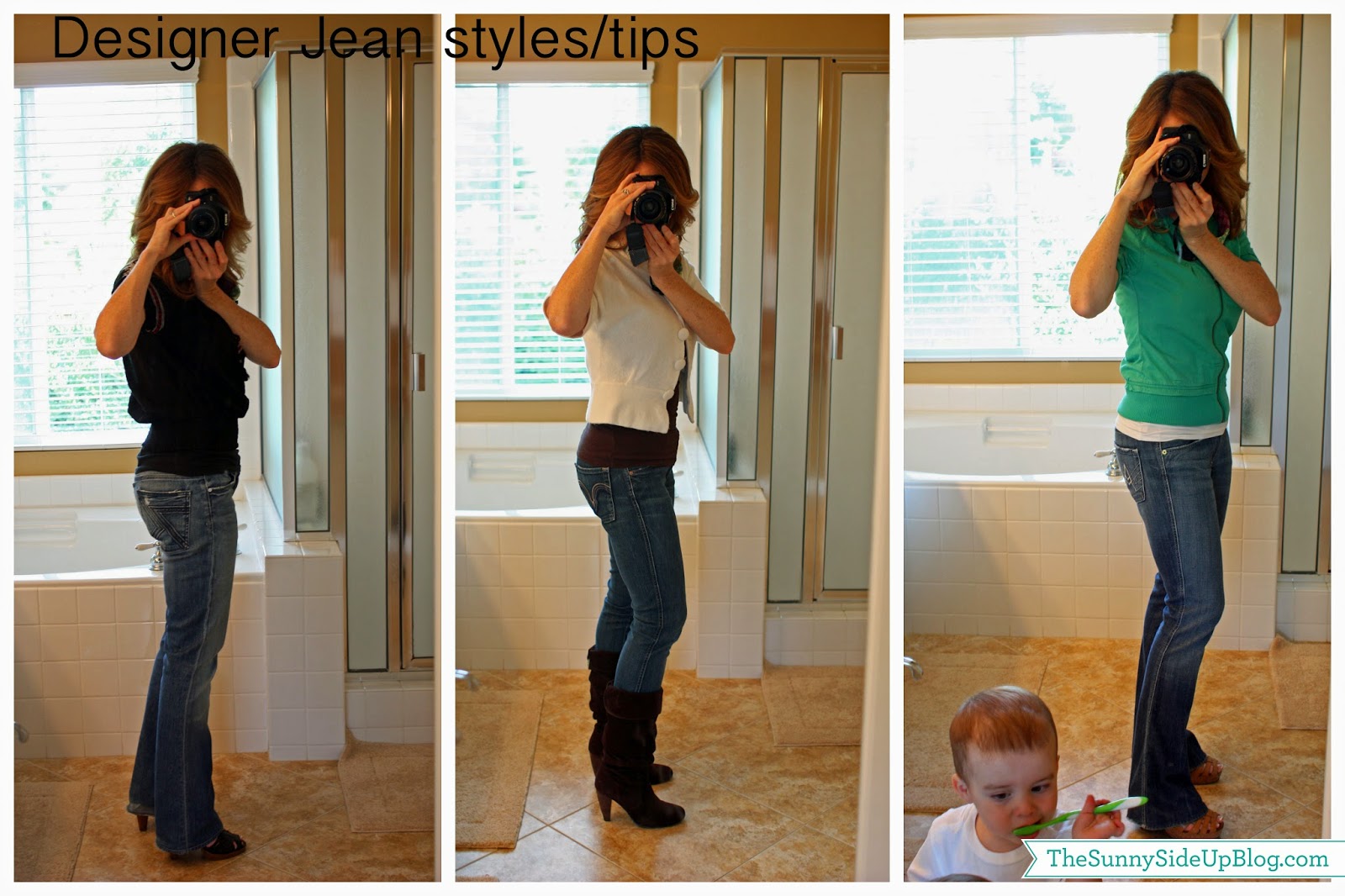 These are three different styles of Sevens.  The the pair on my right was my first pair of designer jeans.  I've had them for almost four years and they still look good!  Sevens are my favorite designer jeans and the reason I love them so much is because they work the best on my body type.  The pockets always have fun designs and they are flat which helps minimize the booty.  Which is good for me.  And for my booty.  :)
Hudson is another great brand and they are extremely popular.  They are known by the flap button pocket on the back.  These seem to be a great pair of jeans that look good on almost anyone.  They sit at a good place on your waist, the low pockets are flattering (they practically cut your booty in half!) and the boot cut at the bottom makes your thighs appear thinner.  Always a bonus, right?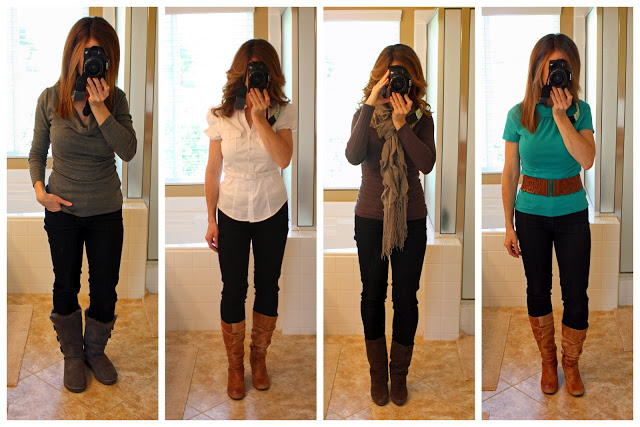 The material used for Paige jeans is incredible!  They do NOT feel like jeans at all.  So soft and comfortable and they fit your body like a glove.  I have worn my dark denim Paige skinny jeans more than any other pair this winter.  They go with everything!  Paige jeans sit a little higher up on your waist so you aren't dealing with that annoying low rise.  I don't think Paige jeans make you look as fantastic on the back side as the two brands above, but they do have a flattering fit.  And like I said, they are super comfortable.  (**Side tip: A dark denim wash like this is extremely slimming!  A must have in your wardrobe – especially for Fall/Winter.)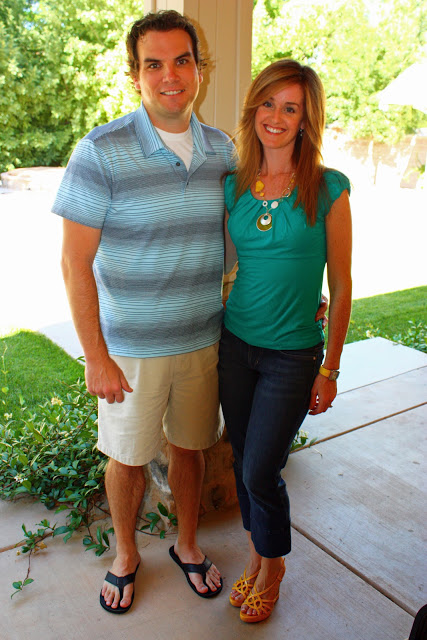 Joe's are another great brand of designer jeans to check out.  I couldn't find a picture of me in my Joe jeans, but I have this pair of Joe capris that I LOVE and have lived in every summer for the past three years.  Another brand that fits like a glove and are extremely flattering.  (**Side tip for capris.  They can make you look short which isn't good, especially if you already are short like I am.  :)  Look for a pair that sits not too far up from your ankle and wear them with a heel or wedge – something that gives you some height and you'll look longer and leaner.)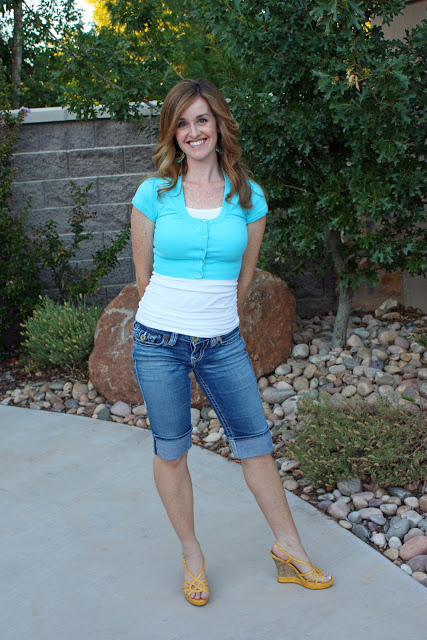 True Religions are another really popular, fun brand.  I don't own any True Religion pants, but I do own this pair of True Religion shorts.  Definitely the most expensive pair of shorts I've ever bought.  Definitely worth every penny.  I have had these for four years!  And have lived in them in the summer time.  I'm thinking it's time to replace them, but they have been a great summer staple.  When I tried these on I hadn't looked at the price tag.  I saw my thighs in them and thought I am SO buying these! – then I saw the tag and gasped out loud.  But it was too late.  I'd already fallen in love.  My thighs had never looked so thin!  Notice the way the wash is darker on the inside and outside of my thighs.  That and the thick stitching – which is signature True Religion – creates the illusion of a thinner thigh.  I'll take it!  :)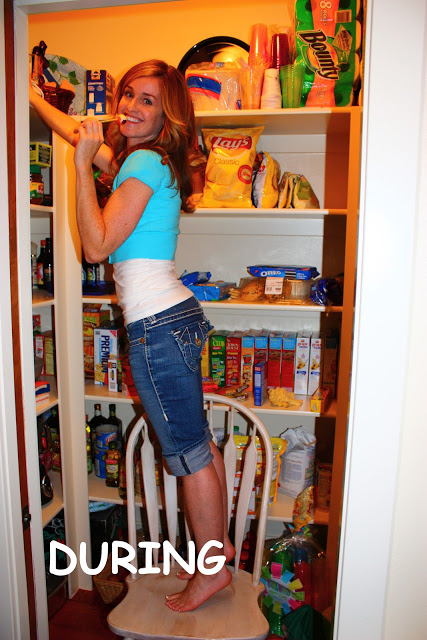 Now True Religion are actually NOT great jeans if you have a booty.  Their huge signature pockets accentuate the butt so they are a great jean if you have a flat butt.  I really shouldn't have bought these.  But like I said, I fell in love with my thighs!  So I try to only look in the mirror in the front when I'm wearing these shorts.  ;)
Another fun, popular brand.  No picture to share, but check out the link to see their fun looks for Spring of 2012.
There are so many amazing brands of designer jeans.  The ones listed above are just the brands that I have grown to love.  If you have another brand that you love, please share in the comments!
A few other jean related questions:
Any ideas on jeans for those of us who don't love the ultra low waist?
I would recommend trying Paige and Joe's for a higher waist line.

Any ideas on where to find jeans for less?  
If you really want a pair of great fitting jeans, you are going to have to pay a bit more for them.  One brand of jeans that aren't quite as expensive that I love are called Silvers.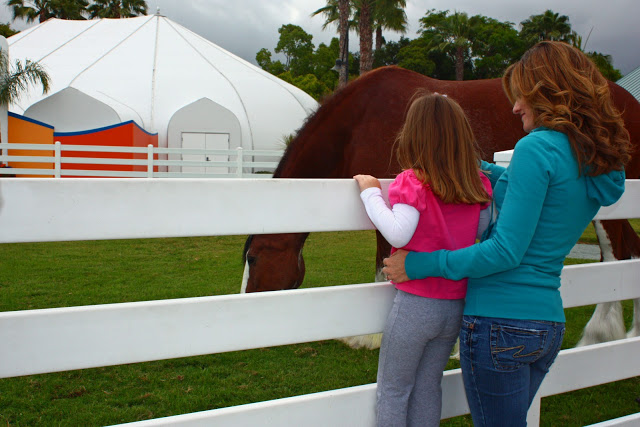 I bought this pair at Nordstrom and they were around $70.  This picture is from 2009 and I still love these jeans.  In fact, I wore them so much I wore a hole in one of the knees.  :)  Another tip for finding jeans for less is watching for sales.  I buy most of my jeans at Nordstrom and I have found some great deals during their big Anniversary sales.  My skinny Seven jeans that were regularly around $180 I bought for $100 during a sale.  Now that was a happy day.  :)
Do you ever get your jeans altered and does it look weird if they have to be hemmed?

This is a GREAT question!  I have had almost every pair of these jeans I shared altered!!  YES!! Alter your jeans!!  Most designer jeans are made super long so you find a pair that fits you great in the front and the back, and then you get the length altered.  I know.  It costs another 15-20 bucks, but when you are spending that much on jeans, what's another $20 to make them fit you perfectly?  I have also had MANY jeans altered in my waist.  I find a pair that is flattering for my butt, and then have them taken in at the waist if they are too big there.  You don't need to wear jeans that fit you great in one area and not the other.  One of Stacey and Clinton's biggest tips on TLC's What Not To Wear is to ALTER YOUR JEANS!  You can take them to any tailor's or in stores like Nordstrom they have a tailor who works at the store that will do it for you.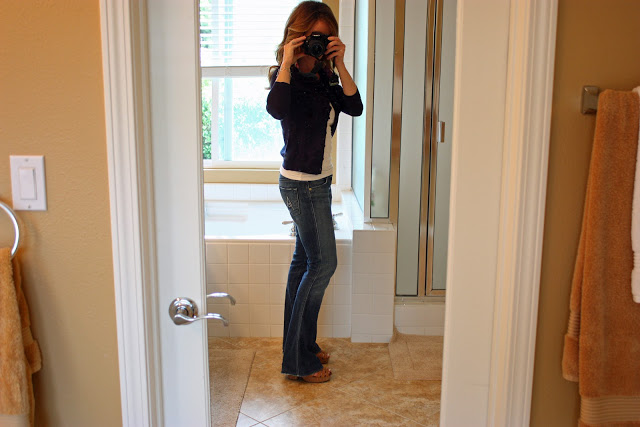 **A few tips – When you are having the length hemmed, make sure to try them on for the tailor wearing the shoes you plan to wear most of the time with the jeans.  In the picture above, these shoes are NOT the ones I had on when I got these jeans altered and you can tell the jeans are a bit too high for them.  Jean length should barely touch the ground in the back.  This makes you look taller and leaner.  So I have different pairs of jeans that go with different shoes.  Another tip is to WASH the jeans once before getting them hemmed so that they don't shrink after you get them just the right length.  Also, regarding designer jeans, it is always better to buy them a bit snug (try on a size smaller than you normally would).  They stretch a lot when you wear them so it's best for them to be a bit tight at first.
Where can I find cute, stylish plus size jeans?
Nordstrom has a great selection of plus size jeans!  You can find them here.
What are the most flattering, slimming jeans in your opinion?  And do you think women with a little thicker legs should wear skinny jeans?  If so, how do you think is the most flattering way to wear skinny jeans?  

The most flattering, slimming jeans for me are Sevens, but that's obviously not true for everyone.  If you are ready to spend a little money on a great pair of jeans I would recommend trying on LOTS of brands.  I seriously try on so many pairs when I'm looking for new jeans.  Each brand and style fits differently and you'll never know what you look the best in until you try them all out!
Good question about the skinny jeans!  Skinny jeans DO tend to accentuate your legs and thighs and to be honest, when they first came out I swore I'd never wear them for that very reason!  But even if you think your thighs are too heavy for them, I'd give them a chance.  If you find a good pair that fits you well, skinny jeans can often be even more flattering than bootcut.
Another tip I've learned is to pair skinny jeans with some bigger boots.  The boots help even things out and you aren't seeing the jean tapper so small at the ankle which can make your thighs appear larger.  In my opinion, that is the most flattering way to wear skinny jeans.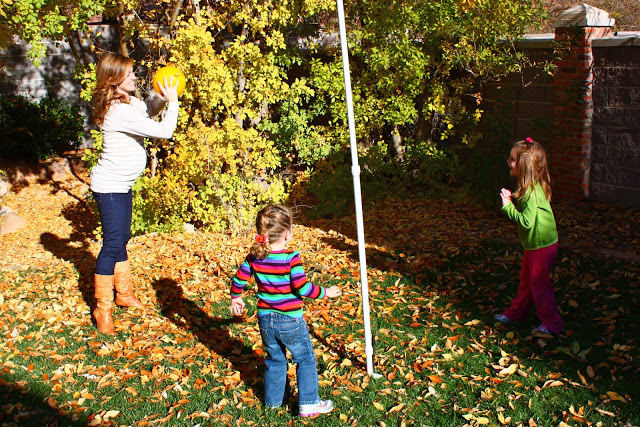 When I was pregnant with Kole I bought two pairs of jeans (one skinny and one boot cut) and the skinny jeans ended up being WAY more flattering than the bootcut jeans.  I always paired them with boots and even though my thighs were getting bigger by the minute, the skinny jeans still looked better.  :)  (If you're pregnant, you can read my tips for maternity clothes here.)
How do you keep your jeans looking crisp and wrinkle free?
I never dry my jeans in the dryer.  I always wash them on cold and hang them to dry.  As far as wrinkles, I can't help you with that one.  I have three kids and avoid ironing at all costs.  My clothes are never wrinkle free!  :)
Oh my goodness.  That turned out to be a book.  If you stuck with me through that post you are a champion.  Or just really bored.  ;)   If you have any other jean tips to share, please do in the comments!  Also, if you have any other jean related questions I'll answer those in the comments too.  Now go spend a fortune on jeans and look fabulous!  You're worth it!!
 (Just don't tell your husband you heard that from me.)
:)
**Update!
 This post is YEARS old but I still love a lot of these brands!  My favorite designer jeans now (2017) are
AG
!  Such a great fit.  I also still love
Hudson
and wear a lot of
J Brand
.  All very flattering jeans!  And still worth every penny. ;)  You can see the exact pairs I'm wearing and loving (along with lots of other favorite clothes and home decor that are current favorites) by checking out the
"shop my favorites" tab
in my header.
xoxo, Erin