Hi friends! Popping in today to share a quick before and after. The girls' school is having a used book sale so I decided it was time to tackle the bookshelf in their bedroom…
Um yeah. It has been a while since I straightened it out. It usually doesn't look THAT bad, but for quite a while Kole was obsessed with pulling every single book out he could reach. After cleaning them up what felt like 4,000 times I finally just decided to leave things a mess (SO hard for me!) until he was over his mad "pull everything off the bookshelf" phase. Thankfully he hasn't been as interested in this little activity lately so last week I pulled everything off the shelf and went through every single book. I have a huge sack of books to donate to the school and the favorites that made the cut?
Well they are looking much better now!
Aside from simplifying our book collection, I wanted to organize the books a bit. I categorized them by hard cover, paper back, church books, old books, Golden books, Little Critter books, and the whole bottom shelf is dedicated to Kole's books. I just stuck a small white sticker label below the books to categorize them. These labels come off easily. I wanted to do this more for me than the kids because when I'm ready to read to the girls I can now easily locate the book I want. I also won't be scrambling to find the book I want for church each Sunday (I teach the Sunbeams – 3 year olds – in primary). And now Kole can tear through the bottom shelf and they are all books made for him. It has made story time for all three of my kids run much smoother!
Of course I know the books won't stay lined up all perfectly like this and I don't care if they do. And of course toys will inevitably make themselves at home. As long as we keep books in their category (because it makes my life easier and I'm all about making my life easier) I'll be happy.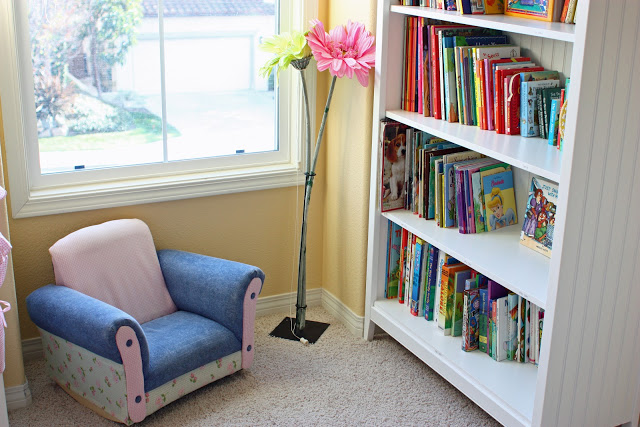 I still need to tackle the older children's books in our guest room, but it feels good to have this little project checked off the list!
A few of you have previously asked to see pictures of my girls' room. I don't have pictures of everything, but these are some random shots I was able to find that I took on different occasions. Most of the pictures I have are of their bunk beds.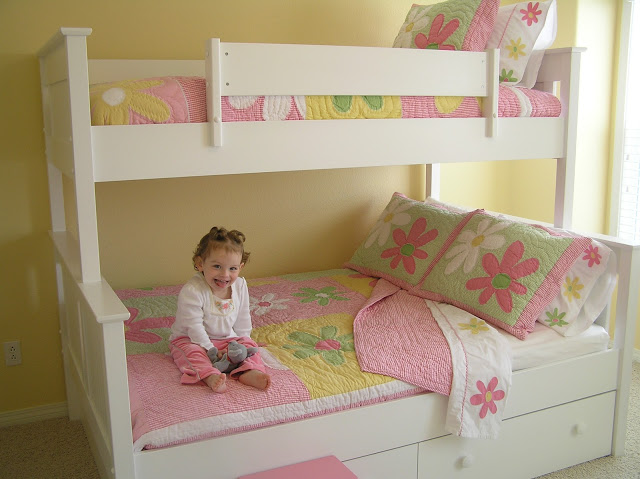 We bought the bunk beds and bedding when Ellie was two! That's my little peanut on the bottom bunk in March of 2006. I know – it's Kole with pig tails! :)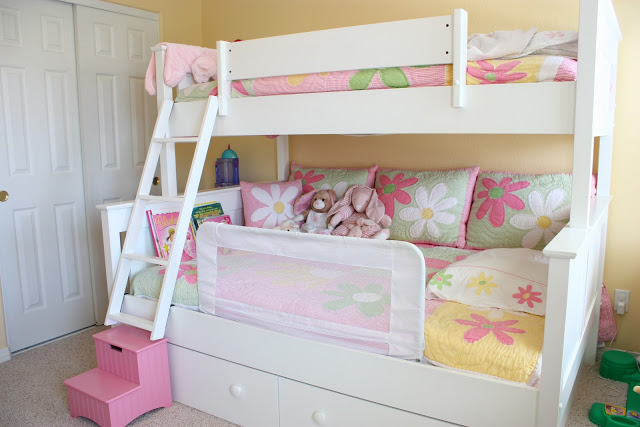 This picture is more recent. I had just cleaned the toys off of their beds (the beds are always covered in dolls!). The bunk beds we bought at a local store and the bedding was from The Company Store for kids. The bedding is a little faded from multiple washes, but other than that it has held up really well. The girls have always just slept on the top of these comforters with a blanket over them. I don't make bunk beds every day! I am SO ready to update their rooms, but we want to wait and do it in the new house because we'll get the girls their own bigger beds.
All set for Easter!
A lot of good memories in this room. I've checked on my sleeping baby girls every single night in these beds. Even though I'm excited for them to have their own rooms in the new house, a part of me will be so sad to leave this sweet little room they grew up in. In a way I'm glad we still have over a year before we move. Not quite ready to say good-bye yet!
I'm off to check on my sleeping babies right now. :)
Have a great Wednesday everyone!
xoxo, Erin