Cleaned out the garage last week. (Some of my tips for garage organization are here and here.) Always feels nice to pull up to a clean garage. I usually straighten mine up once a month while the kids are playing in the front yard. It's crazy how quickly it can turn into madness if I don't.
I love this time of year! Everything is growing like crazy including our bougainvillea vine…
and our lemon tree.
Lemons just in time for a little Spring Decor! Lemonade anyone?
Speaking of Spring, we've had some fun rainy days this past month. This is my little miss on our way to ballet. I love her cute smile in this rain gear so much. I'm tempted to scrap this picture —
but it might look a bit too much like this page. And of course then I'd actually have to blow the dust off of my scrapbooking supplies. Hoping this is the week and dust will fly!
Kole up to his usual tricks.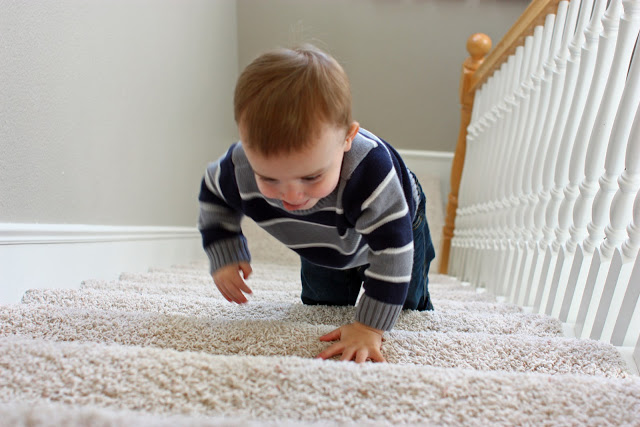 Climbing, climbing and a little more climbing.
And the girls up to their usual tricks. This little teddy bear travels in style!
Bought another white pitcher.
I'm starting to think it has become a bit of an addiction and something might be wrong with me.
I also bought some new black boots. In December. They were a Christmas present to me from me.
They are comfy and fun and look good with so many things.
But the only picture I have of me in them is this one. Black boots with a black top.
How incredibly original of me.
Looks like Kole's done eating.
I found this sweet note from my Ellie in the kitchen a few weeks ago.
The best. Noting beats a note like this one.
Kenny also received a note from Ellie. She left this for him one morning while he was packing to head out of town. He has been traveling a lot lately for work and clearly Ellie isn't feeling it. Quite frankly I'm not feeling it either. And that is final. :)
Kole and I doing laundry. I say "laundry time" and Kole books it to the hallway. I toss the warm clothes from the dryer on him (a fun game I used to play with the girls when they were toddlers). Then Kole pulls every clothing item I try to fold out of my arms and laughs hysterically. I get nothing done and after 20 minutes of this little game I finally haul the clothes up on my bed so that I can actually fold them. Good times. :)
How was that for random!? Happy Monday everyone!
xoxo, Erin