Last Friday I experienced a "mom moment." You know those moments you have as a mother every once in a while when you are suddenly overwhelmed with the love you feel for your children. When you realize in an instant how much they mean to you. For me, moments like this seem to happen at the most random times. I was at the girls' Elementary school. The school was having its annual Jog-a-Thon (kids all jog laps around the field and the parents donate money to the school for each lap their child runs). I had volunteered to bring orange slices for the runners and had planned on just dropping off the oranges and leaving. I knew I wouldn't be much help with my little shadow to chase after and I had errands to run and a long list of things I needed to get done before Addie came home from Kindergarten at noon. But it was such a beautiful morning. Blue skies, sunshine, and there was a smell of spring in the air. Birds were chirping and I found myself pushing Kole's stroller onto the field thinking that maybe I'd just stay for a minute. Just long enough to see my girls run a lap or two.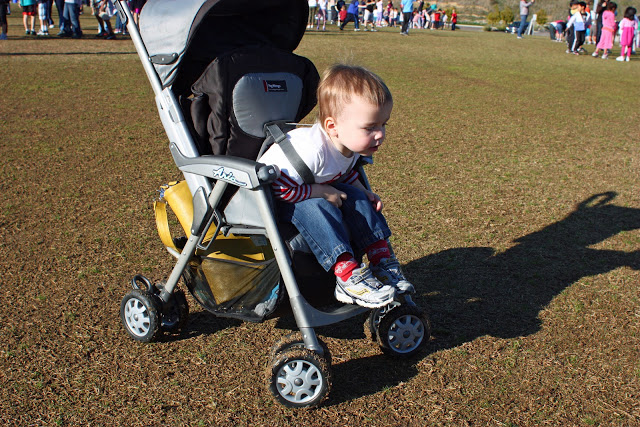 Kole was of course busting out of his stroller within minutes so I did my usual trick to hold him off a little longer…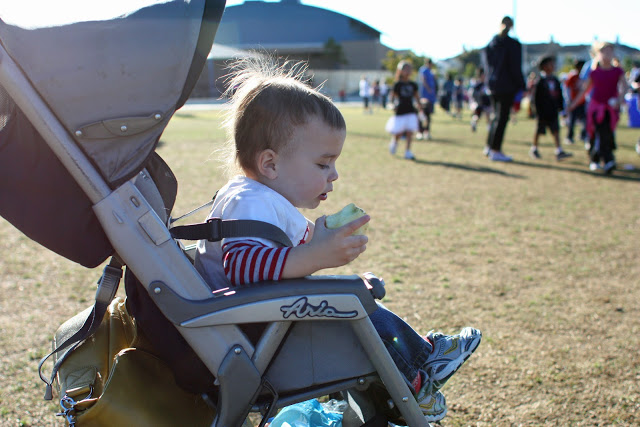 I gave him a peeled apple.
It takes him a good five minutes to eat the whole thing and a peeled apple has saved me literally hundreds of times when five more minutes was all I needed. Five more minutes in the grocery store, five more minutes in the car, five more minutes to keep him quiet in church. And this morning – five more minutes so I could watch for my girls.
There were so many kids out on the field. I didn't know if I'd be able to spot them so I started looking for their teachers/classmates. I noticed that the kids started off with their class but when Addie's Kindergarten class came around I didn't see her. I looked and looked and then suddenly there they were. Running around the corner. Both of my girls – holding hands. I saw them together and it took my breath away. They were laughing and talking and with a group of Ellie's friends. They were excited to see me and both waved.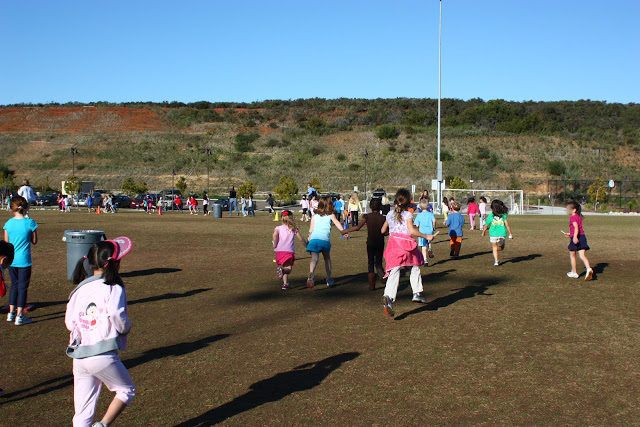 I snapped this picture of them running away and soon after realized I had tears streaming down my cheeks. I quickly wiped them away – grateful I had on sunglasses. But I couldn't help crying. I kept thinking over and over they found each other. In all of those kids, they found each other.
They ran/walked 14 laps and never let go of each other's hand. I stayed the whole morning. Figured the "to-do's" could wait. I cheered my girls on and when the jog-a-thon was over I told them how proud I was of them and how happy they made me. I knew that they would go about their day and not think much about the morning they spent together running and holding hands. I knew it was a morning I'd never forget.
I was in such a good mood I didn't even mind staying after a bit to let Kole have his day in the sun. A big open field – Christmas morning for my little boy.
This past week has been a typical one. Full of carpools and doctor appointments and homework and cleaning and activities and meal time and bath time and story time and all of the times in between. The days have been the same but I have been different. This past week when I felt tired or overwhelmed I pictured my girls running in the sun together holding hands.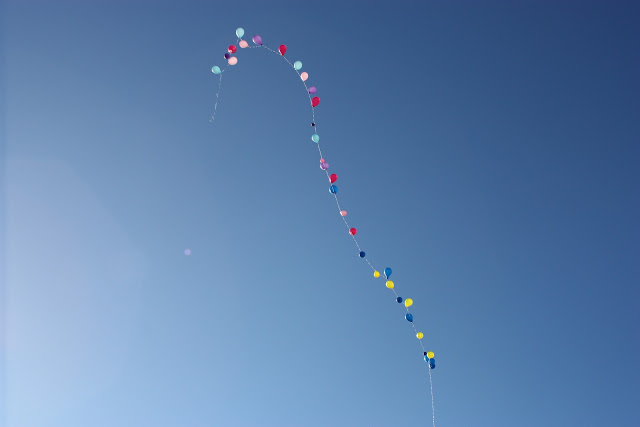 And remembered that it's all worth it. And how blessed I truly am.
xoxo, Erin