First step to getting organized: make a list. Here is my current "spaces/items to organize" list:
-scrap space (clear room for project life!)
-kole's drawers/closet (go through clothes)
-girls' book shelf
-addie's closet/drawers
-ellie's drawers (go through clothes)
-laundry room cupboards
-kids' bath toys
-girls' toy kitchen (scary stuff hiding in that microwave!)
-my bedroom hutch
-my dresser
-my closet (go through clothes)
-my bathroom drawers/cupboards
-nightstand drawers
-closet under stairs
-stuffed animals
I just walked through my house and wrote down every space that could use a little "sprucing up." Some of these areas have already been organized and just need a touch up. Some of them (hello my mess of a closet) need a major overhaul. Having a list makes it feel manageable. Now I can just work on spaces whenever I have a minute and happily check off my list.
A few posts back one of my cute Virginia friends (hi Lucy!) asked me what I do with my stuffed animals. She was wondering how to organize them since her daughter loves them all. Well – it was perfect timing because that very day I had come up with what to do with our crazy amount of stuffed animals. And I have the SAME problem Lucy. After years of birthday parties and holidays and trips and surprises for good behavior and grandparent visits and weak moments in Target – we now have a crazy amount of stuffed animals and dolls. My girls truly CHERISH each and every one of them. They also truly play with and take care of each and every one of them.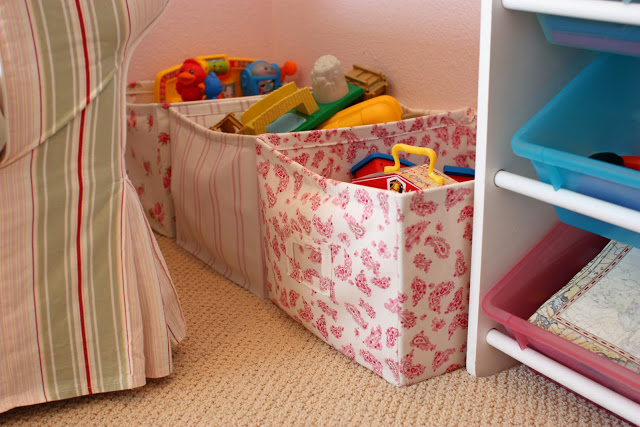 I used to keep stuffed animals in these baskets in the playroom.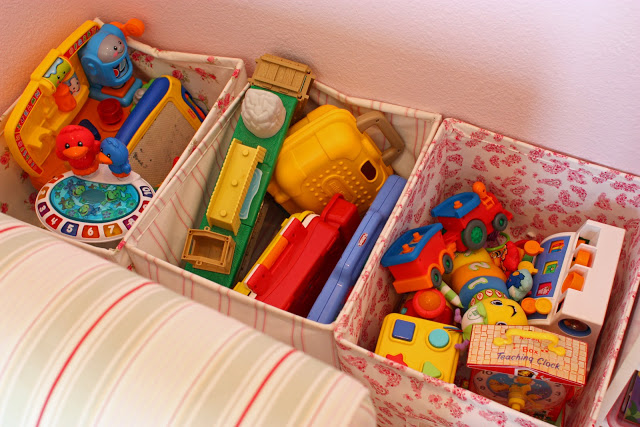 But lately they have been filled with my little man's treasures. And truth be told, our crazy amount of stuffed animals/dolls weren't fitting well in this spot anyway.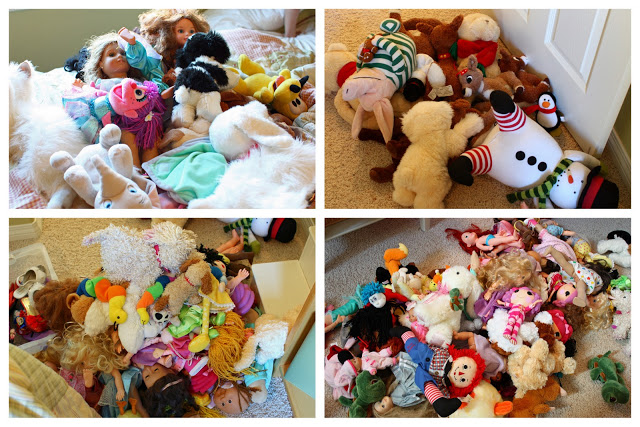 So one afternoon the girls and I went in every room and rounded them all up. I boxed up and stored all of the Christmas stuffed animals with our Christmas decor in the garage because it's more fun if those toys are only pulled out in December. The girls were so stressed about the rest of their "friends." (They know all too well what happens when mom starts making piles.) I promised that I wasn't getting rid of anything and explained to them that we just don't have the space to have all of these "friends"out right now. I had them choose a handful to keep out to play and sleep with and I assured them that the rest of them would be close by.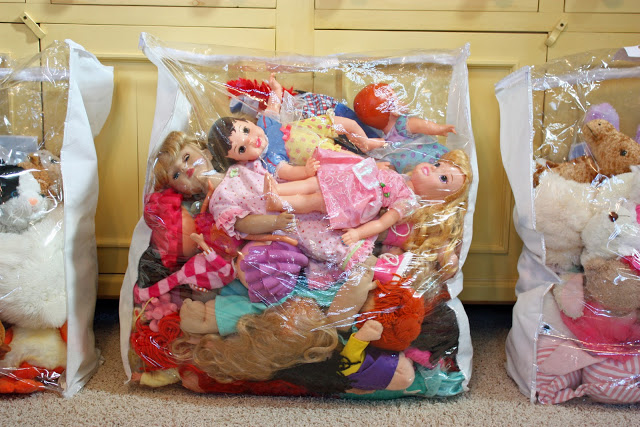 A while ago I got the comforter on my bed dry cleaned and when I picked it up it was in this fabulous heavy duty clear sack. I knew I could find a way to use that sack so I hung onto it. As soon as I saw the crazy amount of stuffed animals/dolls I needed to store, I knew just what would hold them! Problem was that I only had one and that baby filled up fast! So I went back to the dry cleaners.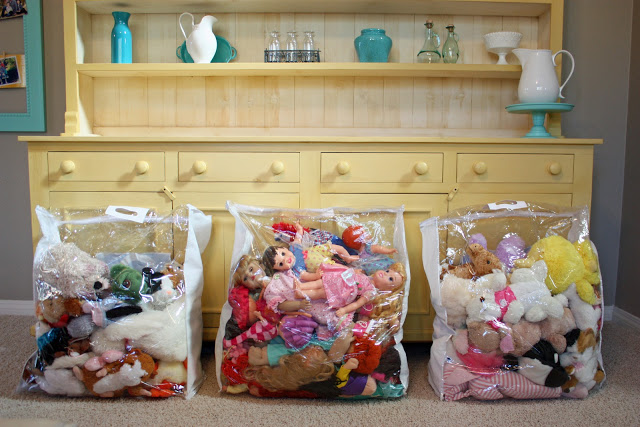 And I asked them for two more sacks. Kenny should be thrilled. I didn't spend a dime. (Did you read that babe!? I didn't spend a dime!!) That's a first for me. :) I'll tell you why this was the perfect solution (aside from the fact that it was a free solution). I needed something that wouldn't break/tear easily. I also needed something see through because now when my girls want to locate a certain "friend" it will be easy to find instead of using black garbage bags that we would be dumping out all over the floor every other week.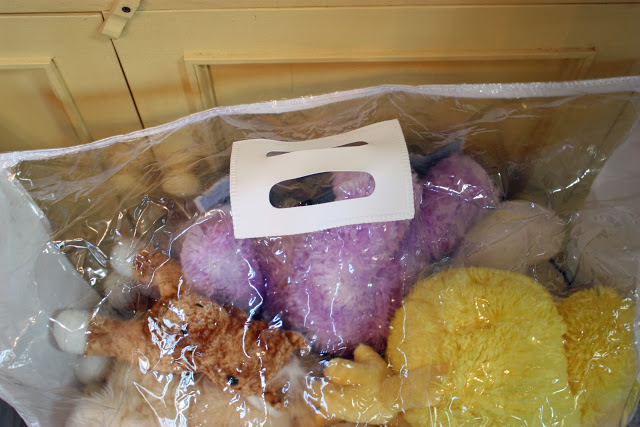 They also have this really great handle so they are easy to move around.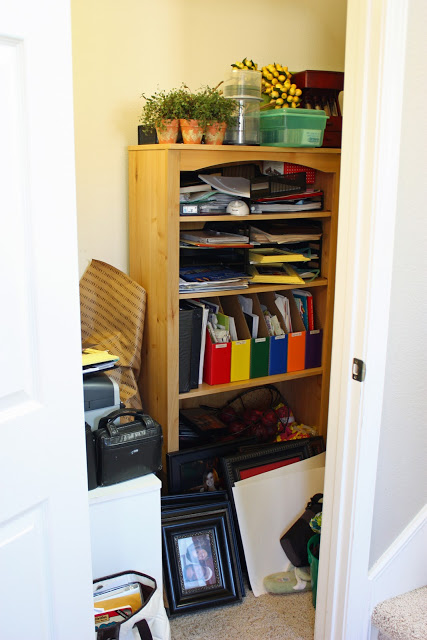 Another spot that has been organized before and just needed some "sprucing up" was the closet under my stairs. This spot always becomes my catch all for any and everything when I get busy. And December was insanely busy. Just 20 minutes and this closet went from the picture above…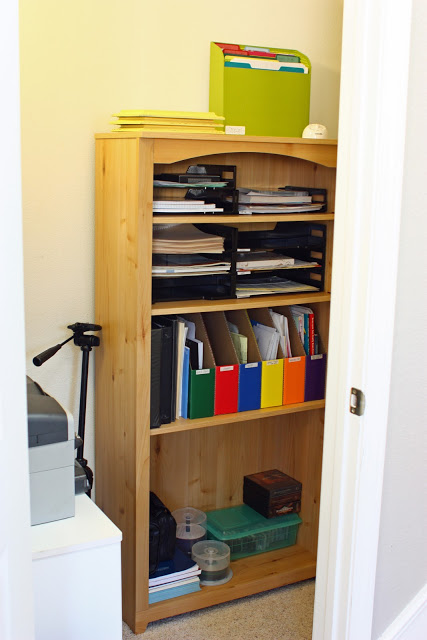 Then I cleaned out space in the back of our closet to make room for the stuffed animals.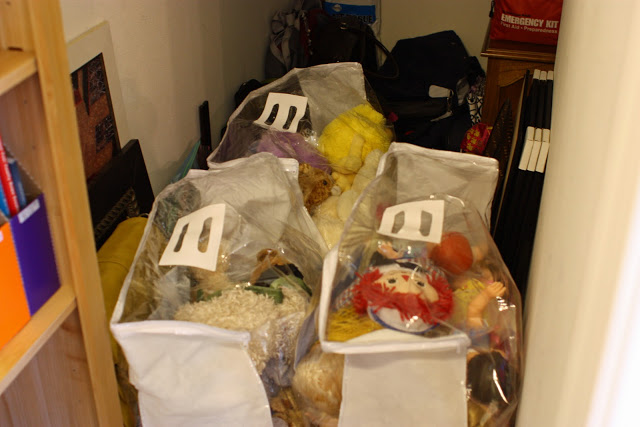 Now they are still with us, but not all over my house. When the girls want to get out some new "friends," they are easy to pull out and find. The rule is that if they are taking some out, they are putting some back in. Of course, if there are a few toys that never get pulled back out… well… let's just say I don't have the same problem my girls do "letting go." I know this isn't a perfect solution, but I think it will work great for us. (Hope that helps Lucy!)
So I'm feeling good! Two items checked off my list! That's a good thing. Lots still left to organize.
But that's a good thing too. :)
xoxo, Erin