Christmas is almost here and I still haven't shared some of my Christmas decor this year! I need to find time to blog everything I want to share or I'll still be posting Christmas ideas in February. (I always seem to have an overload of pictures and topics and projects I want to blog about and never enough time to sit down at the computer and do the actual posting. It's a problem.) Back to the decor that I don't have time to share. I wanted to bring more of the aqua/blue and white into the rest of my house. Plus I still love red. And it is Christmas. And I still have red couches. So aqua, white, and red have been my 2011 Christmas color theme. I wanted a quick fix for some of my picture frames so I blew the dust off of my scrapbook paper stash and found these beauties…
Perfect! I remember when I bought this paper a couple of years ago thinking that it was so pretty I should frame it.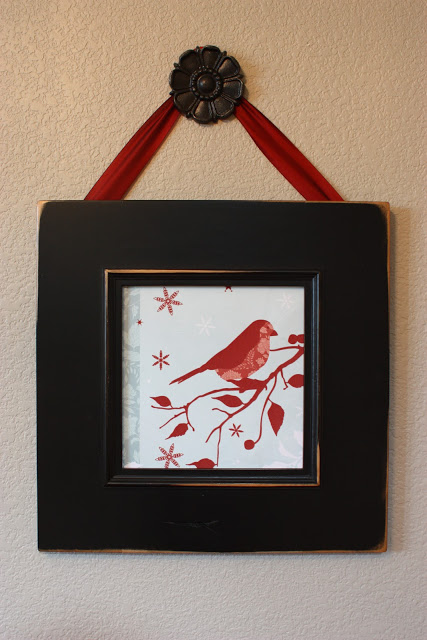 And frame it I did! So fun that it actually ties in with my decor this year. It was such a quick, easy, CHEAP way to mix things up and tie everything together.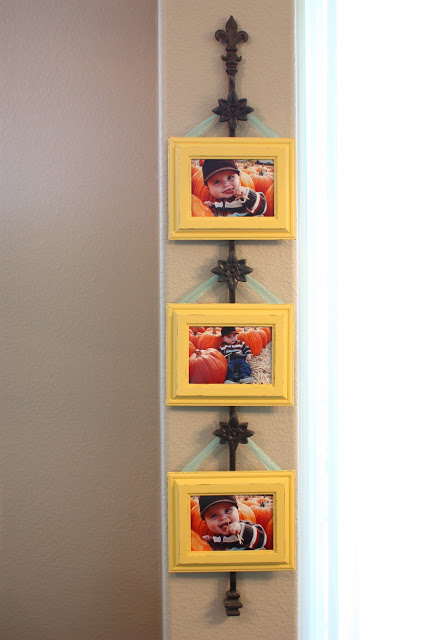 Remember my little
picture frame re-do
for my Fall decor? I wanted to replace the pictures with the scrapbook paper, but I didn't think that the yellow would work very well. I didn't want to spray paint my yellow frames again though because I know me. And I know that when Spring rolls around I will want to mix things up again and I will want my yellow frames back. Hmmm. What to do…what to do. So I went to Michaels. And at Michaels I bought some wooden frames. They were a whopping two dollars each. And I came home. And I put Kole down for a nap because he was such a PILL in that store. And after I caught my breath and recovered from my shopping trip with Kole, I spray painted the frames white.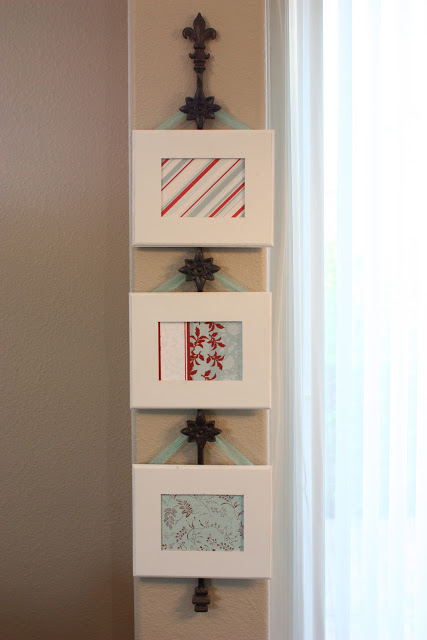 Then I popped out the pictures of my little man at the pumpkin patch (back in the day when he was a good shopper…oh how I miss those days!) and I popped in the scrapbook paper. And then I used some of the same aqua ribbon to hang the frames. And the whole thing took me no time and all. And I love the look!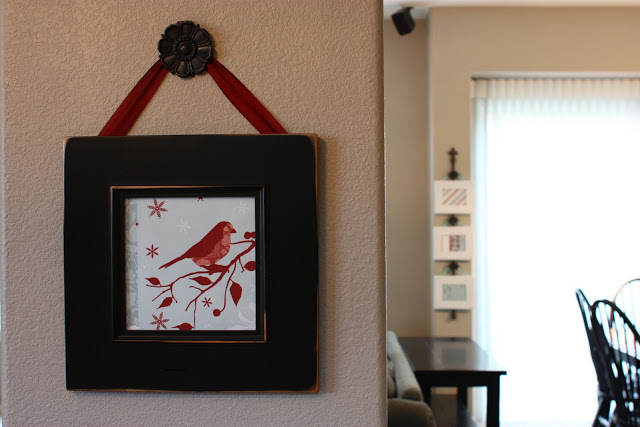 The bird feels quite at home with
all of the other birds
here and there in my house and ties in nicely with the picture frames.
He also ties in with my red couches in the front living room, and my aqua, silver, and white mantel in the family room. Such a clever bird.
Next I hung some simple aqua and silver ornaments from Target from the light fixture in my dining room.
And that added a nice touch too.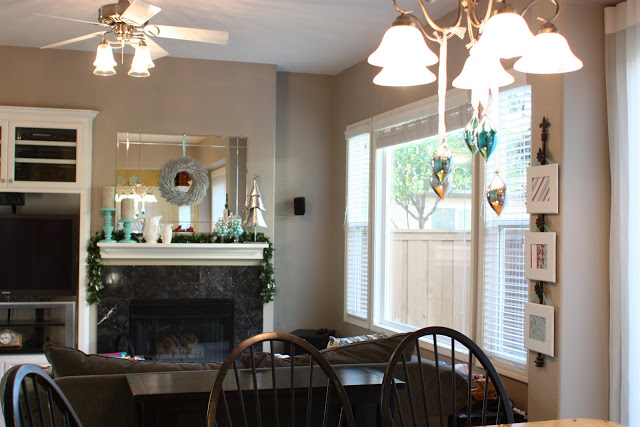 So there you go! It all coordinates so well – especially with my kitchen and some of the changes I've made in there like my aqua wall/shelf. Fun! I've loved having a whole new look this year for Christmas! And like I mentioned before, a lot of this I can keep up through January. Although the ornaments are going to have to go soon. Kole can reach them – bummer! So of course his favorite thing to do is to climb on the table (you'll notice I have NO decor on any of my tables this year) and hit the ornaments into each other causing shrieks of terror from his sisters. They seem to care about the ornaments even more than I do.
Like I just said when I shared my Christmas Hutch, I love to see a good transformation! :) So here you go – a tribute to my picture frames in all their glory…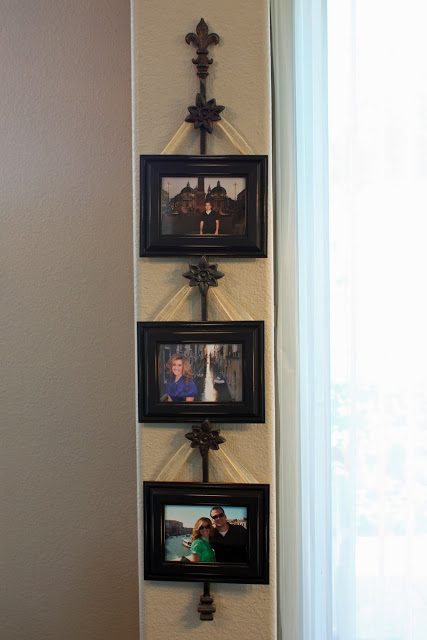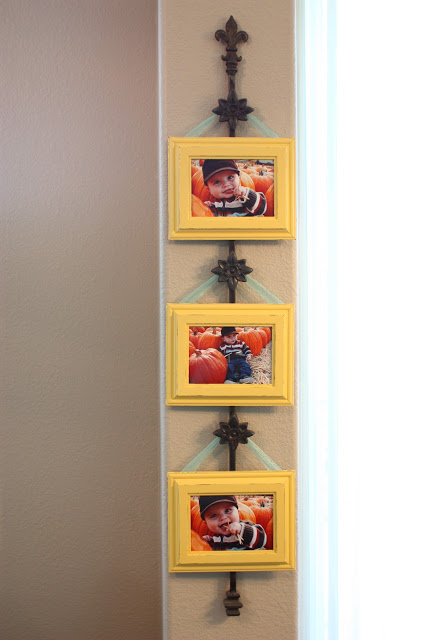 Wonder what's in store for them next? I know. The suspense is killing you.
;)

JOIN THE NEWSLETTER