Just a few random pics/thoughts tonight. I shouldn't even be blogging since I am KNEE DEEP in the girls' back to school forms. But I decided I deserved a little break. :)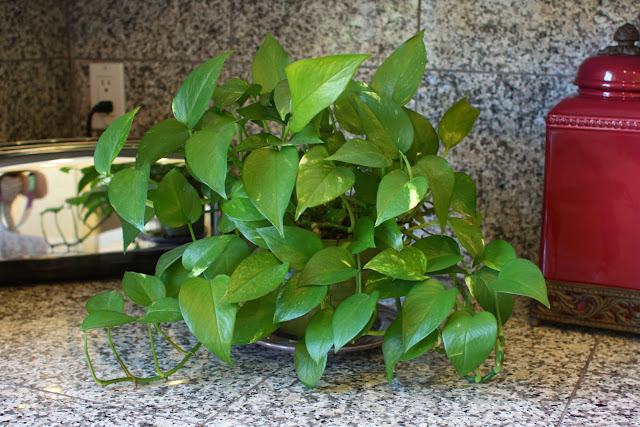 See this plant? I've had this plant for NINE years! Nine years ago this month we moved to San Diego and into this house. I didn't have much to decorate the place with (this house felt huge when it was just me and Kenny!) so I bought three plants like this for my kitchen to make things feel less empty until we could afford some decor/furniture. The other two plants were dead within the first six months (typical life span for a plant in my hands). But this little baby!? Just kept on keeping on. Not much maintenance. I water it about every three weeks. And there it sits. Looking so healthy and happy. Nine years I've had this!!! I don't want it in my kitchen anymore. Decor wise, I'm ready to move on. But do you think I can get rid of this? Every time I try, something stops me. Seems I'm rather attached to my little plant. And a bit curious to see just how long this plant can keep on keeping on.
K – I'm obsessed with two things lately and this is one of them. Pretzel Crisps. Ever had them? I love pretzels and I love chips and these my friends, are a combination of my favorites which makes them THE BOMB. I love them with a little cheese, some peppered turkey (my lunch staple), or a slice of an apple. So good. Try them if you haven't yet.
My other obsession is HGTV. Anyone watching this season of Design Star? Also THE BOMB. I'm also recording Dear Genevieve, Curb Appeal: The Block and House Hunters. I especially like to watch House Hunters to torture myself with the amazing homes people can buy around the country for the price of a 200 square foot hut in Southern California. San Diego home prices are ridiculous and every time I watch House Hunters I'm reminded of just how crazy I am to live here. Right up until I step outside and enjoy this city. Then I decide 200 square foot huts have a charm all their own. :)
So this is what my kitchen table looked like this afternoon. You can tell my girls are back in school! Ellie had her first homework assignment tonight…
a little "all about me" page. I have to say that being into scrapbooking sure comes in handy for kids' school stuff. Seems like we always need pictures for projects and I love that I have them in albums ready to go. Then the next time I develop some I can just replace the ones I used. **A tip that has come in handy for me – next time you get family pictures or order Christmas cards, order 20 extra! I can't believe how many times I've needed a family picture for something for the kids.
So I've got about six different projects going on around here! I started so many things over the summer and then never had a minute to finish them. I've been awful that way. I keep starting new projects instead of finishing others. I was so overwhelmed today with what to work on that I just pulled out all of my fall decor instead! HA! Why not add more mess to the mayhem! I lit my pumpkin spice candle and when Addison came home she said, "Mom! Is it Thanksgiving!?" Not quite…but I am a bit anxious for Fall. Hopefully I'll have a few things wrapped up around here before it's time to carve the turkey. :)
Have a good Thursday everyone! I'm off to eat some Pretzel Crisps (even though it's late and I shouldn't), watch a little HGTV and finish filling out school forms.
xoxo, Erin