A prime example of how things have changed around here since I had my third child…
Exhibit A: Star Behavior Charts (made when I just had my girls)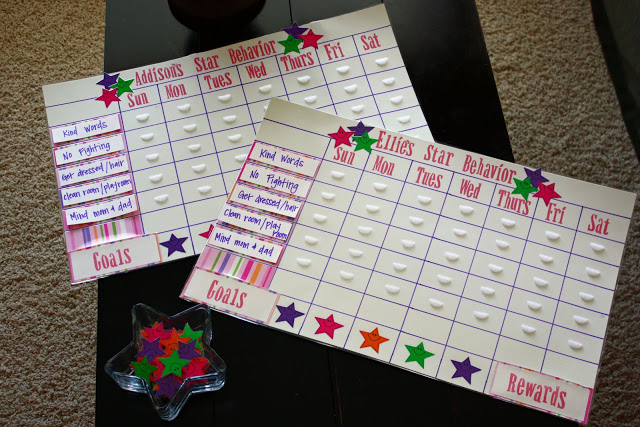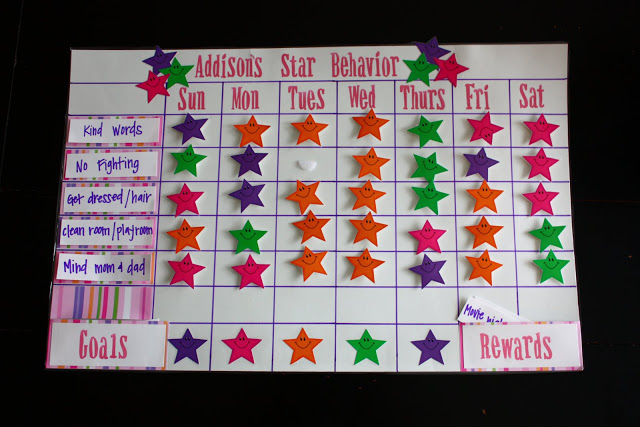 — Time spent on planning and prep work (measured lines, bought supplies)
— Hand cut and laminated stars with velcro attached to each one
— Color coordinated, symmetrical, pretty
— Every letter was hand stamped for the title & days of the week
— Clearly defined and thought out goals
— Clearly defined and thought out reward system
Exhibit B: Star Behavior Charts (made last week with three kids in tow)
— No time spent on planning or prep work
— Star stickers grabbed from the craft drawer (happened to be on top of the pile)
— No thought on color/appearance, crooked names with now crooked lines of stars
— Quickly hand scratched names (written with baby #3 on my hip in a moment of insanity when all I wanted was for my girls to STOP FIGHTING!)
— No goals
— No reward system
Life with three. Things sure have changed.
Want to know the funny thing? The new not-so-cute version of our star charts?
Working like a charm. :)

Free printable of the paint colors throughout my home!
Enter your name and email address to get instant access to my paint colors along with other free organizing printables. More will be coming soon!
Exclusive to subscribers!