Last week we had a few rainy days in our forecast…
I got the girls off to school (after we picked roses for their teachers), got Kole down for a nap, and decided my kitchen cupboards could use a little face lift. Rain always makes me want to turn on some music, organize my kitchen, and just enjoy the coziness of home.
First I tackled the bottom kitchen cupboards. These are all of the plastic bowls – the "safe zone" for my little one year old who loves to pull everything out.
Next I tackled my cupboard with all of the glass bowls. Here's a "before" of this cupboard. Not awful, but definitely not as orderly as I like it to be.
And the "after". Ahhh – much better!
The glass cupboard above is one of the "off limits" cupboards to Kole.
Sorry buddy! Not a safe place to play.
Then I slowly made my way up to the top cupboards. I didn't take a before of our plates and bowls, but it didn't look too much different. This one is easy to maintain.
My cleaning supply cupboard was starting to drive me crazy and was what initiated the organizing of my kitchen cupboards once again.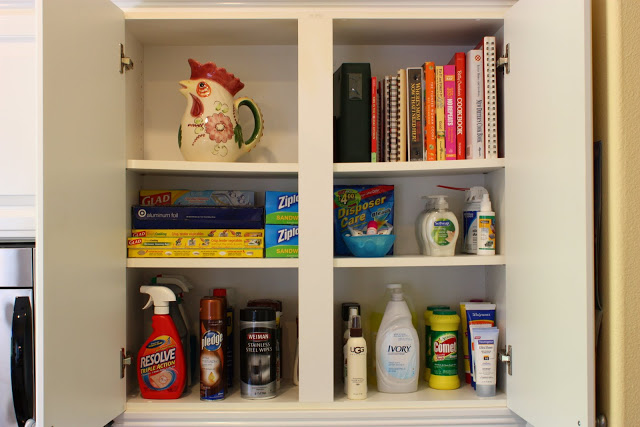 And the "after." SOOO much better! Now I can easily get to my cleaning supplies and see what we are running low on. I also keep sunscreen in this cupboard because it is right by the back door – easy access when we are on our way out. My rarely used cook books are stored up high along with a rooster pitcher that was my Aunt Pat's before she passed away a few years ago. I like that now I can see it and think of her every time I open this cupboard.
I straightened out the drawer next to our sink – the baby/toothbrush station…
and then tackled the pots and pans. This cupboard is right below our homework drawer and was starting to become a catch all for bigger coloring books and art projects that were too big for the homework drawer AND the arts and crafts drawer. Probably a sign that we have way too much of this kind of stuff! This is the "before."
The "during"…
and the "after".
Much better. A great way to spend my morning in the rain! :)
xoxo, Erin