So I've been running into a couple of minor snags in my system lately.  First, you all know that I "borrowed" a corner of

Kole's room

for my scrap space…
and then I "borrowed" a few of his drawers to hold all of my Project Life supplies…
making his room a perfect place to work on my Project Life Albums.
All of that would have worked wonderfully – except for…
The napping baby.  I can't work on the PL albums in my scrap space while Kole is napping and of course, that is the only time I can work on the PL albums.
Because of this, as you all know, my kitchen table has been looking a tad messy lately.
The messy pile of school work.  There wasn't enough room in my PL drawer to hold all of the girls' school work I want to eventually put in their albums.  AND because their work was just in a big unorganized pile, it was taking too much of my precious "baby is napping I can finally get something done time" to organize everything.
My homework drawer that used to look like this…
has lately been looking like this.  Too many papers and workbooks for one little kitchen drawer and it was becoming hard to keep track of things.
So as you know, I treated myself to a little St. Patrick's Day trip to Target and Staples to pick up some organizers.
I bought this green crate to hold all of the girls school work/memorabilia that I might include in their PL albums.  After adding all of their work I still had plenty of room, so I also used this for extra school stuff from my overflowing homework drawer.  I created three tabs (A for Addison, E for Ellie, and S for school stuff).  I divided the folders into seasons (spring 2010, fall 2011, etc.)  because I usually do about a season at a time when I work on these books.  This will be so easy to stay organized!  Addison brought home a beautiful self portrait from pre-school today and I just slipped in into her "spring 2011" slot and it will be there waiting for me when it's time to work on that section of her Project Life album.  I'm hoping to stay caught up enough that I only have about a years worth of work in this crate at a time.  Then I'll just write new tabs for the new seasons as needed.  The folders in the back are for school stuff we are always working on like Ellie's journal and spelling pages.
 Now that all of the paper has its own home, I can just keep workbooks and supplies in my homework drawer.  I'm so happy to see it looking like this again!
Next, I decorated a PL journaling card to put on my cute little green portable caddy…
and turned it into a place to hold a all of my PL supplies.  (I just knew I bought those blinged out green letter stickers for a reason!)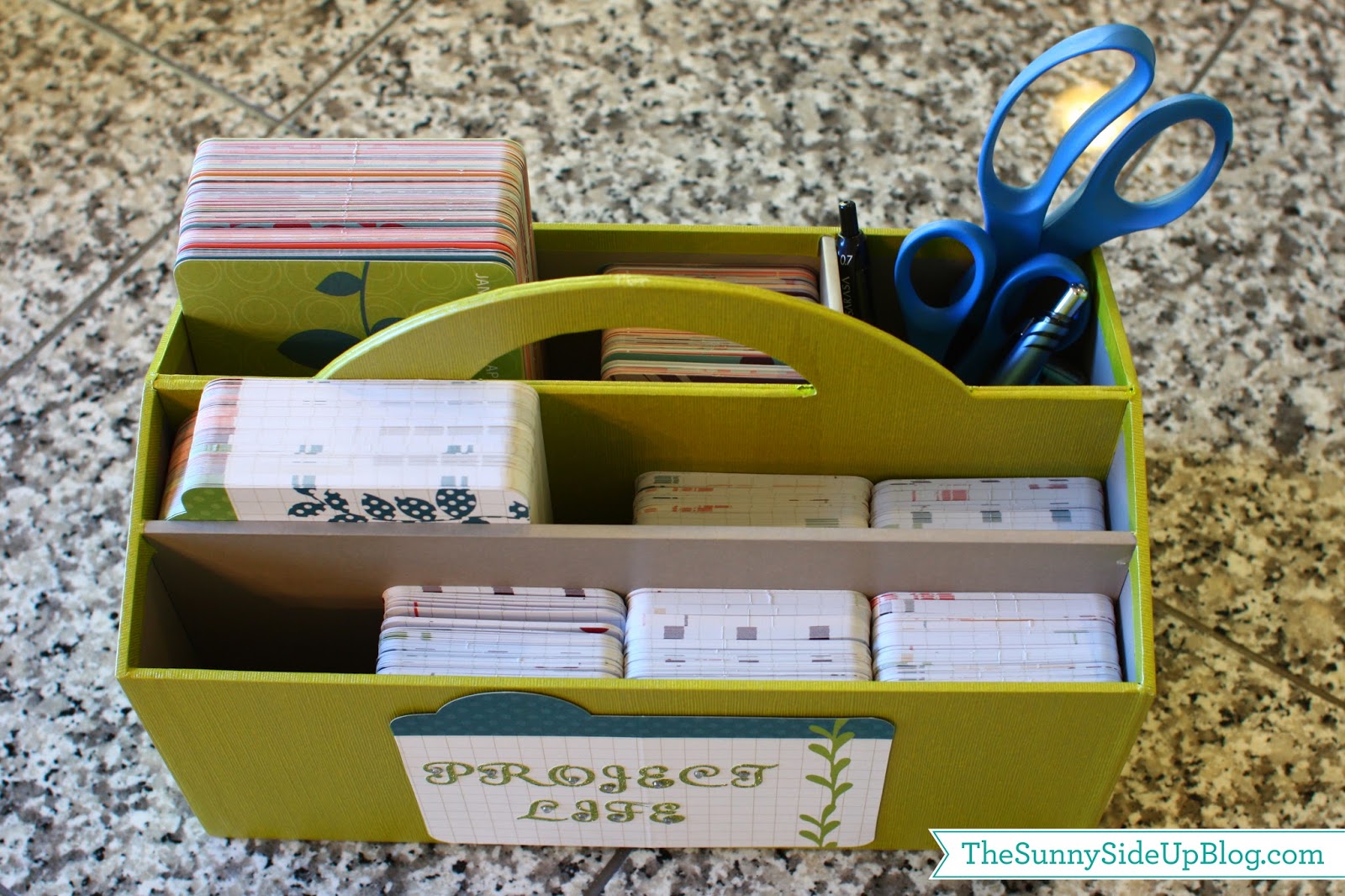 It's the perfect size for all of my journaling cards and scissors and pens.  Love it!
I'm going to keep these somewhere in my kitchen (in a cupboard or the bottom of my pantry) so I have easy access to them.  Working on my Project Life albums while Kole is napping will now be a much easier task!
Minor snags are solved and all is right in the world again.  :)
xoxo, Erin