Hope everyone had a good weekend! The weather here has been so nice – 80 degrees on the coast. Seemed crazy to be using our flip flops and sunscreen in January, but use them we did! Leaves on a lot of the trees have turned and are falling too. Guess San Diego decided to have summer and fall all at once for a weekend! Anyway – more on our weekend later…
For now, a little scrapbooking. I'm going to attempt to keep up with
Project Life Tuesday on The Mom Creative
this year. I was keeping up with my girls' PL albums so great until baby #3 came along and haven't done much since. Time to kick it in gear and hopefully catch up on their albums! Some of you have asked me if I'm ordering Becky's new PL albums and the answer is yes, but I want to finish my other albums for my girls first. I'll order one for Kole too and start his PL album when he turns one. (Love that Becky created two album choices this year – works great for the way I use them for my individual kids.) If you are new to my blog (hello and welcome!) you can see how I scrapbook for my kids under the Project Life links at the side of my blog under popular posts.
I had great expectations of getting so much done on Addison's book last week. And then realized that I have three kids now and great expectations are just that. :) So I'm sharing what I did accomplish which was basically just all the prep work. Crossing my fingers I'll find a minute to work on her book this week.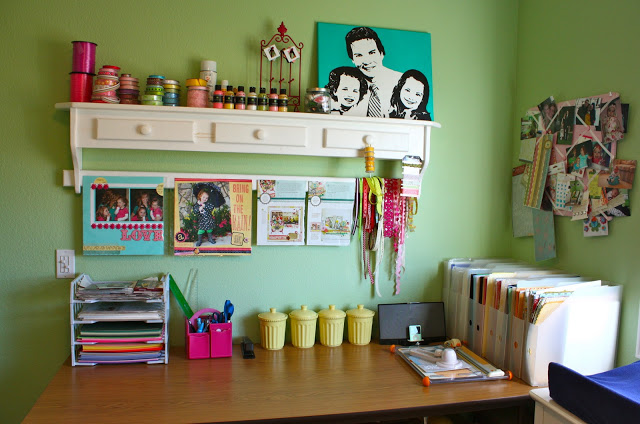 First I cleaned off my scrap space. It was a mess. Again.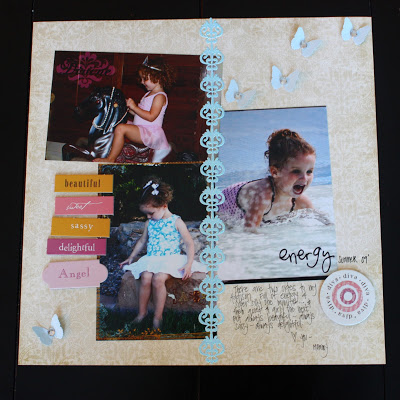 Then I did a quick layout for Addison's book. And by quick I mean this took me ten minutes and now it's bugging me because it looks like I spent ten minutes on it and I know it would look better if I would have spent thirty.
I got the next set of pictures developed and started going through her school work to see what I want to include in her album.
And that's as far as I got. :)
I also wanted to share a quick tip several of you have asked about. This is helpful for any of you doing Project Life, or if you have Photoshop and would like to know how to develop two vertical 4×3 pictures as one 4×6 like I did with the snowman picture of Kole for my
holiday tags
.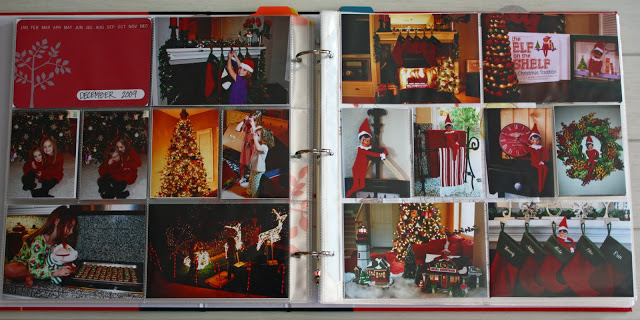 I use a lot of 4×3's for Project Life and it's so easy to do. (middle section of this spread are all 4×3's) If you have downloaded Picasa, you can simply collage two vertical photos and save it as a 4×6 to develop. If you want to do this in Photoshop, follow these instructions:
Start by creating a 4×6 document. File>New>Blank file. Then a screen will pop up with some options for you to choose. Select 4 for height, 6 for width and 300dpi for resolution and RGB for color. Then you'll see a blank white screen.
Now open the two photos you want to collage in Photoshop (file>open>select for each picture).
Select one of the photos so that it's showing big on your computer screen. (The blank file and other picture are now at the bottom in your photo bin.)
At the top of your screen under the menu bar leave the Aspect Ratio alone, but change the width to 3 and the height to 4. Keep the Resolution at 300 pixels/inch. Crop your picture how you want it to look (using the crop tool on the sidebar). Then select the other picture from the photo bin and crop it exactly how you want it.
Once you have cropped both pictures then select your new file so it's showing big on your computer screen. Then select your move tool on the sidebar (looks like a plus sign with a triangle pointing to it). Use your move tool to select each picture from the bottom photo bin and place it on your new file (click and drag). Move them around until they fit perfectly next to each other filling the blank file.
Now this step is important. On the right side you will see the layers menu. You can see your right picture on one layer and the background white layer and the left picture – all separate layers at this point. At the top menu bar, select Layer>Flatten Image. The layers menu will put all 3 layers into one layer. (your picture doesn't change)
Now save your new picture. File>Save As> (name your picture and make sure it is saved as a jpeg so you can print it).
If you wanted to do a collage with more pictures, just change the cropping sizes but do everything else the same.
I know that seems like a lot of directions, but it's really so quick and easy once you've done it a few times. Hope that helps!
Happy Scrapping everyone! :)
xoxo, Erin