It's already Monday again!? This month is going by way too fast! I always wish December lasted longer. I checked off most of my to-do list from last week including organizing my jewelry. I'm not much of a jewelry person really so I didn't have too much to organize. But it still felt good to get rid of pieces I never wear anymore.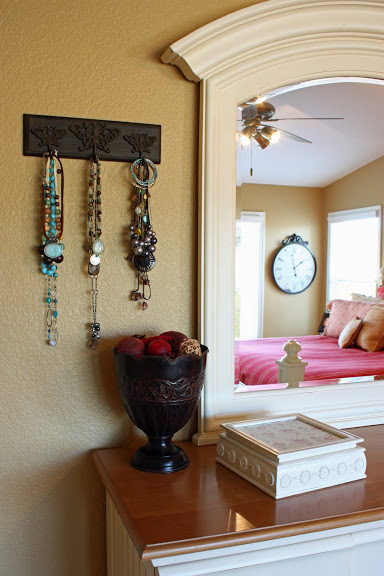 What little jewelry I do wear I keep on/by my dresser.
I found this jewelry box at Target several years ago and knew it was just the right size/style for me and my little stash.
I also picked up this butterfly hook/hanger from Marshall's for 6 bucks to use for necklaces and bigger earrings. I got this idea from my sister who hangs her necklaces in her room as part of the decor.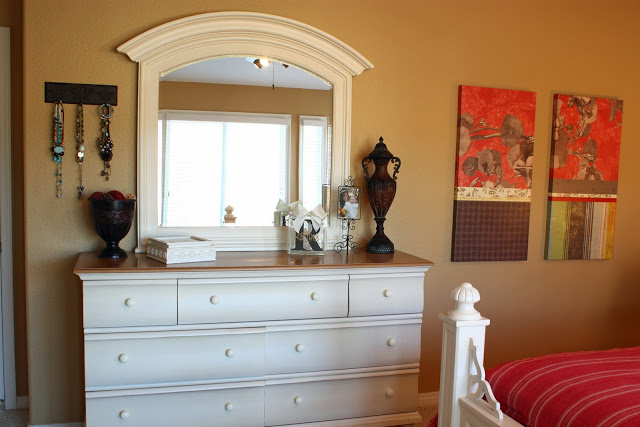 Nice to have that finished!
Now. I have to tell you my jewelry story. So I was at the mall last week trying to find a dress for Kenny's work party. No luck.
(Why is it that when I have Kenny's approval to spend money I can't find what I'm looking for? I seem to have much better luck when I don't have his approval – which is probably the reason I shop without it most of the time – ha!)
Anyway. Back to my jewelry story. I couldn't find a dress so I decided I'd just buy some new jewelry to wear with a black dress I already own. So I'm in a store trying on different pieces – necklaces, bracelets, holding up earrings. I have
Kole
with me in his stroller and as I try stuff on we're making faces and smiling at each other. We're having a great time. He loves to shop with me. Especially for jewelry. Finally after trying on half of the store, I realize that I'm going to be late for school pick up (my day to carpool) so I make my decision, buy some jewelry for the party and leave the store. I get clear across the mall to my car (trying to really hurry now so I'm on time to get the girls) and lean down to get
Kole
and his car seat out of the stroller.
And then I see it all.
GASP! You have got to be kidding me! Sitting in the top shade of
Kole's
stroller hiding in the crease are several pieces of jewelry from the store! Pieces I tried on but didn't buy! I must have set them there without even knowing I did. I stand there in shock realizing that I'm a shoplifter! I shoplifted! I'm a thief! Holy crap. And this isn't cheap jewelry. I don't know what to do. I don't have time to go back to the store because I have to pick up my kids and their friends. But I can't STEAL! I decide I have to be a thief – at least for an hour. I hop in the car (feeling like somebody who just robbed a bank and is making a quick getaway – in a new Honda Odyssey mini van) and floor it to Ellie's school. I picked up my girls, dropped off their friends and then headed with my three kids back to the mall. In rush hour traffic. Knowing that our evening routine of homework and cleaning was now shot.
I dragged the kids to the store and returned the jewelry explaining to the clerk what I did. She was nice so I felt better. No cops were waiting to take me to the big house. (phew!) I was sick of the mall because I'd now been there all day long, but my kids were hungry so we got some food (I paid for it thank you very much) and watched the ice skaters.
It ended up being a fun night with my girls and I think they still love me.
Criminal and all. :)

Free printable of the paint colors throughout my home!
Enter your name and email address to get instant access to my paint colors along with other free organizing printables. More will be coming soon!
Exclusive to subscribers!