I was talking with a friend today about how I was feeling frustrated lately because this pregnancy has been really slowing me down. I just can't get done in a day what I'm used to doing. We were talking about how it really all has to do with expectations – especially the expectations we set for ourselves and how there are times that these expectations just have to be lowered.
This is a topic Kenny and I have talked about a lot since we became parents. Kids do that to you, don't they? Force you to LOWER your expectations. I remember our first vacation with Ellie. She was two years old and we took her to Maui. After that little adventure, we stopped calling it a "vacation" if our kids were coming along. We call it a "family trip." Vacations are a time to relax and rejuvenate which just doesn't quite happen with little ones. BUT, we found that if we approached these "trips" with a different attitude, without expectations of relaxing much and just planned on spending quality time with our kids (even if that means passing up dining at fine restaurants and snorkeling to instead eating chicken nuggets next to the kiddie pool) we have a much more enjoyable time. We actually have a great time. Because it's all about what you expect.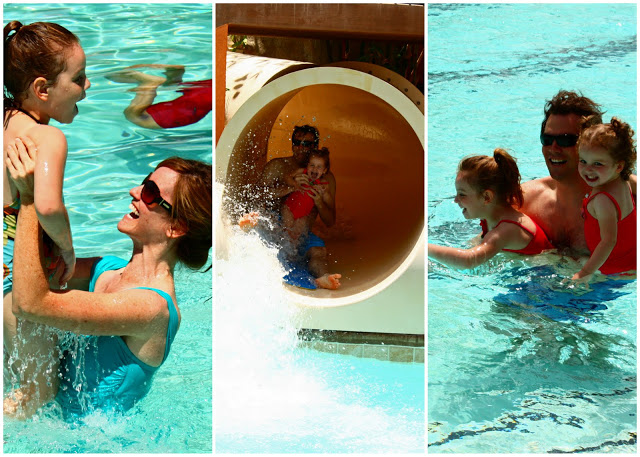 I remember when Kenny first started working as an attorney. The first few years were really hard for me. Six o'clock in the evening would roll around and I would "expect" him to walk in the door. Every minute passed six I would get more and more frustrated that he wasn't home yet. I spent a lot of evenings feeling annoyed that I was without a husband and picked on because I'd taken care of kids from sun-up to sun-down. Over the years I've really learned to lower my expectations. Attorneys sometimes put in long hours. It's just part of the job. Thankfully Kenny now has more control over his schedule and doesn't work as many late nights. Still, I NEVER plan on him being home at a certain time. I ALWAYS plan on putting the kids to bed. Then if he walks in the door at six o'clock, great! It's a bonus. If not, I'm OK and happy to have him home whenever he gets here. Expectations. They really can make or break your attitude.
This is not to say that we shouldn't ever set high expectations for ourselves. That we shouldn't push ourselves to be or do better. Just that there are times in our lives when it helps to realize that you can't do everything. And that it's OK. I sometimes have a hard time with this. I think women and mothers in general have a hard time with this. We're hard workers and want to be everything to everybody…and still have time to organize the kitchen pantry and do a blog post. :)
I am a list person. I make a to-do list each night of what I want to accomplish the next day. I'm used to bustling around, happily checking things off of my list all day long. Lately, I'm not making much progress on the old to-do list. Taking care of my girls is really all I have the energy for right now.
I know that one month from now (when I've once again entered life with a newborn) my to-do list will say: take a shower. And it will have been a really good day if I'm able to check that off.
Expectations. They really are what it's all about. And this post is to remind me that now is a good time to start lowering mine.
xoxo, Erin