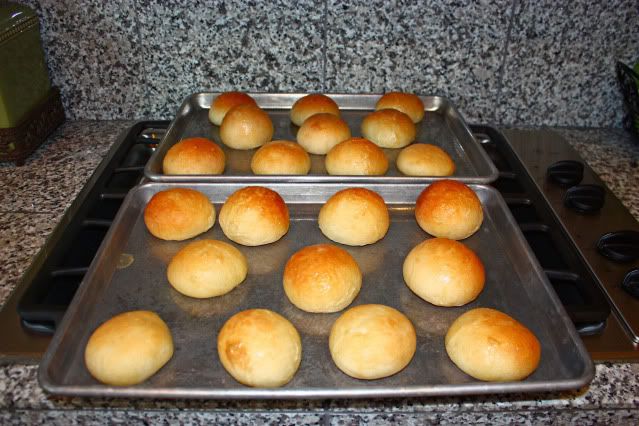 K – the roll issue was really bugging me. I had to try making them again. I guess third time's the charm!
Maybe it was because I made them while I was wearing my favorite boots from Italy.
Or maybe it was because I had my lucky rubber band holding up my skinny jeans (I don't remember pulling out the lucky rubber band as early as 13 weeks with my past two pregnancies)
Or maybe it was because I actually followed the instructions this time. Nah – I think it was the boots. Or the lucky rubber band.
Anyway – I felt so GOOD today! For the first time in six weeks I felt like I had my energy back and oh how I've missed it! I wasn't sick at all. I didn't feel the need to lay down every hour. And I didn't feel like I wanted to hurt anyone! Bonus. I got so much accomplished. House clean. Fridge and pantry organized. 30 minutes on the treadmill. Pics developed and a scrapbook page started. The normal stuff with the girls' schedules. Had 8 girls over for Activity Days (a church thing). Prepared tons of food! Well – tons compared to my norm. I made the rolls and then made BBQ Pulled Pork to go in them for dinner. I followed
this recipe
from The Picky Palate. For lunch I made grilled cheese sandwiches for the girls (yes, I totally count this as cooking since I have to use the stove) and I made a salad and salad dressing for me for the week. Since my favorite turkey still isn't tasting good to me (sniff) I've been floundering every day at lunch and have been eating a lot of random junk. In an effort to eat a little better I made one of my standby healthy meals. I can't make it for dinner anymore because one time we ate it for like three weeks straight (I tend to find something I like and eat it over and over again) and Kenny got so sick of it. He told me we aren't rabbits and he was done with the rabbit food. So I'll eat it for lunch. It's really good and filling and healthy. And much better than rabbit food.
The salad is just random veggies and whatever I have on hand (cucumber, celery, carrots, apples, sliced almonds, etc.) and the salad dressing I made is a recipe from my ultra healthy friend Koni. Supposedly it's the "good kind of fat." Bonus. All I know is that it makes the vegetables taste really good.
1/2 cup balsamic vinegar
1 cup extra virgin olive oil (I hear this combo and start thinking of Macaroni Grill and their bread and my mouth starts watering!)
1/4 tsp basil
1/2 tsp oregano
2 minced garlic bulbs
Shake well and keep in cupboard (don't refrigerate!)
Good dressing. Good salad. Finally – good rolls. It was a good day. :)
xoxo, Erin