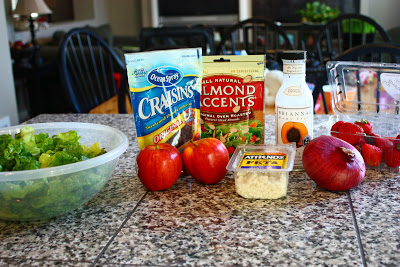 So since I felt a bit of success with my Tri-Color Pasta recipe I thought I'd go out on a limb and post another one. This is just an easy salad I threw together with stuff I had on hand and it has turned out to be a minor hit this summer for BBQ's and get togethers. It is SO easy. All you need is lettuce, apples, Craisins (dried cranberries), oven roasted almond accents, feta cheese, strawberries, an onion, cooked cut up chicken (optional) and my favorite salad dressing – Brianna's Poppy Seed dressing (the one with the peach on the front).
First thing you need to do is spin your lettuce with a salad spinner. Why? Because it's fun. Especially if you have extremely talented spinners on hand to do the spinning for you.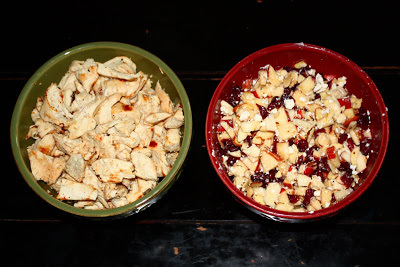 Next I like to combine the apples, feta cheese, almonds, and Craisins in a bowl. You don't have to do this, I just love the feta cheese all over everything…and I love to snack on this yummy mixture before I eat the salad. Snacking along the way is the only redeeming quality I've found in cooking.
Add the diced onion and strawberries (if you like onion and strawberries) and wa-la! If the salad is a side dish, I don't add the chicken. The chicken is for when I want to pass my salad off as a meal. Many people who live in San Diego eat only salads for meals and are super skinny. It's rather annoying.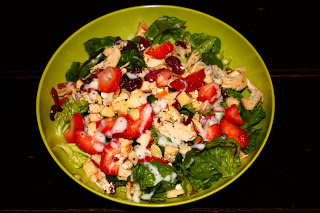 If you want to be super skinny (like many annoying people in San Diego), eat the salad w/o the dressing, but if you want the salad to be really yummy, eat it like I do – smothered in my favorite Brianna's dressing.
Now to really impress you I'm going to go one step further and give you my favorite BBQ chicken marinade (the one I used for my chicken in the above picture with the corn on the cob).
Barbecue Sauce
1/2 cup vegetable/canola oil
1/2 cup cider vinegar
1/2 cup tomato ketchup
2 Tbsp. Worcestershire sauce
2 cloves garlic, minced
1 tsp. Chili powder
Whisk all ingredients together. Store in the refrigerator. Place meat in large Ziploc bag and pour in desired amount of sauce. Marinate 4 hours or overnight.
Good stuff!
I know. I'm a regular Martha. ;)
xoxo, Erin