The sign says it all…"NO BOYS ALLOWED…DADDY ONLY." Except daddy wasn't here. Kenny was out of town this weekend so the girls and I had a party. A "girls only" party. Except Ellie felt sad when making the sign that daddy wasn't included. He is, after all, the only cool and acceptable boy. Kenny left Friday morning and a few hours later Ellie told a random lady she doesn't know that "my daddy is in another world and I miss him." Despite the fun girls weekend ahead, she was already missing Kenny.
Friday night the girls and I ate suckers and played "movie quotes" – I repeat a line from a movie (Disney or Barbie related) and they guess which movie it's from. I've been known to break out into song during this game as well (I can be pretty entertaining when my audience consists of a 3 year old, a 5 year old, and fifteen or so stuffed animals). A line I quoted from Swan Princess sparked an interesting conversation about arranged marriages. The conversation ended with the girls both agreeing they would marry daddy and daddy only. They were both really missing Kenny.
Saturday morning the girls woke up anxious for pancakes. Pancakes are Kenny's thing. The last time I made pancakes…hmm…let's just say things didn't go too well. I promised the girls we'd have pancakes Sunday afternoon when Kenny got home. They were not happy with me, but I knew if I made the pancakes, they would not be happy with the pancakes either. I poured the cereal. We were all three missing Kenny.
After breakfast we headed to the gym and then Target. I gave the girls fishy crackers in Target and figured I had at least fifteen minutes. I found some cute clothes for them and was holding some pants up to Addison to see if they would fit. She decided she wanted to try them on, so I let her. Then she took the pants off and ran away from me in the store in her underwear. Ellie was laughing her head off which only encouraged Addison more. I finally caught her and put her in a time out right in the middle of the towel isle. She screamed. People looked. I ducked. And oh how I was missing Kenny.
After Target we had some down time at home, but before long the girls were getting restless. I threw them in the car and we headed to the park. I was feeling like a pretty good mom to take them to play, but as soon as we got to the swings, all I heard about was how "daddy is the best swing pusher and he is so funny at the park and he even swings with us and is so silly and we love daddy and when will he be back?" The girls were once again missing Kenny.
After the park it was time for baths, dinner, teeth brushing and bed. Sounds simple enough, but before we even made it to dinner both girls had broken out in tears (Ellie because her p.j's suddenly felt too small and Addison because she bumped her lip and it was puffy and she wanted it to be flat again). I made dinner and then took a phone call. I got off the phone only to see that dinner had been suddenly relocated to the staircase and the girls had hauled down all of their "friends" to dine with them.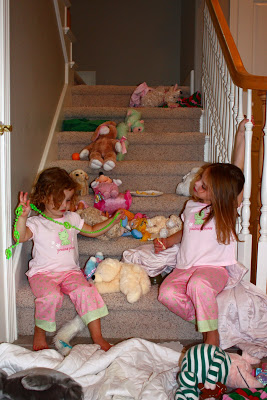 I moved them back into the kitchen and they both decided they just wanted yogurt. I was too tired to argue so yogurt it was. That lasted two seconds until Ellie (reaching for a "friend") knocked over her yogurt and it flew into the back of my living room couch and all over the kitchen floor. I started cleaning it up all the while screaming about how "NO MORE "FRIENDS" WOULD BE ALLOWED AT THE TABLE EVER AGAIN!" Ellie's response: "mom, are you mad or just really frustrated?" We finished yogurt and I got the girls upstairs only to begin the battle with Addison over getting her teeth brushed. I usually turn her over to Kenny for bedtime, but with him gone it was all me. I was tired. I was weak. And she knew it. She finally let me brush her teeth as long as I agreed to let her brush mine at the same time. I endured several painful pokes to the gums and then got her to bed. I was so missing Kenny.
30 minutes later, both girls were in bed. Exhausted, I fell onto the couch and turned on the TV. And what do you think popped up on the screen? "Replacements." A cheesy feel good movie about football where the underdog wins again. A favorite of my husband's. I've had to watch it, along with "Armageddon", more times than I care to admit. And once again…I found myself missing Kenny.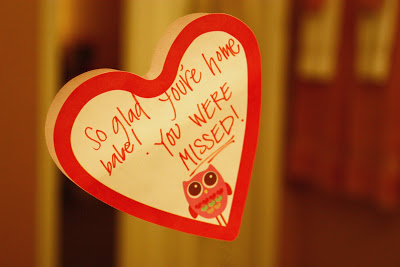 xoxo, Erin