Just got back from Cancun! Swine flu free. :) It was a great vacation. But before I attempt to sort through the mass of pictures I took on our trip, I first need to unpack, do laundry, buy groceries post about the concert we went to the night before we left. I finally redeemed my birthday coupons and Kenny and I spent the night with No Doubt (my all time favorite group).

Because of some perks through Kenny's work we were given VIP stickers to wear and ushered past thousands of people to the front of the line to get in. We then entered the VIP lounge where we had a Mexican feast before the concert.
Then it was No Doubt time.
I LOVE LOVE LOVE Gwen Stefani.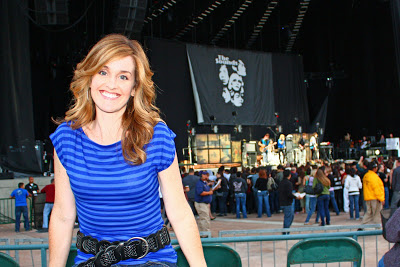 So I wore my most Gwen Stefani-ish shirt…
And my most Gwen Stefani-ish shoes. Which proves I don't have much in my closet that is Gwen Stefani-ish. (Something I hope to
modify
in the future)
The concert was AWESOME! Our seats were on the second row behind the mosh pit and we were rockin' all night long. By the end of the night my feet, because of my Gwen Stefani-ish shoes, were killing me.
xoxo, Erin