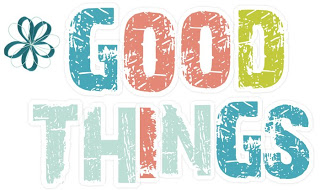 I can't believe I haven't done a "good things" since March! Lots of good things lately…
Ellie and her 'posh puppy from Fancy Nancy'. She got it for Christmas and I'm impressed that it is still a beloved toy and not forgotten about…as many Christmas toys seem to be by this time of year.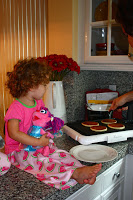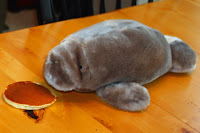 Our waffle routine has now turned into a pancake routine. One Saturday our waffle iron broke so Kenny made pancakes instead and the girls quickly decided they like pancakes just as much. Apparently so does Ellie's manatee.
Summer flowers.
Play time in the tub. Since it's summer and we seem to be staying out late I've been bathing the girls in the morning instead of at night. I love to throw them in my big tub and listen to them play while I get ready. This morning they were playing with their Peter Pan toys and their conversation went something like this:
E "Are you a nice crocodile or a mean one?"
A "I'm a nice crocodile"
E "What's your name? Say 'Silver Mist' Add"
A "Silver Mist. Tick
tock
tick
tock
."
E "Would you like some sandwiches and cookies crocodile? Say 'sure' Add"
A "Sure"
E "You can stay longer crocodile"
A "It's so nice and warm in here. Tick
tock
tick
tock
."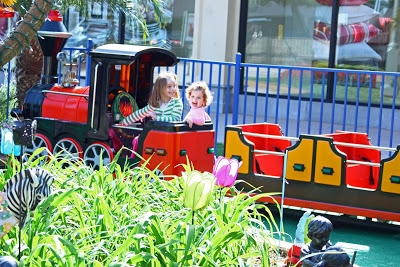 Train rides. Especially nice now that Addison is three and I don't have to join them on the train. Much more fun to just watch…and maybe take a picture or two. :)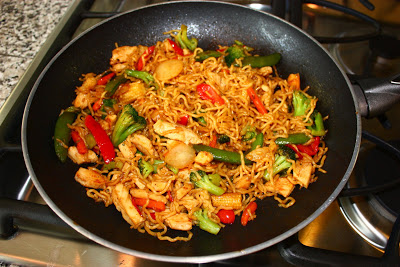 Quick and easy dinners.
(Eating Right Chicken Chow
Mein
)
New couch pillows
to brighten up the living room and
my green couches
. Green couches that even though I'm getting tired of I can't bear to part with. They are WAY too comfortable (ask anyone who has sat on them) and the couches, along with Kenny, popcorn, a good flick, and my laptop, are what I look forward to most at the end of a long day.
Straight braids (because mine usually end up slanted off to one side or completely uneven).
Forever 21! What a great store. I love all the of the colors and everything is so cheap! I'm a firm believer in not spending a lot of money on tops. Styles come and go so quickly and I'd rather spend my money on a great pair of jeans that I'll have awhile. So…Forever 21 is my go to place. I think I'll be shopping there forever. Or at least until I'm 21.
New beach chairs
from Costco and the start of 'beach days' in general.
Cream Cheese
Jalapeno Poppers
. I love these things so much, although I don't like the big boxes they come in. I always throw the box away first thing and just keep them in their plastic sack. That way I save room in my freezer. And that way I don't have to be reminded of exactly how much fat, sodium, and cholesterol is in just one
measly
little popper. Ignorance really is bliss.
And to work off calories from all
those
poppers I've been eating, I
tried my first spin class
at the gym. Not sure if I liked it. The teacher kept yelling out "Now you're passing! Now you're drafting! Now you're sprinting!" …I was pretty sure all I was doing was pedaling and sweating.
Kenny leaving one sock on and taking one sock off each night to regulate his body temperature
.
(and he calls me quirky???)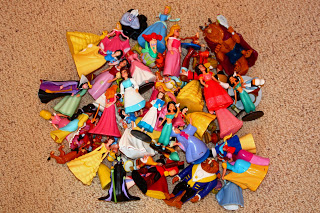 Toy organization. I've been cleaning out my girls' toys lately and it feels so good to SIMPLIFY. Plus I just like to categorize.
I'm so excited about my new
"family organizer"
.
I found it on-line
here
and I love it! Not the cutest cover, but such a great way to keep a grocery list, to-do list, meal list, and schedule all on one easy to see page. (I often use my "menu" column to organize blog posts and projects…but I like to know it's there in case I ever decide to start planning meals and cooking). I was using my old teacher plan books until I came across this little beauty. Keeps me so organized. I love it!
Peppered turkey at my grocery store deli. I can be a bit of a "turkey snob" (according to certain friends) and let me tell you…the peppered turkey at my local grocery store is the best. Hands down. And I know turkey.
Putting Addison down for a nap and watching Olivia and eating Popsicles with Ellie. We snuggle in Kenny's massive Charger blanket because Popsicles always make us so cold.
The excitement that takes place when I turn on the vacuum cleaner. You'd think it was Christmas. My girls love to run away from the vacuum and make quite a game of going room to room with me running in circles. I've been known to turn it on once in awhile, not because I need to vacuum, but simply to provide quick and easy entertainment. Yes – I have really clean carpets.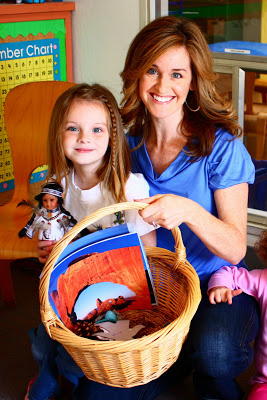 A successful presentation at Ellie's pre-school.
Her
pre
-school graduation was today (pics to come soon) and I can't believe I have a Kindergartener. I'm trying to convince myself that this is a good thing.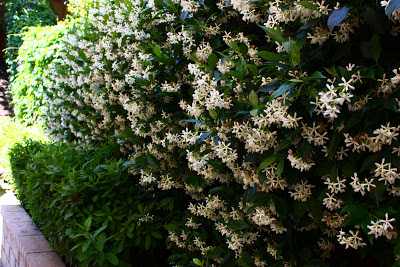 The smell of Jasmine in my yard
. Sure sign and smell of summer! It's especially fun to smell through my open windows on a summer night…when I'm staying up way too late…blogging about good things.
xoxo, Erin